Are you looking to remodel your bathroom?
Are you buying a new house and looking for ways to make a bath match your family's needs?
Or maybe you are just seeking ideas to modernize your existing bathroom?
If the answer to any of these questions is yes, this article is for you.
The bathroom is where we start and finish our days, where we spend time taking care of ourselves, relaxing and rejuvenating. If you want to make the most of these essential moments, you need to make your condo bathroom as practical and cozy as possible.
Most people think that small condo bathrooms can't be enlarged or that the renovation will be expensive and time-consuming. However, this isn't always the case. An experienced remodeler can transform even the tiniest bathroom into an oasis of comfort and relaxation. But even if you don't want to hire a designer, you can do some of the work yourself.
You may be wondering, is it possible to create your dream bathroom on a budget? While the average renovation costs in Chicago is about $15,000, you can save up to $3,000 on a small remodel with these tips and tricks.
So, where should you start? These ten renovation ideas will help you to maximize space and elevate the atmosphere in your small bath.
1. Unity of color
Let's start with a well-known trick that will work in any room of the house: the lighter the room, the bigger it seems. Painting and decorating a room exclusively in white or light gray creates a sense of harmony and space. It works perfectly in a small condo bathroom that you can't expand (due to budget limits or Condo Association permit). Using white or pastel colors can transform your cramped bathroom into an uplifting and (visually) spacious oasis.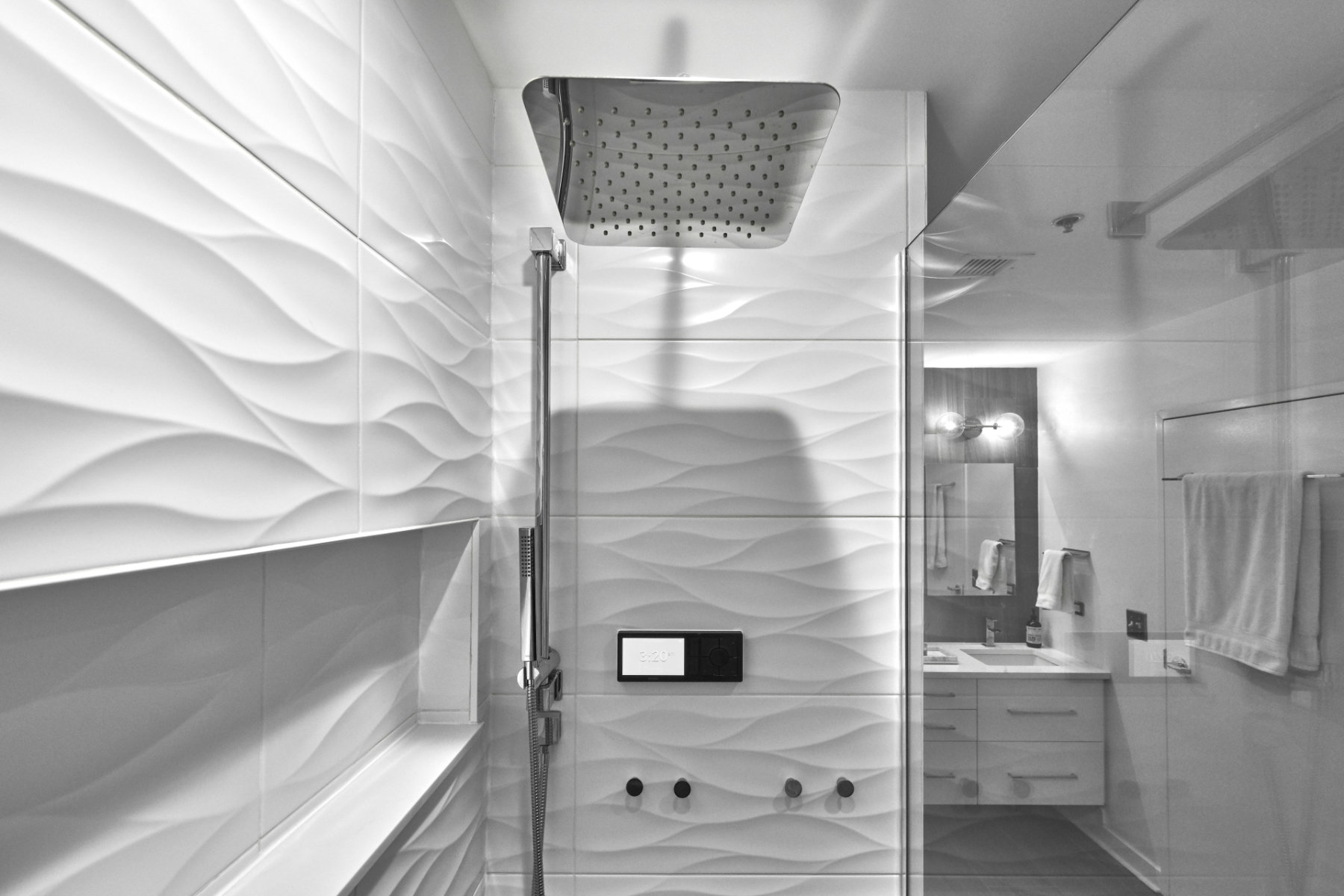 However, not all whites are created equal. Cool white can give the bathroom a cold and clinical feel. Would you feel comfortable in that kind of atmosphere? Probably not. That's why we recommend you stick to warm tones of white. Lastly, decorate the space with quality white towels and rugs for a value-adding effect.
It doesn't have to be all white, however. Splashes of bright colors or stand-out dark accents can make luxurious additions that add depth to light interiors.
2. Contrast elements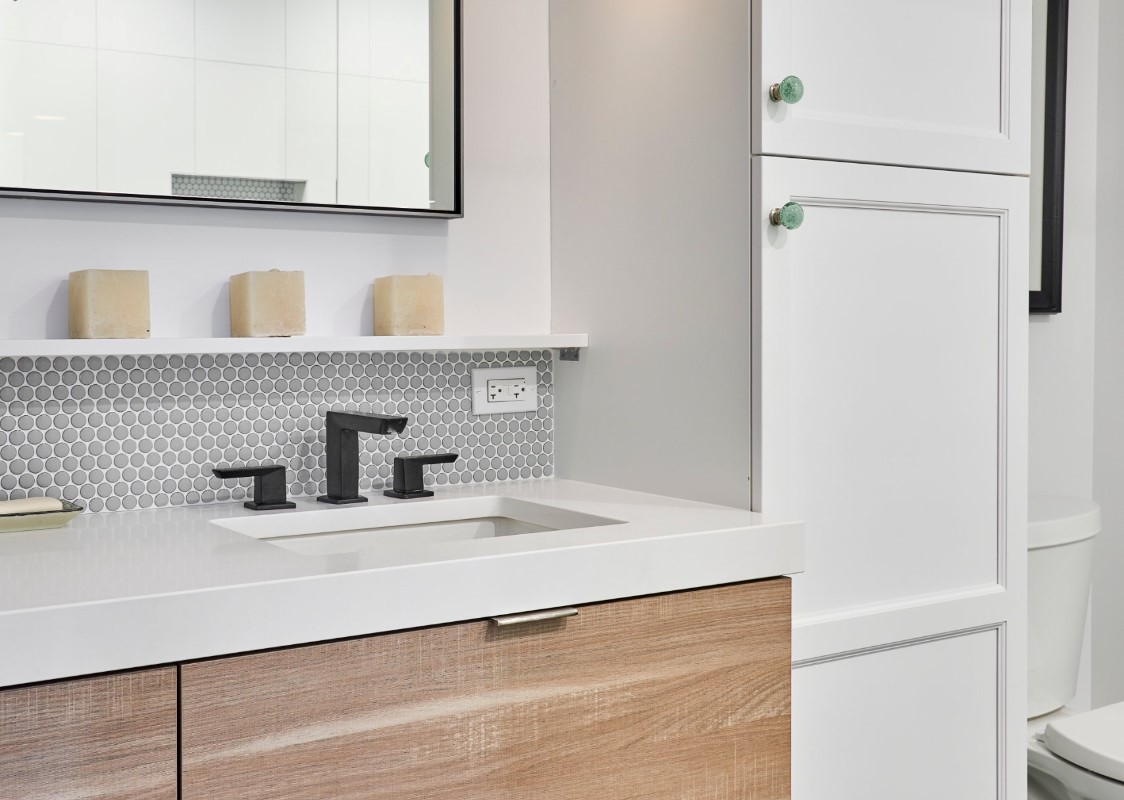 As we mentioned in the previous tip, the optimal way to maximize the visual space of your bath is by using a light monochrome palette for paint and tiling. Now we introduce a second foundational design principle essential for adding depth and comfort to your space in the next step: contrast.
When it comes to adding details, don't hesitate to play around; colorful curtains or decorative fixtures which jump out against the primary palette can add an exciting touch to your bathroom. However, be careful of creating too much contrast with extensive details like a dark stretch ceiling against white walls as this can disrupt the room's harmony.
Contrasting elements are a great way to save money on your renovation: it adds a lot of value and eye candy to your design with minimal extra costs.
3. Shades of blue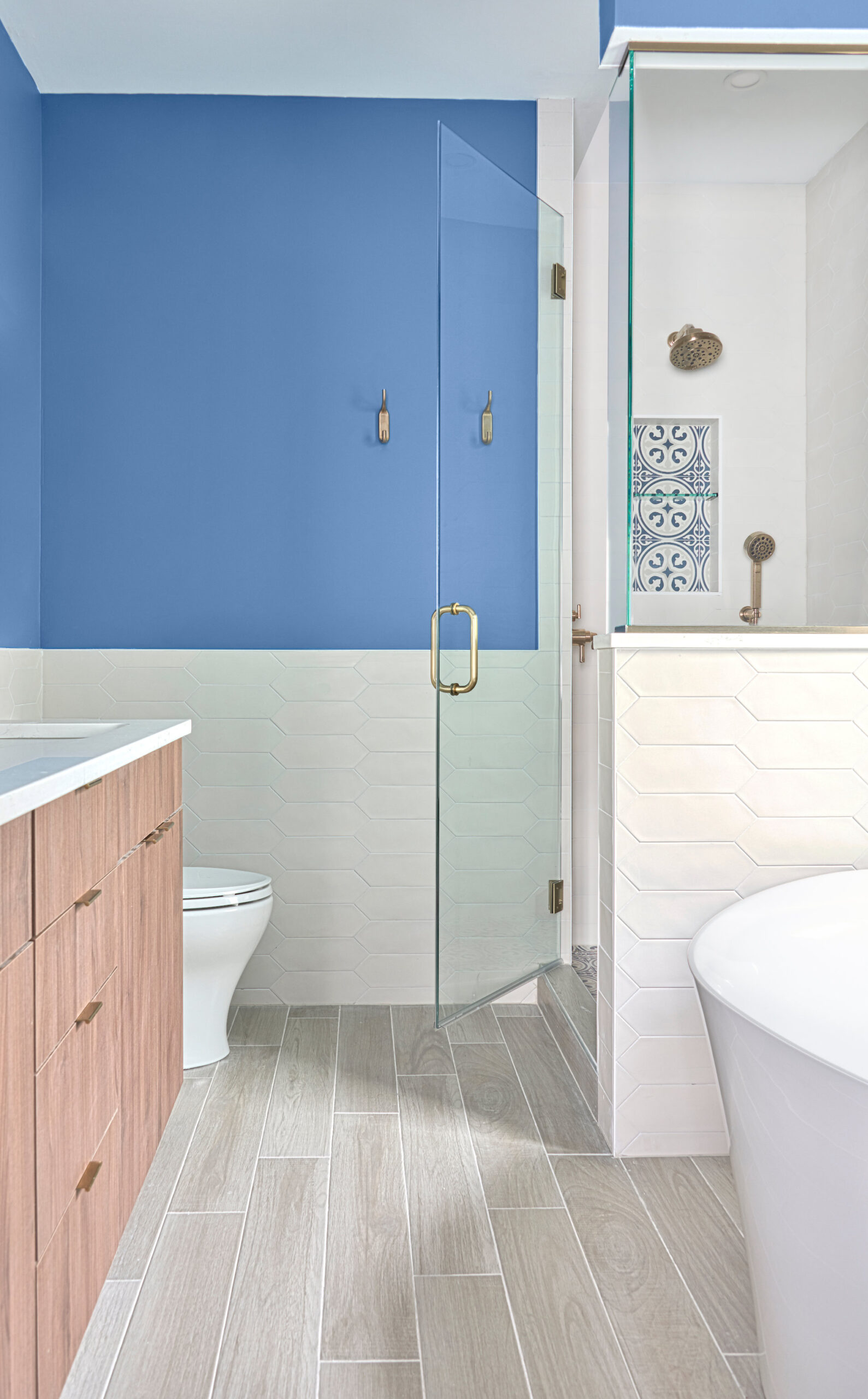 There are many shades of blue: warm blue, cold blue, deep blue, inky blue, navy blue, royal blue – the list goes on. Each of them can go well in most baths. However, be careful when choosing a blue shade for your new bathroom. While cool shades of blue make a small bathroom more visually spacious, some warmer shades can have the opposite effect, bringing the walls in and visually reducing the size bathroom.
A popular way of incorporating blue into a bathroom design is to include a 'spa' theme. Fresh aqua shades of blue are the most popular among contemporary designers because they can increase the relaxing qualities of a room. These shades add the visual effect of luxury, making your bathroom seem like it's worth more than it is. That way, while your bathroom renovation doesn't have to cost a lot of money, the right shade of blue will make your renovation seem stylish and high-end (great for reselling!).
4. And delicate yellow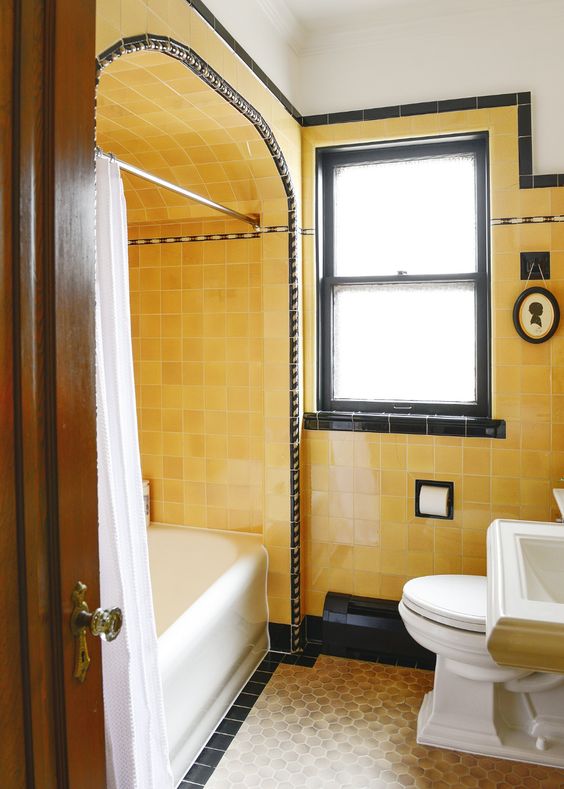 Another trendy color trick to spice up your bathroom remodel is to add a light yellow tint to the walls. The use of yellow in the bathroom is a unique choice that will immediately capture your visitors' attention.
While subtle, this color can have an extraordinary effect on interiors. From a psychological perspective, a delicate yellow can fill the room with warmth, improve your mood and create a cozy atmosphere. However, use with caution – high saturated shades of yellow can have the opposite effect and appear gaudy.
Delicate yellow comes with its specific psychological value. It is a demanding and self-sufficient color, even a little daring. Before using yellow in your bath, it's better to make sure that you will be comfortable starting your days in such an environment. If you're feeling unsure, consider the following features of a soft yellow wall:
It is easy on the eyes;
It can brighten a mood, create a unique atmosphere;
I add the effect of increased space in a small bath;
It fills the room with a sunny brightness, even on a cloudy day.
5. Avoid large patterns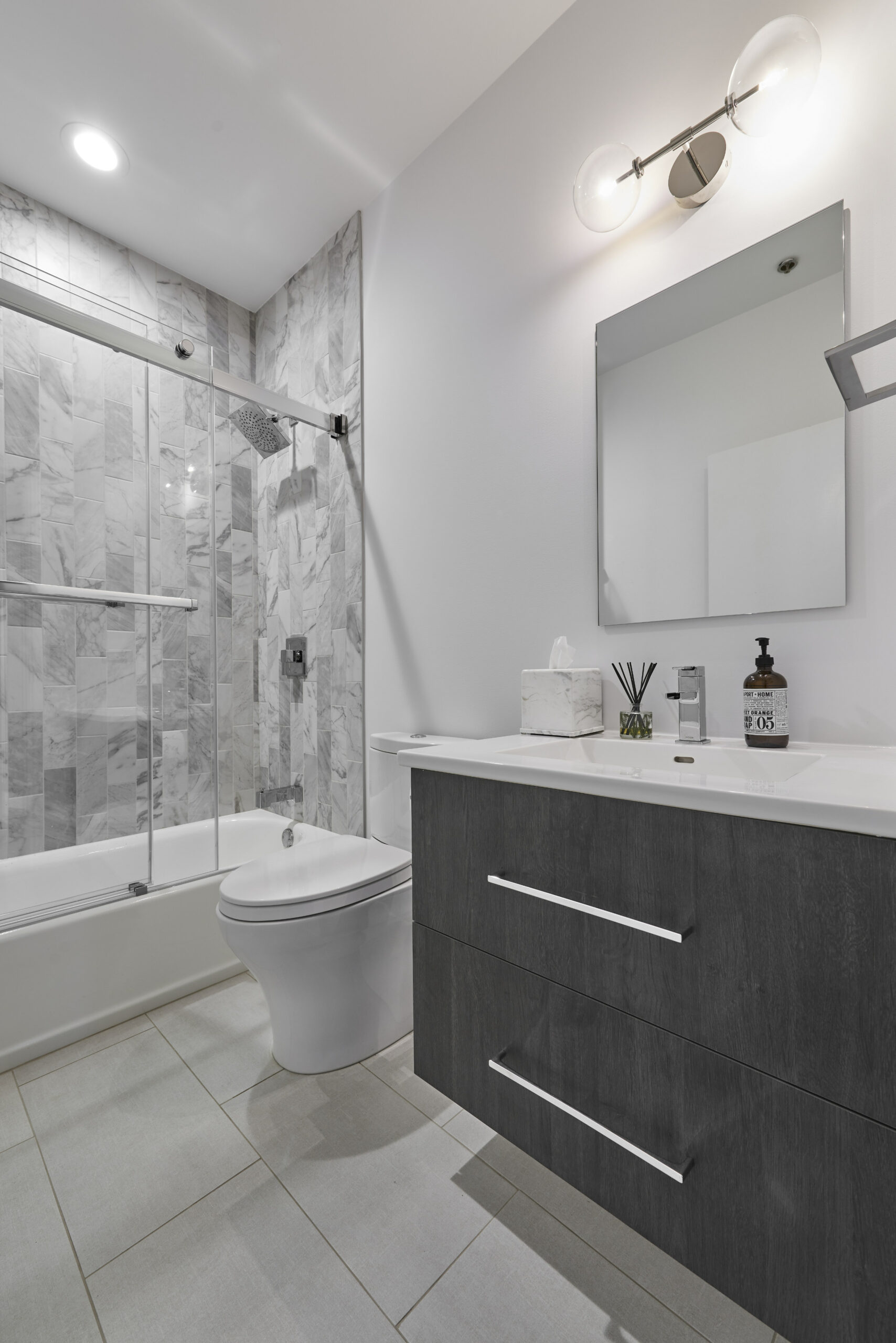 Do you like to stick with the classics? Can't imagine a room without traditional tiles and patterned wallpaper?
No problem! However, we recommend avoiding heavy, large patterns as these can take up precious visual space of your walls. The same also applies to the floor. When you renovate a small condo bathroom, it's recommended to stay on the path of minimalism when it comes to wallpaper and tiling.
Afraid of making the space dull? Use mosaics in small flourishes around the room. While softer colors won't disrupt the sense of space created by a light color scheme, richer shades will dilute the monotony of blank walls.
Another detail to consider when choosing a tiling is texture: floor tiles should be matte with a non-slip surface – it's easy to slip and injure yourself on glossy tiles. An excellent extra safety measure is to put one or more anti-slip rugs in the bathroom, preventing injuries and making the room more comfortable.
6. Focus on the floor
It is equally important to choose the right color and pattern for the floor. For visual expansion, the color should match the shade of the walls – it creates a sense of integrity within the space, making it look like a sizeable monolithic space.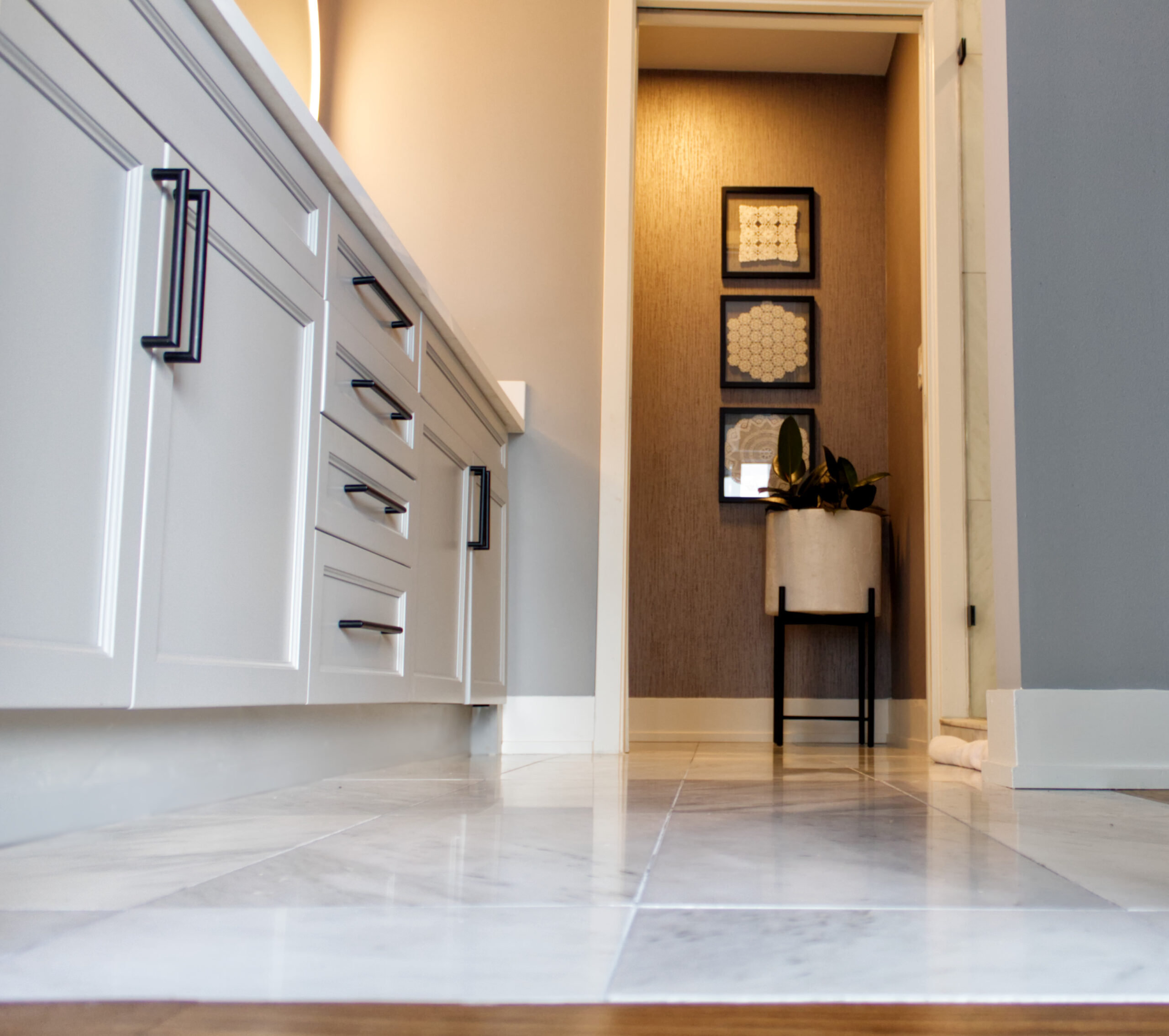 Designers usually mixing up the color of walls and floor with decor and fixtures of a different contrasting color that can help get rid of monotony and diversify the room. Another helpful tip is to match the bathroom flooring with an adjacent room: the same wood or tile used in the other house areas and remove any visible threshold to the bathroom. This technique will create a sense of flow between spaces and affect the entire home's visual and emotional experience.
7. Add the light and mirrors
On one hand, the smaller the room, the fewer light sources it needs. On the other hand, scattering multiple integrated LED light fixtures across the ceiling diffuses the light that reflects off the light-colored walls and makes the room seem more spacious. Therefore, if you aim to make your small condo bathroom appear more spacious, don't skimp on lighting.
If your bathroom has a window that provides natural light, you're in luck! It's an excellent solution for opening space in a tight bath. If you don't have one, you can replicate the effect of natural light by strategically placing artificial light sources throughout the room. Alternatively, you can call a remodeler to advise you on other ways to bring natural light in, such as installing a small window or skylight.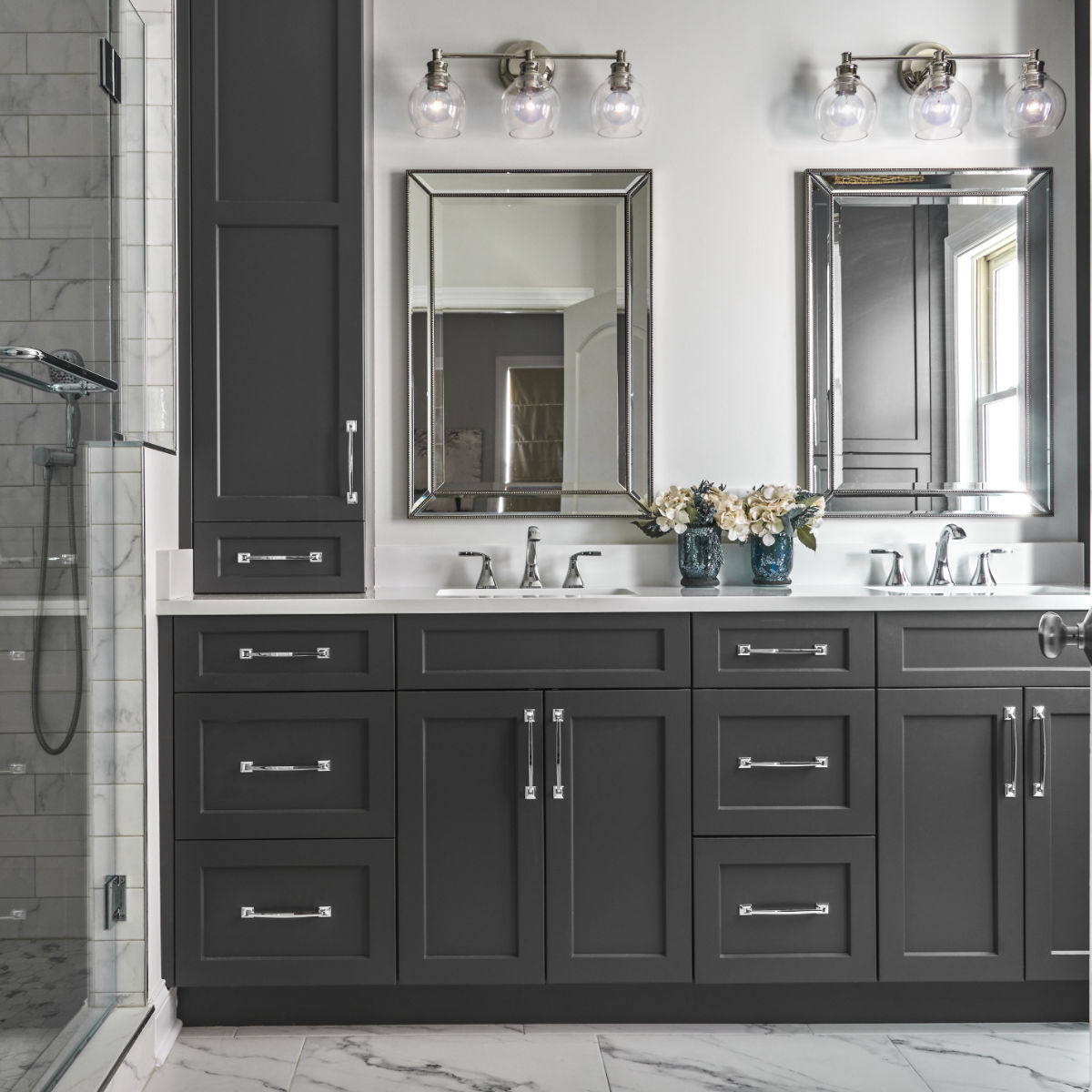 Talking about artificial lighting, a small sconce and a few spotlights in the center of the ceiling may not be sufficient to illuminate the whole bathroom resulting in dark, shadowy corners. When installing lights, you will need to make sure all areas of the room are illuminated. The main factor to consider is direction; place lights to brighten up dark areas or highlight cornerstone elements in the bathroom. Avoid using clear light bulbs that cast shadows and emit an unflattened and uneven glow.
Add an elegant finishing touch to your bathroom by installing a backlit mirror. Mirrors make the walls in a room seem farther apart, adding depth. It shouldn't just hang over the sink – it can be anywhere on the wall. However, it is best not to place multiple mirrors directly opposite each other, creating an unsetting illusion.
8. Use a built-in storage system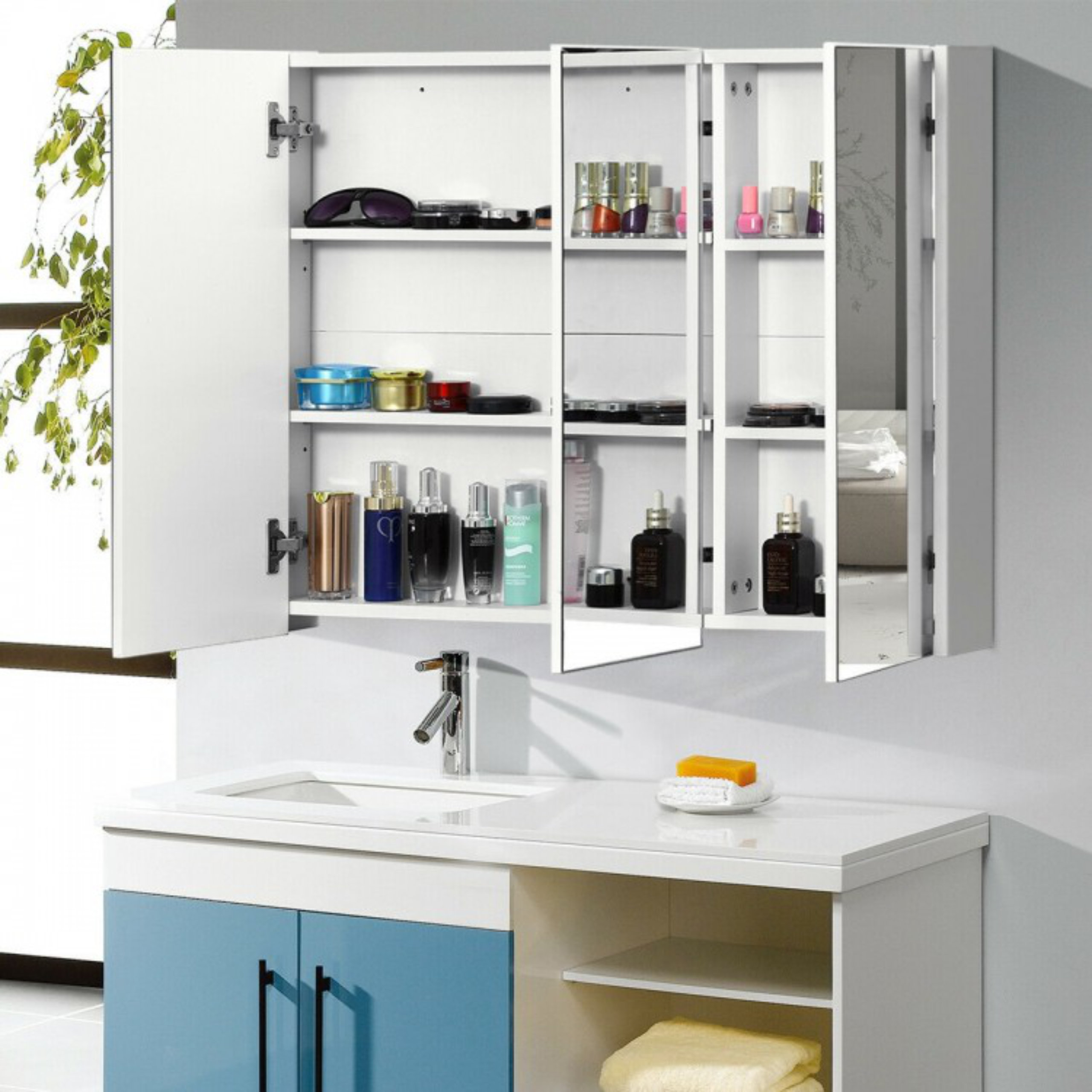 Do you really need those extra towel holders or that shelf on the wall?
When remodeling your bathroom, consider removing unnecessary fixtures to clear up space. Pay attention to rarely-used items that you left lying around as they can take up precious space on your benchtop and give the room a cluttered look.
The best and easiest way to resolve the issue of clutter is to bring in a cabinet. Here you can hide small items and cosmetics and leave the visible space in your bathroom clean and tidy. Is your bathroom too small for even a single cabinet? No problem! Consider installing a built-in storage system. You may use a dual-function mirror cabinet. Those are compact and take only a bit more space than a regular mirror.
9. Opt-in for transparent materials
When choosing accessories for your condo bathroom, consider ones made of transparent materials. These will add a light and airy quality to the room. Almost any bathroom furnishing can be found in a transparent material – shower curtains, shelves, toothbrush holders, and so on. Glass can raise the cost of the items a little bit, so if you're worried about your budget, opt for acrylic/plastic alternatives.
Protect the surface of your transparent decor from dirt buildup and fogging. Spray it regularly with glass cleaning wipes.
10. Converting tub into a corner shower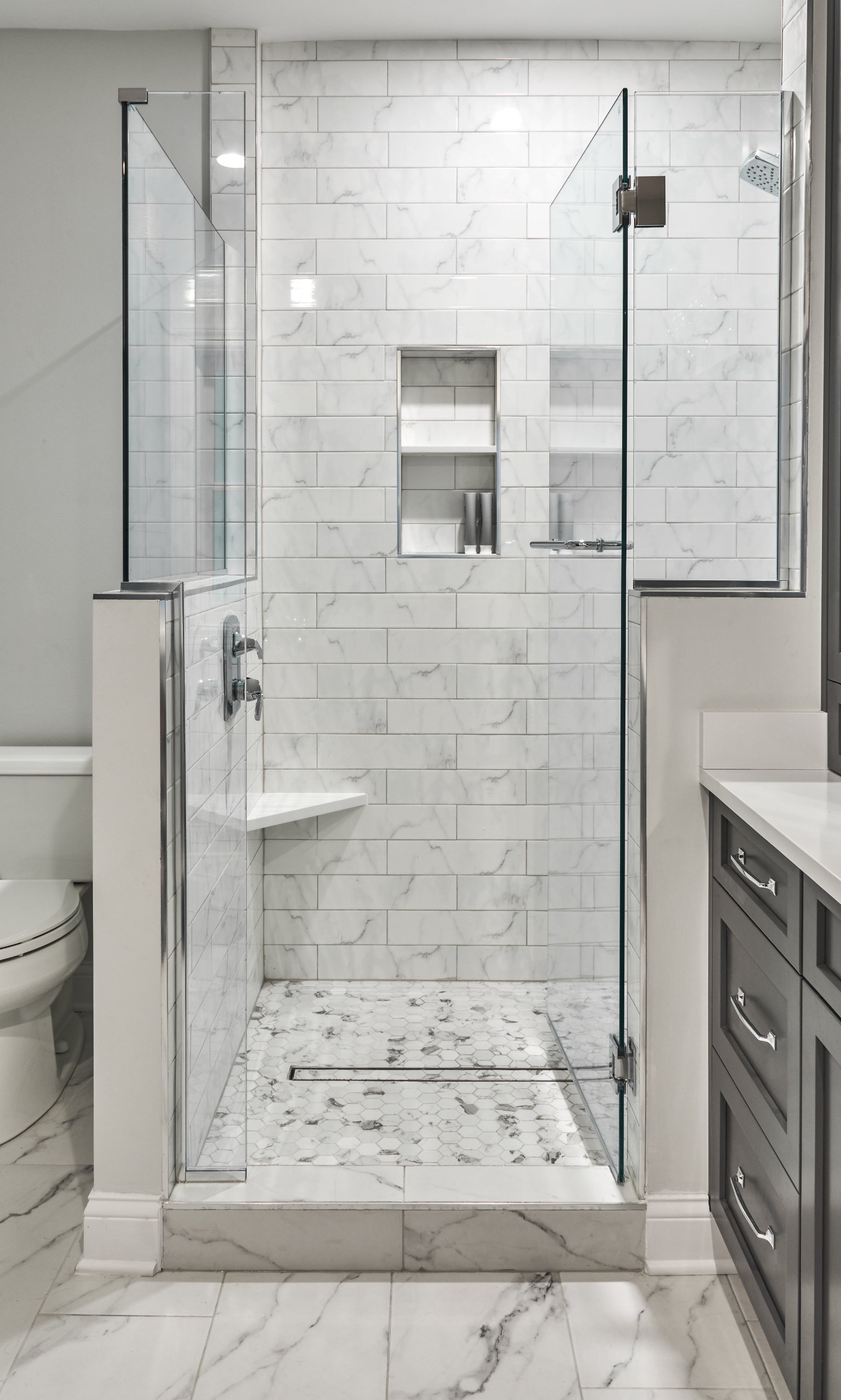 The most effective solution to a lack of space would be to convert an oversized tub to a miniature shower cabin.
You might be wondering, how much does a shower conversion cost? The full-service conversion (labor and quality materials) may reach up to $4,500 for a small bath. It would be best if you also considered installing an electric shower: while it's not the cheapest option, it will save you money long-term. An electric-operated shower is economical, eco-friendly, and easy to use.
Finally, make sure you do not clutter up your bathroom with unnecessary devices such as electric heaters or a washing machine. Try to find a place for these in the kitchen or closet.
With those tips and tricks, a modern bathroom renovation can easily be done on a budget. Here is a quick summary of our recommendations to increase the space of a small bathroom:
Use a bright monochrome color palette
Stick to light-colored tiles
Use contrasting accents to add depth
Create a spa environment with blue tones
Don't be afraid to experiment with yellow
Do not skimp on towels, rugs and other accessories
Add natural light to the bathroom interior
Install artificial lights to brighten dark areas
Add mirrors
Minimize shelves and cabinets
Optimize space with a built-in storage system
Make the most of transparent materials
Replace clunky bathtubs with a shower cabin
---
Every bathroom remodel should start with choosing the appropriate color and design. These ideas will give you the bootstrap you need for optimizing your small condo bathroom. If you need a free design consultation and estimate, feel free to contact a professional remodeling company.