After working with hundreds of customers on the remodeling of their bathrooms, our team got priceless experience, and now we're sharing some of it with you. This guide will help homeowners make the right decisions and give you some insights into what you should consider when planning your next master or guest bathroom remodeling.
In this article, we will go through the key decisions that we believe you should consider for your bathroom to look and function the way you want. We go through the reasons for remodeling, budget decisions, functionality, and bathroom interior design aspects.
When it comes to remodeling your bathroom, you should have a clear purpose. Are you initiating a remodel to rent a home? Are you planning to sell the house soon? Are you doing it for yourself and your family? Here are three main reasons for remodeling:
Bathroom remodeling is one of the first projects people initiate when they want to raise their home value before selling the home. When doing this, there are few things to consider. Mainly to keep the cost lower with achieving the highest quality and look. More specifically, when remodeling a home for sale, you want to make sure that the space's look will fit most people's tastes. It doesn't matter what you like. Here are stats of homeowners' preferences after hundreds of bathroom renovations we did in the Chicagoland area:
Walls Color 
65% white or cream walls
39% light grey walls
6% other colors
Cabinets Color
48% white cabinets
32% grey cabinets
14% wood finishes
6% other colors and materials
Tile Style
41% white subway tiles
29% grey tiles
7% beige tiles
18% marble material
10% other colors and materials
According to this data, your best shot in getting the biggest buyers audience is to choose combinations of white or light grey walls with white vanity, modern light flooring, and white subway tile in the shower.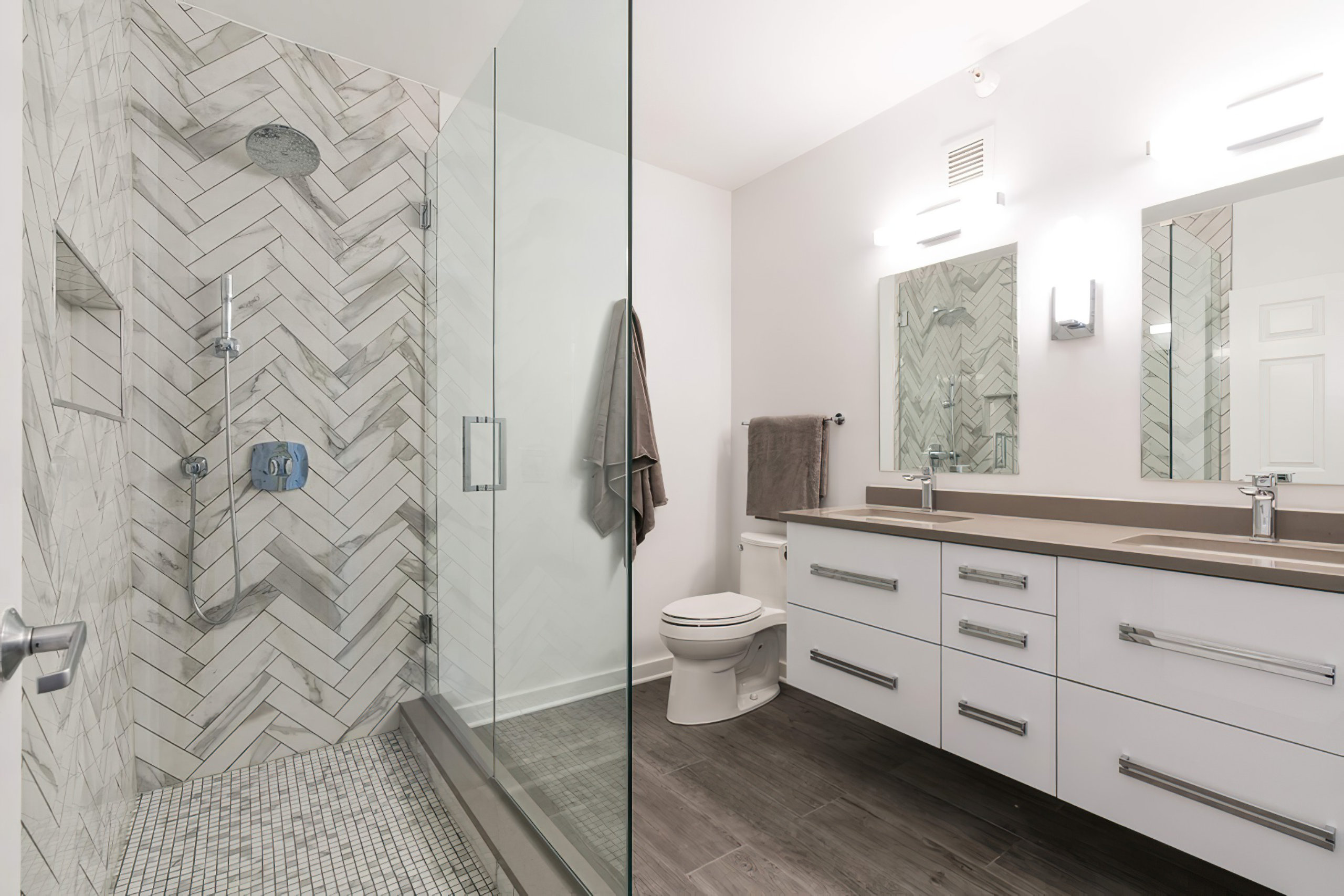 If you will remodel your bathroom as preparation for rental, the main thing to worry about is low maintenance. That means to use durable materials rather than nice looking but fragile like wood finishes and glasswork. Here are a few tips for that purpose. 
Use porcelain tile: This is the most durable material for tiles rather than marble or natural stones that looks great but requires maintenance and can get stained easier.
Use big pieces of tile rather than a mosaic: Larger tiles mean less grout line, which means fewer areas that potentially get water leakings.
Don't use wood shelves or cabinets: They get damaged with time and moisture, and maybe it looks great at first, but it definitely will need more attention over time.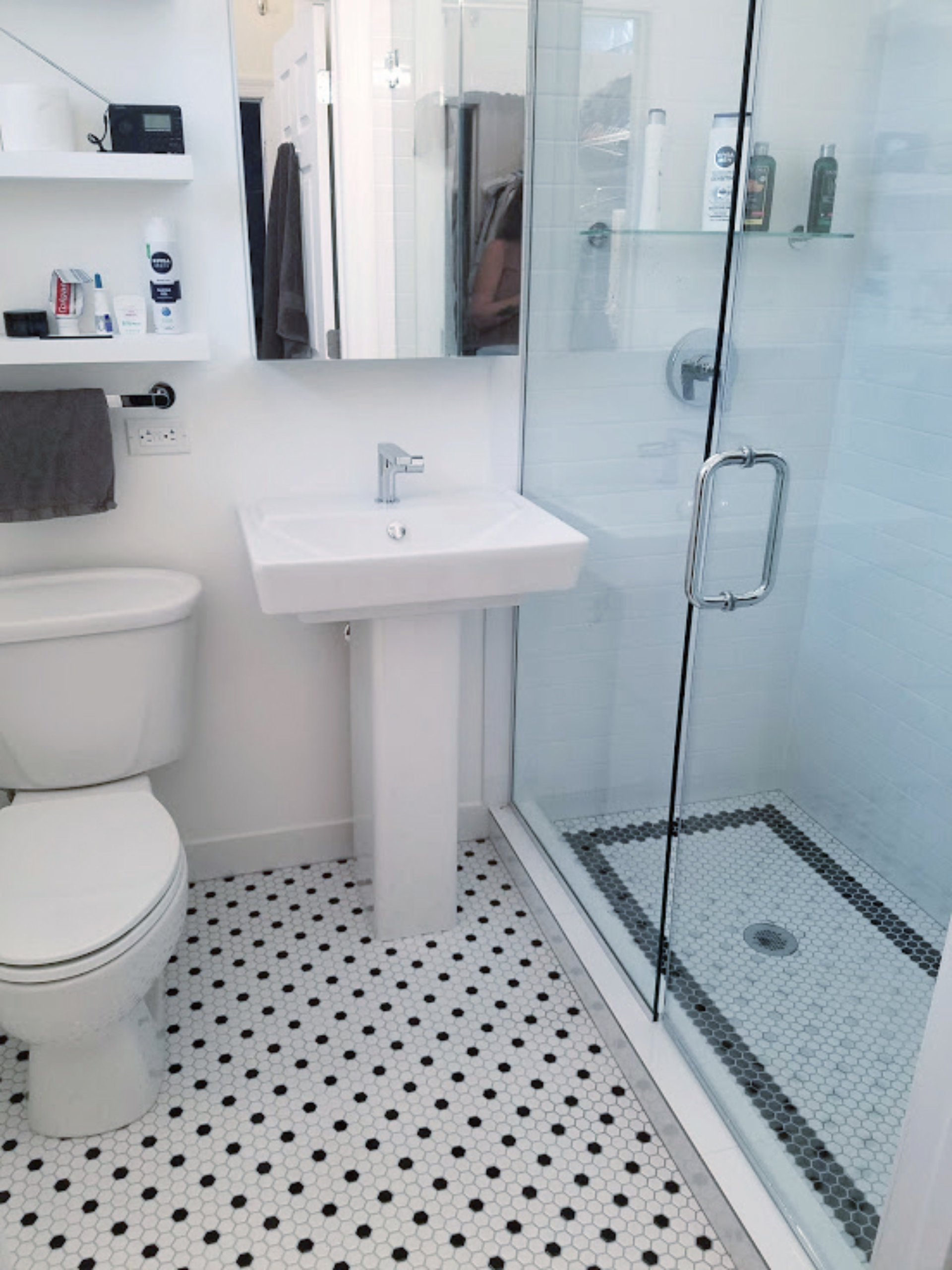 If you remodel the bathroom for yourself and your family's needs, then the main thing that matters is your enjoyment from the newly renovated bathroom. Follow this guide to make the right decisions.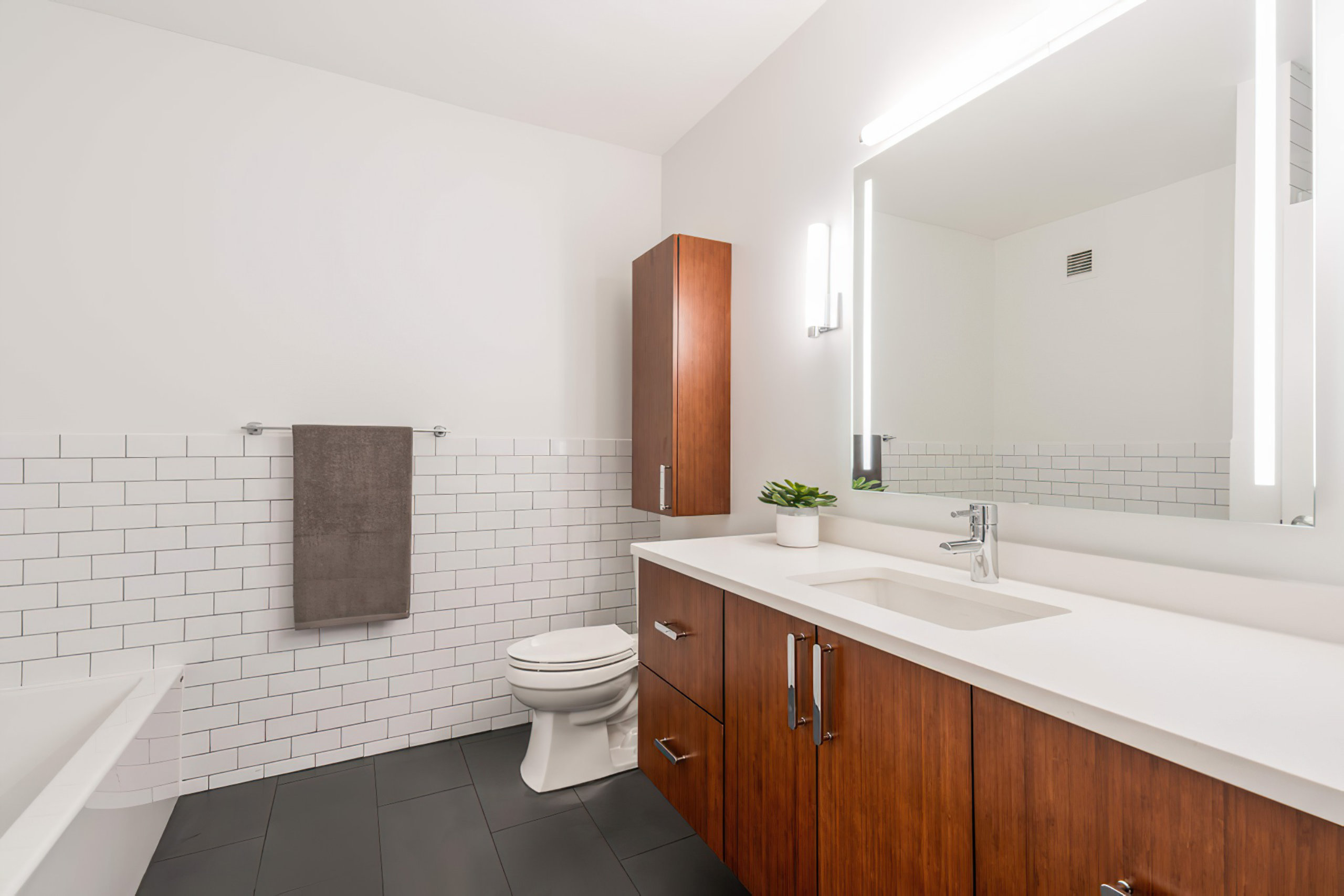 When it comes to remodeling a bathroom, one of the most crucial things to consider is how much you would like to spend on the space remodel. Each bathroom has its character and different challenges, but some things can reflect each bathroom's budget. 
Plumbing is the number one thing that significantly increases the budget. Plumbing work is relatively expensive and requires professionals to do it. In some cases, it's necessary, like adding a freestanding tub or changing single vanity to double, but if it is not required, consider keeping the fixtures in the same locations. You can still get a whole new look and style for your place while maintaining the same layout.
Changing the layout of the walls is the second thing that can increase your budget. In some cases, our clients would like to improve their bathroom by making it larger. Sometimes, it makes sense, but you can usually get more space in your bathroom by optimizing its existing layout.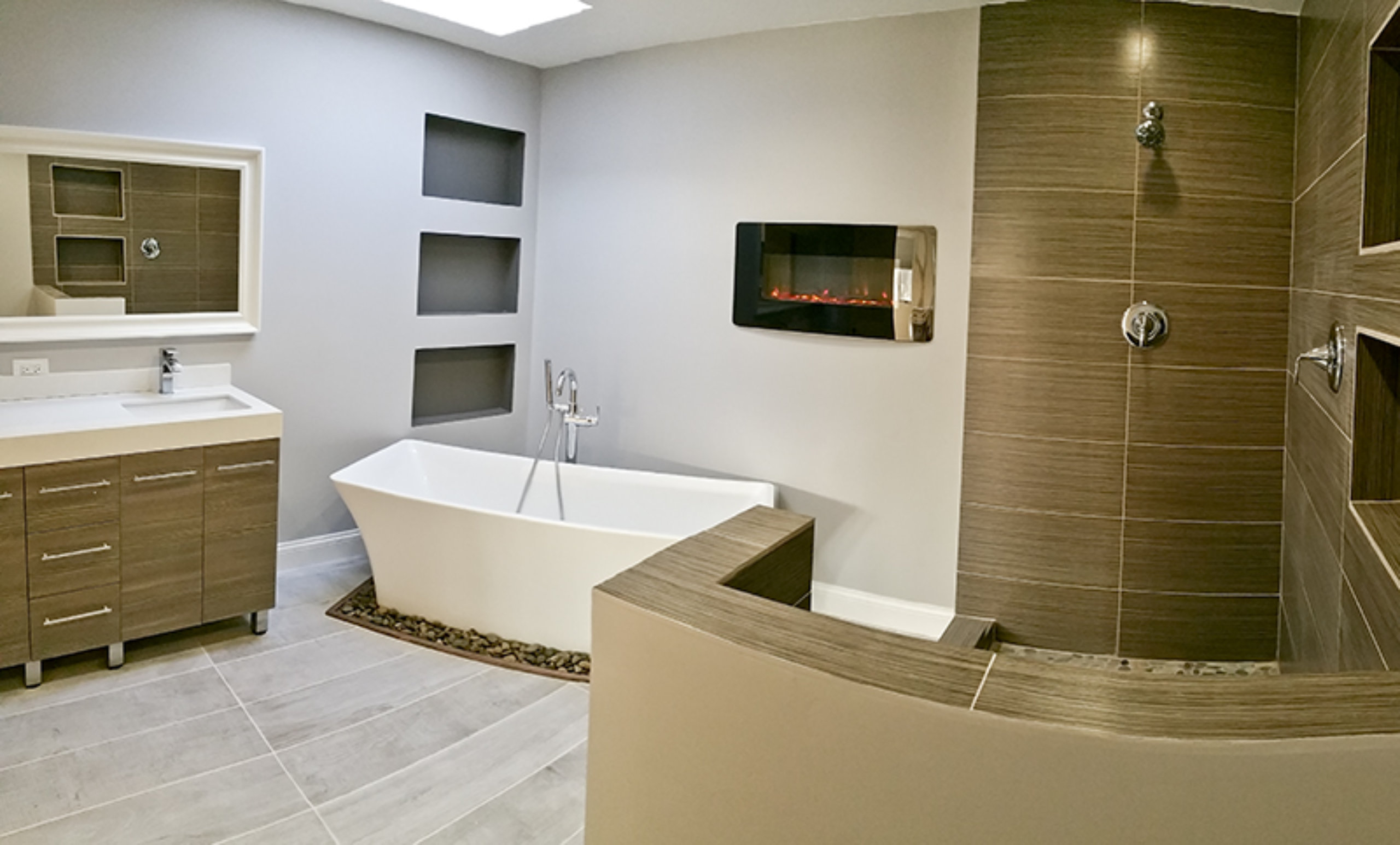 The bathroom is one of the last places that homeowners decide to make "smart" – perhaps because people are worried about an invasion in their privacy. But with the new emphasis on health and wellness, people are now considering smart technologies for their bathrooms. While the initial investment is high, technology like smart lighting, smart water use, and smart mirrors will save you money on utility bills in the long run.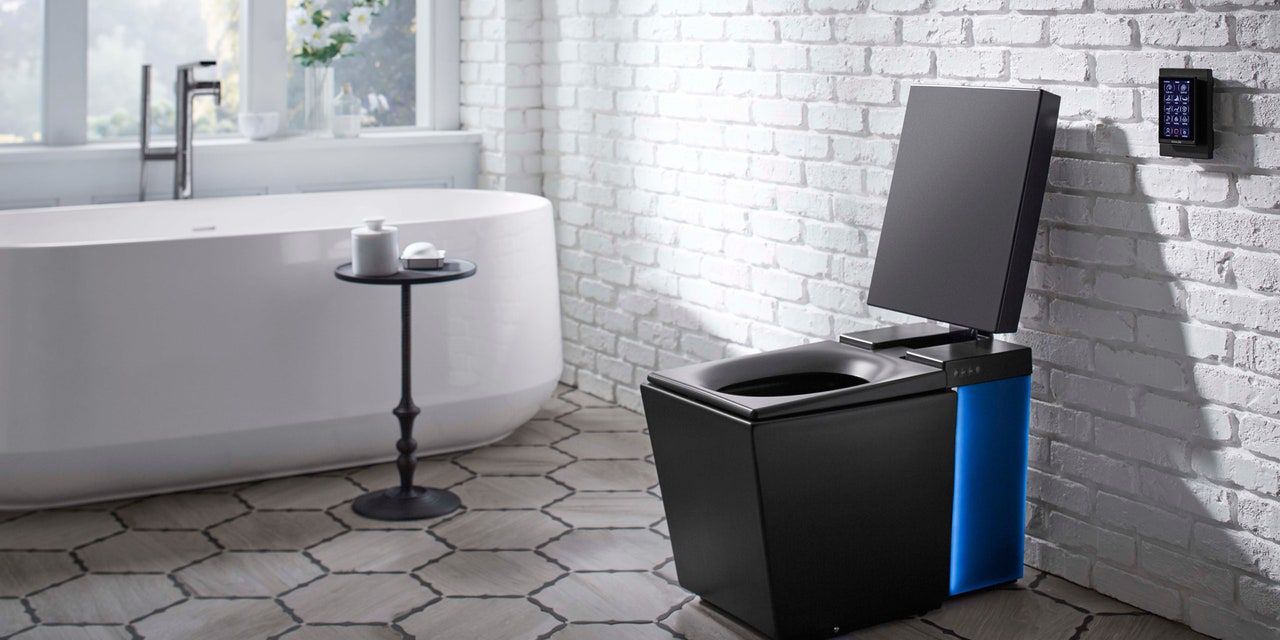 After we talked about the purpose of the remodeling and the budget you decided to spend coming to the most crucial part, your new space's design. When talking about design, we don't mean only the aesthetics of the room but also space's functionality and comfort.
Here is a list of our best advice to make sure you get the bathroom of your dreams:
When designing your bathroom, every element in the room must be part of the complete vision. Some of you might love the colors blue, pink, and green. Even though you like each of those colors separately, it won't work together. Each element must match with all the others. For example, dark blue walls, white tiles, and wood finished vanity with white countertop are a great combo that works together. It can be a clean, elegant design or maybe crazy brave design, but in both cases, all elements should connect, and balance is the key.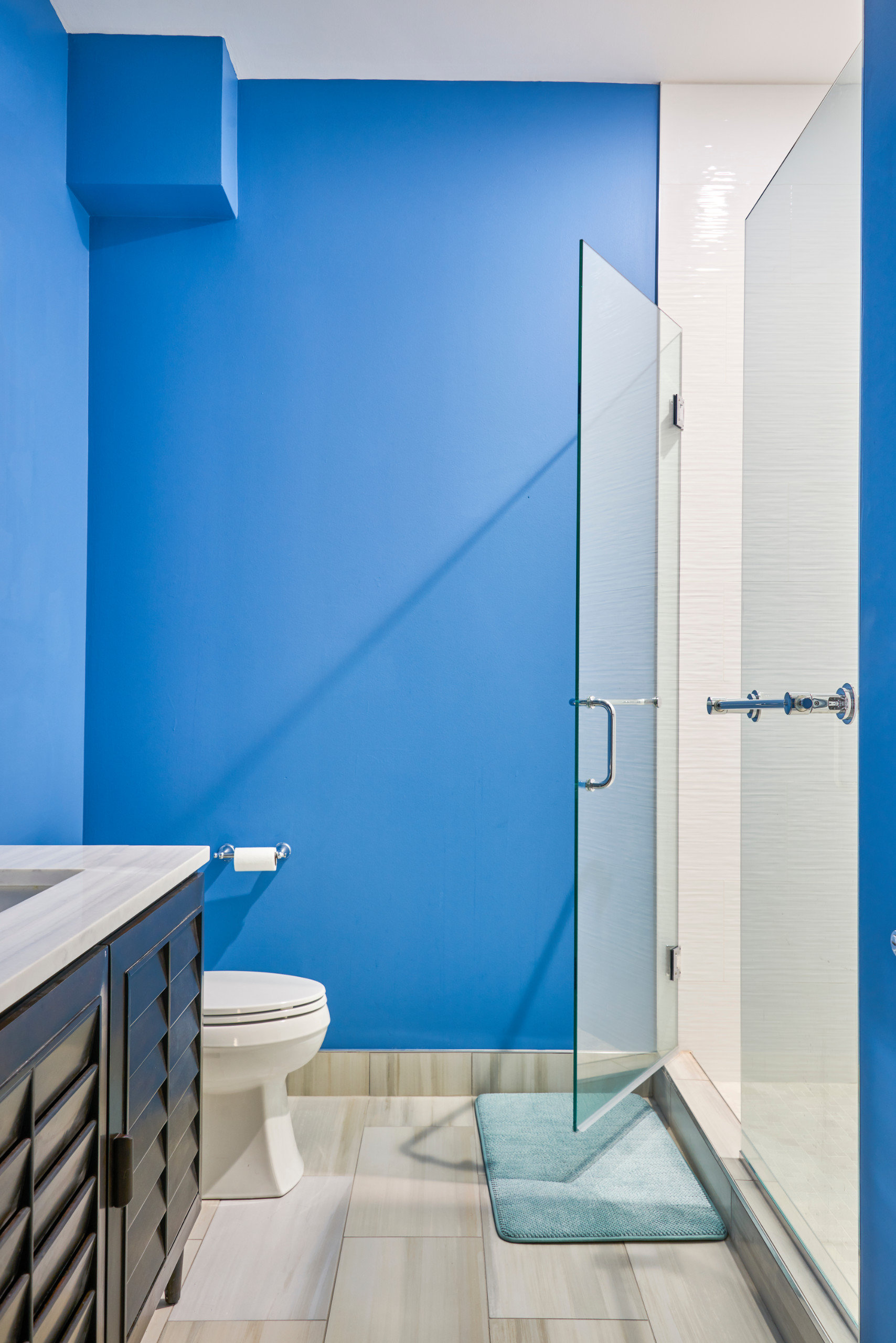 Design works no different than anything in life – balance is the key. You can balance light and dark colors, sizes, and even patterns. Black tiles on the floor with the white subway on the wall will create a beautiful combination. Or dark blue navy on the walls with white tile on the floor and walls for a fresh look. As for the patterns, you can play with big pieces of tile on the walls with small mosaic tiles in the shower niche.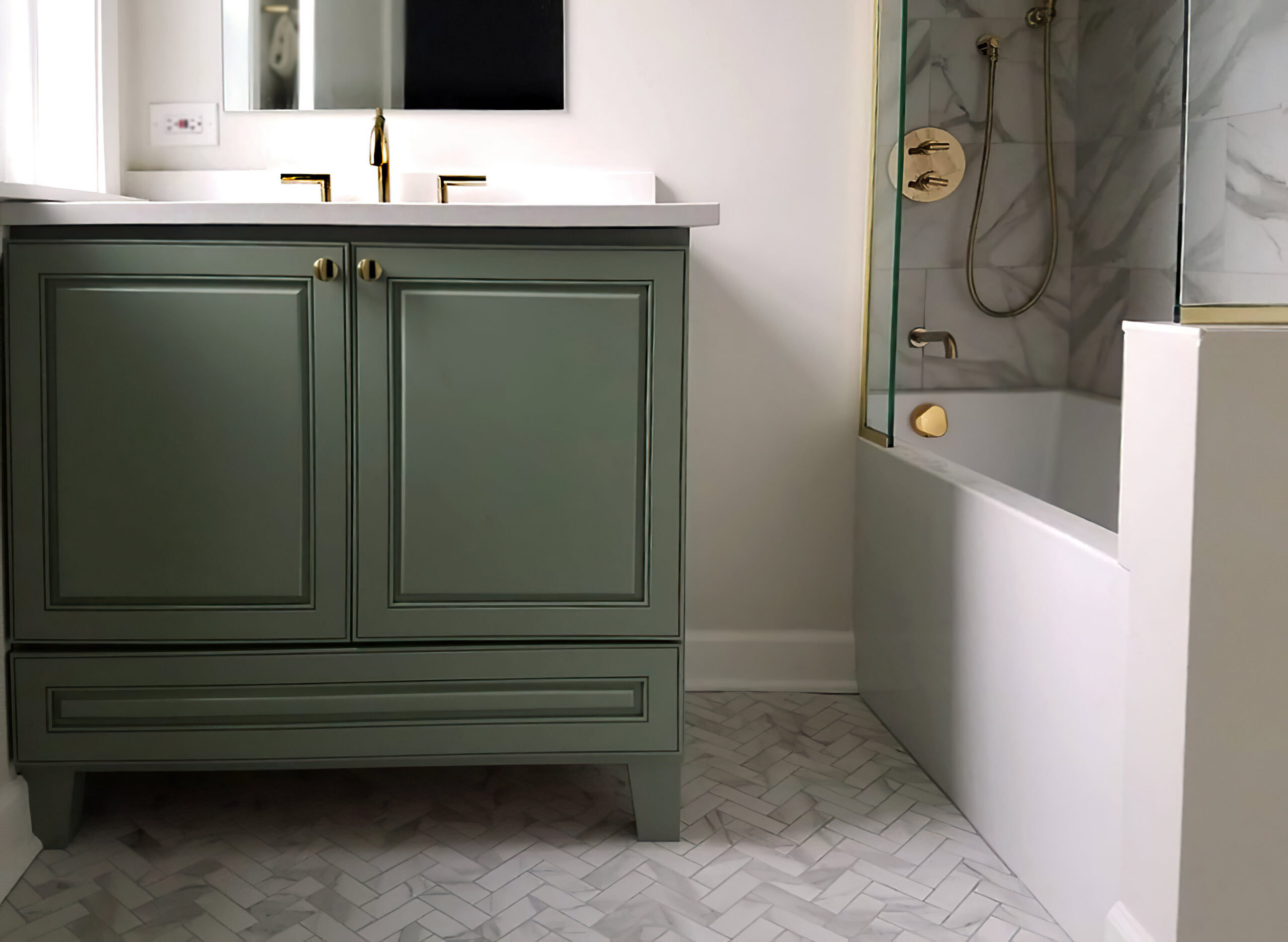 Niche is one of those elements that is functional and adds aesthetic value but often overlooked. We recommend keeping your niche non-squared and even not center makes it more appealing for the eyes. We prefer to do it wide and short or long and narrow. You can also add shelves into the niche if it's long enough. There are a few ways to tile the niche:
You can tile the sides and top of the niche with the same materials as the wall and the bottom of the niche with different smaller tiles (usually the same mosaic as the shower floor).
You can decorate the niche with the same tile as the wall for a clean, modern look.
Another option is to tile the niche and the shelf with the same stone material as the vanity countertop. This way, you can decrease your expenses by using the same materials for different bathroom elements.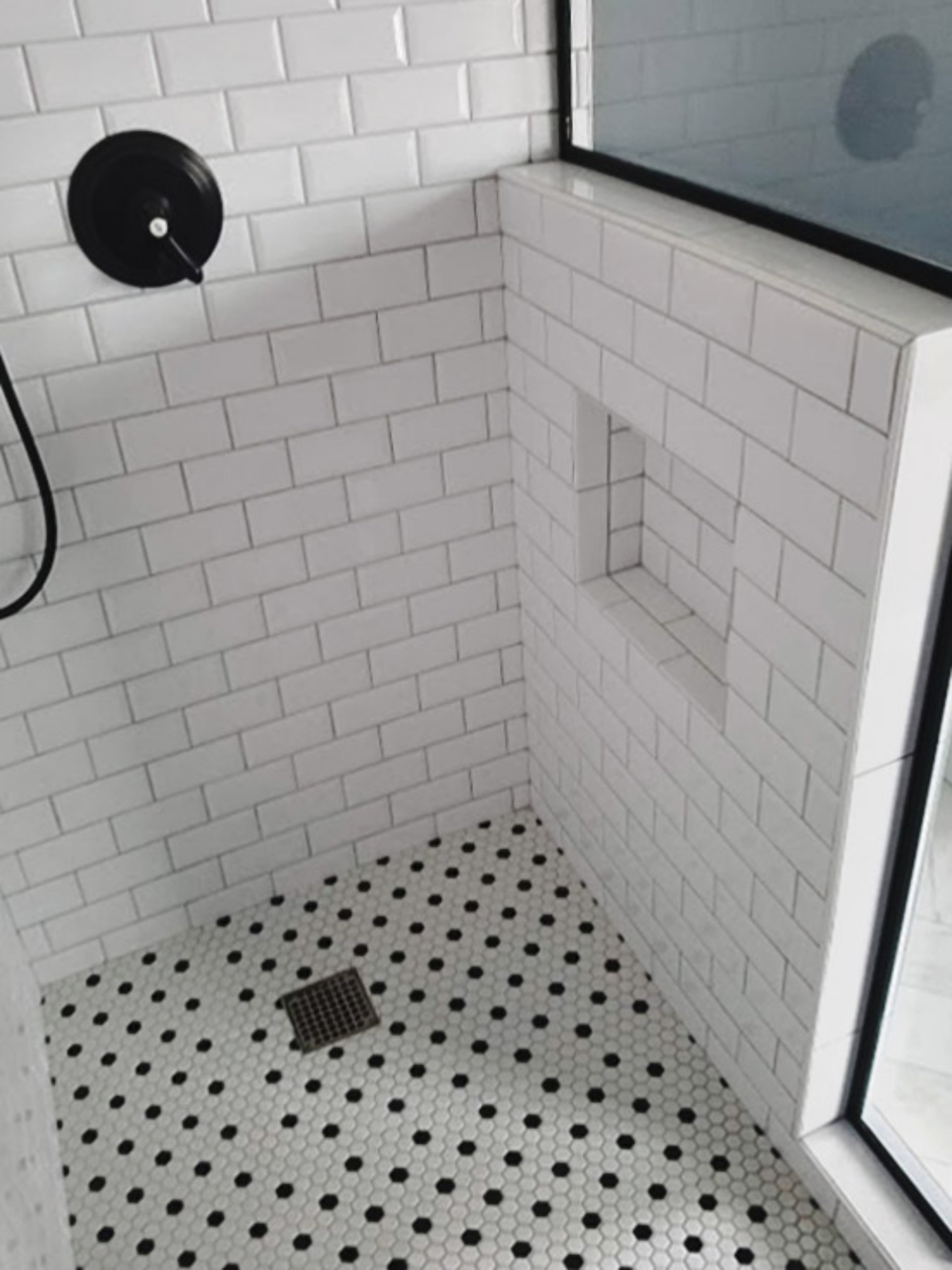 Tile type and its color is the first element the homeowner selects. It is one of the most important decisions you will take as tile usually covers lots of space and because it is hard and expensive to replace it later as it will require the complete gut of the space in many cases. When selecting tile, there are some things to consider: material, look, pattern, and size. Here are tips for each subject.
Materials: The only thing that is important to remember is that ceramic tile is not recommended for floors because it is too fragile. Marble, porcelain, and other stones all work great for bathrooms.
Look: It depends on the general style of the bathroom that you choose, but the most common tile styles in 2020 are: marble or simple colors like black, grey, white, or beige. Natural-looking wood finishes for floor tile also become very popular.
Pattern: The most common one is staggered. It looks nice for marble in traditional and farmhouse bathrooms. For a more modern look, straight lines will help to reach a clean and organized style. For a more fancy and unique look, we love to use the herringbone or chevron.
Size: That depends on the style of the space and the material of the tile. The key is to keep the balance: using too many small tiles in the room will create a busy look in the space that should feel comfortable. So if you plan to use small subway tiles on the walls, we recommend using a bigger tile for the floor. Another way to make small tile pieces look less busy is by using grout lines of the same color as the tile. In 2020 we noticed the trend of oversized tile used in bathrooms. Pieces of 4×8 feet are available with a marble appearance, and it looks great in most bathrooms.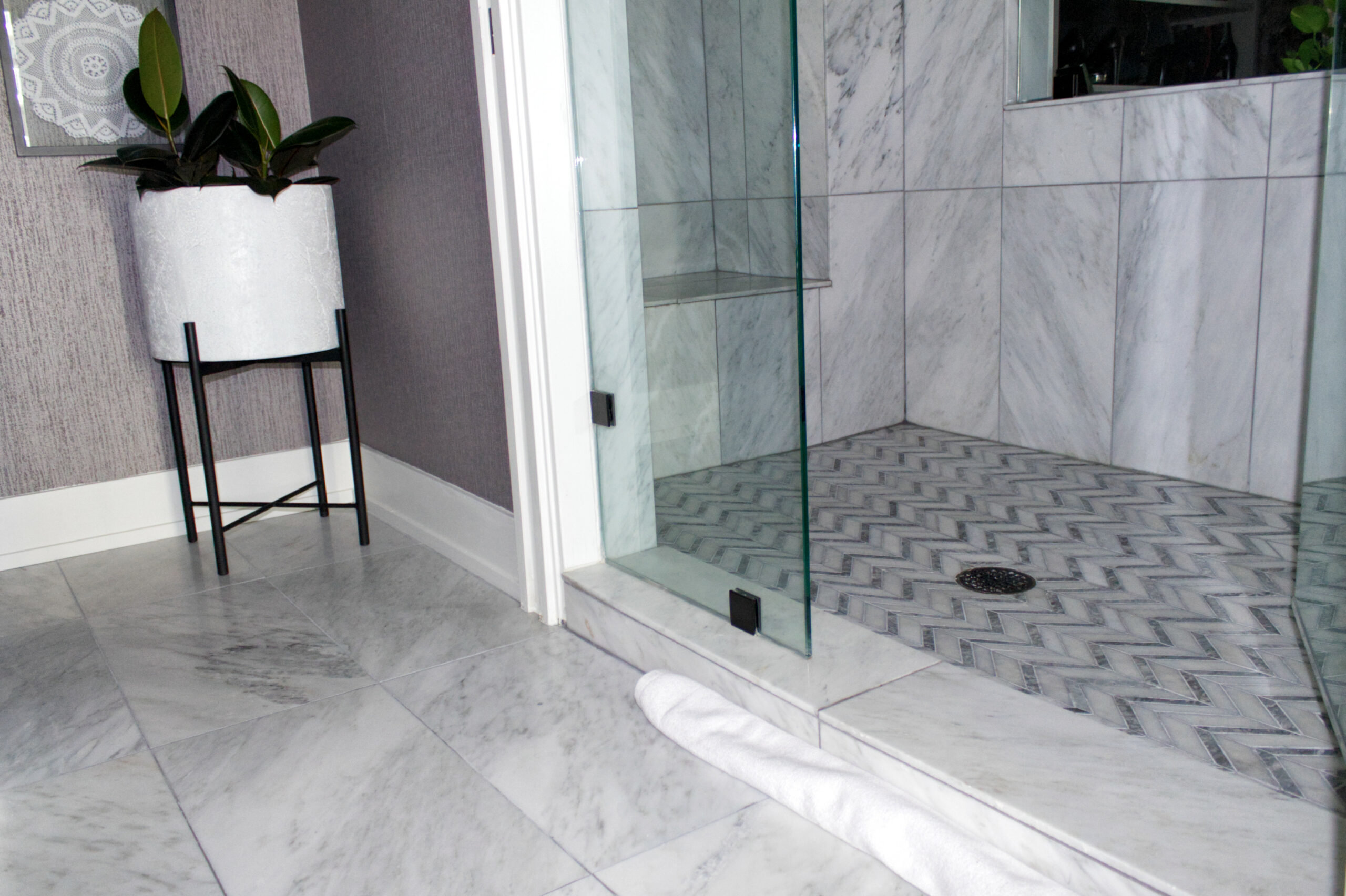 As for the colors, it depends on the bathroom style. Everything can look great as long as it goes well with the design concept. Here are three materials primarily used for countertops:
Marble is a classic and elegant choice. Usually, when people use marble countertops, they also use marble tile for flooring and shower. Often it is used in combination with white or grey vanities. The only issue with marble is its fragile material and get stained quickly. We still recommend it for bathrooms, but you should avoid it for kitchens. 
Quartz is an engineered product made from natural stone. The most durable and modern look. Clean colors that go well with almost any design you choose to do in the space. Mainly used for transitional, modern, rustic or industrial designs. 
Granite has a classical look, very durable, and low-maintenance material. It is a natural stone that fits vanity with wood finish and goes well with white and beige colors. Designers choose granite for traditional and farmhouse bathrooms.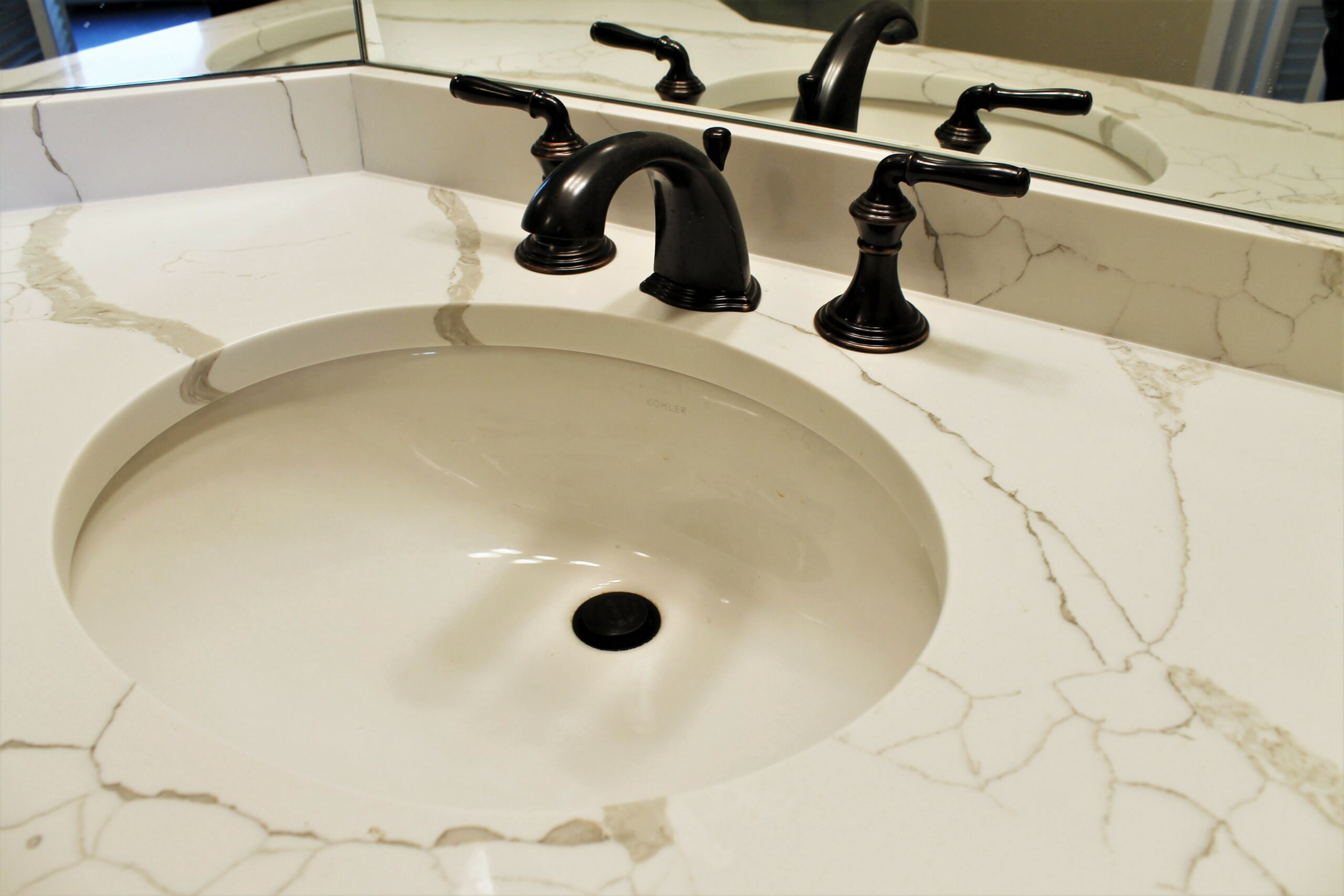 Part of designing the space is to make sure that it is functional and serve your storage needs. There are few options to consider, and here is our list with the pros and cons:
Open shelves are trendy, look great, and add a lot of style to space. Our favorite finishes for that are a wood style or marble. Both look amazing and blending great. The thing that is important to remember with this one is what you put on them. If you will throw dirty toothbrushes or shaving machines on it, that probably is not the right solution for you as it will hurt the space's look.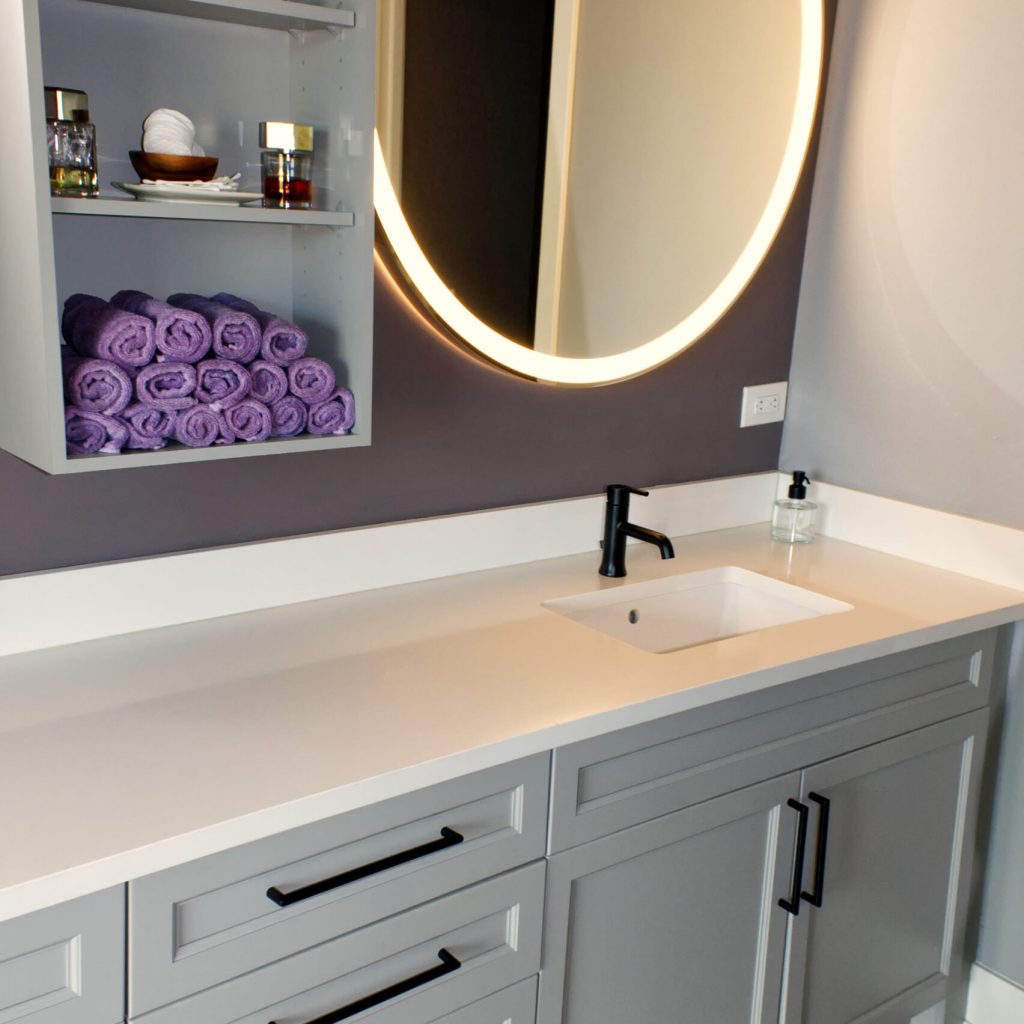 It's a classic solution when you have limited space and want to combine mirror and storage functionality. You can put there anything you like, and as long as it's closed, it will look excellent. When possible, we prefer to make medicine cabinets recessed into the wall, but sometimes the wall's mechanicals won't allow us to do that. Don't worry about that as most medicine cabinets allow you to put it on the wall. The disadvantage of medicine cabinets is that they are not very deep and have limited storage space because they are designed to be recessed.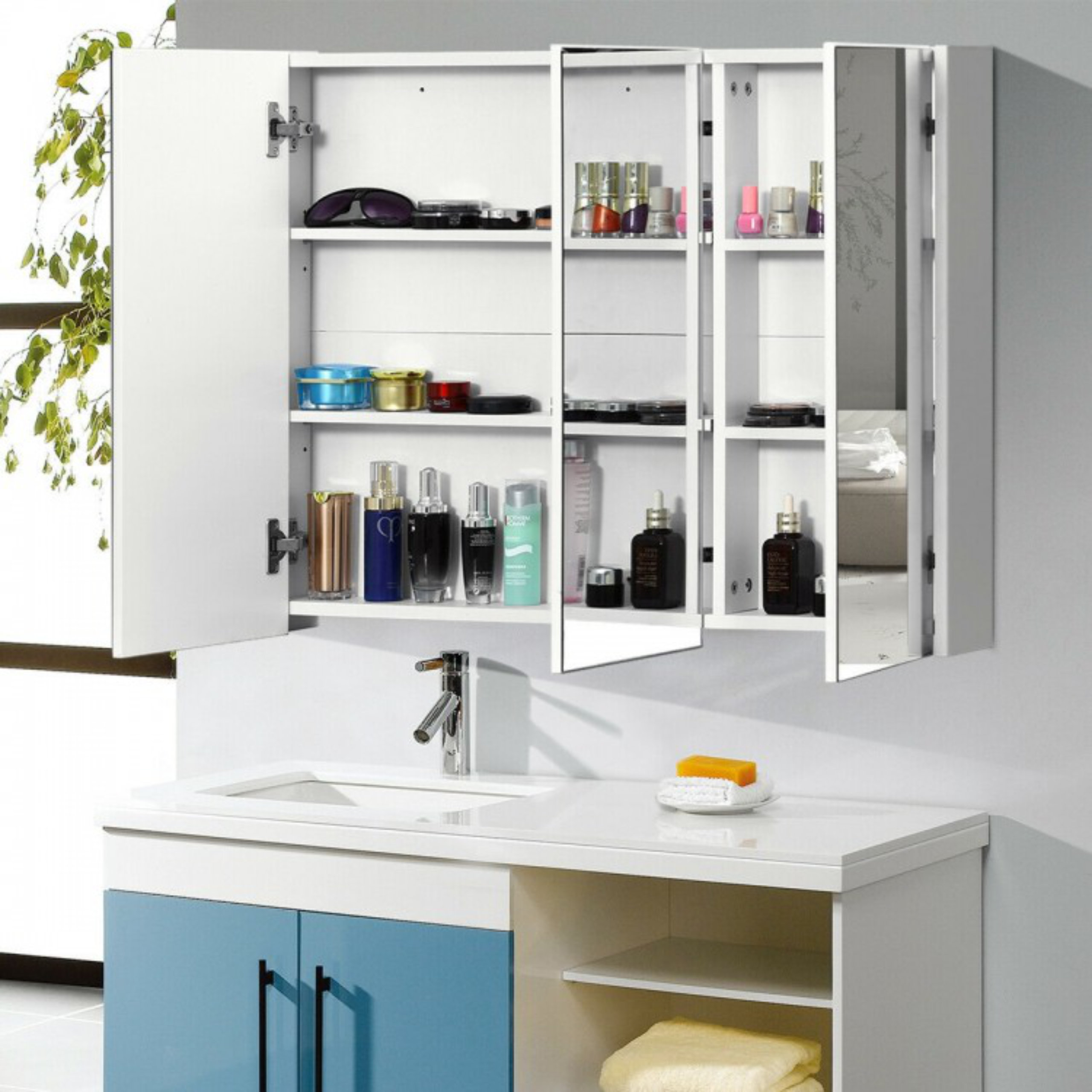 The cabinet option has the most storage space. You can keep there whatever you want without worrying about how it looks. There are plenty of cabinet styles to choose from. The most common location for an on-wall cabinet is above the toilet. When doing so, make sure to keep in mind those two parameters:
Height: Make sure it's high enough that it won't be too close to the toilet. Hitting the cabinet with the back of your head is not something you want to experience late at night!
Depth: The wall cabinet shouldn't be too deep. 4-8 inches is an optimal depth for that purpose.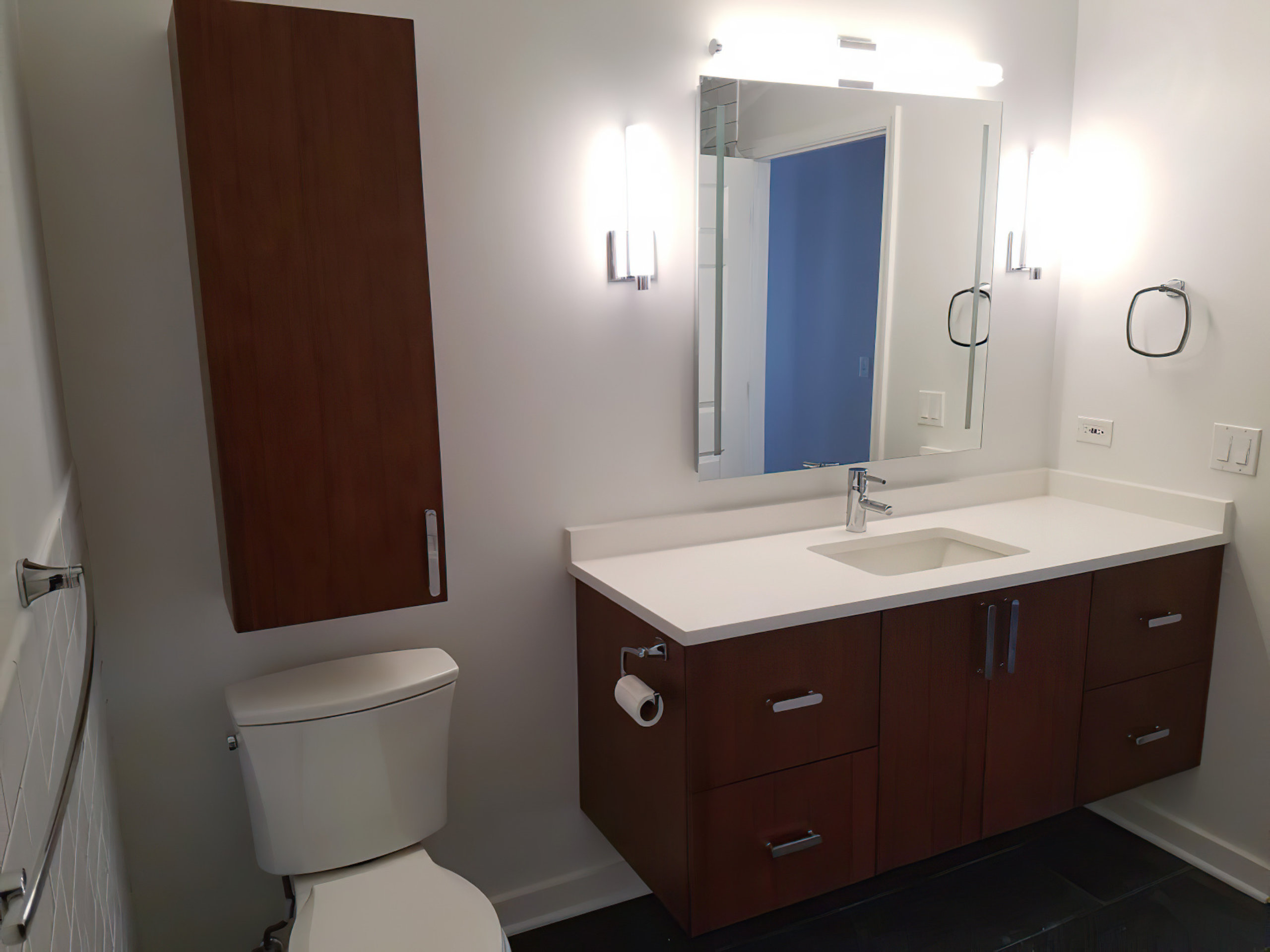 If you have enough space, a built-in closet can be an excellent option for storage. If you have a shower in your bathroom and do not need a tub, it's a great idea to use extra space for a closet. Regarding the style, we recommend getting the closet doors from your cabinets supplier and making the door look to match the vanity cabinet door.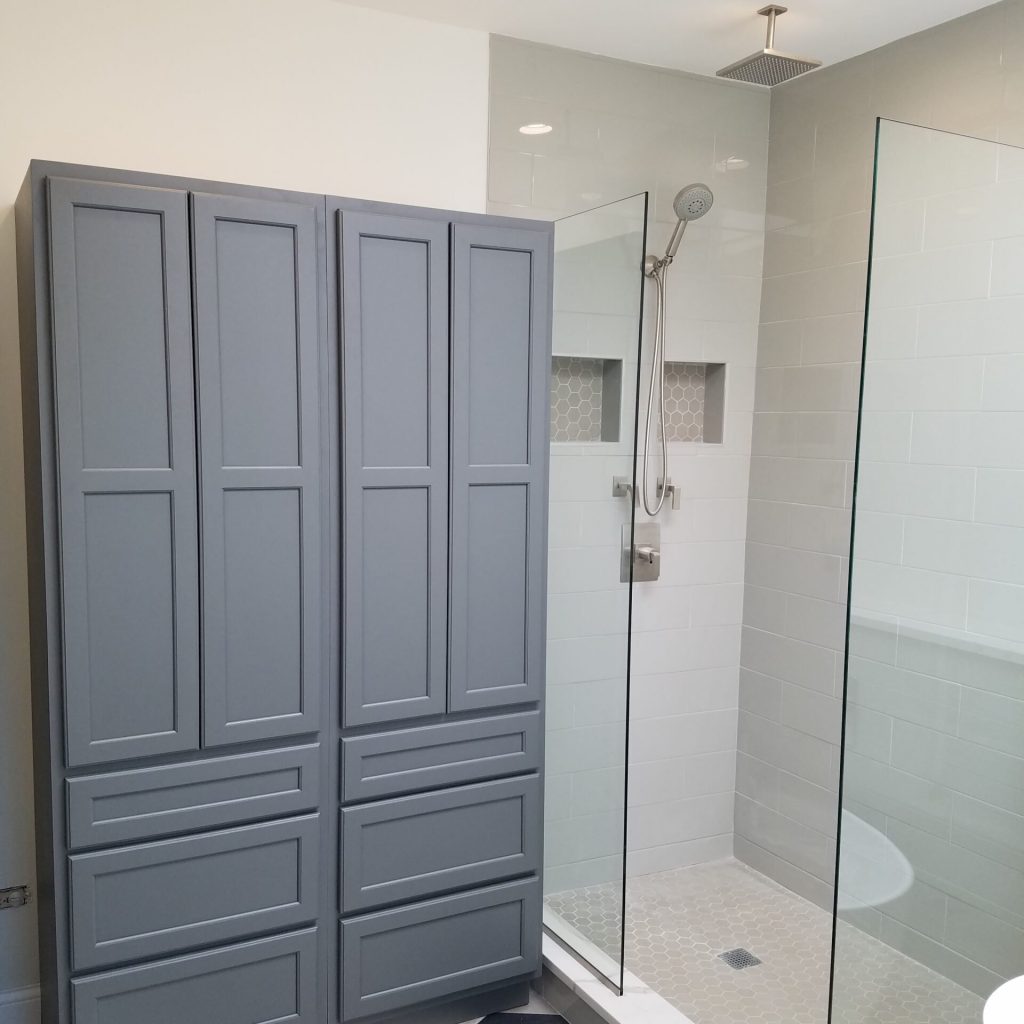 The general recommendation for selecting shower fixtures, vanity faucet, toilet handle, and cabinet hardware is to match material. For example, a chrome finish or brushed nickel for every piece is a popular option. You can mix the finishes in some cases, but it's helpful to consult with an interior designer. Lately, we noticed the trend in black and gold requests to create a luxury bathroom look.
Gold: Fits amazingly with marble style. This combination creates a great, almost royal appearance.
Black: Commonly used with white finishes. A subway tile shower and black shower fixture with shower door made of clear glass with a black frame is a safe option for elegant design.
Mixing gold and black: Combine those colors to create a truly majestic look. You can add black vanity, white marble countertop, and gold finish for the faucet and vanity handle. The black shower door should match the gold shower fixture. 

A shower drain is a detail the most people don't even think about, but we believe it can add lots of value to the design and functionality. Most bathrooms have the standard circle drain design. Sometimes that's ok, but for modern style bathrooms, we use the rectangular drain. If you want to step up the game, we recommend a long linear drain. This drain looks amazing and instantly makes the shower look luxurious. It also allows you to use larger pieces of tile in the shower that helps with the modern look of the space.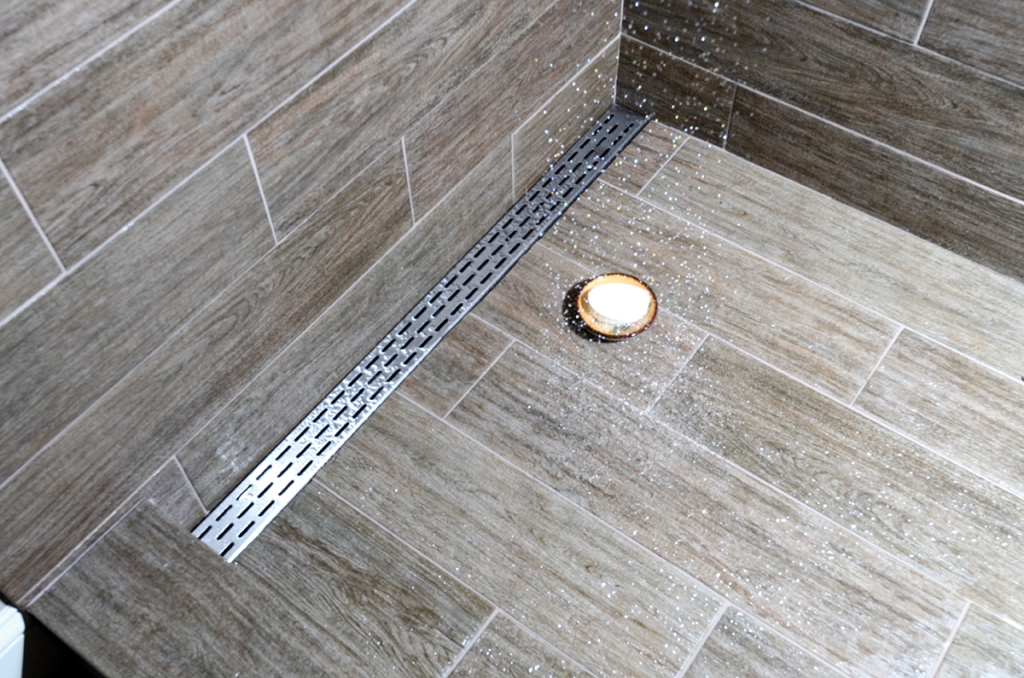 There are a few ways to choose a door for a shower or tub. The easier (and cheapest) one is a shower rod. We always recommend installing a glass door as it adds significant value and style to the bathroom. If you decided that this is what you need, we would suggest the frameless style shower as an alternative. This option is not more expensive than framed ones, but it looks much better than a rod. As for the functionality of the shower door, there are two options :
Sliding Door: It has an excellent selection of styles, including ones with exposed tracks.
Panel and Hinged Door: It can get you a cleaner look, and it's easier to clean.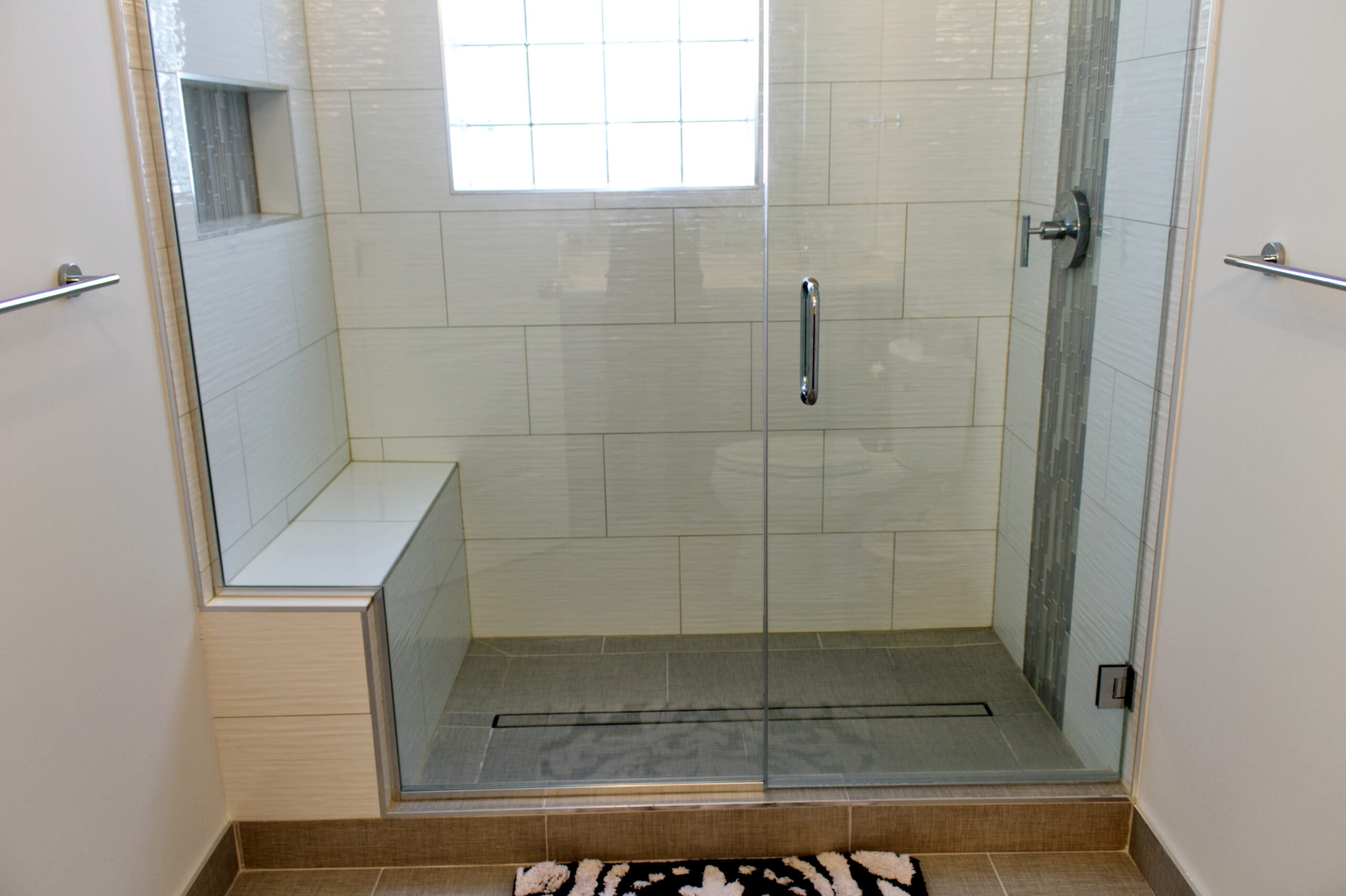 Lighting is a delicate element of bathroom design. It shouldn't be too bright to make it uncomfortable for eyes or too dim so that you will struggle with makeup, shaving, and other activities requiring attention to detail. The most common solution is one ceiling and one vanity light source. Here are ideas that can improve your bathroom lighting:
Waterproof Recessed Light: Place it centered over the walk-in shower to add it a luxury look.
Pendant Light Over the Freestanding Tub: In the right space, this is a fantastic feature that will make your bathroom a premium grade at a low cost.
Lighted Mirrors: For modern bathrooms, it's another great option to make your space look unique.
Double Vanity Light: For master bathrooms with double vanity, we suggest to add two separate mirrors with dedicated vanity light above each mirror.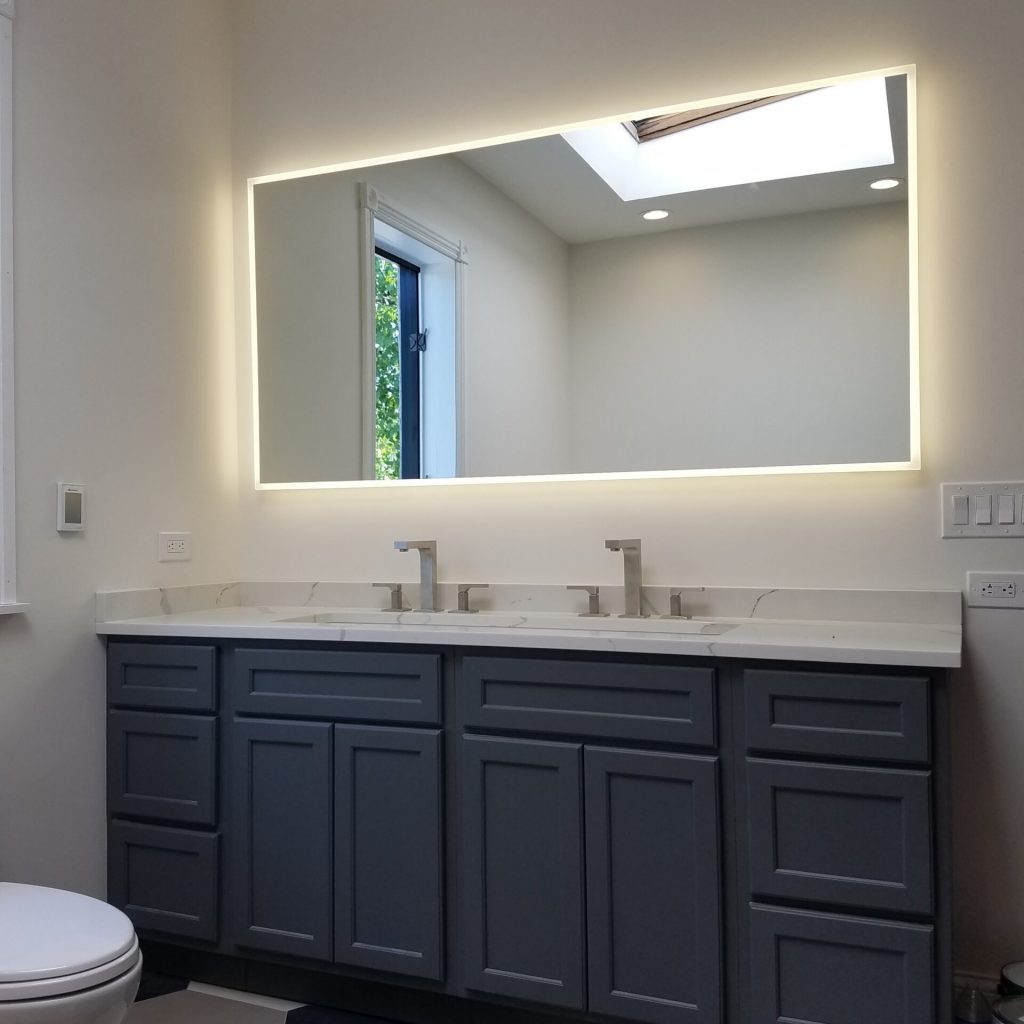 4. Knee Walls and Open Concept
In some bathrooms, especially in old homes, we always recommend making the space more accessible. It helps small rooms look much more prominent and pleasant.
If the toilet is separate from the rest of the bathroom, we recommend removing the walls to merge rooms for increased visual space and comfort. Another trick is separating the shower and tub with a knee wall (half-height wall) with a clear glass panel above connected to the shower door.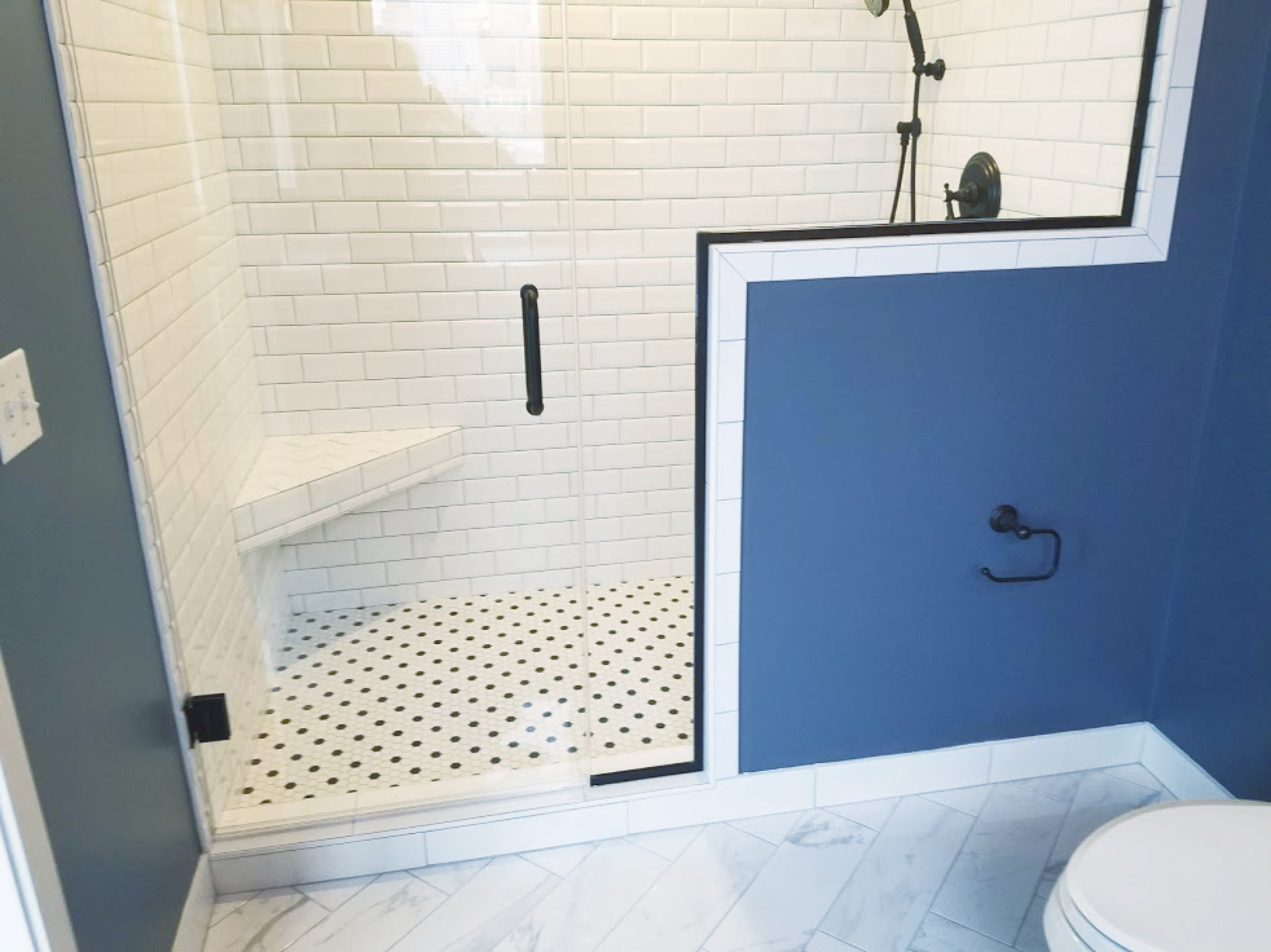 After many years of working on bathrooms renovations in the Chicago and Northern Chicagoland area, we discovered the best order for material selection:
Tile for the Floor, Walls, and Shower
Vanity and Cabinets
Lighting Fixtures
Plumbing Fixtures
Countertops
Walls Paint and Grout Color
Hardware and Accessories
Additional Decor
It will allow you to focus on the large elements that define the bathroom look first and then zoom in selecting a smaller (but no less significant!) parts.
Let's sum up what we did learn.
First, When you decide to remodel a bathroom, you need a clear vision of its purpose. If you renovate it for rent or sale, you should pick the most popular options rather than follow your personal taste.
Second, you need to choose the design style: traditional and modern bathrooms are timeless options that would fit most homes, while industrial, rustic, luxury, and farmhouse style would not work with every space.
Third, you have to select all individual bathroom materials and products to match the chosen style. It may be an overwhelming process for non-profession, so we recommend consulting with an interior designer. 
If you're planning a bathroom remodeling and would like the help of a professional team of interior designers and architects with layout, materials selection, and making sure that all the work is done efficiently, in time, and within the budget, contact us anytime. We will go shopping with you and take care of every step of the project until its completion. We look forward to hearing from you and hope to work on your next remodel!