An informal poll 123 Remodeling conducted had 70% of respondents opting for a walk-in shower over a bathtub, while 25% would like to have both. Only 5% prefer a tub over a walk-in shower.
In a "No Consequence" scenario… (e.g. ignoring resale concerns, etc.)
What would you want in your primary bathroom? Tub or Shower?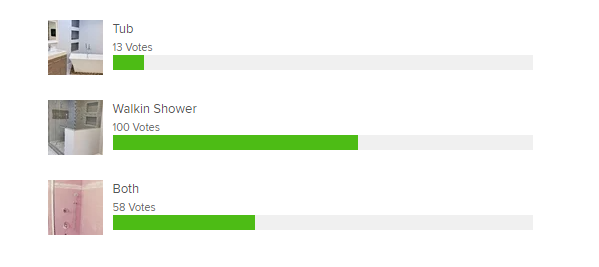 Ariel Darmoni – Operations Manager at 123 Remodeling, finds himself in this discussion frequently and has developed some well-founded opinion:
"If you are in a one-bedroom condo you are not going to impact resale value.  A one-bedroom condo does not need a tub. No couple with babies are going to buy a one-bedroom condo.
In a two-bedroom condo with two baths, the most common choices recently are for the best of both worlds.  Nine out of ten clients want the walk-in shower in their master bathroom and a glass-walled tub-and-shower in their other bathroom.
Families adding a second or third bathroom are usually remodeling to accommodate a growing family and these clients are usually building the new bathroom for the parents to use."
---

Houzz community member makaloco was with the majority opinion "Shower for me. I had a tub for 23 years in my previous apartment and only used it to shower the plants and clean the cats' litter box."

Houzz user debqhix said "Walk-in shower for sure. We had a garden tub for 15 years. I think I used it once. We have a tub/shower combo in our master currently. Our plan is to remove it and replace it with a walk-in shower when we do a complete remodel in a few years."

"If I had to choose between the old fashioned shower bath combination, or just a bathtub – then 100% it would be the walk in shower."  Answered Houzz user bugsysmom717.

---
In the 2020 Winter Bathroom Trends Study, via remodeling community leader Houzz, 7,645 homeowners who were preparing for or had begun bathroom remodeling were surveyed.  This study covered much more than The Great Bathtub Versus Shower Debate but found an interesting relationship about homeowners' tub choice by age group. A clear majority of senior citizens are skipping the tub.
Other key findings from the Houzz study:
Rain showers skew young, hand showers skew older
Frameless glass is the clear choice
Loving light from skylights to LED showerheads.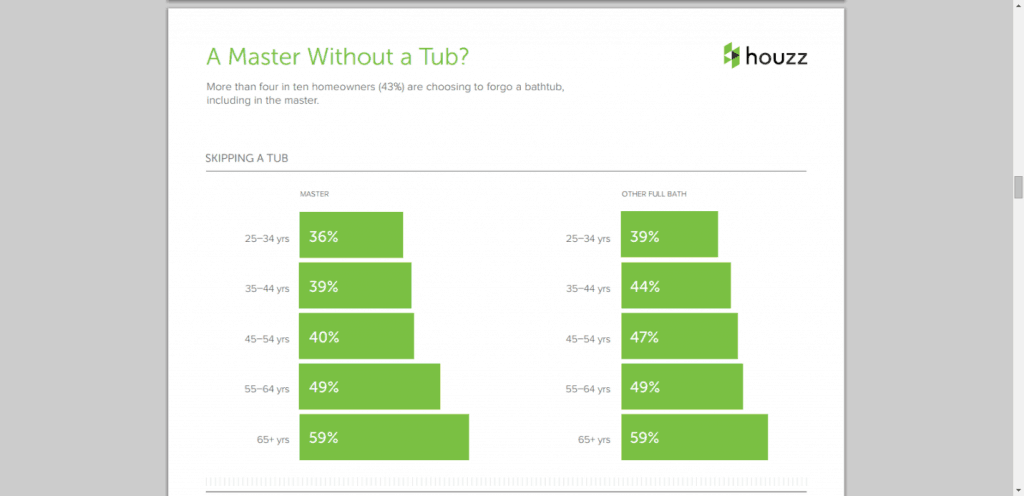 Ariel Darmoni is not anti-tub, he is pragmatic.  "We are seeing the same consumer behavior that Houzz reported last winter. People who want a tub, 'WANT A TUB'.  For these homeowners, we are pulling out those shallow 70s and 80s tubs that are little more than a big shower pan and putting in serious soaking tubs."
Showers and Bathtubs by 123 Remodeling
Remodel Your Home
123 Remodeling is a home improvement company based in Chicago, specializing in renovations of residential properties.
From kitchen remodeling, bathroom renovation, and basement finishing, to tuck-pointing, masonry, and roofing, we do it all. Serving Chicago and surrounding suburbs, we provide quality and professional services at affordable prices.
Call us today to schedule your free consultation (773) 685-6095