Color is key to any remodeling project. Whether you prefer a neutral palette or something a little louder, it's vital to put some focussed time into choosing. While wall paint or even a backsplash can be changed without too much fuss, something like countertops is difficult and costly to change.
Houzz, a platform connecting millions of homeowners, home design enthusiasts, and home improvement professionals around the world as a forum and marketplace, conducts yearly studies regarding consumers in the home design industry. With this year's data in, it may be useful to peruse the findings of kitchen color schemes. So here's an overview (with some helpful graphs) of the 5 main areas you should consider before you color your kitchen.
Countertops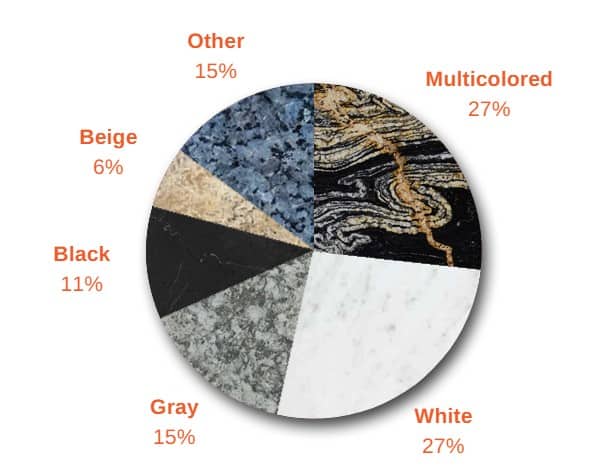 Countertops are often the highest ticket item in a kitchen remodel. With material, fabrication, and installation costs, you want to be really sure before you finalize a decision.
The top spot this year is a tie between 2 opposite options.
The first is multicolored. This might be a loud granite, a tile, or a simple stone with dramatic veining.  This is a good choice if you let it take the spotlight by playing down the rest of your kitchen is very neutral colors. Multicolor goes very wrong very quickly if not used sparingly.
Tied is white. You'll see this continue throughout the rest of the study, but white has always been (and might always be) the most popular overall color when it comes to kitchens. White is best for minimalists and those who want to be absolutely sure that they've cleaned everything off after cooking.
Gray, black, and beige follow up to give a complete Top 5 with a focus on neutral tones. The remainder encompasses louder colors and unconventional materials, from natural stone to wood and stainless steel. (We recently did a white kitchen with blue granite you might want to see.)
Flooring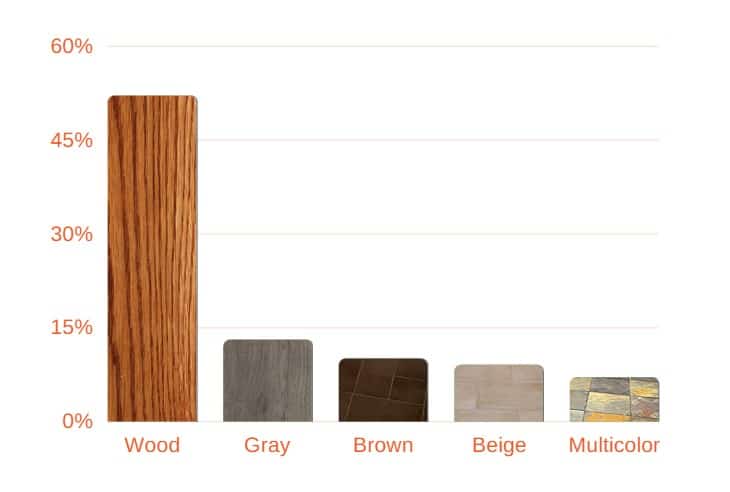 While most kitchens still have tile floors, the trend for change is on wood floors. Real hardwood is always going to be popular because the effort they require makes them feel special. This is especially true in condos, which are becoming increasingly more open plan, so having the same flooring through an entire space is more appealing.
But when it comes to kitchens, more people are starting to choose laminate flooring, giving you the look of wood with less maintenance. With hardwood floors, a broken dishwasher is a disaster. However, laminate lets you mop and move on.
As for tile, the trend is earthy neutrals and natural stone-like slate.
Cabinets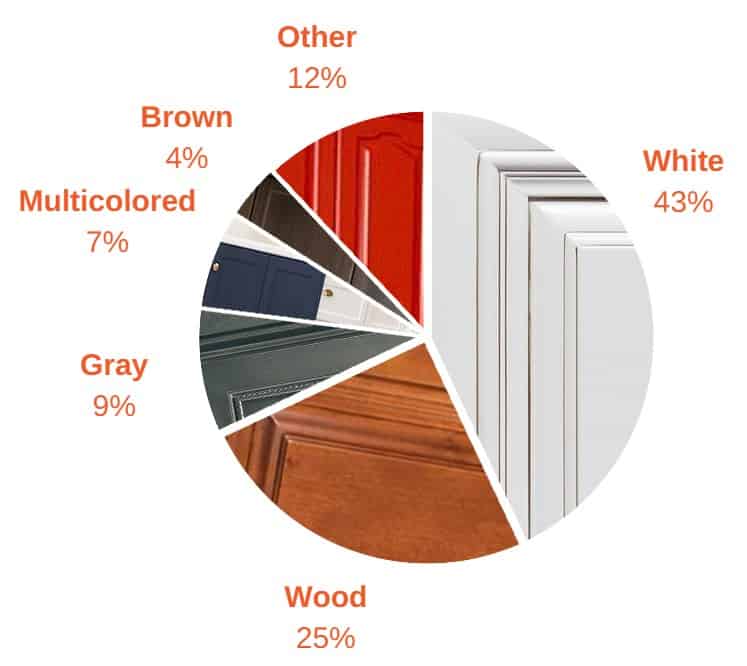 Once again, white cabinets are top of the list by a lot. There are a lot of reasons for that, but primarily that it's a good color regardless of the size of the kitchen. With a small kitchen where storage space is vital, darker cabinets can become overwhelming when they cover all the wall space. If you don't get a lot of natural light, white cabinets will also reflect whatever you can get and make it brighter. Additionally, it's a good neutral base if you want your countertop or backsplash to make a statement.
Wood cabinets are good for a more traditional or rustic look. And since there's a variety of woods to choose from, you don't have to have the same yellow oak kitchen as your parents. Exotic woods, especially in red tones, are gaining traction lately.
Gray cabinets can be a slight twist on the white kitchen, modern, or industrial even. If white is too bland for you, but you still want something neutral, gray can be a good option.
Multicolored cabinets can be doors or designs in surprising colors, but it's often just different upper and lower cabinets or an island that stands on its own with color.
Backsplash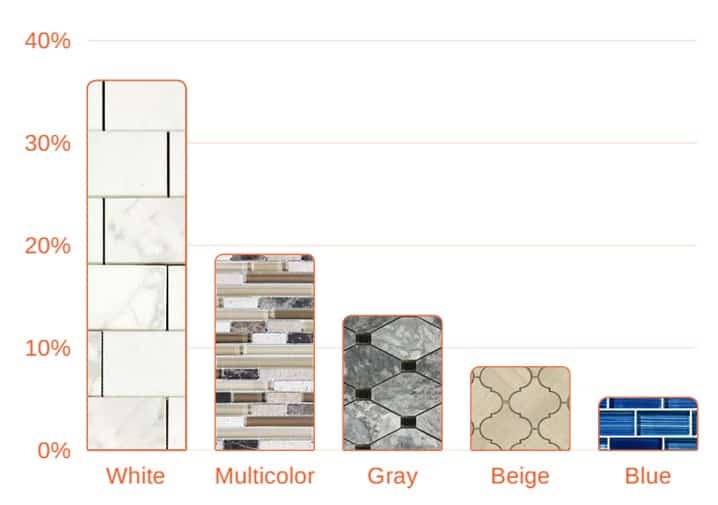 Backsplash used to be an overlooked area in kitchen design. In the previous century, you would have a 4″ edge coming up the wall side of your counter and that was enough. To be fair, you only really need a backsplash around the sink, but we're seeing more people do it above all the counters and even all the way up a wall.
White tile (especially subway) is the most popular, surprising no one. If you're doing something big with your cabinets or counters, you probably want the backsplash to fade into the background.
It's followed by multicolor, which is typically a mosaic of different colors or different materials (stone, glass, and metal mosaics are especially popular).
Besides the neutral options, blue is picking up steam, with a variety of tones and good adaptability to white and gray cabinets.
Walls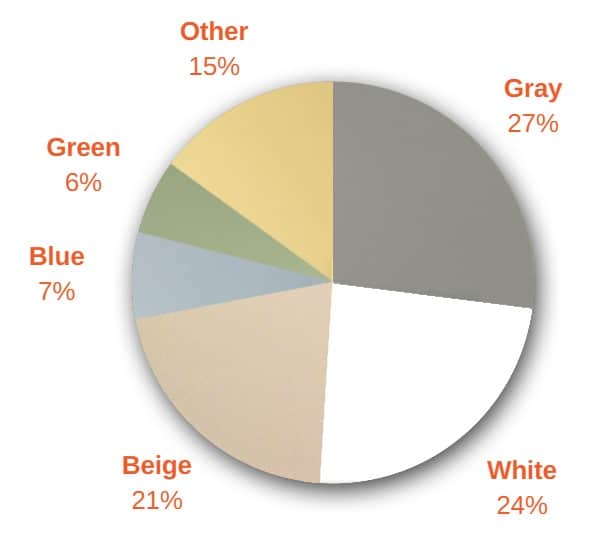 For the wall color, gray just barely pulled ahead of white. It's been a popular color in every room for the last few years, and with the focus on white everything in kitchens, it provides a little contrast. In fact, all of the top colors go really well with white cabinets. We even see blue and green coming up at the end after the standard neutrals.
---
At 123 Remodeling, we have long-term experience planning and executing dream kitchens. Please take some time to browse our kitchen gallery and let us know your thoughts on kitchen color.