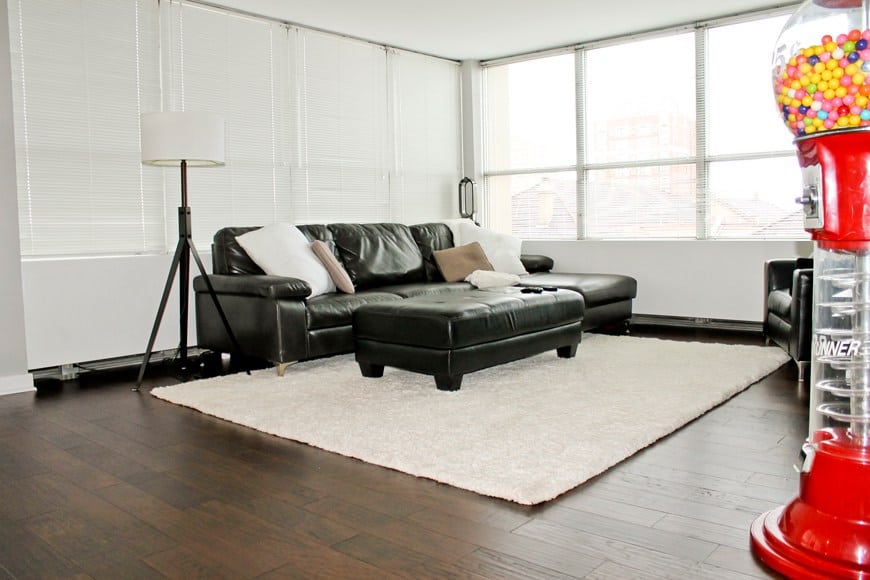 Hardwood is slowly becoming the number one flooring material because of its simplicity and durability which appeals to many homeowners. By choosing this kind of flooring material, you are sure to add style to the whole room. The only downside is that hardwood is not very flexible when it comes to changing design trends. As a homeowner, catching up to the latest trends is one way to make sure that you chose the best design that suits your taste.
Here is a list of some of the latest hardwood flooring trends that are on the rise for 2018.
Grey Is A Thing Of The Past
Most flooring designs last only four to five years and grey hardwood flooring has been around for quite some time now. Due to this, this kind of trend can go away very soon. Although the grey hardwood trend is going to end soon, there have been some significant innovations that came out of it. Today, you will see designers looking for nude colors such as brown and beige with a hint of grey. This color combination gave birth to "greige".
Interest In Dark And Cool Tones Is Growing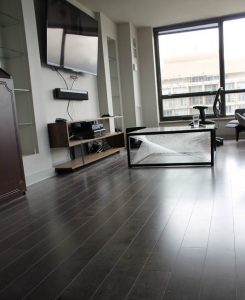 Cool and darker tones are slowly becoming popular because of two reasons: designers who prefer to be stylish and homeowners looking for materials with low upkeep. Trending dark stains include dark walnut and ebony as well as Jacobean and ebony.
An exclusive color called True Black was also released by Duraseal as their company's darkest color. This color instantly became popular among homeowners with a wooden motif all throughout their homes as it matches with all types of wood grains.
The Natural Look Is Coming Back
The market was dominated by hardwood flooring materials that have different effects and colors during the past year. However, this year homeowners and designers are opting for a more natural look. This kind of trend is a result of people realizing that stained hardwood floors are not flexible when it's time to renovate your home. To save homeowners from the hassle of changing floors, satin and matte finishes are definitely going to be trending in 2018.
Oak Remains A Favorite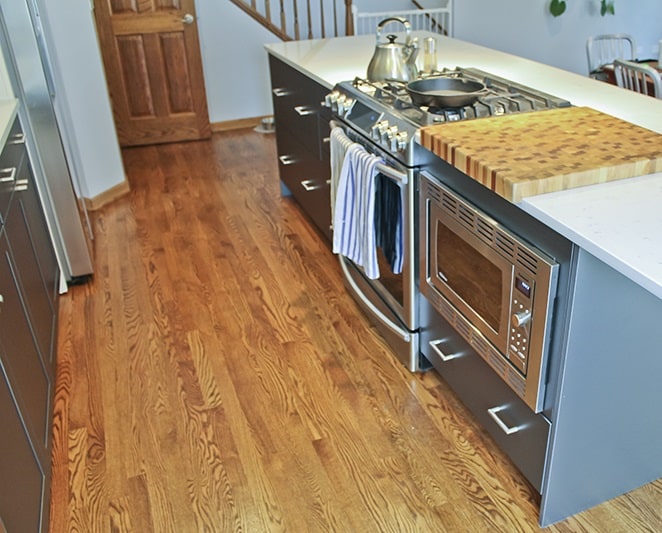 Oak has always been one of the most popular flooring materials throughout the years. Red oak is a good example of the best finishing and sanding materials today. There is also a growing interest in white oak specifically for pre-finished wooden floorings.
On the other hand, other types of wood like hickory, maple, and birch also remain popular. Birch is great for homeowners who want a clean and minimalist design, and hickory is the preferred wood for people who are aiming for that rustic vibe in their homes.
Make It Wider
Today, floors with mixed-width are steadily being used by designers due to their flexibility. However, longer and wider planks are starting to trend and more of it is expected to be seen in 2018. Hardwood planks that are wider give rooms a more spacious look. Longer and wider planks can make newer homes look modern and give older homes a rustic look.
Simple And Clean
Compared to the past years, homeowners now prefer simple layouts over ones with intrinsic designs. That being said, designers are not favoring chevrons, herringbones, and layouts with complicated borders. Today, one-width planks with a cleaner layout are being sold out in home depots due to their high demand. Simple and cleaner planks give more room for designers to throw in pillows and rugs that will add to the flooring's overall look.
Get More With Solid Hardwood

We're seeing people choosing the permanence of solid hardwoods over fickle and cheap options like bamboo or engineered wood. Solid hardwood can last for centuries. Not only is this a good option for long-term flooring, but it also adds value to the home. With hardwood, homeowners are also given the choice to sand, refinish, and change the wood stain or color depending on the existing trend.
Upcoming trends show that homeowners are steadily gearing toward hardwood floors, and steering away from cheaper options like engineered wood. This kind of trend shift is due to the durability of solid hardwood and its ability to last for a long time. For homeowners looking to flip their property, solid hardwoods are an excellent choice to add value to their property.
By using hardwood, you have the choice to apply wood stain, refinish, or sand to achieve the preferred design. This is an option that fickle and engineered wood are not able to provide. Most engineered wood cannot be refinished or sanded. Furthermore, fickle and engineered wood do not hold very well with scratches and water damages.