In the last decade, as the country recovers from the 2020 economic crash, resale value has been at the front of homeowning minds looking to make renovations. If you're planning to sell your house in the next 2-5 years, you might start looking at your options for increasing that resale value. But where should you start? Maybe a fresh coat of paint on the exterior? Some new trim and landscaping? Those will make a good first impression, but once potential buyers come in, the kitchen is very likely to be the room that gets the most attention.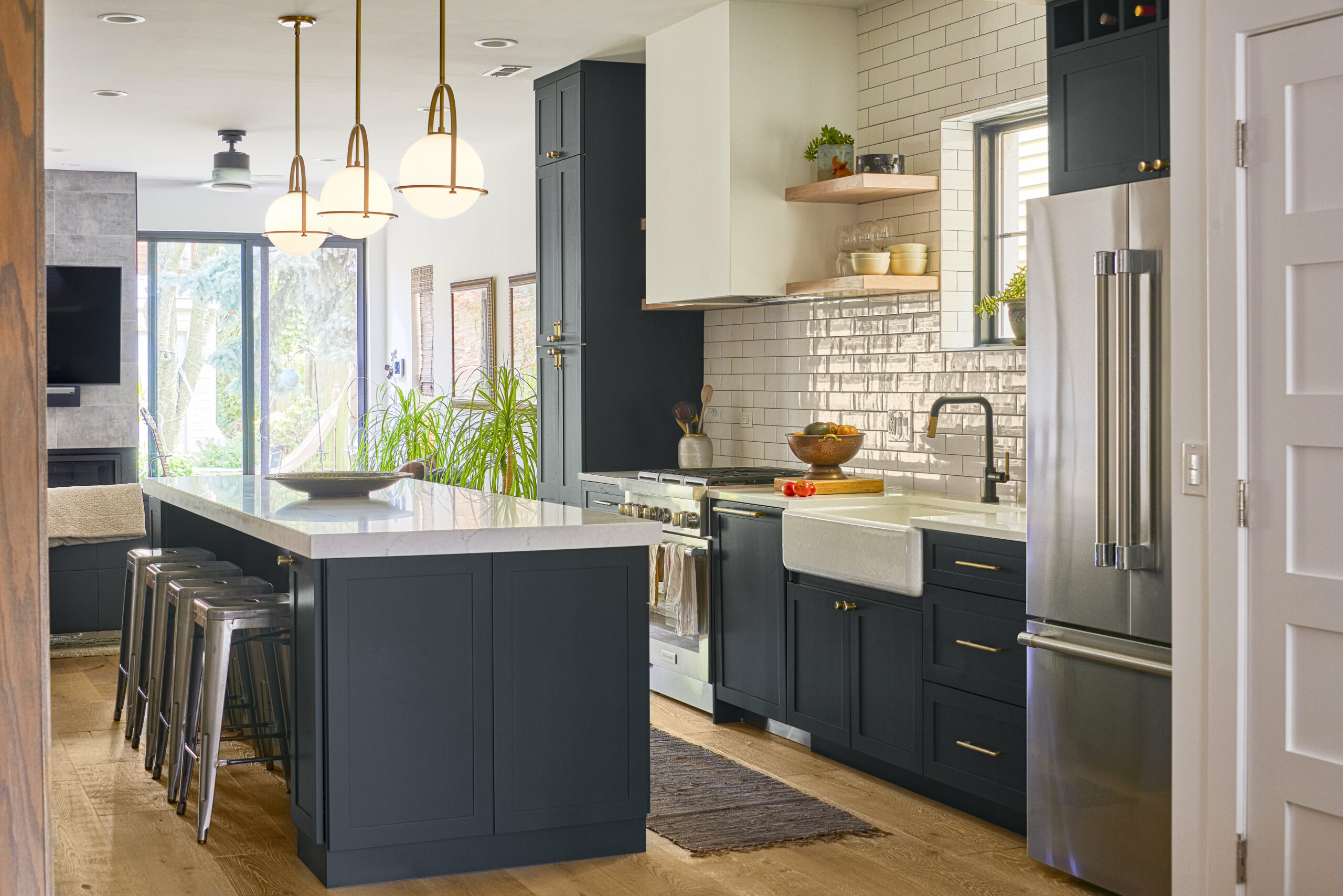 People are spending more time in kitchens than ever, between having smaller homes with fewer social spaces, and the rise of foodie culture, kitchens are the stars of the housing market. Not to mention that kitchen updates yield a 60-85% return on investment. But, more importantly, a great kitchen helps a house sell that much faster. So what are some simple changes for making your kitchen more appealing to buyers?
Layout
Buyers are looking for bigger kitchens. The best kitchen is a large one that can fit loads of people. Open concept has become something of a notorious buzzword in the design world because everyone is looking for that.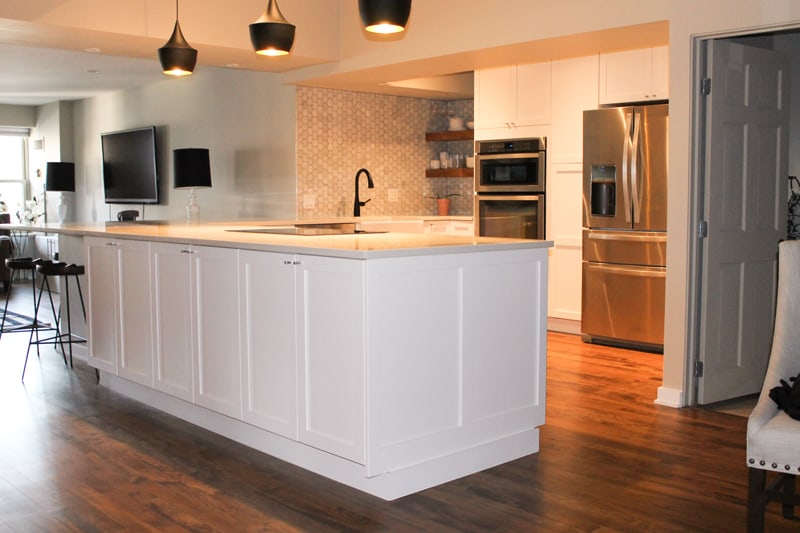 As far as floorplan, people are going for U and L kitchens that maximize counter space, while galley style is dying out. So if you have a kitchen that's split between cabinets and island, you might consider closing that gap.
The change we're seeing is that people are spending several hours a day in the kitchen without ever cooking. Kitchens have evolved into a social space as we move away from using dining rooms. Bars and islands are taking the place of the formal dining table, and space is needed for that. And, as always, counter space is king; a kitchen is useless without a place to set things.
Appliances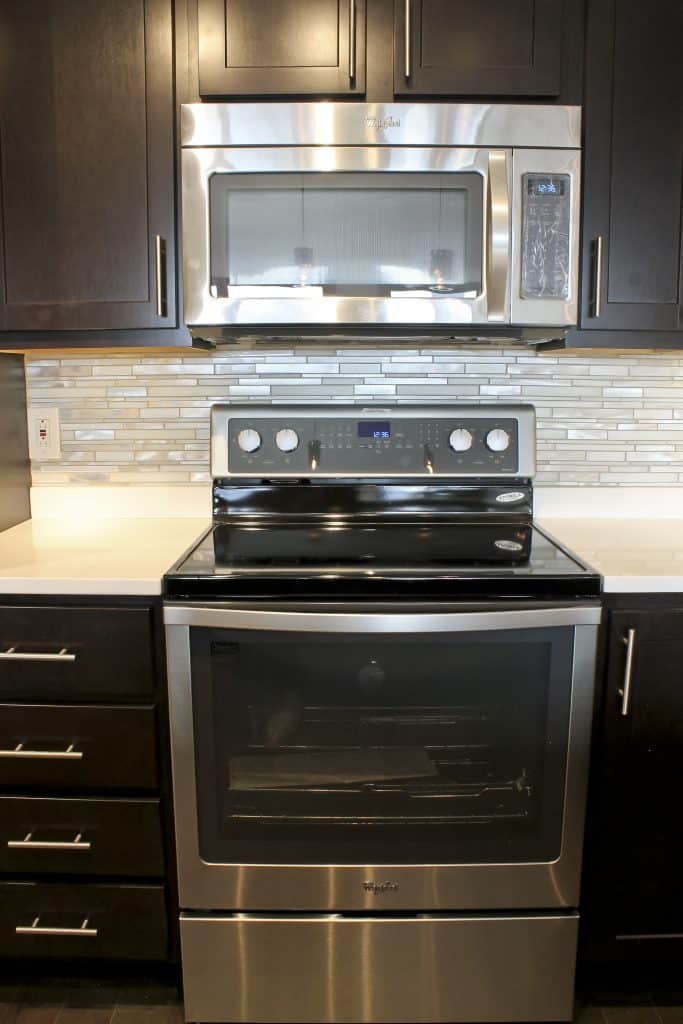 New appliances are a really good place to invest since they require very little construction work, and it's something you can enjoy for yourself on a daily basis. When shopping, know that stainless steel is not going anywhere. If you're going for the all-white kitchen that's on-trend right now, you might be tempted to choose white appliances. I caution against it. Many people are super turned off by black or white appliances, thinking they look super dated, and they'll definitely look strange if buyers decide to change cabinets and counters. Stainless looks really modern and nice and matches with literally everything. You'll notice that all the appliances in this article are stainless steel, and they all work despite being in several very different kitchens.
Meanwhile, more people are looking to cook like Bobby Flay, and want their kitchens equipped with all the extra tools. Things like double wall ovens and gas stovetops are more in demand now than ever before. On the other hand, I'd avoid really niche appliances like pizza ovens or built-in coffee makers, since they're expensive and unlikely to see frequent use. Spend that money on a really good dishwasher.
Neutrals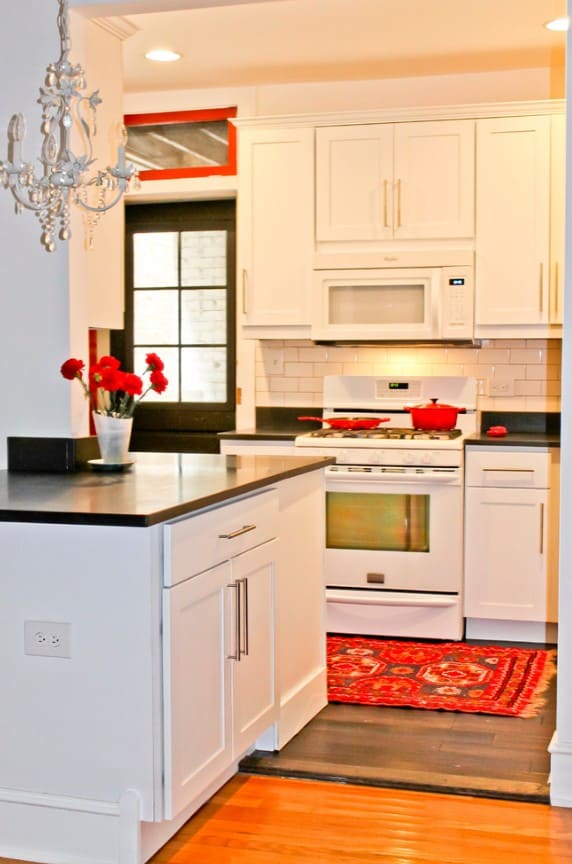 Now, what is the quickest, cheapest way to add to the value of your kitchen? Paint, of course. And while exciting colors make a great photo, they don't always give the impression you want to potential buyers. If you're going to be living here for at least another 5-10 years, then go ahead and get those bright red cabinets. But we're talking about how to remodel for selling your house.
The easiest color scheme to sell is a neutral one. White kitchens are super popular right now, and this is one of the reasons. It keeps your kitchen light and bright, reflecting whatever natural or artificial light you can get (which is always nice in a room where you're using sharp objects and need to see what you're doing).
One risk in a white and gray kitchen is that it might come off looking really clinical. You've heard the phrase "pops of color" before – well this is where it applies. The key is accessorizing, bringing small moments that add life into the room. You don't want too many things that'll crowd the space, or anything too eye-catching that will draw the focus away. Just choose a few little things (which you can take with you when you move) and run with it.

Cabinets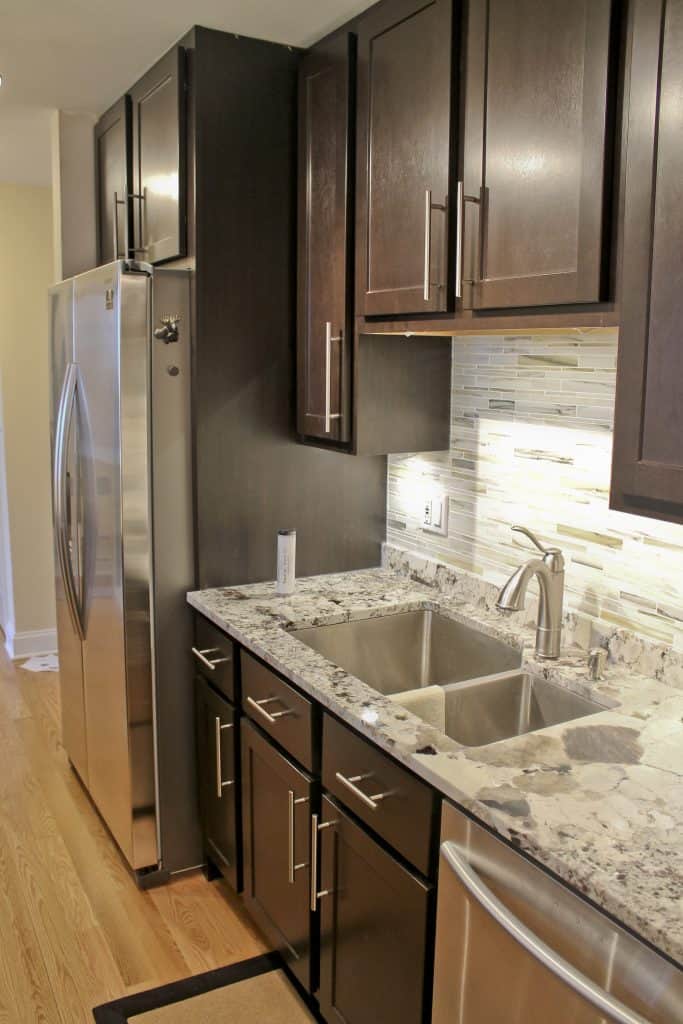 If you can only replace one thing, and your appliances are perfectly good, choose cabinets. You don't have to switch them out completely (if it's not in the budget), but some fresh paint, maybe a refacing, will do the trick.
Storage is a huge deal to most buyers, and it's very hard to go overboard on cabinets. While they can always take out excessive cabinets to put in a larger fridge or the like, it's a much more daunting task to add matching cabinets, meaning they may have to replace the cabinets altogether.
As for choosing the actual cabinets, shaker style is still the most popular choice, and ceiling-height cabinets are becoming more desirable. Not only do they add that extra shelf of storage, but it's less dusting and makes your ceiling look higher.
Specialized storage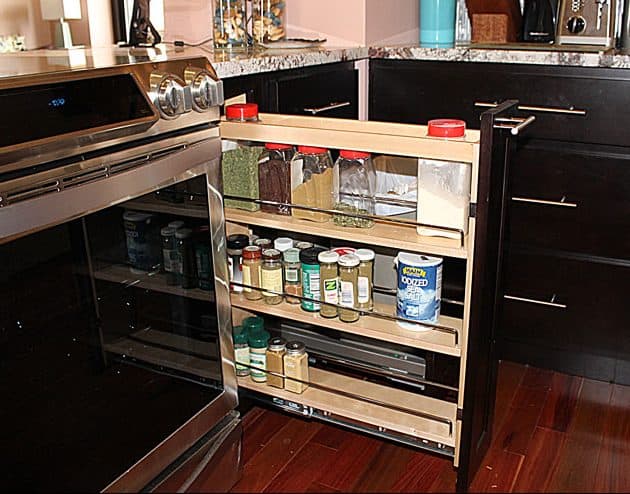 When remodeling for a sale, it's best to stick to a really general market, casting a wide net. But here's one place where you can get ridiculously specific. More people are looking for hyper-organized kitchens, which is a place you can really cash in.
Every kitchen has a weird space next to a fridge or on a corner that's not big enough for actual cabinets. This is where you put in those special feature drawers. Extendable spice racks like we did here. Fancy pot and pan systems like Glideware makes. Whereas a buyer might see you dedicated valuable shelf space to a built-in pizza oven and call it a waste, specialized storage is exciting because it presents the illusionary promise of organized life. If your kitchen can be organized, you tell yourself it will be. It's the same reason people will buy personal planners or download so many scheduling apps, knowing they won't be used. These additions add a little magic to your kitchen when buyers come in.
Lighting
You didn't think I'd really get through an article without talking about lighting. Under-cabinet lighting is still fairly new, but it's becoming more common all the time. Great for making a beautiful counter shine, better for keeping those corners from getting too dark.
For real coverage, I recommend recessed lighting, since it covers a wide area with a low profile. Be extra careful with choosing lightbulbs, especially if you go to the white kitchen route. Too cool and your kitchen looks clinical, too warm and it yellows the cabinets.
Avoid really jazzy lights. Chandeliers, over the top pendants, anything that really makes you notice it. Statement lighting is just going to draw attention to itself, distracting from the space as a whole.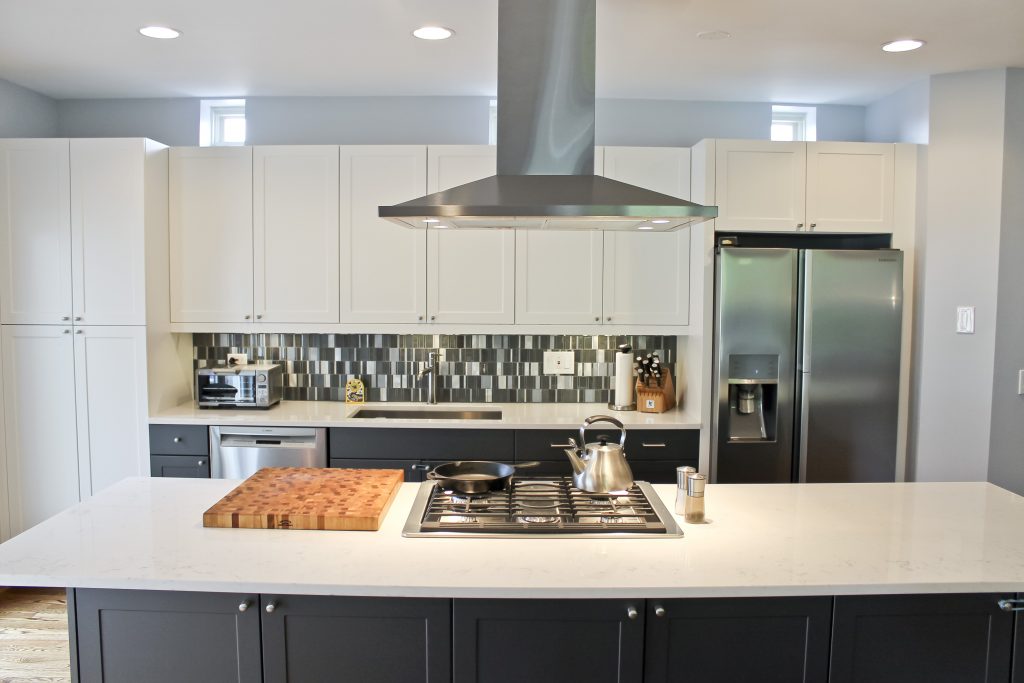 Now go forth, homeowner, and make the best kitchen you can. And should you need help along the way, 123 Remodeling has the kitchen designers you need. We're experienced, imaginative, and happy to help (starting with a free consultation of course), so feel free to contact us.