One of the biggest trends in kitchen design right now is the rise of the island. Providing extra prep or social space, islands are also a great place to add some extra design flair and functionality.
Often, an island is the first thing you see when you walk into the kitchen, so it's a great statement piece that deserves a little extra thought and consideration when you're remodeling your kitchen. It's also a high-use area that will get a lot of attention whether you're cooking or just hanging out. So let's go over some of what goes into the ideal island, and how you can get the most out of yours.
Size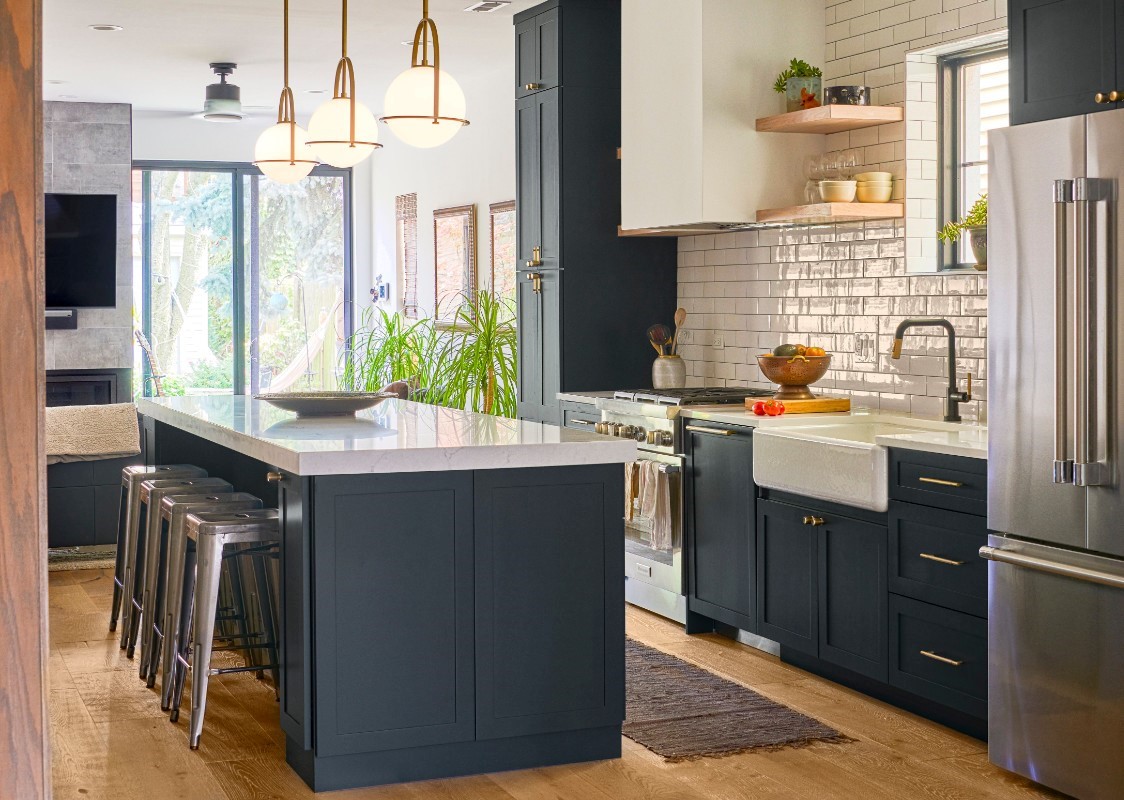 The best place to start is deciding what scale you're working with. Even small kitchens can have an island, but you have to really plan out your floor space. If you don't have any kind of island now, you can use painter's tape to draw out the shape, then stack some boxes or chairs in that boundary to get an idea of the actual space it'll occupy. This step is vital to figuring out if it'll impair your ability to use the kitchen. In cases where the footprint of an island isn't feasible, you might choose the peninsula direction. This provides extra storage and seating, but being pushed up to a wall leaves you with some extra walking space.
Built-ins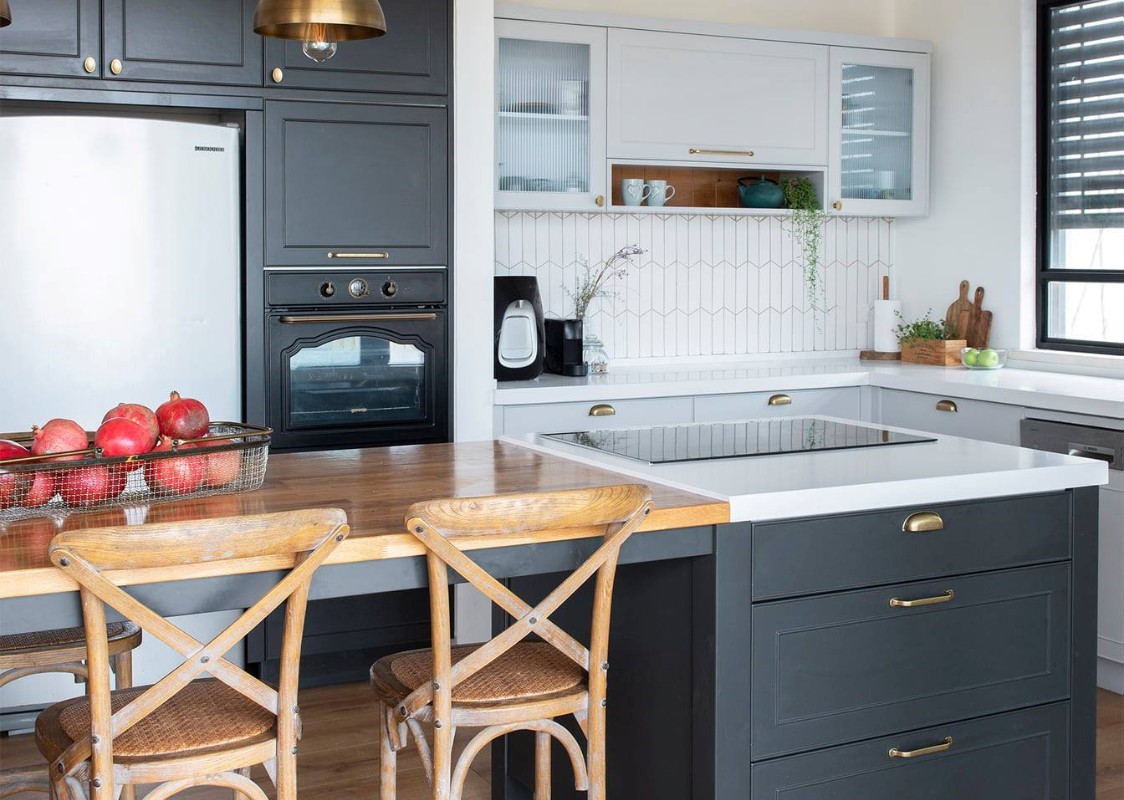 An island is an excellent place to build-in your appliances. Sinks, microwaves, even separated ovens, and cooktops; having these on your island opens up your counters and cabinets. It also gives your kitchen a more organized, modern vibe, and can contribute to a better work triangle.
If you have children in the house, there are some extra considerations for you to make. Since kids have a limited reach, built-in appliances like beverage fridges or microwaves can be at the perfect height for after-school snacks. But things like island cooktops can be dangerous for active little ones who want to be involved in dinner prep.

Hood/Vent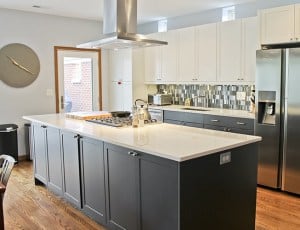 On the subject of island cooktops, you might be concerned about how you'll properly ventilate the area. After all, your typical range hood is wall-mounted or built into a microwave. Fortunately, modern homeowners have a lot of options. You can choose something big and decorative or something slim and low-profile. There are plenty of materials to choose from, so you can match them to the rest of your appliances. And if you don't want to see the hood at all we can do a strong ceiling vent in many cases. In a recent kitchen, we built out the ceiling to include recessed lighting and enclose a regular wall-mount hood to create a powerful ceiling-flush vent.
Aesthetic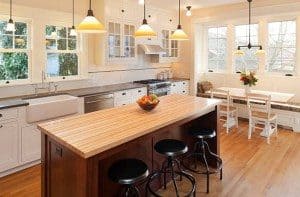 As we said, the kitchen island makes an excellent statement piece, given its central location. You might choose to blend it with the rest of the cabinets and countertops or consider mismatching one or both. This works especially well in kitchens that might seem bland and monotonous. Island cabinets in an opposing color or a totally different material on the counter can make a dramatic statement and create visual balance.
Approach this with caution though. Ideally, the colors you pick will flow together naturally. If you're mixing materials, it's more difficult to put different woods together than other cabinets. And keep the other elements of the island in mind. If you have white appliances in a white kitchen, you might avoid doing an island oven or cooktop if the island is going to be black or navy, since the clash will be really strong. If you're using contrasting colors on the cabinets or counters, make sure it's enough contrast. If the difference is too subtle, it'll look like a mistake.
Your island doesn't have to match at all if you don't want it to. Islands can be bought and customized online to look however you envision them now. You can even repurpose an old dresser, table, or desk if you're looking for a weekend DIY project.
Storage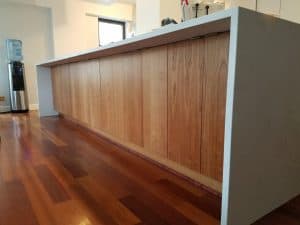 It's nice to have a place to set things, but the biggest draw of an island is all that extra storage. Since the island doesn't necessarily include any plumbing, electricity, or appliances, you could theoretically have any kind of storage you want. Maybe you want flip drawers with hidden electric outlets. You can have shelves for storing cookbooks. If you want occasional seating, leave tall doors on the side where the stools will be so you can tuck them away when not in use. A well-designed island can have 360-degrees of storage. The one on the right looks like it's just wood paneling, but all of those boards are individual doors with hidden finger pulls.
Use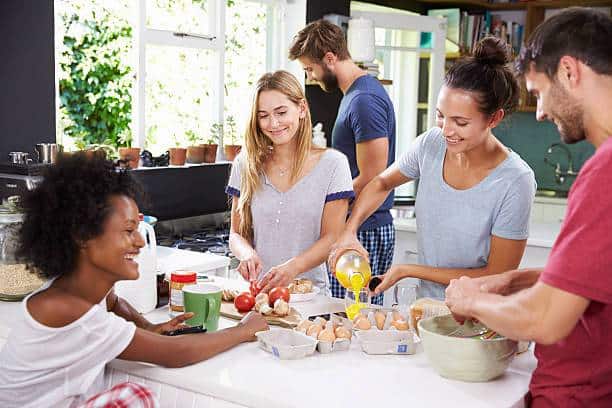 An island is never just for cooking. It's a social gathering space that serves multiple purposes. Think about how your family will use a kitchen island. Do you need it primarily for cooking? Will you eat meals there? Will it be an entertainment area with a bar? There's no point in having one if no one will use it, so make this factor your top priority. And when you're ready to talk about your kitchen design, give us a call.