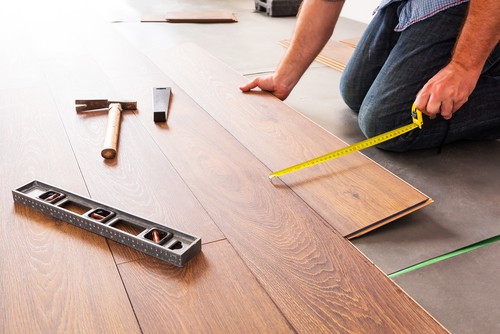 Laminate flooring has been gaining popularity in the US and abroad in recent years. Invented in 1977, laminate flooring is the fusion of wood under a clear protective layer.  Due to its versatility and affordability, laminate is becoming an increasingly popular choice amongst modern homeowners.
Laminate flooring is highly durable and sturdy. The fact that it's not wood all the way through means it costs less than real wood to manufacture, and it won't warp as much as wood planks, making it easier to install. To make laminate flooring even better, manufacturers have developed products with the better appeal. Variety has been added and sizes for a better surface. It is affordable and five times more scratch resistance than hardwood (and you avoid the expensive process of refinishing it every few years).  Slip resistant laminate flooring is also available. 
Laminate flooring has an inner core made of wood or fibreboard which is susceptible to moisture. Because of this, laminate should be professionally installed to avoid any gaps where water could get in.  Additionally, traditional mopping should be avoided just in case. Which is fine, since laminate is super easy to clean with just a damp cloth or a swiffer. And since it resists bacteria, it doesn't require a lot of heavy duty cleaning.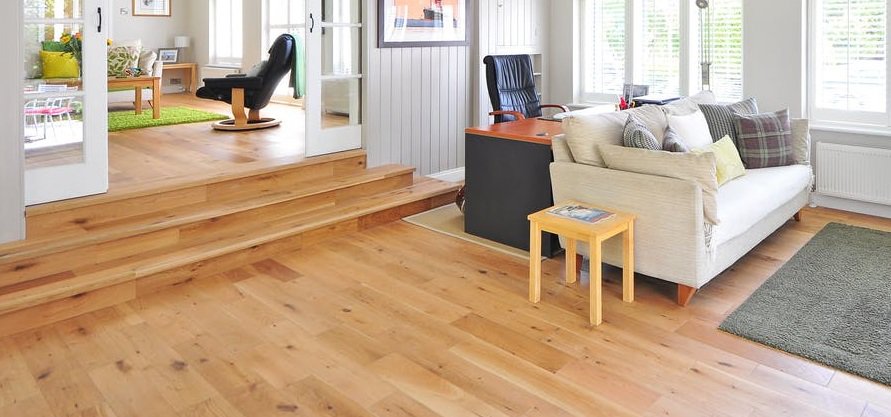 Pros 
The packing of laminate floors is in planks that are 8 to 10 feet long.

Laminate flooring is easy to install as a DIY project. Nowadays it has a click/lock system in the size of planks, which can be easily cut by saws to make them fit.

Easy to clean with a fast method. Using laminate wax cleaner is preferred.

It can be installed in any room as long as the water and moisture prevention measures are taken.

No discoloration caused and can resist UV light exposure.

Naturally resistant to the growth of bacteria.

It can imitate wood flooring to give a more chic look.

Cost effective installation
Cons
During installation, if you try hard to fit the pieces together, it can curl up and catch moisture.

Excessive water usage for cleaning can cause water to seep in through even the smallest crack. Hence, a damp mop/cloth should be used.

Laminate flooring cannot be used in high moisture areas or places with heavy leaks.

If the flooring is highly dented or worn out, it needs to be fully replaced.

Flooring can be slippery and can cause static electricity.

Reselling value is low.
The Verdict
So is laminate right for your project? For bathrooms and basements prone to flooding, you should probably opt for tile. This will give you some water resistance, and there are options for wood-look if you're really committed to the aesthetic. Or if you're planning to sell within the next five years and want floors that will increase your resale value, you'll want to save your money to do real wood or work on some other aspect. Unless you're replacing wall-to-wall carpet, your home's value won't go up by adding laminate.
But if you have a lot of carpet, have pets or children, or just need new flooring at a good price, you definitely want to consider laminate. Most of the popularity for this material comes from young families where kids are reckless and parents don't have the time and energy to keep up with real wood. If you're looking for budget, low-maintenance floors, these are perfect.
---
Guest Post by Akshay, Interior Designer with Lalco Interiors, one of India's top furniture vendors. Home Decor Stores In Bangalore.