The kitchen tends to be the room in our home that needs the most cleaning. The good news is that, with a little planning, you can have a design that makes cleaning a breeze and allows you to spend less time mopping and more time enjoying your space. Check out these expert tips.
Easy-Clean Appliances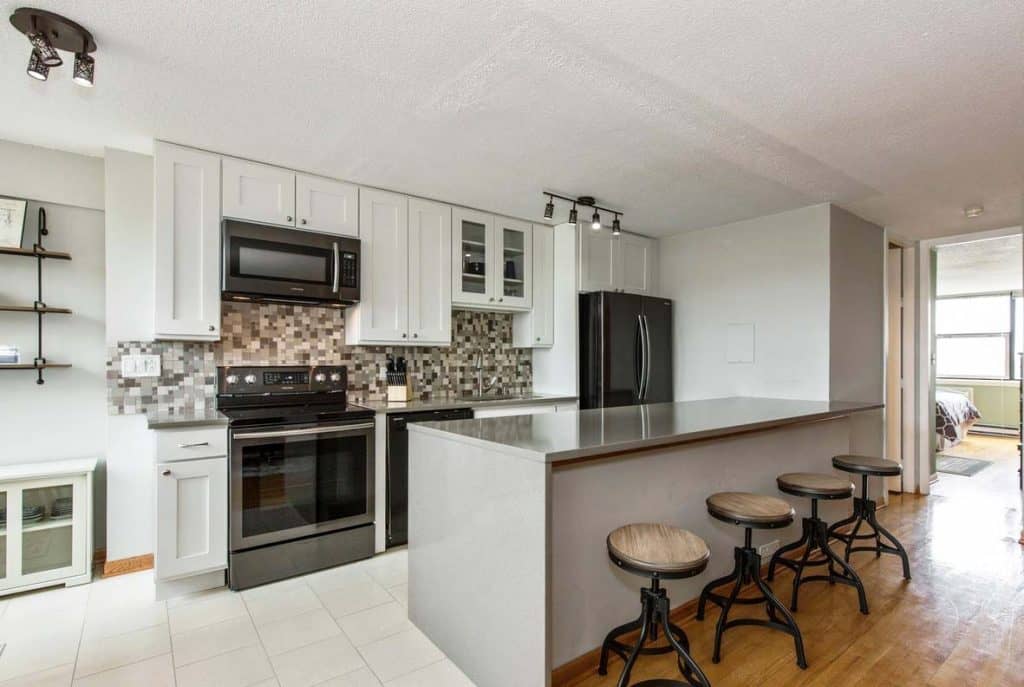 You might be excited about a vintage-looking stove or a smart fridge when you see them online. From an aesthetic and feature standpoint, why wouldn't you be? But it's important to also consider how you'll be keeping them clean. Skip fancy appliances requiring special cleaning solutions, or with difficult details like knobs that are too close together. They may look nice at the store, but will just cost extra time and money later. There's something lovely about the classic look of a gas stove's coils. But consider choosing a flat induction cooktop, since it's easy and safe to clean.
If you have the money for something a little fancier, choose appliances with cleaning programs included. Ovens with pyrolytic cleaning functions (which heat the oven to high temperatures to burn off residue), steam ovens with automatic steam cleaning and drying programs, and coffee machines with automatic cleaning will save you time by doing a lot of the cleaning work for you.
Backsplash

Tile is the most popular choice for kitchen backsplashes, but, especially above a stovetop, the grout can get really dirty. And the more complicated the layout, the more effort it will take.
Larger tiles will mean less grout. A decorative inset or stone accent above the range can make cleaning as simple as spraying and wiping. Alternatively, a dark grout won't show the dirt and dust as much.
Flat Panel Cabinets
Flat-panel cabinets are on-trend for minimalist and modern designs. No extra groves and insets make them quick to clean and less likely to build up dust and grease. If you choose to go all-in with the flat look by omitting knobs and pulls entirely, be careful when choosing the finish; you want something that won't show fingerprints from use.
Choose Your Countertop Material Wisely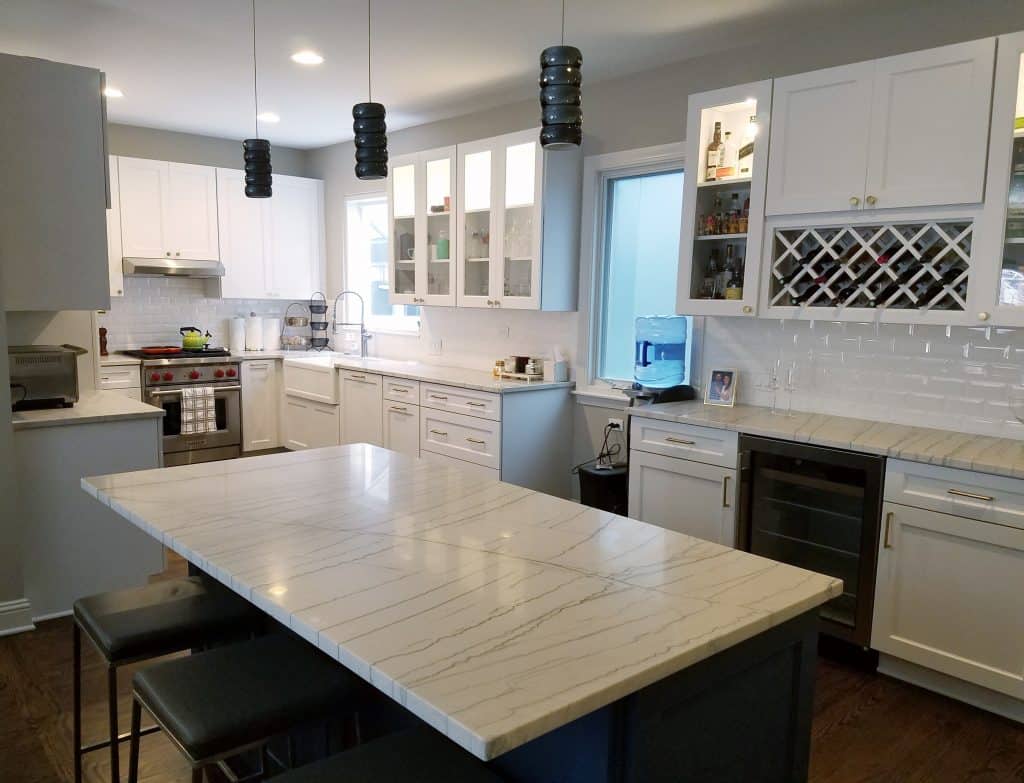 Corian, quartz, and steel are nonporous materials that are great for countertops. Since they're a solid surface, they don't have grooves to trap dirt, grease, and food which might sink in and stain, and they're easy to just wipe clean. Those low maintenance qualities are why solid surface options are used in fast-food restaurants and hospitals so often. And quartz is a great alternative for those who like the look of marble or granite, but want something easier.
Easy Trash Access
The more accessible your trash and recycling bins are, the less tempted you'll be to leave dirty dishes or empty packaging around. So where should you keep your bins? To ensure that cleaning up is as efficient as possible, they should be beneath the sink or as close as possible. By creating a minimum distance between sinks and garbage cans, there are minimal opportunities for spills and mess. There are lots of options for cabinets with pull-out bins, making them easy to access without drawing attention.
Avoid Open Shelves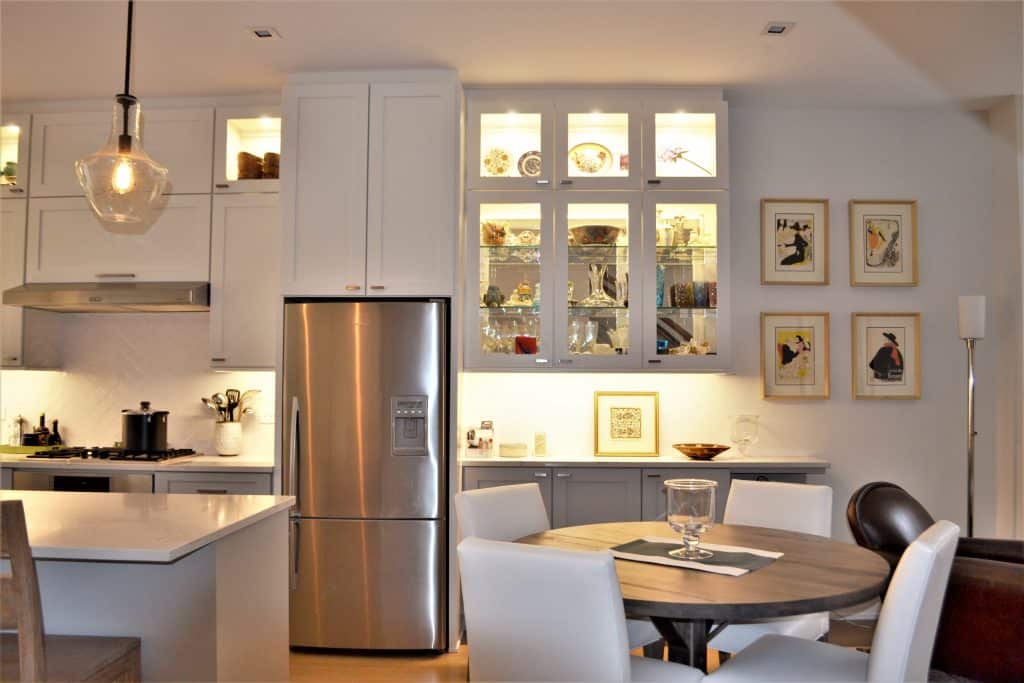 Open shelves are lovely when styled and can create breathing room in small kitchens. But they can be a high-maintenance cleaning option when you have to take everything out just to dust. Avoiding open shelves that gather dust and grime will save some cleaning time. If you're looking for alternatives, glass-front cabinets give a similar look but keep out the dust. And if you insist on open shelving, keep them low and easy to reach and sparing.
Drawer and Shelf Liners
On the topic of shelves, both they and drawers are masterful at catching crumbs and other kitchen debris. You can get liners from Amazon or make them yourself, and they come in different colors, patterns, and materials. They'll keep your drawers and shelves clean and sanitary since you can just lift them out and wash them in the sink. Even better, they protect wood cabinets from water and oil damage, especially ones made of oak or walnut.
We hope you found this article useful and will use our tips for your kitchen remodel!