You deserve a shower fit to serve equally as a rejuvenating comfort zone, hygienic haven, and occasional private karaoke booth. Just as importantly, your chosen style should flow seamlessly with the surrounding bathroom's style and structure. Remember, this isn't just where you spruce yourself up at the beginning and end of your day. Think of it as more of a sanctuary within a sanctuary. An enclave where ideas come alive, stress melts away and classic pop songs are shouted at the top of your lungs without apology. Here are just a few factors to consider, ensuring that your shower synergizes with the rest of your bathroom.
Know Your Water System

Before you can choose a shower that matches your bathroom, you must know exactly what kind of system distributes water throughout your home. Not all systems will limit the effectiveness of a shower, but some setups' traits can become a factor. For example, unvented high-pressure water systems typically feature a hot-water tank installed inside an airing cupboard and no cold-water tank in your home's loft. Others are built around combination boilers that heat water on demand with no hot water storage cylinder or cold-water tank.
Meanwhile, popular low-pressure systems utilize a gravity-fed structure with both a hot-water tank and a cold-water tank. This common system easily accommodates virtually every shower type, including power showers optimized especially for low pressure. On the other hand, a large hot-water cylinder pairs better with a mixer shower when paired with a pump.
Last, but not least, a cold-mains system delivers water into your property directly through a rising main. These systems synergize particularly well with most electric showers. However, a tank-fed pumped electric shower would be the best choice for a cold-mains supply with inadequate pressure. As the water pressure that your plumbing system gives is essential to the water flow and compatibility with different showers, it's best to consult with a local plumber before making any final purchases.
Types of Showers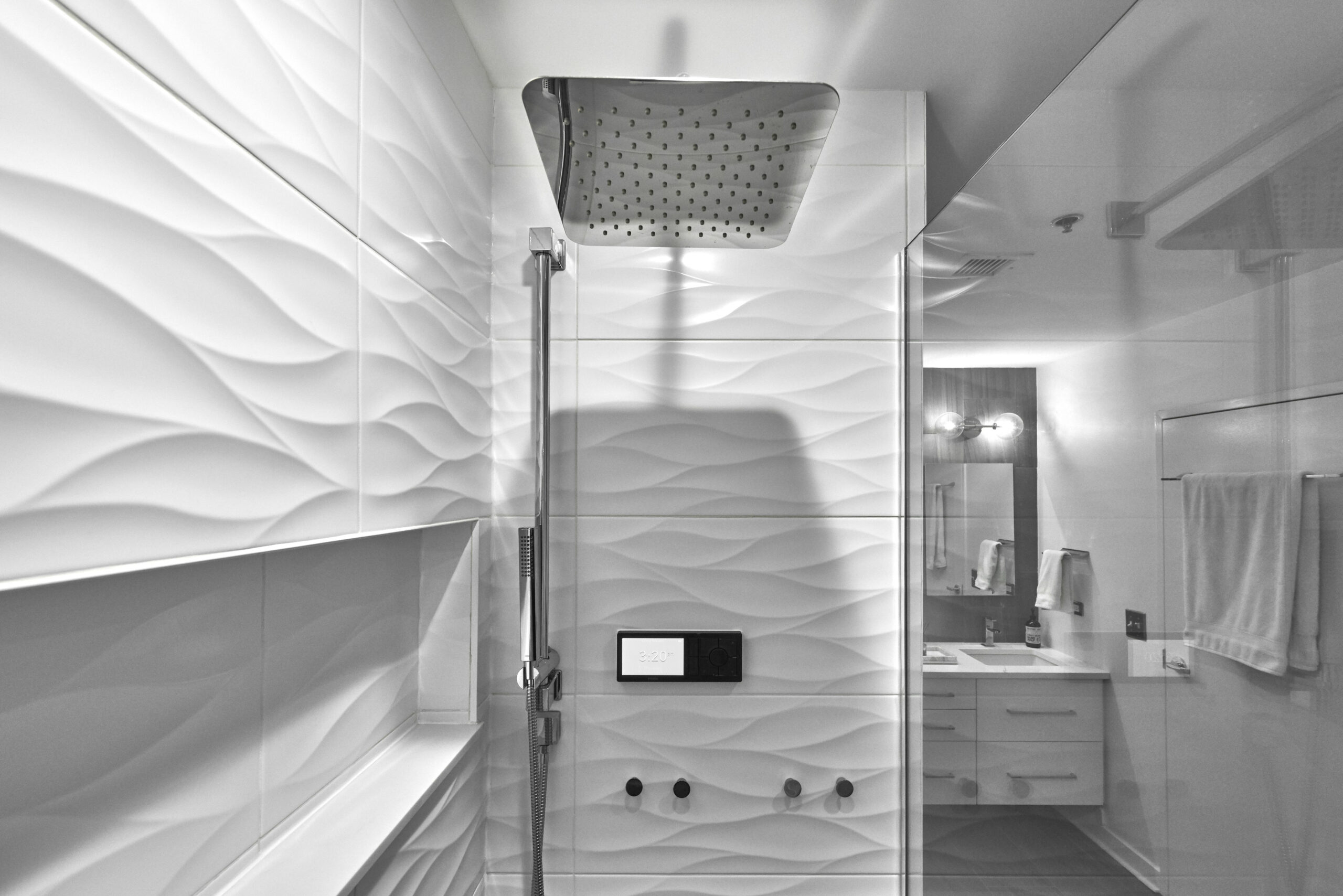 Once you fully acquaint yourself with your home's water-heating and plumbing systems, you can explore several types of showers. Electric showers install quickly and easily, work from a cold-water supply, and heat water on demand with nearly 100-percent energy efficiency. A mixer shower delivers better flow rates by blending hot and cold water within the unit before spraying. This suits a home with a combination boiler or larger hot-water cylinder already providing lots of readily available hot water.
Thermostatic showers are sometimes known as the "Cadillac" option for a reason. Setting your ideal temperature ensures a thermostatic mixer or electric system will keep that level dependably constant, even when someone else uses a tap anywhere else in the house. In an increasingly "green" world, demand for electric and mixer eco-friendly showers has grown tremendously. Their penchant for throttling flow to a usable, efficient level and maintaining a reliable chosen temperature is ideal.
Lastly, electric or mixer digital showers control temperature, flow, and other variables using a convenient panel or remote control. The panel connects to a companion power unit in either your loft or airing cupboard and provides your ideal water through the wall or ceiling to the showerhead with minimally visible plumbing.
The Right Faucets
Compared with choosing a shower for your home's water system, selecting stylish matching faucets is easy. When simply replacing old fixtures, just match your new faucets to any hardware you keep. New faucets should match or at least complement your current tub or shower configuration. Bonus point for coordinating with your bathroom's surrounding decor and the finish of your other fixtures.
If your tub deck is already drilled, account for any existing holes to ensure a smooth installation. Most importantly, make sure you have the proper valve installed for your chosen trim kit. You may never actually see much of this component since it is usually covered up by the wall plate and control handle, but it controls your bath or shower's water temperature and pressure. Once the valve goes into the wall behind the shower stall or system, the installed trim kit's handle and control panel decoratively conceals it.
Do not assume your new tub or shower faucet will install over the existing valve. Although many companies now sell universal valves compatible with a number of trim kits, most kits still require a specific model valve. Your plumber may need to open your wall to cut out an old valve and weld a new one. As a workaround, you might replace an old valve's cartridge. Pairing it with an updated shower head can also noticeably improve your shower's performance.
Choosing a New Head

Depending on the rest of your configuration, choosing a showerhead may be the option with the most flexibility. Some freestanding bath taps have fitted shower taps already attached. This is a suitable option for people who enjoy sitting in a drawn bath and using the head to rinse their hair or clean up young children. But it can also be tweaked a bit with a rail to hold the head.
As the name suggests, fixed shower heads are mounted either through the ceiling on an arm projecting from the wall. They typically allow one flow pattern from the rose. Handheld heads have the versatility to switch between the two, or even operate both at the same time with a high-pressure system attached. Handheld showerheads can switch between a jet and spray delivery and offer advantageous reach and flexibility. They also pair well with a wall-mounted slider rail in longer showers.
Your home is your castle, and your bathroom should be a sanctuary. That means that a great deal of planning and care should go into choosing the best utilities. Getting the wrong shower or faucet for your plumbing can result in high-pitched whines and uneven pressure. Choosing a shower that matches your bathroom's style will create a cohesive environment that you can fully relax in.