Whether you're remodeling your kitchen or your bathroom, there's probably going to be a sink involved. With so many different styles of sinks and faucets to choose from, it can be overwhelming. Here's a quick guide to help you decide what style of sink and faucet is right for your home.
Sinks
There are two main aspects to any sink – the material and the bowl style. The various combinations of these features create a large selection of sinks for you to choose from. Some materials and styles work best for kitchens, and some work best for bathrooms.
Materials
We'll go over the four most common types of sink materials – stainless steel, cast iron, composite, and ceramic. However, there are many other materials to choose from as well – including granite, glass, marble, copper, concrete, nickel, plastic, soapstone, and even wood.
Stainless Steel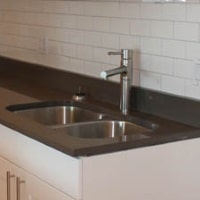 If you're unsure of what material to choose for your sink, you can't go wrong with stainless steel. This is the most common type of sink material and for good reason. It's extremely versatile, allowing for many different bowl styles, and it's relatively inexpensive as well.
Cast Iron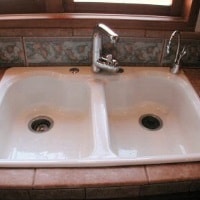 Although cast iron is one of the oldest sink materials, it still remains widely popular to this day. It's known for being extremely durable and long-lasting, as well as visually appealing – two key features that you want from a sink. A heavy porcelain enamel finish is used to eliminate the rough texture and make sure it won't rust. The enamel also protects the sink from stains and scratches. The drawbacks of cast iron are its weight and cost. Certain types of bowl mounts can be difficult because it's so heavy, and it tends to be more expensive than other materials like stainless steel.
Composite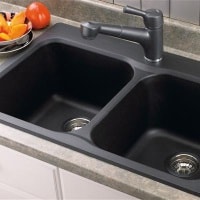 Composite sinks are usually made from crushed granite or quartz, combined with a resin filler. The advantage of composite materials is that you get the aesthetic qualities of pure stone, minus the high-maintenance qualities that can be associated with it. Granite composite sinks are among the most durable sinks available.
Ceramic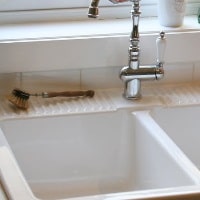 Ceramic sinks are similar to cast iron, made with a protective layer of enamel, however, they are less susceptible to corrosion. Ceramic sinks tend to be more expensive than other materials.
Bowl Styles
In addition to the material, you also get to choose from a variety of different bowl styles. Sinks come in many shapes and sizes – there are advantages and disadvantages of each style. Here are some descriptions of the various bowl styles to help you decide which one is right for you.
Single Bowl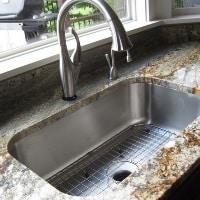 Sometimes less is more, and that's the case with single bowl sinks. Available in many different sizes, single bowl sinks are extremely versatile, and they are ideal for compact spaces. The basin of a single bowl is larger than a double bowl, allowing more room for big dishes like pots and pans. They also tend to be the easiest type of sink to clean because there are less surface area and fewer corners.
Double Bowl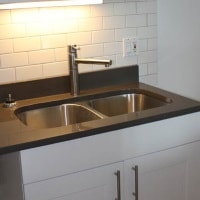 Most modern-style sinks feature a double-bowl design. Double bowls offer the advantage and flexibility of separate basin areas. You have many different options and configurations when it comes to double bowl sinks – the size and depth of each bowl can be adjusted to fit the needs of your kitchen. You can have equal bowls, one large bowl, one deep bowl, etc.
Farmhouse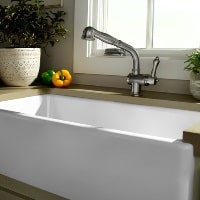 Farmhouse sinks, also known as apron sinks, are known for their unique characteristic of replacing the front section of the counter with the front panel of the sink. They often stick out a bit past the front edge of the counter as well. This style of sink works well with a traditional or country-style kitchen design. They tend to be more expensive and require more work to install. The counter must be adjusted to fit a farmhouse sink.
Top Mount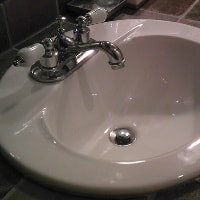 Top mount sinks are also known as drop-in sinks because they are dropped into a hole in the counter. The rim sits just above the counter to hold the sink in place. This is a great choice if you're on a tight budget because top mount sinks are inexpensive and easy to install.
Undermount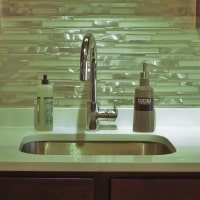 Undermount sinks go really well with modern design. They are mounted below the counter, so there's no rim. Undermount sinks are also known for being easy to clean. The main drawback is the cost – they tend to be more expensive than top mount sinks.
Wall Mounted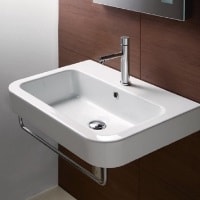 Normally found in bathrooms, wall-mounted sinks are attached directly to the wall. These are perfect for making small spaces appear larger.
Pedestal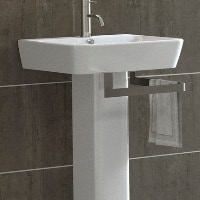 Pedestal sinks are attached to the wall as well, but they also sit on a pedestal which rests on the floor. Another great sink for small bathroom designs.
Vessel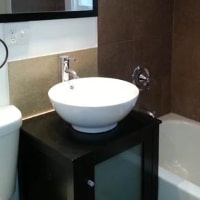 A vessel sink is simply a bowl that stands alone and rests on top of the counter. Vessel sinks work well with old-style or luxury designs. This can give your bathroom a unique look.
---
Faucets
There are four main types of faucets to choose from, and each one has its own unique features. The four most common faucet types are known as ball, disc, cartridge, and compression. You can divide these faucets into two categories, washer and washerless. Ball, disc, and cartridge faucets fall into the washerless category because they don't use rubber or neoprene washers. Modern faucets are usually washerless, while compression washer faucets are the more traditional style. Let's take a look at each type in more detail.
Ball Faucet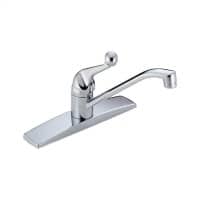 Ball faucets were the first type of washerless faucet, and you'll often see them in kitchen sinks. They are distinguishable by their round ball-shaped cap above the base of the faucet, which connects to a single handle and allows for a wide range of motion. The movement of the handle controls both the temperature and flow of the water stream.
Disc Faucet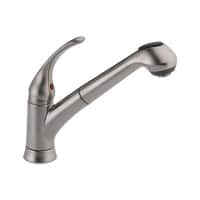 Disc faucets are the newest advancement in modern faucet technology. The easiest way to spot a disc faucet is by the wide, cylindrical body, with a single handle above it. Side to side movement of the lever controls the temperature. Disc faucets have a reputation for being very high-quality and durable. You will not need to repair a disc faucet very often.
Cartridge Faucet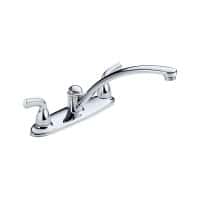 There are two types of cartridge faucets – single handle and double handle. A cartridge faucet is hard to identify by looks because it's more about the feel. You can distinguish a cartridge faucet from a ball faucet by its range of motion. To turn on a ball faucet, you push the handle back, whereas a single-handle cartridge faucet is more of a straight up and down motion.
A double-handle cartridge faucet looks similar to a compression washer faucet, but again the difference is in the functionality. A compression faucet requires you to tighten down the washer to close off the water supply. A cartridge faucet will feel smooth and consistent. No added pressure is required to turn it on or off.
Compression Washer Faucet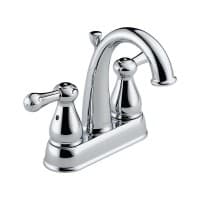 Compression faucets were the first style of faucets created with the invention of indoor plumbing. You'll often see them in older homes or in utility sinks. They are the least expensive option, but also the least durable, as they are prone to leaks. The signature features of a compression faucet are the tightening action required to turn off the water supply, as well as the separate handles for hot and cold water.
---
Upgrade Your Sink
Now that you've learned about all the different types of sinks and faucets, you're ready to pick one out for your home. If you live in Chicago or the surrounding area, 123 Remodeling can help you install your new sink. Call us today for your free consultation at 773-685-6095 or use the contact form