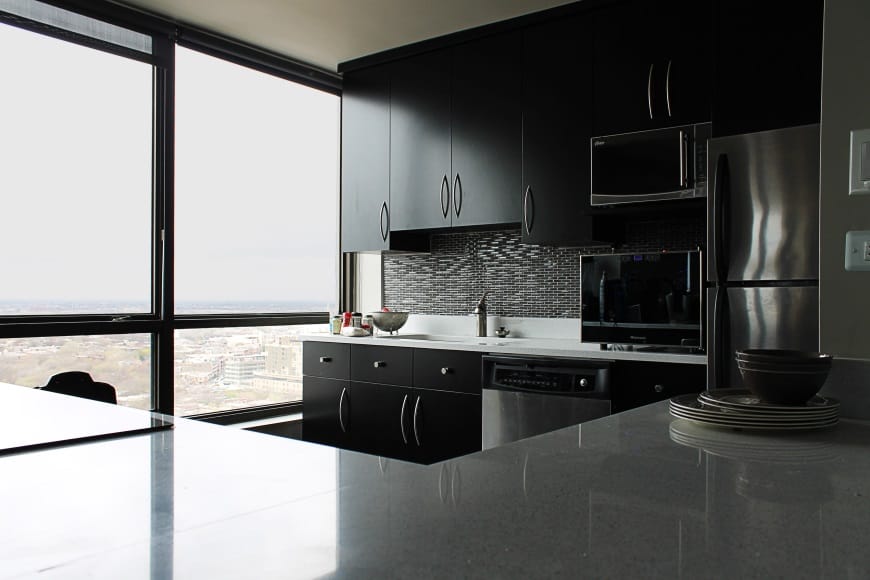 There's something that is creative about kitchen remodeling projects- especially if you don't have the luxury of 'extra space'. This is routine in metropolitan areas like Chicago where hi-rise buildings are common and a condo kitchen can average a size of 8′ x 8'… 64 valuable square feet that you must consider how to use best.
These are 5 KEY AREAS to consider when remodeling any kitchen. Keeping these 5 KEY AREAS in mind helps 123 Remodeling to create innovative, useful ideas and deliver them through our kitchen remodeling projects to Chicago homeowners.  Our finished project gallery demonstrates the experienced craftsmanship our clients can expect. So if you're looking for motivation and some ideas on how to remodel and create valuable space in your kitchen, check them out.
Be warned: Some of these ideas may provoke you to remodel that kitchen you've been holding off on.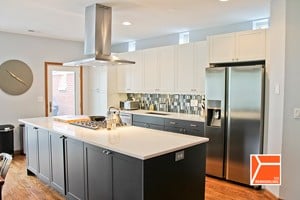 1.  Storage  
Storage space is a necessity in any kitchen. With all the bigger appliances, space for storage may have to resort to getting creative and making use of any open space in a small kitchen remodeling project.  Going vertical, increases areas to store, organize and place all your kitchen items (think of all the "stuff" used in a kitchen).  Other storage areas can be created by using hooks, shelving and drawer organizers.  If you enjoy cooking, you know how many pots and pans are necessary to cook, not to mention the dishes, cups and all that goes with cooking.  By having the storage space convenient to where it's most used makes organization and functionality simple.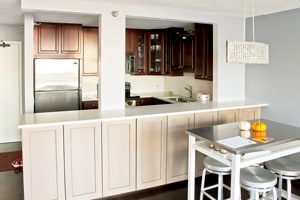 2. Color
White is the color for space when kitchen remodeling.  Using natural bold colors gives a sense of natural light and this aids with visual space.  Back-splash tile can really make a kitchen's appearance (white subway tiles uses as back-splash, see image on right) adding character to the overall theme of a kitchen remodeling project.  Glossy, metallic and glass colored tiles definitely accent the glimmer of stainless steel appliances and also reflect any source of light brightening up the entire kitchen.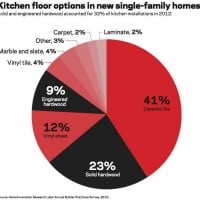 3.  Floors
With the limited space in a small kitchen remodeling project and heavy foot traffic in today's kitchen, spending the extra few dollars, on a more solid, durable flooring material (ceramic tile or hardwood flooring) is common in smaller kitchen floors and will pass the test of time. The messy nature that is built-in when you cook, kitchen flooring needs to be durable, easy to clean and maintain and of course compliment the overall theme of the kitchen.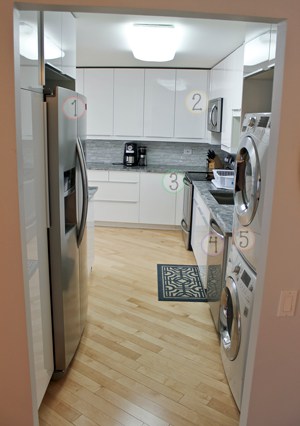 4.  Functionality
Strategic placement of appliance in a kitchen is most vital to saving space and adding functionality to your kitchen.  Thanks to recent technology, smaller appliance like the stack-able washer and dryer combo, used here to convert a small closet in the foyer into a useful and fully functional laundry area.  Notice how 123 Remodeling strategically placed these 5 appliances in a small kitchen area in this hi-rise condo unit kitchen remodeling project.
1. Stainless steel refrigerator – full size.
2. Stainless steel above-the-range microwave – full size.
3. Electric range/oven – full size.
4.  Dishwasher washer – full size.
5.  Stack-able washer and dryer – full size.
5.  Walls
Modern trend is to have an open layout, especially if you have a smaller condo, walls can be cumbersome and restrict the flow of natural light as well as fresh air.  Most of the kitchens that 123 Remodeling take on involve some sort of wall manipulation.  Main motives of any owner looking to remodel is to create an enjoyable, organized and more functional space to live, cook and eat.  Knocking down a wall can open up an area, allow creativity to build storage areas and/or seating arrangements to maximize the newly created space.
[row]
[one_third_column]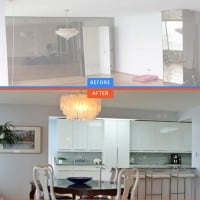 [/one_third_column]
[one_third_column]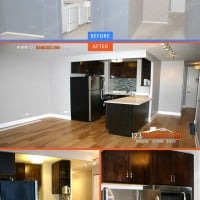 [/one_third_column]
[one_third_column]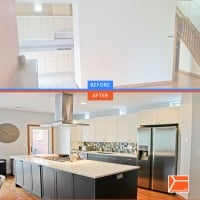 [/one_third_column]
[/row]
Taking into consideration the valuable square footage of a condo kitchen, every square foot counts and what you do with that space is dependent on a number of factors.  The beauty of remodeling a small area is that each change will factor into a more functional and enjoyable space. Check out the Small Bathroom Remodeling: 5 areas to review more remodeling tips and advice.
These 5 AREAS to consider for your next kitchen remodeling project are just the beginning to all the space, storage, and smiles that 123 Remodeling can bring to your kitchen table.  Let one of our experienced project managers provide veteran craftsmanship with industry leading practices for our customers to confidently – Image, Design and Build the kitchen of your dreams today with 123 Remodeling.  Check out the impressive kitchen remodeling project gallery all completed by 123 Remodeling servicing Chicago and North Shore suburbs, Lincolnwood, Skokie, Evanston, Niles, Park Ridge, Morton Grove, Glenview, Wilmette, Winnetka, Glencoe, Northbrook, Deerfield, Highland Park.

Contact us today for your no obligation consultation. Use our online Appointment Request Form or call us at 773-685-6095 – a member of our staff will help you arrange an appointment to meet with one of our experienced Project Managers.
Get a Free Consultation