Considering opening up your home, townhouse, or condominium unit?  Are walls creating barriers from your kitchen to your living or dining area?
Check out our transformation of these 3 kitchens in the Chicago area by 123 Remodeling.
Unity and Mobility
The owners of this townhouse in Chicago's South Loop area, created this open kitchen area, providing additional livable square footage.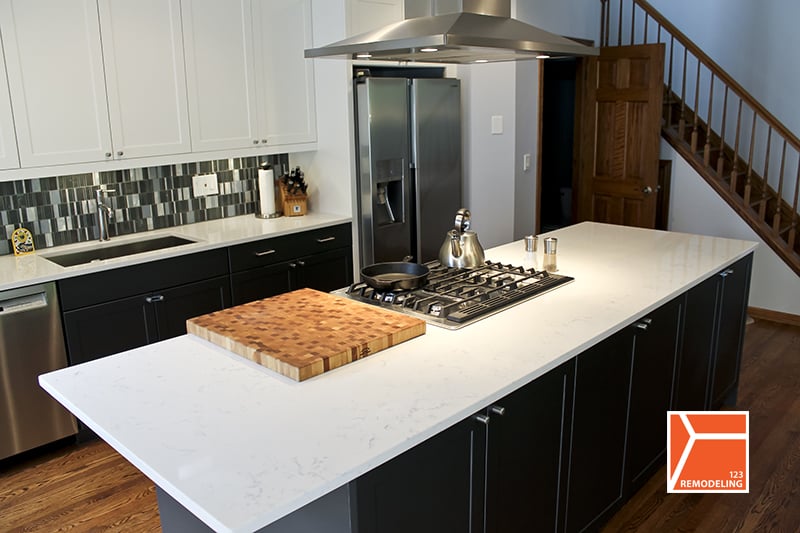 Knocking down the wall uniting the kitchen with the living room.  In addition, the kitchen has a free-standing gas range top, which promotes mobility while cooking and the industrial-sized venting system reduces cooking odor.
Updating the kitchen flooring to match the living room, connects the main level, creating this townhouse's open layout atmosphere.
Practical and Functional
To open up this smaller hi-rise condominium unit, 123 Remodeling created a large breakfast bar where in place of one wall, in Chicago's Edgewater area.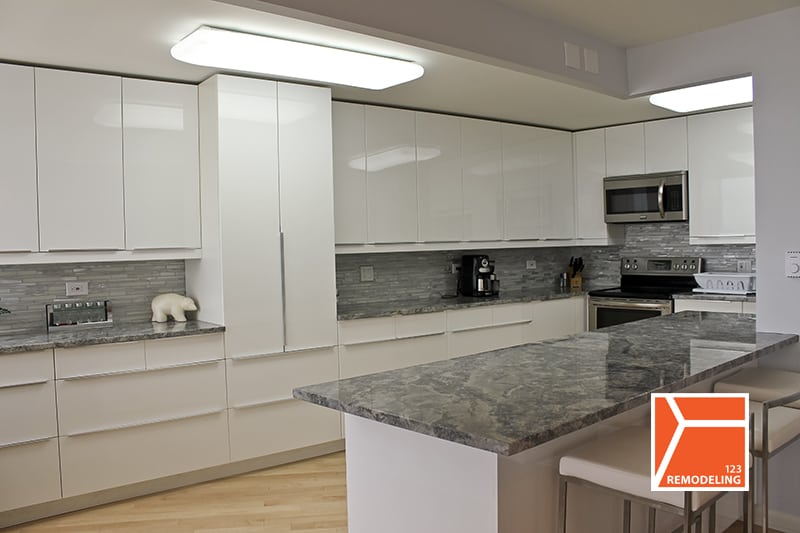 The new granite counter-top, custom cabinetry, and stylish back-splash added the valuable storage and counter-space which this condo unit desperately needed.  The old mirrored wall was replaced with a granite table-top eating area and creates a practical location for casual seating with contemporary bar stool seating for 3.
The additional counter space with added cabinets along the back wall provides extra storage to the entire condo unit.
Hardwood flooring in the kitchen, connects the entire condo unit, seamlessly with a clean and organized theme.  Additional to the new eating and seating area, the closet in the foyer leading to the main door was opened up, creating a functional laundry room.
Double-stacked washer and dryer in an open area to cook/clean simultaneously.
Space and Light
Square footage is vital, especially if your home is in an area with super high property value, such as the following unit in Chicago's Gold Coast area.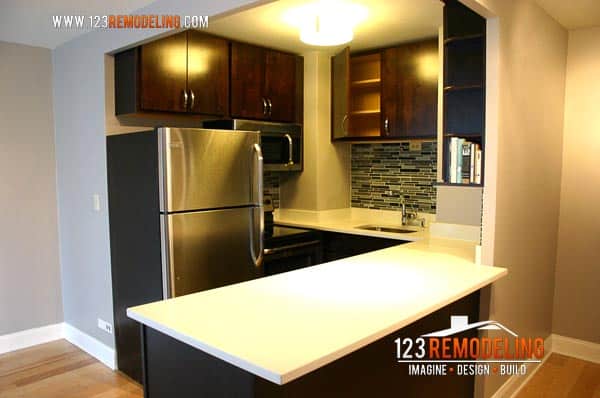 Additional benefits of opening up the kitchen in this smaller unit allow flow for more sunlight and air-flow, which brightens up the whole unit making your home/condo feel more spacious.
Opening the kitchen creates better airflow and sunlight while promoting sociability while cooking and/or eating.
The kitchen is a room used every day, for an important part of your day, cooking and eating!  As important as eating is, eating with an open layout, creates a more social and enjoyable open atmosphere.  Adding functionality to the created space to cook, entertain freely, or doing laundry while cooking, family members, and guests will enjoy the time with an open floor plan.  Air-flow, mobility, functionality, and increased property value with an open floor plan, are only a few reasons to, "Knock Down Walls and Build Dream Kitchens."
Contact us today for your no-obligation consultation. Use our appointment request form or call us at 773-685-6095 – a member of our staff will help you arrange an appointment to meet with one of our experienced project managers.