Are you looking to remodel your kitchen? If so, then this article is for you! This step-by-step guide will show you how to prepare and design your new kitchen project. In this article, we'll cover many topics, including flooring, cabinets, countertops, and much more! The kitchen is the most complex space in the home where not a single detail should be overlooked.
Designing and remodeling your kitchen is a project that can take time and patience. It's not just about picking the suitable cabinets or flooring, but also comes with many other decisions to make, such as kitchen layout, appliances, countertops, etc. Here is the punch list:
Let's dig deep into every step!
The first thing you need to do when starting a kitchen renovation project is to decide on what style of kitchen you want: modern, traditional, farmhouse, transitional, rustic, etc.
1. Kitchen Style That Suits Your Home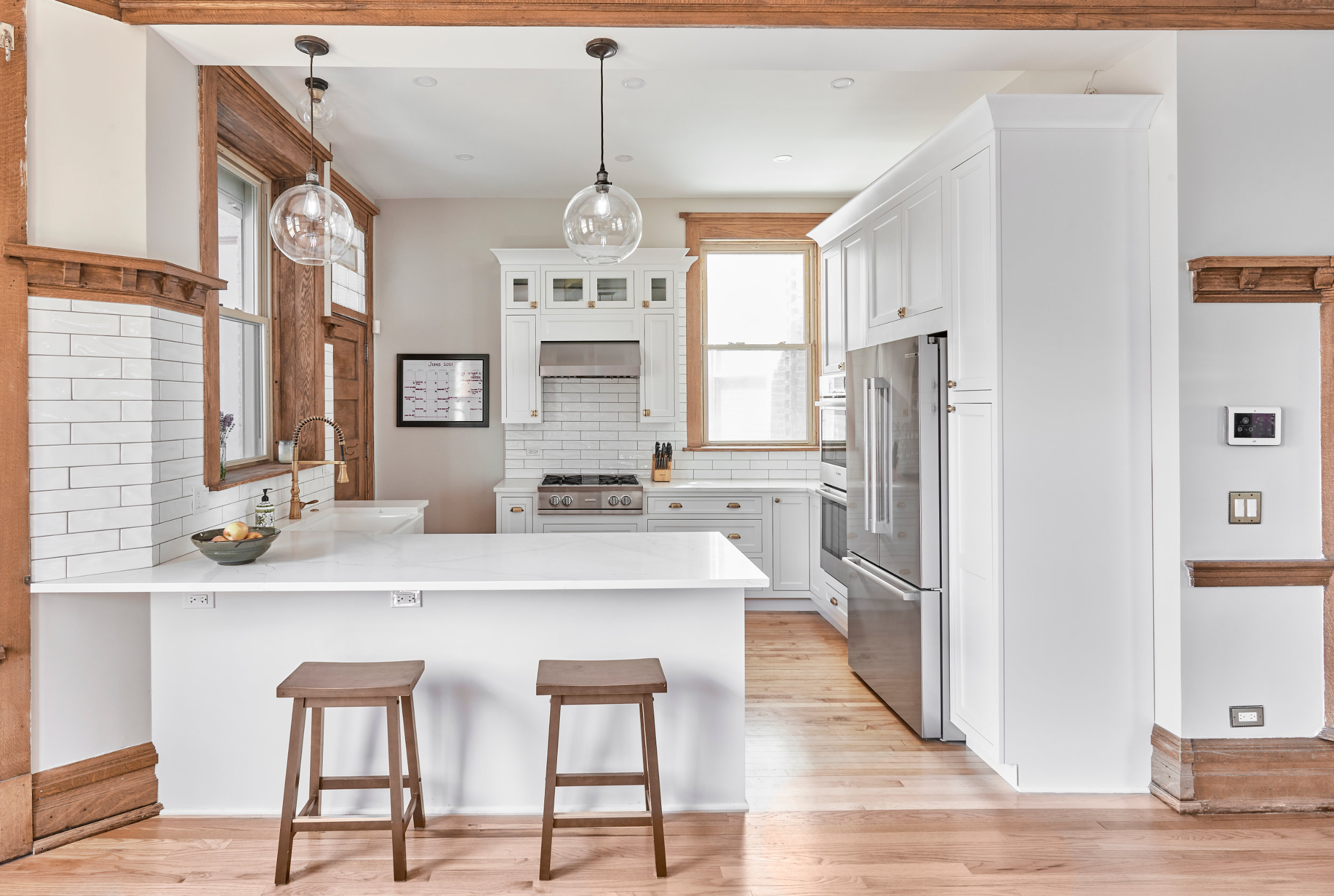 The first thing you need to do when starting a kitchen renovation project is deciding on what style of kitchen you want: modern, traditional, farmhouse, transitional, rustic. One important thing to do for the style to come together would be choosing matching cabinets, counters, appliances, and decor.
Let's overview the most popular styles:
Modern kitchen design often uses stainless steel, aluminum, tempered glass, flat cabinetry with marble countertops. Modern kitchens are usually using darker tones such as black, dark blue, or gray.
Traditional kitchens are more about function than anything else. They're usually made of oak cabinets, white or light-colored marble counters, and porcelain flooring.
Farmhouse kitchens focus on natural materials, simple light design, plant and wood decor, open shelves, and a farmhouse sink.
Transitional kitchen design is a mix of two styles. It incorporates elements from traditional with modern style, and it uses painted wooden cabinets, oak floors, and contrasting stainless steel appliances.
Rustic kitchens are typically designed to be the heart of their homes by incorporating warm natural materials such as beige stone counters, unpainted wood cabinets, cozy decor, fireplace, rugged floors, and farm tables.
2. Kitchen Layout Types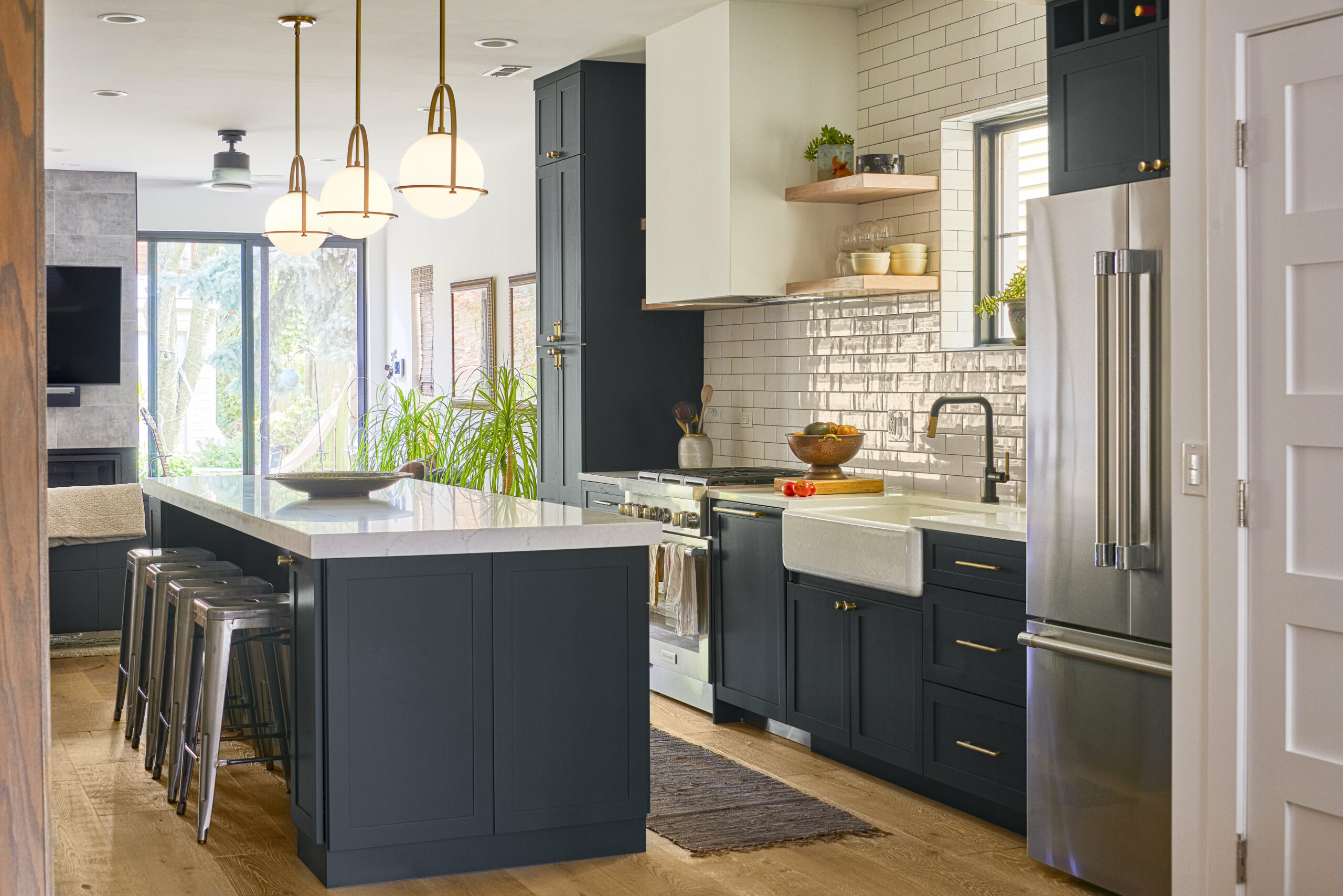 The kitchen layout should be made practical, comfortable, and pleasant, matching your everyday needs.
There are many options to consider when choosing the best kitchen floor plan:
L-shaped kitchen layout is efficient and provides more workspace. A peninsula can be placed in an L-shaped kitchen if you have limited space available. It is also an excellent way to divide the kitchen into two zones without structural changes since it uses two adjacent walls in the design.
U-shaped kitchens offer a large open area. This layout suits spacious kitchens, and it has plenty of room for all appliances and cabinets. It's important to keep in mind that a U-shaped layout does not make the room too tight. Make sure that left enough space between the two sidewalls. If you are going to add an island in the middle, it's even more important to make sure that you have enough space in-between. The building code requires 36 inches of space between the island and cabinets.
Galley-style straight kitchen provides maximum storage potential while the island can act as a prep station, storage space, and breakfast bar. Usually, you will find galley layouts in small condos and high-rises.
The shape of your kitchen also depends on how much wall space you have around the room. If you have enough space, then square layouts will give good visibility from all angles; if not, long linear cabinets with islands would better provide adequate workspace without feeling too cramped.
A Few Words On Open-Concept Kitchens
The open concept is a popular style, and many of our customers are looking to accomplish it in their space. We recommend this layout because it helps a lot with the flow and design of the house. Consider the following when you decide to open your kitchen:
Load-bearing wall: Check if the wall that you would like to remove is a load-bearing wall. If you live in a high-rise condo, you need a special permit and architect approval. If you live in a single-family home, you still need to consult with a building engineer before removing the load-bearing wall.
Plumbing and electrical: Are there pipes and electrical lines behind the wall? You can identify those by apparent features: outlet located on the wall, dishwasher, stovetop, fridge, and sink located next to the wall. In 99% of cases, remodelers can work with that and relocate the electrical and plumbing as needed.
Storage: When you remove a wall, you'll have to sacrifice your wall-mounted cabinets and pantry so you will have less storage space. A large spacious island is a must-have in an open-concept kitchen for extra storage. Also, if you have appliances on the wall you're going to remove, you need to decide where to move them.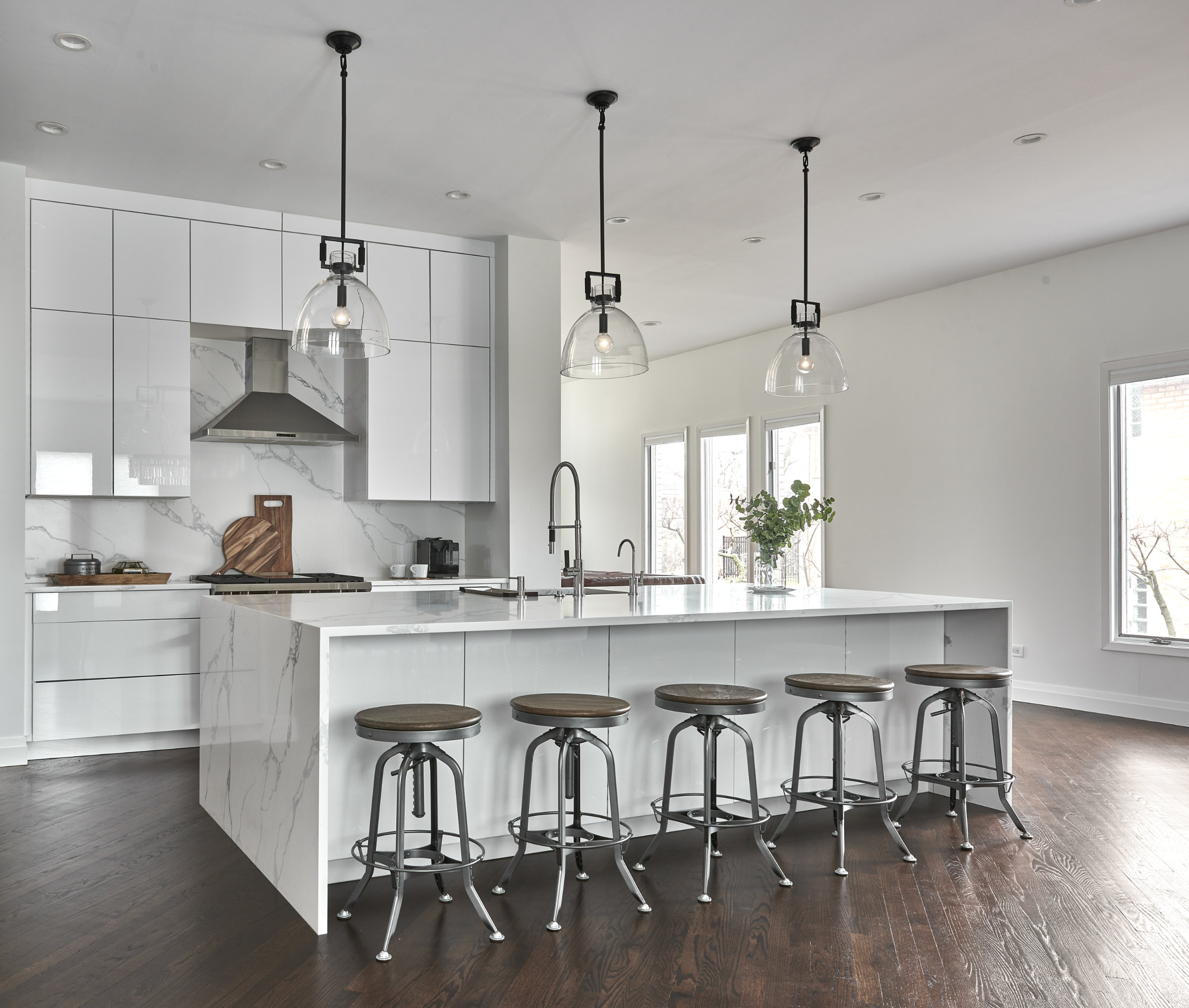 It worth mention a decrease in demand for open-concept kitchens in 2020-2021. Pandemic changed homeowners' needs, and many customers (especially those working from homes) want a private space in their living and dining rooms, separated from the kitchen.
3. Cabinet Selection: Which Type is Right for You?
When it comes to kitchen cabinets, there are many different options to consider: material and finish, paint color, modern or traditional style, flat or recessed, handle style, and finish… the list goes on! So, what type of cabinet selection will work best for you? To help you decide which route to take with your kitchen remodeling project, here are some helpful tips for choosing a cabinet type:
If you're looking for a very contemporary look with clean lines and doesn't show dirt easily, choose an acrylic paneled door in one uniform color.
On the other hand, if you prefer a more traditional look with wood doors with detail like carvings or molding, go with a painted wood door.
If you want to save on installation time and money, choose a flat panel cabinet with its doors to flush against the front of the cabinet frame. It's also an easy way to get that contemporary look without going with acrylic panels.
Recessed cabinets are set into walls so they don't protrude from them, giving your space more depth than it would be if all the cabinetry were wall-mounted and stand-alone.
Cabinets material: There are two most used types of cabinet materials: melamine and plywood.
Melamine is a pressed organic-based, nitrogen-rich pressed material. It is considered a cheaper option in the U.S., but the technology has significantly improved since it was first introduced in furniture manufacturing. Nowadays, Europen cabinetry companies are using melamine for their luxury cabinets. You can get a fantastic quality with melamine cabinets and save money at the same time.
Plywood is a type of engineered wood attached to many different types of cabinets and furniture. Its finish is solid wood, and it considers a more sturdy material than melamine. With many companies, you will have both options, and you can expect an increase of about 20% in cost when choosing plywood cabinets.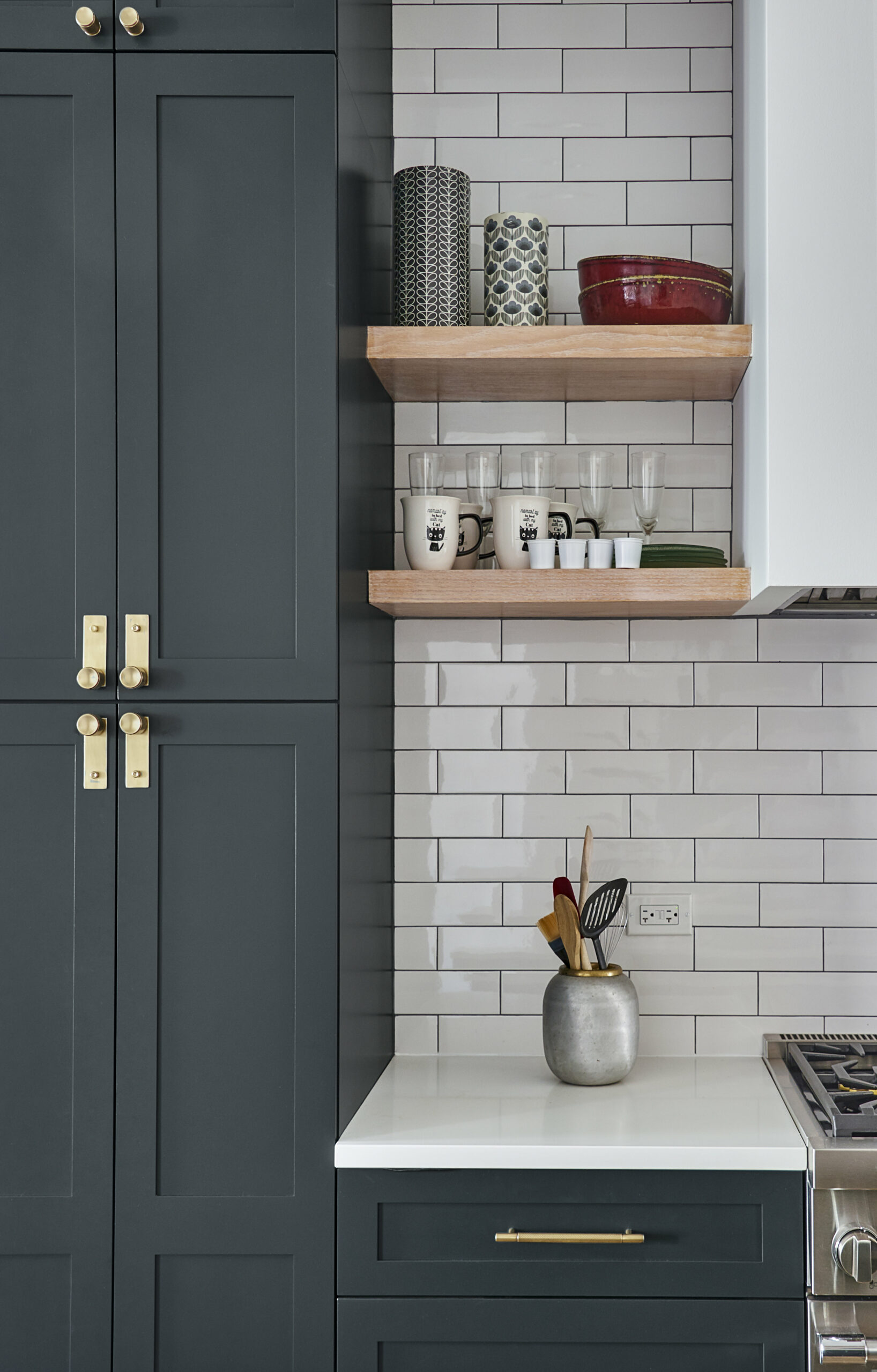 Door style & color: After deciding which cabinets we will use, the following step is to select a door style. You won't see the internal cabinet material when looking at the kitchen since it's covered with the doors and side panels (unless you opt-in for open shelves, of course). What you are going to see first is cabinetry doors. There are many different styles, finishes, and colors for you to choose from:
Shaker-style cabinets are one of the most popular and timeless kitchen styles. Shaker style doors have a square frame with a flat panel in the middle, typically painted white for contrast against darker cabinetry colors. This design can work well with any kitchen, from farmhouse to modern or traditional.
Flat-door cabinets are the go-to option for modern-style kitchens. Clean, straight lines with the right finish will get you to the clean look you are looking for.
If you are looking for a more traditional kitchen, then we recommend using raised-door cabinets. These cabinet doors sit above the base and have deep reveal molding around them to look elegant. The style is popular in many homes because it can match almost any color or design theme without being too flashy or modern.
Besides these two styles, many more are named after various manufacturers and brands: Oxford, Cambridge, and Beadboard. Those are usually custom-made and more expensive options.
4. Focus On Flooring For A Dramatic Transformation
You should seriously consider replacing your floor covering if a dramatic kitchen transformation is what you're after. Many options are available nowadays. Especially if you're looking for a resilient, easy-to-clean option and like the traditional appeal and look of wood, think about a wood-look option such as vinyl or ceramic tile, which you can likewise be used on the wall as a rustic backsplash.
The most popular kitchen flooring options are stone floors, laminate floors and hardwood floors. This topic is very in-depth and out of the scope of this article so click on each link to learn more.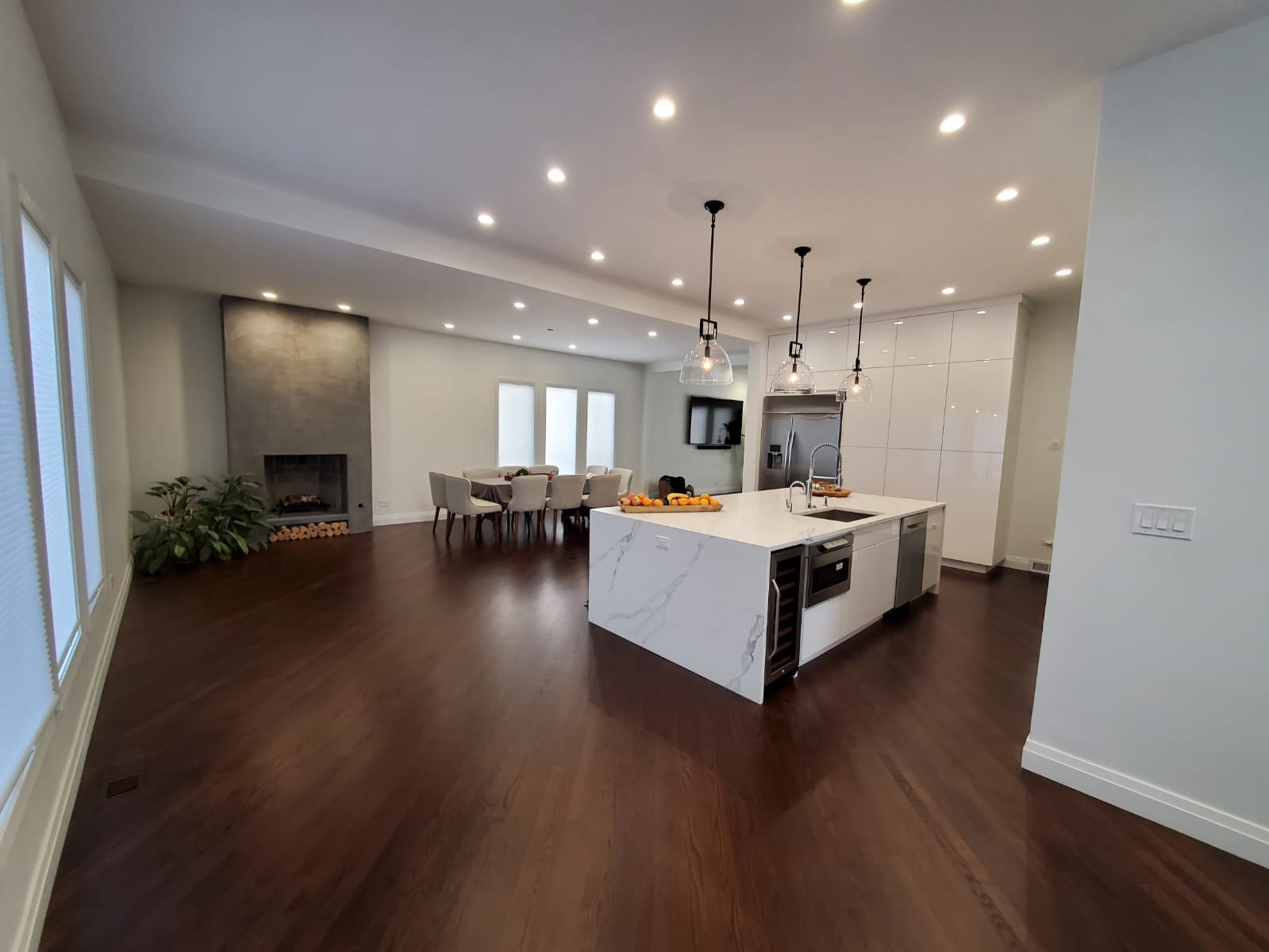 5. Popular Countertop Options
There are few types of countertop materials that you should consider when selecting your countertops, but by far, the most popular those days to go with transitional or modern style cabinets is quartz. Quartz is engineered granite that is a more durable and heat-resistant material. The quartz countertops come in many different styles: from solid colors to marble-style slabs.
For traditional kitchen designs with lots of wood finishes, granite is the way to go. Granite countertops are much more conventional, and their natural look goes well with traditional designs.
Besides granite and quartz countertops, there are more expensive options such as quartzite, soapstone, and corian.
Island countertop: With more homeowners choosing to remodel their kitchens into an open-concept layout, an island becomes a more common attribute of a kitchen space. When adding an island, it's always great to have 12 inches extension to create a breakfast table. Another excellent element is to do a butcher block countertop on the side of the island to add some farmhouse vibes.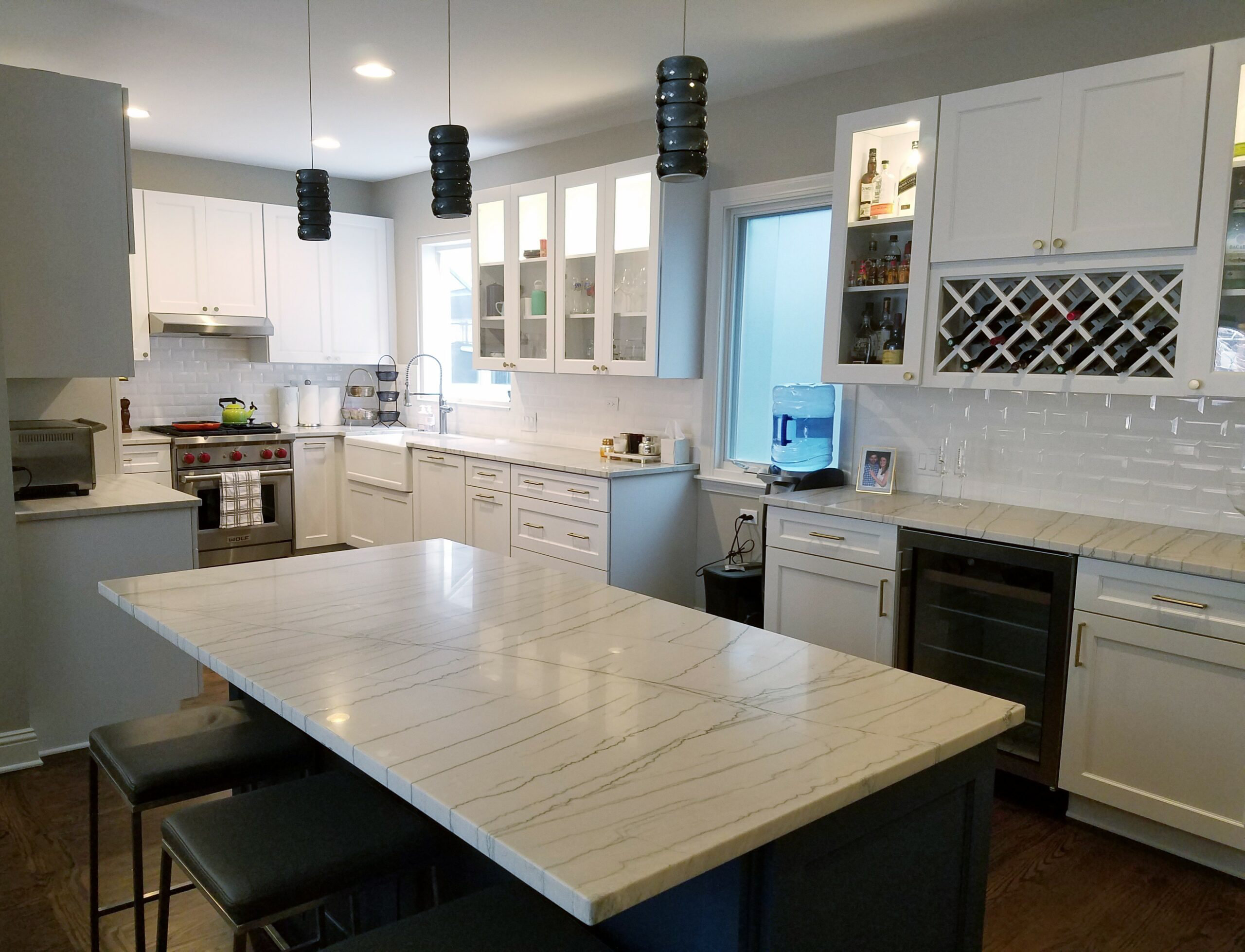 6. Backsplash Is Not Just For The Look
Upgrading your kitchen, specifically, your food-prep area with a tile backsplash is a visually enticing, functional, and lasting style option, and it permits lots of room for your own imagination to shine through. Some stores allow you to create your own pattern that fits in with the look you want.
The backsplash has an excellent combination of design and functionality. The main idea behind it is to prevent water damages during cooking and stains on the drywall or behind the cabinets. There are two approaches remodelers use to make sure homeowners get a gorgeous and timeless backsplash:
Tile: Most typical method has many different ways and styles of tile you can use as a backsplash, but you usually choose smaller sizes rather than big 12X24 tiles. Subway tile is trendy these days, and it can go great with white or marble-style tile. Another excellent style is mosaic tile, and which also comes in many different patterns and colors, and it's all can look amazing as long as it fits the style of the kitchen and home space in general.
Countertop: This method our company has used in many kitchens we remodeled in Chicago, IL. It's recommended in combination with marble-style countertops, or bright color with the grey grains looks elegant and clean when using it for both backsplash and countertop.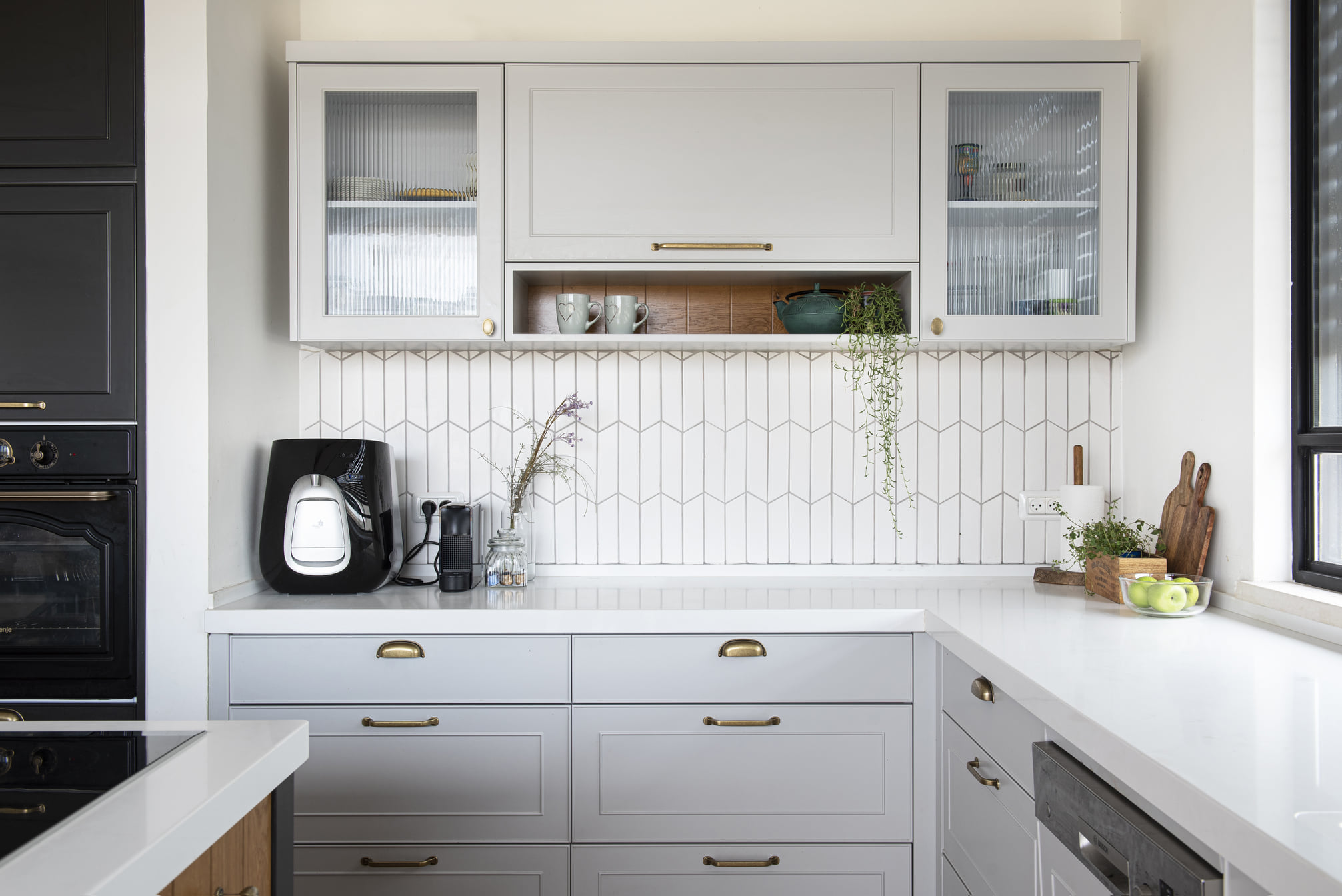 7. Choosing the Right Kitchen Lighting
For the best design, have a mix of different styles in your kitchen. Consider lighting your kitchen island with multi-light chandeliers. Recessed lights and a light dimmer are perfect for dining and entertaining family and other guests. Last but not least, under-cabinet lighting is likewise important for mood and functionality.
Selecting and using light fixtures in your kitchen is an excellent addition to your design and can blend amazingly with the general look. There are 3 light elements most used in kitchens: ceiling lights, pendant lights over the island, and under-cabinet lights. Here are some ideas and tips for planning lighting in your kitchen:
Ceiling Lights: This light purpose is to give enough light to space to ensure that the quantity is enough. We usually use between 4 to 6 "can" lights, depends on the kitchen size and layout. Ensuring we have enough light in the space and can light is a great modern, clean way.
Pendant Lights: Now that we have enough light in the space, the pendant light can be more designed rather than lighting necessity. The most common layout is 2 or 3 pendant lights divided equally above the island. It is vital to make sure not to make the island lights too low as you want to make sure that it's not hitting people's heads when sitting to eat or using the island as a workspace. Another good idea is to install the pendant lights centered above the island, and that way, it's not too close to the sitting area.
Under-Cabinets Lights: Another great way to add charm and functionality to space is subtle lights under your wall cabinets. There are different styles of under-cabinet lights: it comes in a channel or a strip that you can glue to the cabinets. It's effortless to install, and it's affordable, but it massively improves the look and feel of the kitchen. When you design the layout of your cabinets, it's essential to know if you plan to have under-cabinet lights, as you can order a trim piece installed beneath the cabinets to cover the under cabinet lights channel. In modern high-end kitchens, you may find cabinet lights that turn on/off when you open and close drawers.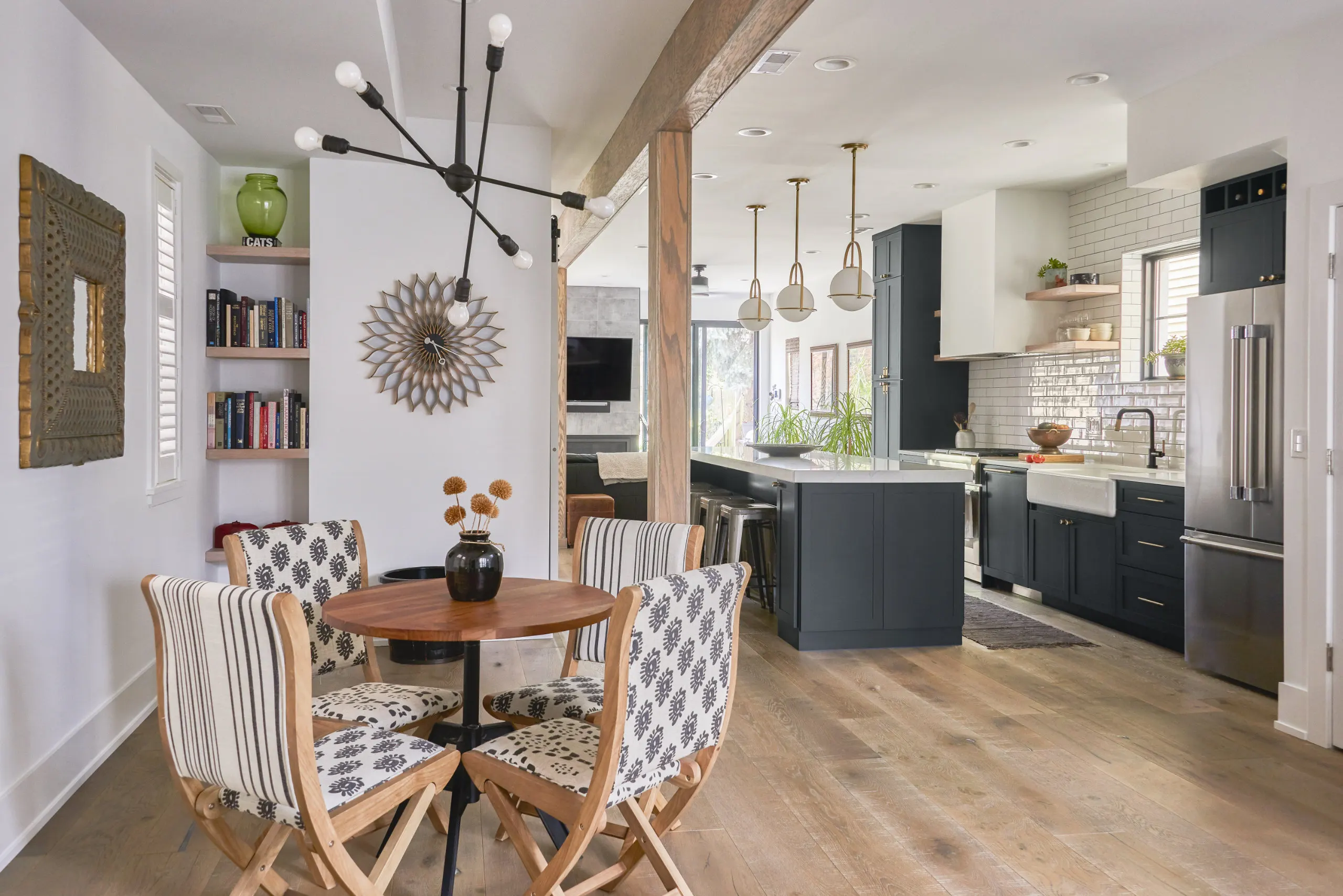 8. Hardware For Your Kitchen
The last part of the kitchen design is the hardware, a small element that completes the space. Nowadays, people go towards handles rather than knobs. You can get handles starting at 3 inches wide up to 12 and 14 inches. If you go with wide hardware, it's essential to see if you have small cabinets as 9 or 12 inches wide that will need small handles. In most kitchens, the hardware matches the finish of the plumbing fixtures. So if you have a chrome finish faucet, you should go with chrome handles. But we also designed spaces that they didn't match, and with the right design, you can also combine finishes.
Details are everything when completing your home remodeling design. Hardware and fancy faucets can elevate a kitchen to the next level. Particularly, warm-toned metals such as brass are more common, and there's also a fantastic selection of shapes and brushed surfaces to pick from.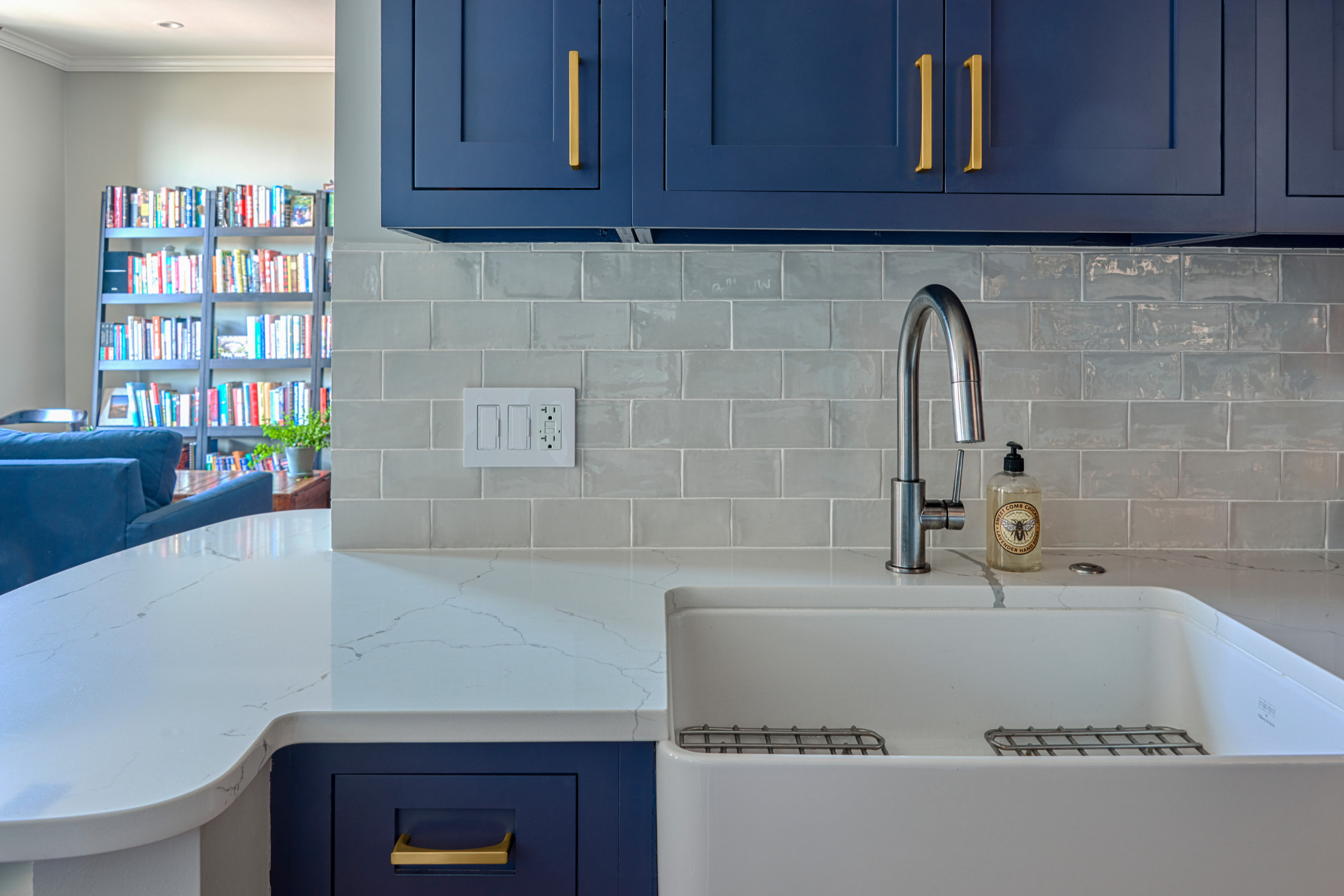 This was our guide to planning your next kitchen remodel project; if you have any questions or would like us to be involved, we at 123 Remodeling would love to hear from you. Our team of designers will make sure that we consider all elements in the process to make sure you have a fantastic kitchen with lots of storage and the right cabinet functionalities to make sure your place is impressive and serves you well, and provides high-quality convenience. 
We look forward to hearing from you soon, and if you live in the Chicago area, we hope to work with you on your next kitchen remodeling.