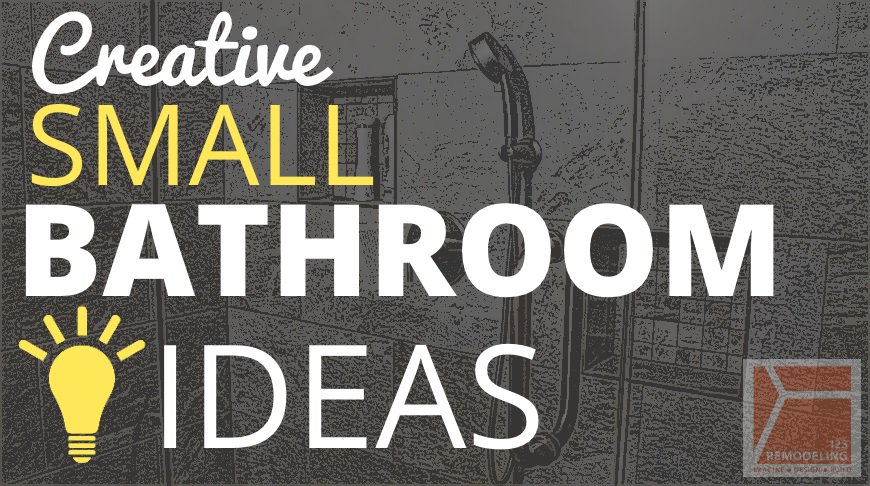 Creative small bathroom ideas are everywhere.
Color, floor plan, and even the materials used for the counters, walls, and the floor will dramatically change how you feel about your bathroom.
More light, a new floor plan, or total style shift can make you fall in love with your new-to-you bathroom.
---
Tile, Color, and Pattern

The materials you choose can stretch or shrink your room. The tile size, the installation pattern and color of a room all shape the way it feels. For example, does it feel tiny or open? Without moving walls, resurfacing can open any room.
A recent Edgewater condominium remodeling project by 123 Remodeling at 6101 N. Sheridan shows what happens when small black and white claustrophobic tiles are updated to long 6" x 18" wide white subway tiles. For this project, a new bathtub was installed in the same footprint of the old walk-in shower. The new tub with shower provides more functionality in the same space.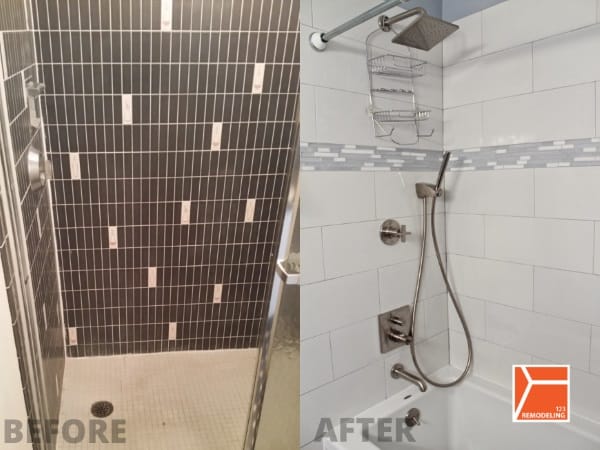 ---
Using Light

Translucent materials can essentially remove a whole wall from any space.
In this small bathroom design in a renovated carriage house the etched glass lets light into the main living area and defines the shower's space in the bathroom.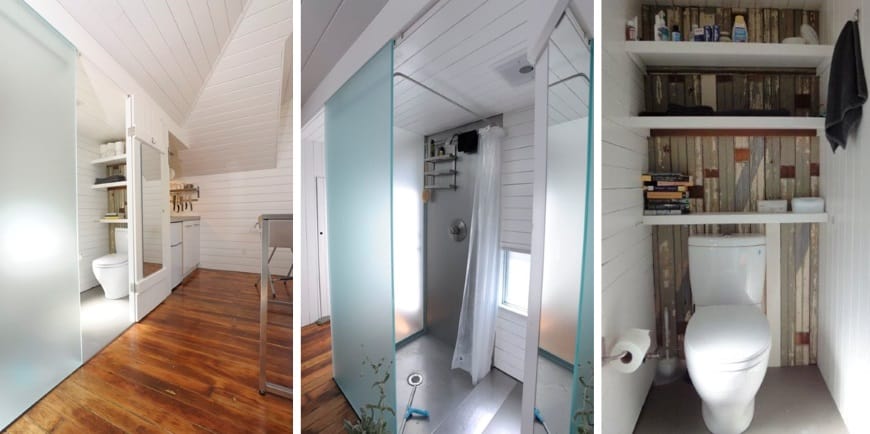 Photos: Remodelista
Using glass in your shower connects the whole bathroom as one space and gives a modern stylish feel.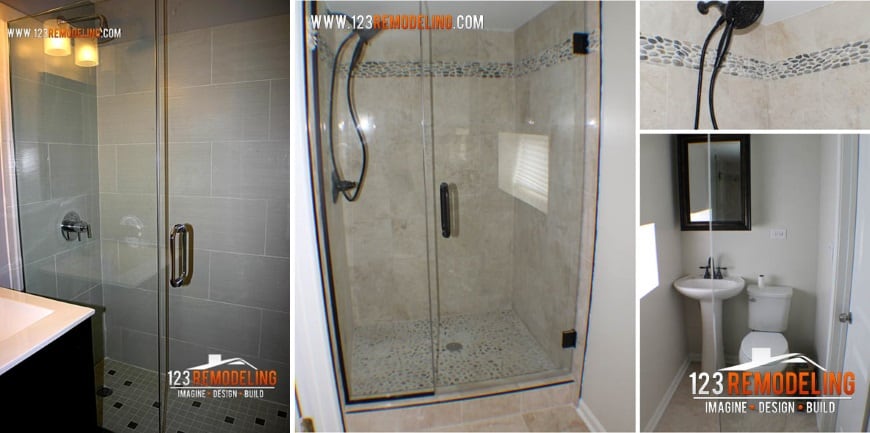 On a recent renovation of an outdated Magnificent Mile Condo Bathroom by 123 Remodeling a walk-in shower with a glass wall was used. A slim toilet and matching vanity allow this room to feel double its size. Before and after photos below.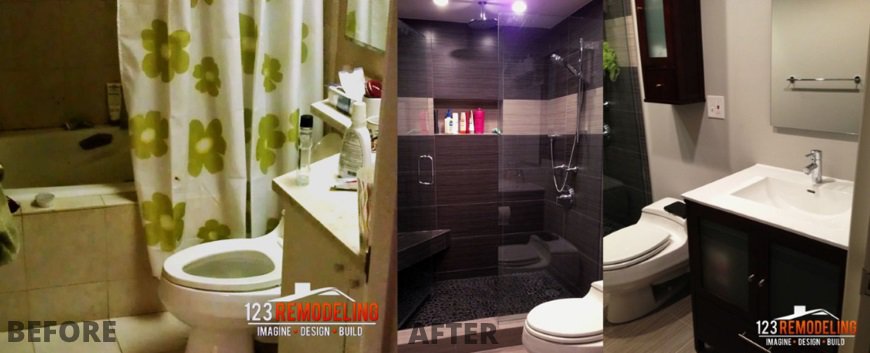 "I installed a skylight in my apartment… the people who live above me are furious!" ~ Steven Wright
Windows and skylights are great options for opening cramped spaces by letting in natural light. Both are options for many rooms.   A well installed window or skylight's connection to the exterior is a portal to the outdoors.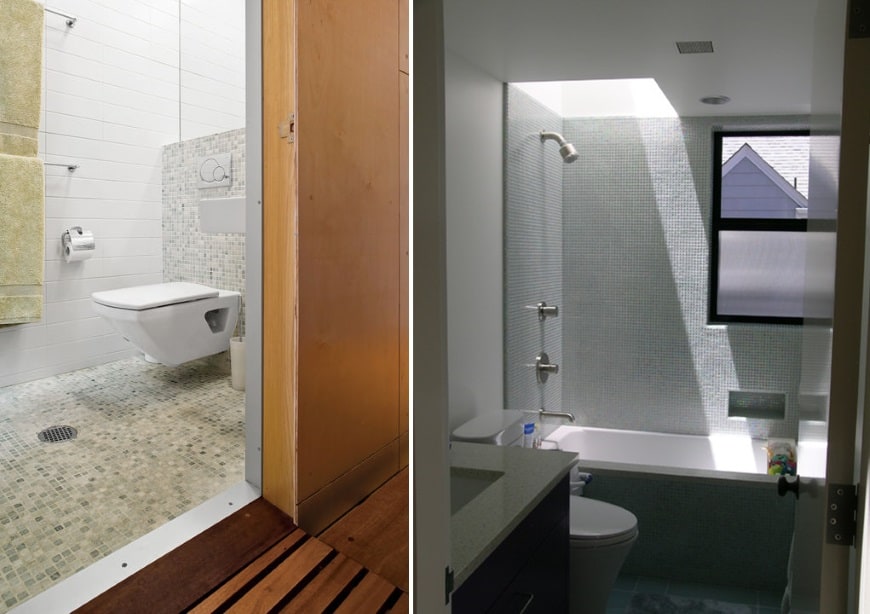 Photos: Dwell, Cathy Schwabe Architecture
---
Showering Outside the Tub

Tight spaces sometimes require a new approach.   These open showers pack usefulness into purpose. The example above uses a hanging toilet to further stretch the room.
In the bathrooms pictured below a standard shower/tub was replaced with a same level walk-in open shower. The rooms' traditional shower area boundaries are dissolved by the uniform tile and not interrupted by adding complimentary materials like the glass wall divider and stained wood accents.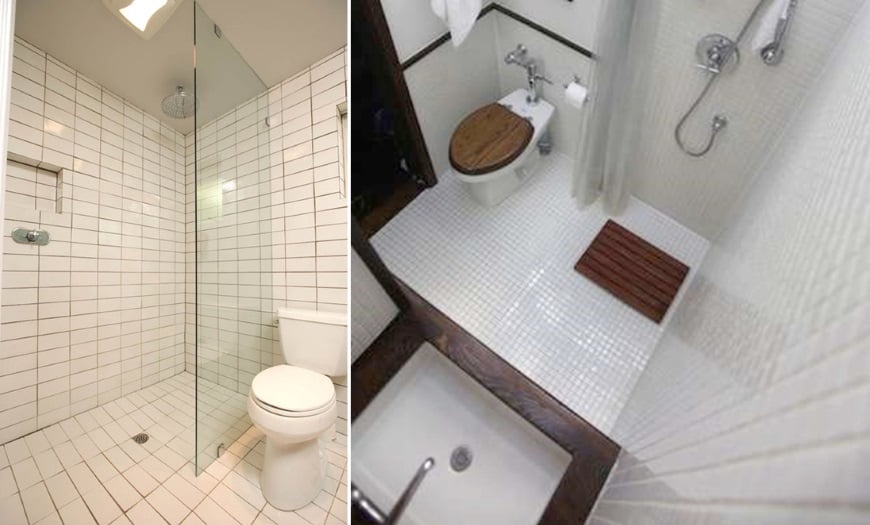 Photos: Renovation: 800 Square Feet, Apartment Therapy
---
On the Wall

The corner may be the most underused space in any room, especially a small bathroom. Every bathroom has a corner or nook that could be transofrmed into useful space. Built in or through furniture there are creative ways to add storage and take advantage of every inch of your bathroom.
Photos: Amazon.com, Amazon.com, buffalowoodcraft.com
Reclaimed objects can be a perfect match between your budget and your aesthetic. Unused wall space can become personalized shelving, like these barrel, crates and baskets.

Photos: bobvila.com
A corner sink is a great option that can meld with any design style.
[row][one_half_column]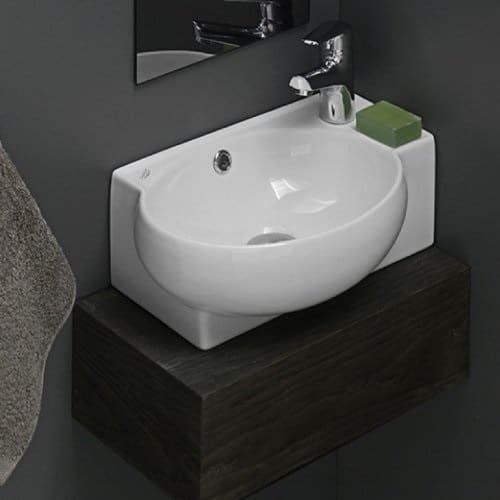 [/one_half_column][one_half_column]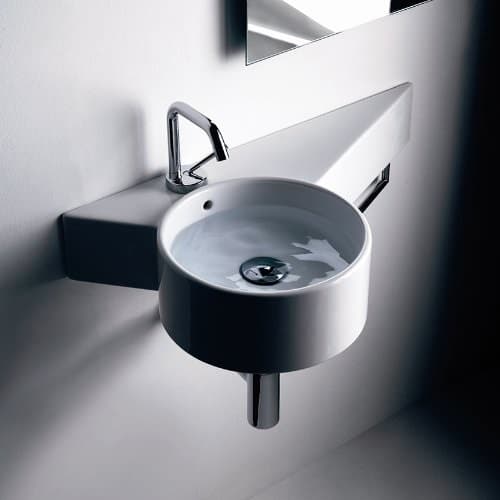 [/one_half_column][/row]
A white ceramic sink will match with almost any color scheme present or future.
Glass, stone, and copper sinks or fixtures can also help define your aesthetic when modernizing your bathroom.
[row][one_half_column]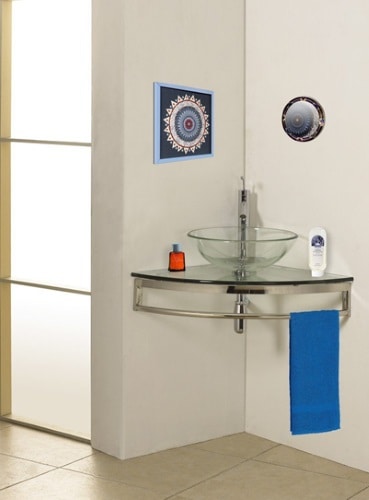 [/one_half_column][one_half_column]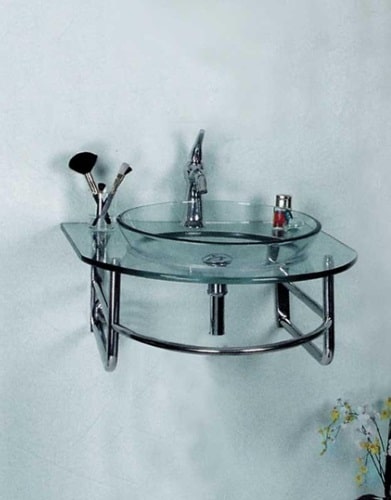 [/one_half_column][/row][row] [/row]
[row][one_half_column]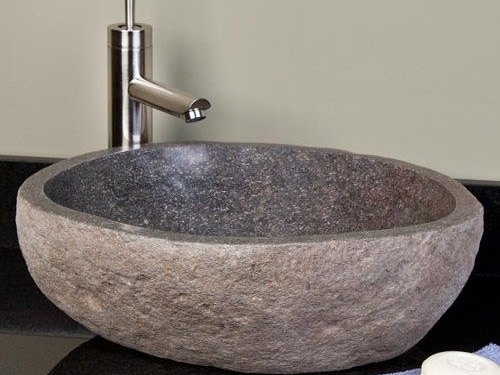 [/one_half_column][one_half_column]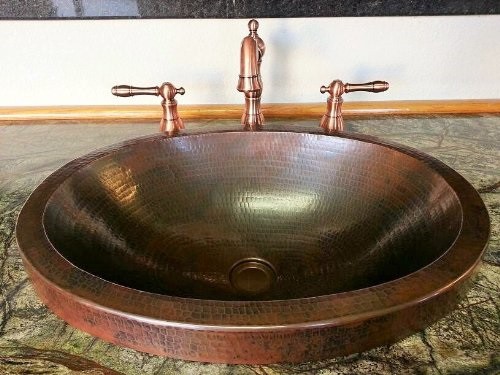 [/one_half_column][/row]
[row] [/row]
Stylish use of brass and copper fittings allow this slim sink to look good without taking up too much room.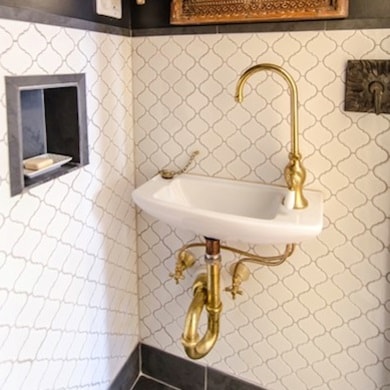 Photo: indigochre.com
Hanging, or wall mounted, and pedestal sinks let you strip away the bulk of a heavy vanity while keeping stylish.
[row][one_half_column]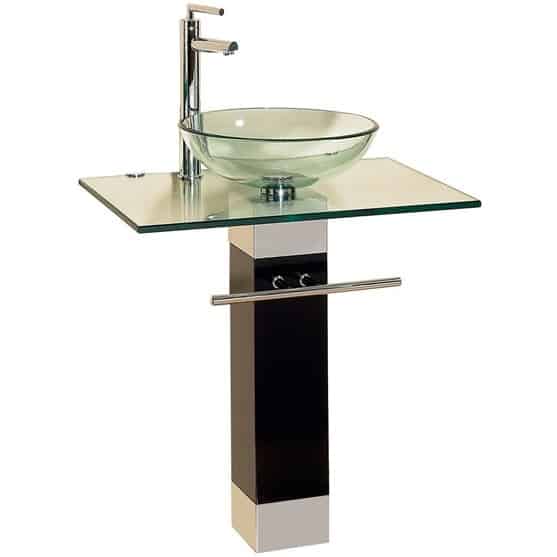 [/one_half_column][one_half_column]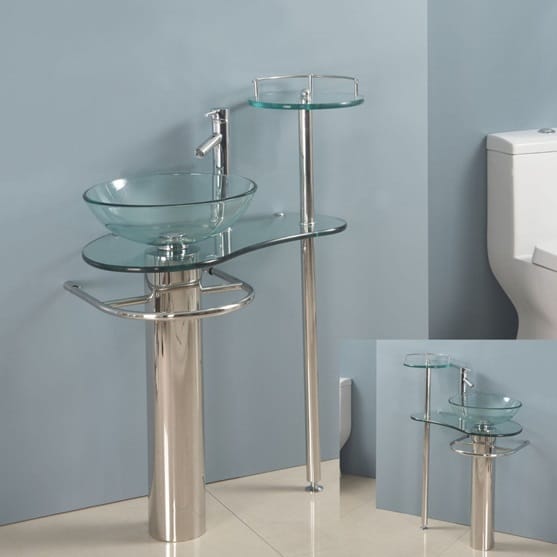 [/one_half_column][/row]
If you crave a shower seat a wall mounted flip up option may complete your small bathroom design.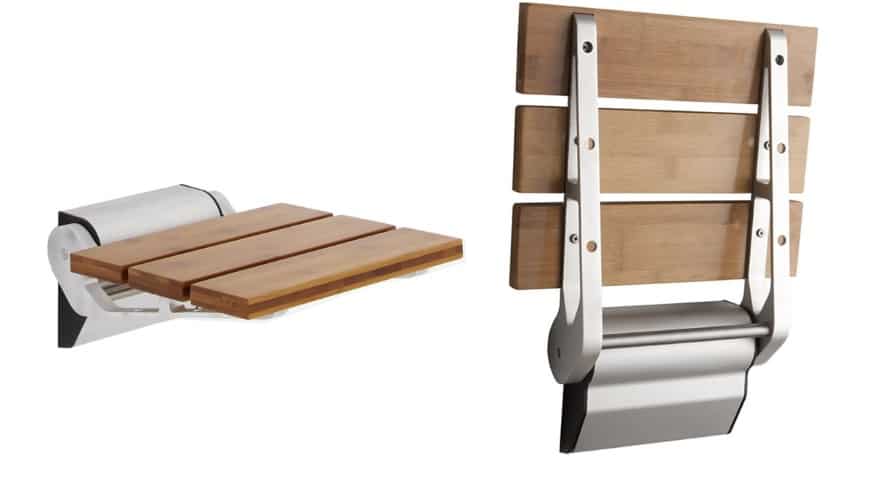 ---
Mirrors & Magic

Creative small bathroom ideas may seem like magic.
Often times an original half bathroom still creates a bottleneck at bath time. There is sometimes an option to borrow a few square feet from an adjacent room to up-size the half bathroom into a full bathroom. It may seem like an obvious idea to make a bathroom seem bigger by actually moving a wall.
Another option is to get creative with your mirror placemen.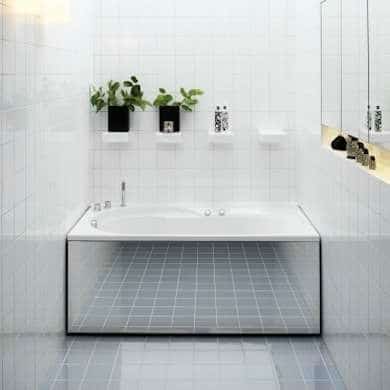 Photo: furnitureanddesignideas.com
Claiming space that was not a traditional bathroom can bring sophisticated convenience to your home like this beautiful under stairwell half bath.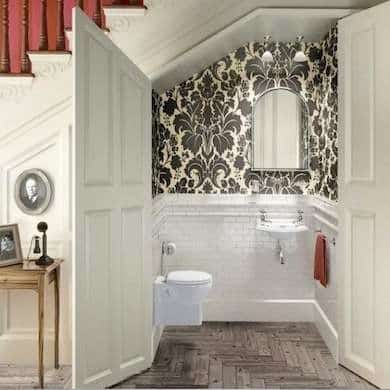 Photo: homedit.com
---
Remodel Your Home
123 Remodeling is a reliable and affordable home improvement company based in Chicago, specializing in renovations and new construction of residential & commercial properties. We are licensed and insured.
From kitchen remodeling, bathroom remodeling, and basement remodeling, to tuck pointing, masonry, and roofing, we do it all. Serving Chicago and the Chicagoland area including surrounding suburbs, we provide quality and professional services at affordable prices.
Call us today to schedule your free consultation (773) 685-6095, or click the button below:
[button style="btn-warning btn-large" url="https://123remodeling.com/free-consultation/" size="" block="false" target="_self"]Schedule a Free Consultation[/button]