Marketing firm UpSwell recently conducted a survey among 1,021 young homeowners ages 18-29 asking them about their plans on home improvement spending in 2021 and beyond.
The research found that young homeowners are planning to spend $2,241 on home improvements that is above average for older age groups who have a budget of $1,744. This number may be skewed towards small maintenance jobs since average room remodeling costs are much higher and start at $4,500 for minor projects and going up to $60,000 for high-end remodels in the Chicago area per our own data.
What is especially interesting, young people are more likely to choose a national brand (24%), while older homeowners were more loyal to local companies (73%). Brand recognition and good reviews are important for both age groups (79% said they were more likely to choose a company based on reviews and testimonials).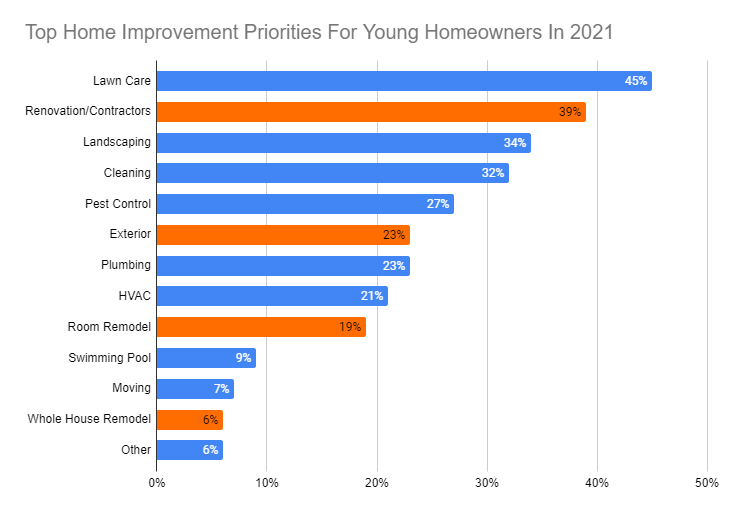 The younger respondents pay attention to the company's online presence: Instagram, Facebook, and Twitter social accounts are all important sources of building trust (67%). The older cohort selected word-of-mouth and referrals as the most influential way of choosing contractors (77%). Both age groups selected direct mail (23%) and online ads (26%) as the worst ways of building trust.
Among all respondents to the survey, 70.1% are considering non-remodeling improvements while 29.9% are planning to involve general contractors for the room renovations or whole house remodel.