You use your shower every day, and a great shower is a key to starting your day off on the right foot. That's why the shower is the most important part of your bathroom. According to MarketWatch, 48% of Americans wish they could make their shower larger. But remodeling your shower can be overwhelming — there are so many different styles and options to choose from. You've got different types of enclosures, showerheads, shower fixtures, valves, flooring, and more. Here's a guide to help you decide what type of shower is right for your bathroom.
Enclosures
When it comes to the actual shower enclosure, there are so many different styles and variations available. Let's take a look at some of the most popular styles.
Glass Block: There is a wide variety of options to choose from with glass blocks. Different block styles, colors, thickness, size, and more. This style works well with modern design for a clean, minimalistic look.
Textured Glass: Similar to frosted glass, textured glass is slightly see-through, making the bathroom feel larger. Go with textured glass for a spa-type of look.
Sliding Door: Sliding glass doors are a great way to save space in a small bathroom. You can choose different types of glass, or plain see-through glass to show off your shower.
Tub Enclosure: Glass doors aren't just for showers, you can even have a nice glass enclosure for a bathtub/shower combination. This will give your bathroom a more classy look than a simple shower curtain.
Open Shower: Not every shower needs to be closed-off. Some layouts work well with an open shower, usually with 3 walls and one open side. This can make your bathroom feel larger and more unified.
Frameless Glass: A frameless glass enclosure is a stylish choice. This type of shower looks very sleek and goes well with a modern style bathroom. It's also easy to clean. They tend to be more expensive than some of the other options though.
There are many other shower enclosure styles to choose from as well. Some examples are aluminum and glass, multiple entrance, tile and glass, and framed-door enclosures. One of the biggest trends we're noticing these days is that many people are opting for stand-alone bathtubs or no tub at all. We're seeing a lot fewer 2-in-1 shower/bathtubs.
Shower Heads
Wall-mount: This is the typical shower head that you see most of the time. Usually, a single-head spray shower mounted on the wall. The nozzles are adjustable for different water patterns and speeds. The neck can be adjusted to spray at different angles.
Top-mount: Also known as a ceiling-mount, a top-mount shower head is attached to the ceiling and sprays water directly downward, rather than at an angle like a wall-mount showerhead. This design is great for showers with ceilings that are too low to accommodate wall-mounted showerheads.
Handheld: A handheld showerhead can be used in combination with other showerheads, but can also be a 2-in-1 design that acts as a regular shower head but also detaches to become handheld. These are great for rinsing off your body, as well as cleaning the interior of the shower.
Sliding Bar: A sliding bar shower head is attached to a bar that is mounted vertically on the wall. The head slides up and down the bar to accommodate people of different heights.
Body Spray: Body sprays and body mists are installed in vertical rows on separate walls to create a criss-cross stream pattern. Different from a traditional showerhead, they spray the entire body from head to toe at different angles.

Spa Shower Panels: Spa shower panels powerfully pump out water for a full body massage, similar to a whirlpool tub. They are installed directly against the wall, or multiple walls, from the knees to the neck-level.

Rain Showers: Rain showers are different than traditional showerheads because they spray water directly downward, rather than at an angle.

Aerating: An aerating shower head, also known as a low-flow showerhead, is designed to conserve water while still giving the same amount of pressure as a standard shower. In the past, low-flow showerheads did not produce enough pressure, but with today's technology, they can be as powerful as a high-pressure showerhead.

You can even add LED lights to your shower head for a really unique and personalized look.
Shower Fixture Finishes
Before you start remodeling, you should think about the finish. Matching the shower fixtures with other elements in the bathroom, like the faucet and towel bar, is a good idea.
Brass: Go with polished brass for a classic, vintage look. It's known for being easy to clean and maintain. It also matches well with other accessories. However, it can be a bit on the expensive side. Satin brass is similar to polished brass, but not as bold. The matte finish is great for modern, contemporary, or even traditional style designs.
Copper: This is a very unique and bold look. In the right setting, it can look great, but sometimes it can be difficult to find matching accessories. Also, it's not as durable as some of the other popular finishes and requires more maintenance.
Nickel: Polished nickel gives you the shiny appearance of chrome, but slightly darker. It's durable and easy to clean. It also pairs well with a variety of different styles from modern to eclectic. Brushed nickel is another great choice. It's easy to clean, easy to match, and is relatively inexpensive. Choose brushed nickel if you want a classic look.
Bronze: If you want a more traditional look and feel, go with oil-rubbed bronze instead of chrome or brushed nickel. It's easy to clean and doesn't show water spots or fingerprints. However, it can be more expensive than other materials like chrome and brushed nickel.
Chrome: This is one of the most popular finishes right now because of its flexibility. It's inexpensive, easy to clean, durable, and works with almost every design style. The only disadvantage is that it shows fingerprints and water spots.
Matte Black: We're starting to see more and more black bathroom fixtures these days. Sometimes black fixtures match perfectly with certain design styles like modern and eclectic. However, sometimes they will clash with some designs and accessories.
White: Usually made from porcelain, white fixtures will give you a clean, fresh-looking finish. They are easy to clean but not as durable as metal.
Shower Valves
Different types of shower valves have advantages and disadvantages. Understanding the different types of valves will help you make the correct choice when remodeling your shower.
Pressure Balancing Valves: This is the most common type of valve. It has a single control with a handle. To make the water warmer, you turn the valve to the left, and to make the water colder, you turn the valve to the right. These valves usually include a diverter that directs water to the tub or to the shower.
Thermostatic Valves: This is another common type of valve. These are designed to maintain the temperature of the water. Thermostatic valves give you greater control of the temperature than other valves. There are even thermostatic valves with anti-scald technology that prevent the water from getting hot or cold too fast. Thermostatic valves include a volume control feature that allows control over the amount of water from each outlet.
Digital Controls
Modern technology is making its way into our bathrooms, and now you can control your shower with a digital LCD display. Push-button digital technology brings added convenience to your shower experience. Turn on your shower with the push of a button and even control the temperature right down to a specific degree. You can even save your settings so the water is perfect every time, and there's a timer to let you know how long you've been showering.
Water Efficiency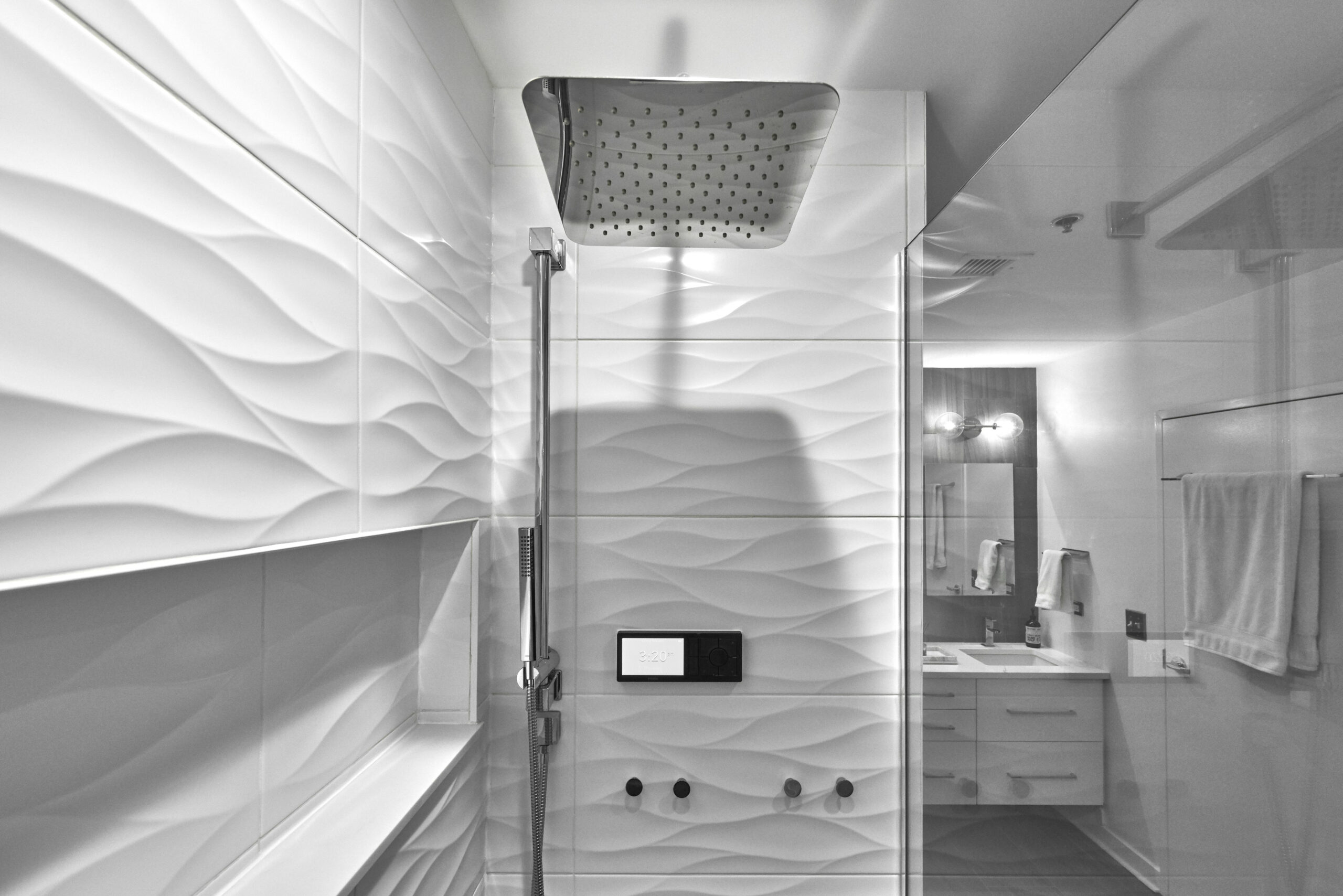 Conservation of water is a big deal these days, and showers account for almost 20% of residential water use. There are a variety of options available for those who want to take water efficiency into consideration when remodeling their shower. The digital controls described above are great for reducing water waste. The water shuts off as soon as it's heated to your preferred temperature and then turns on once you're ready to get in. You can also set time limits so you don't stay in the shower for too long. Another option is an aerating shower head, which can help conserve water and energy without sacrificing performance.
Remodel Your Shower
If you live in Chicago or the surrounding area and you're interested in remodeling your shower or the whole bathroom, 123 Remodeling team would love to help. Call us today for your free consultation: (773) 685-6095 or request an appointment online.