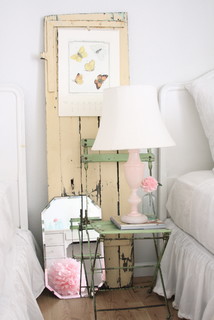 When you live in a city with loads of young hipsters, or casually watch a lot of HGTV, you'll likely hear a lot of "design terminology" thrown around. It can be hard to navigate for the uninitiated, so I'm going to give you a place to start this week.


One of the more popular phrases people like to throw around ever since JoAnn Fabrics started selling chalk paint, is "shabby chic." So what is it? Shabby chic often misspelled as "shabby sheek" or mispronounced as "shabby chick," is the interior design equivalent of distressed jeans. It looks really cool and quirky and well-used, but you probably got most of it in a mall. Some people are purists, only using the furniture they've inherited from great-grandparents or rescued from a yard sale, possibly painted in pastels. Others are willing to spend a frankly ridiculous amount of money to make their homes look like the upscale version of craigslist.


It's a style I really love because it frequently relies on recycling and can be quite cost-effective for those decorating their first place, or who want to save money but still be happy with the state of their home. Shabby chic is a nice cross between vintage and rustic, with French Country overtones.
Lived-in Look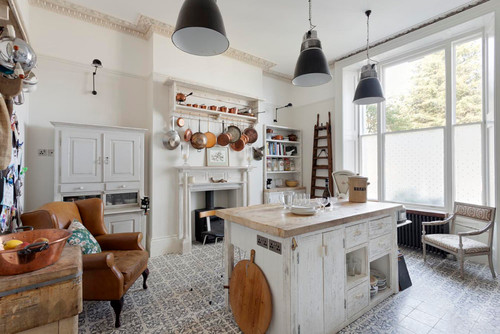 Probably the most vital element of shabby chic-ness is designing a "home." One of the downfalls with many looks is that you get the sense the house is always being staged for sale. Everything is neat and put away and no one is allowed to sit on the couch because the slip-cover has been arranged just so.
Here's where we come back to the distressed jeans comparison. Shabby chic celebrates that the furniture is used. It draws your attention to the functionality of a room. Take this kitchen for example. The reclaimed island might be as old as the house. The copper pans displayed for the convenience of use and because they add some color and texture to the room. The chairs are a debatable choice. On the one hand, maybe they're just there because they match the color scheme. On the other, maybe the people who live here actually sit around in the kitchen with their coffee. Obviously, all of the rooms here were prepped for picture day. However, a lot of them probably don't look all that different a week later (except maybe some dirty dishes or an unmade bed).
White On White
Many styles have a few colors that are associated with them. Rustic rooms have wood tones. Modern furniture is often monochromatic in blacks and grays. Moroccan styling uses jewel tones. With shabby chic, the main color is almost always white.
The reasoning behind this is super interesting though. As mentioned, many of the furnishings for this style are reclaimed pieces, often acquired from several yard sales or online ads or generations of family members. These old items are refreshed with some paint (often cheap so it can be bought in mass quantities, leading to the signature chipped look), and doing them all in one color unifies them so they all look to belong together. And while a single-color room would usually be really boring, shabby chic gets away with it because of the variations in texture. Different woods, different fabrics, different finishes. The differences give personality, while the limited palette brings harmony.
Mix and Match
This is my favorite bit. What I've been giving you are some general guidelines of how people usually design in shabby chic. However, there really aren't hard rules. You don't have to use white. You can keep a really tidy home. Shabby chic is actually one of the loosest styles there is in terms of what it demands.
This is abundantly clear when it comes to your furnishings.
On the left here you see a kitchen. The floors, recessed lighting, and cabinets are quite contemporary, and even the stove looks newer than what's in my apartment currently. But then there's this table set, the chandelier, and the cupboard which all look reclaimed from different places and times. But there's enough balance that they all flow together.
On the right, a dining room with a great collection of patio chairs. They're very different, but their visual weight is comparable, so they work. The clock has similar round features to the head-chairs, so it blends. And there's hardly a room out there that won't accept a crystal chandelier.
All the windows and pale paint keep the space light enough to support the iron on the chairs. It avoids the dreaded "matchy-matchy" by a mile but doesn't fall into looking thrown together. There's a thin line between "shabby chic" and "eclectic mess," but it's one that can be explored safely.
Bringing it Home
So how does one go about utilizing this style without replacing everything they have? Shabby chic is actually the perfect style for this since it's the bread-and-butter of the DIY world. You can bring in a few pieces you like, paint them to match what you have, and you're set. Even little elements like this stained glass offer some quirk to the room without feeling too out of place. Are you not especially crafty? Then a $600 at Overstock will get you the perfect dresser that looks like it just came out of a garage.
The brilliant bit of this style is that the look has an unfinished quality just by nature. You can keep working and building it as long as you like. Go on thrift days with your friends once in a while. Browse craigslist while you're waiting at the dentist. With shabby chic, it really is about the journey over the destination. And if you want a little guidance on that journey, feel free to
let us know
.