Chicago, IL – Chicago-based general contractor 123 Remodeling earned a BBB Certificate of Accreditation valid through October 2022.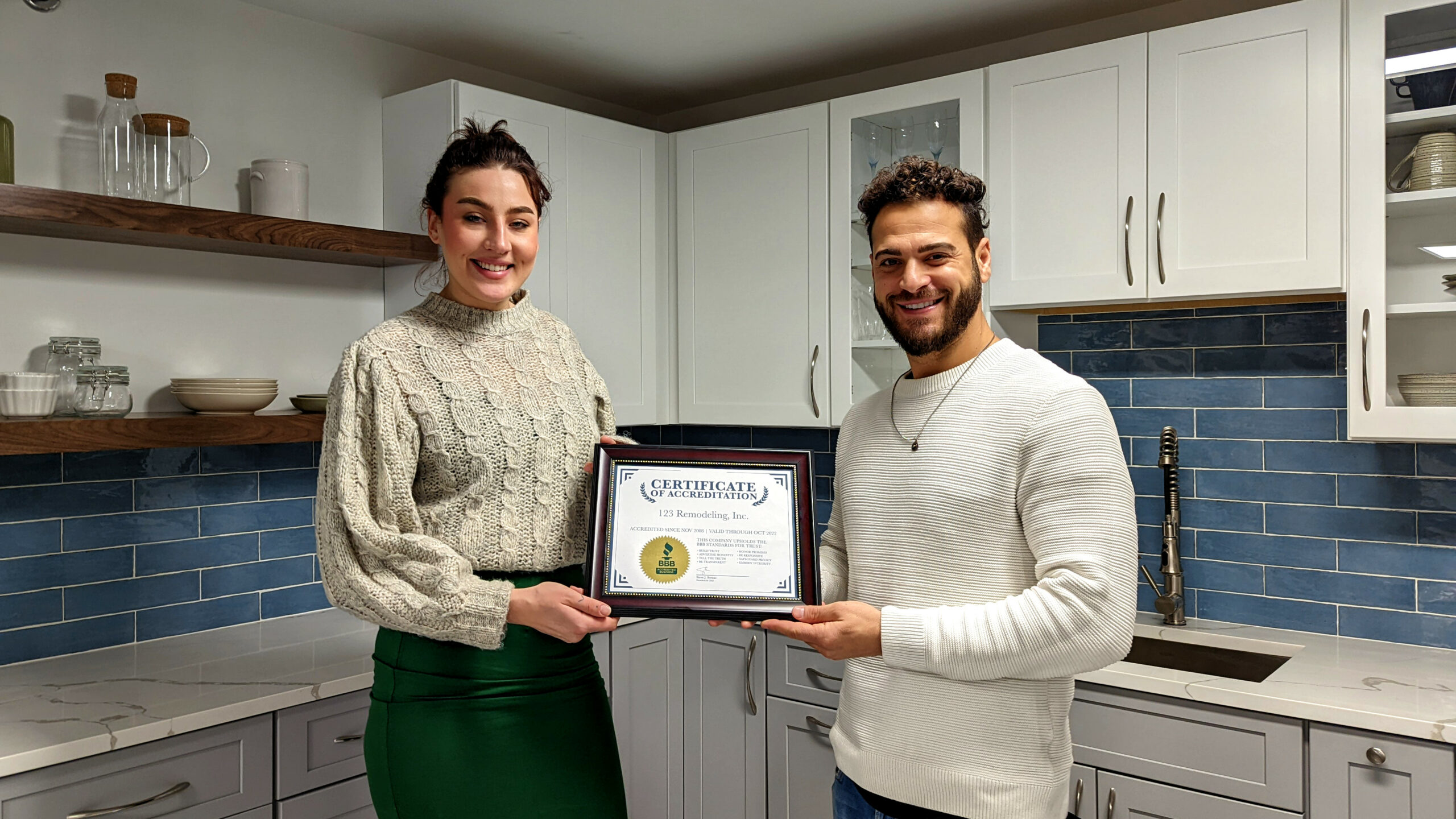 It's an honor to become an Accredited Business with the Better Business Bureau, because not all companies meet eligibility standards. 123 Remodeling is pleased to announce today that it has met all BBB standards and is now a BBB Accredited Business.
"Accreditation in the BBB is by invitation only," says Steve J. Bernas, president & CEO of the Better Business Bureau serving Chicago and Northern Illinois. "And only those businesses that meet our high standards and pass the review process are approved by our Board of Directors."
As with all businesses that are Accredited by the BBB, 123 Remodeling has committed to the BBB Code of Business Practices. The Code is a comprehensive set of policies, procedures, and best practices for treating consumers. These standards call for building trust, embodying integrity, advertising honestly, and being truthful. Bernas adds, "To maintain their Accreditation businesses must be transparent, honor their promises, be responsive to their customers, and safeguard their privacy."
"We are proud to be a BBB Accredited Business," said Ariel Darmoni, General Manage of 123 Remodeling. "In today's unprecedented times, it is imperative that our customers know how seriously we take our commitment to excellence and good customer service. Our achieving BBB Accreditation exemplifies that goal."
123 Remodeling offers homeowners award-winning kitchen and bathroom remodel services in Chicago, Evanston, Skokie, Wilmette, Glenview, Highland Park and Winnetka areas. "We want to stay focused on what we do best: outstanding remodeling projects and exceptional customer service," said Ariel Darmoni.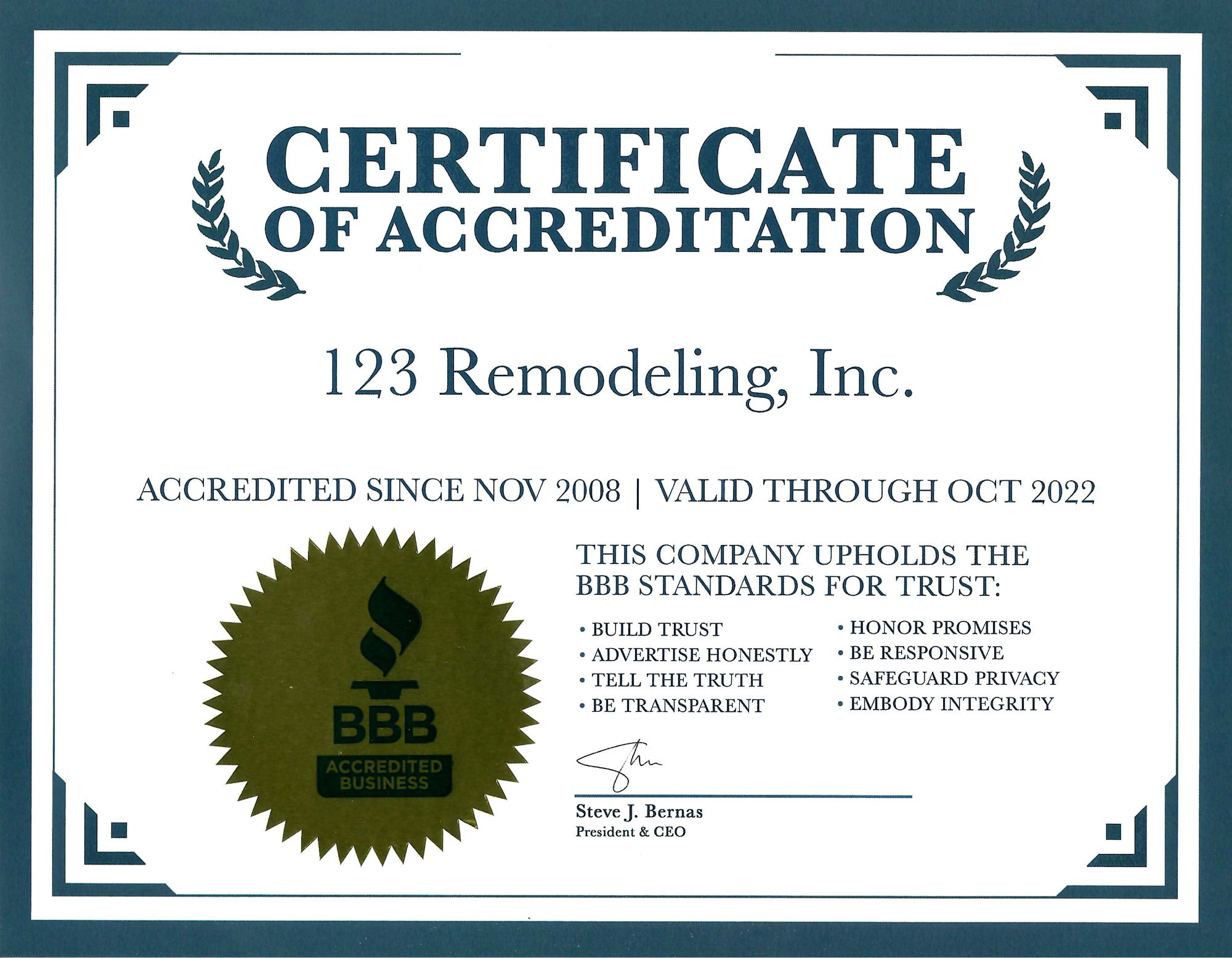 About the 123 Remodeling
123 Remodeling is a licensed Chicago-based general contractor specializing in kitchen and bathroom remodeling and condo renovation. They offer design-build remodeling services including interior design, permit handling, and construction. 123 Remodeling team has over 14 years of experience working on award-winning home remodeling projects in Chicago and its suburbs.
About the Better Business Bureau
As a private, non-profit organization, the purpose of the Better Business Bureau is to promote an ethical marketplace. BBB helps resolve buyer/seller complaints by means of conciliation, mediation, and arbitration. BBB also reviews advertising claims, online business practices, and charitable organizations. BBB develops and issues reports on businesses and nonprofit organizations and encourages people to check out a company or charity before purchasing or donating. Better Business Bureau serving Chicago & Northern Illinois.
MEDIA CONTACTS
Company Name: 123 Remodeling
Contact Person: Ariel Darmoni
Email: sales@123remodeling.com
Phone: +1 (773) 685-6095
Address: 5070 N Kimberly Ave Unit C
City: Chicago
State: IL 60630
Country: United States
Website: https://123remodeling.com/