We are witnessing an enormous increase in people's choices to leave their work offices and work from home and for many companies, physical offices are a thing of the past. Telecommuting has become very easy and all communication is effectively conducted using tools like Skype or Basecamp. Tasks are delegated, projects submitted and issues discussed, all without you leaving the comfort of your home.
While it's true that you can stay in your pajamas all day and avoid the morning traffic, there are many distractions at home, such as your kids, noise, household chores, etc. There's no one to keep an eye on you so you might start slacking off and not accomplishing your maximum capacity.
It's all about balance and we believe that a home office has the best of both worlds. It's a room in the house reserved for work so you can shut the door and block the outside world. But still, when you feel tired and overworked, you can easily pop down to the kitchen for a snack.
Using an attic as a home office is an excellent choice because it's remote and separate from the rest of the house. You can have your peace and quiet and you won't have to sacrifice another room. The attic is the most underutilized space that has enormous potential. It's absolutely possible to turn it into a functional home office, just follow our guidelines here.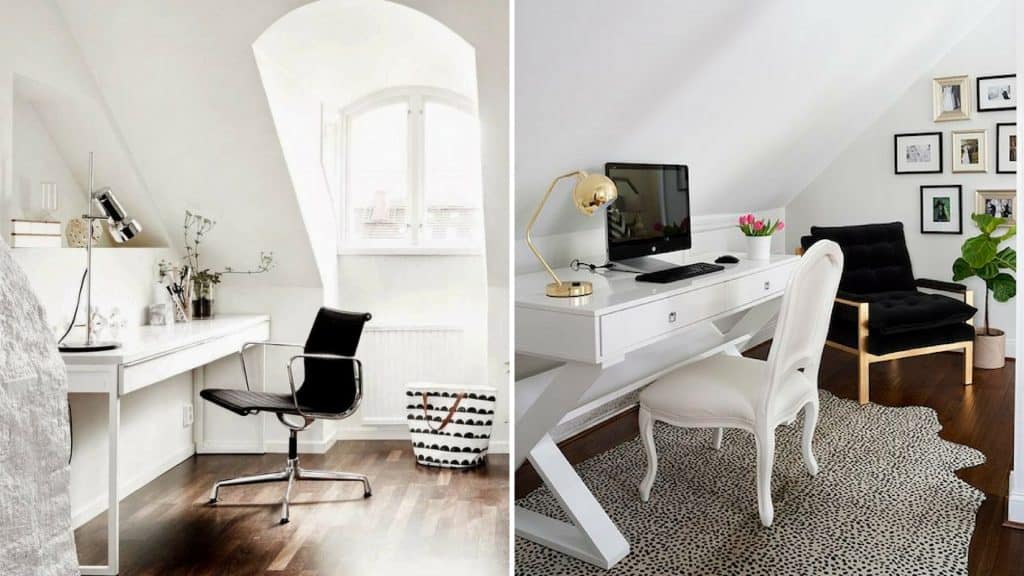 Preparation
The whole project starts with a good clean up and decluttering of all the things that piled up over the years. This will help you downsize and prioritize so your attic doesn't remain merely a storage room. Once it does become an office, try not to get back to your old habits. Avoid clutter and only fill the room with essentials. When working, you'll need a good organization and no distractions.
You'll also need to get permissions from your local building department and make sure everything is up to code, especially the safety issues, such as the height of the room, staircases and fire hazards. Another important concern is proper roof ventilation as it will help you regulate the temperature of the whole house and make your new work space comfortable all year long.
Planning the Space
The next important step is to plan the space well. Map out the best position for office furniture, shelving, and storage, and what will be left as open space. Attics are usually small, pinched between low walls and sloping ceilings, with not much room for maneuvering. A good trick is to use that space for storage. Built-in and custom-made cabinetry can give you exactly what you need to maximize small spaces.
Furniture and Design
Before you bring in the furniture, make sure that the floor is polished and given a finish with a coat of paint or stain. Your desk and chair are the most important elements so be sure you pick the best quality you can afford. Put them in a good place with a view and easy access to power outlets.
Don't forget that this space needs to be a pleasant working environment. Introduce a coffee table, a couple of chairs, and a comfortable one-seater sofa for when you need a break from desk work.
Lighting and Color
Attics can be quite dark so make sure you do everything you can to brighten it up. Use whites and bright colors to reflect natural light as much as possible. Desk and floor lamps can be positioned in different corners to make the room feel bigger and more spacious.
No matter what kind of attic room you have, these steps can help you transform any attic into a functional office. Plan well, start from the basics and accessorize it so it's comfortable and matches your personal style.
---
Guest article by Chloe Taylor. Chloe is an art historian and recreational ballet dancer. Her biggest dream is to travel the whole world and take stunning photographs of beautiful places. She also enjoys learning and writing about home design, since she is crazy about aesthetics. She is a regular contributor to Smooth Decorator.