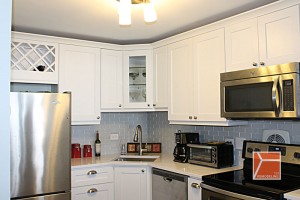 Whether for a kitchen, bathroom, laundry room, or as storage in other areas of your home or business, cabinets can drastically alter the overall aesthetic of a room and are generally a major decision in any bathroom or kitchen remodeling job.
We've talked before about selection and common styles in a previous post about kitchen cabinets. But today, we want to talk about some of the more nitty-gritty details of how to choose the best cabinets to properly fit your space and meet your needs.
When considering new cabinets, it is essential to work with exact measurements. The goal is to find an exact combination of cabinets, panels, and fillers, to perfectly fill the desired space without leaving unsightly gaps or altering the natural lines of your new cabinets. Getting it just right requires patience and precision, but the final visual effect is worth the effort.
Measuring
After the selection process, cabinets can often take weeks to be delivered. After waiting all that time, unboxing, and trying to set up your cabinets, the last thing you want to deal with is having to re-wrap and return the whole shipment. This can cause massive delays to your project as a result of just a slight error in measurement. This is particularly complicated if your new cabinets require assembly. Though the bulk of pre-assembled cabinets causes a different set of difficulties. This brings us to our next point.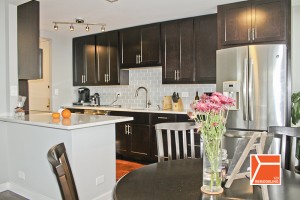 Assembly
Cabinets are available in both pre-assembled and ready-to-assemble(RTA) forms. RTA cabinets are generally significantly cheaper, allowing the consumer to get nicer cabinets than they would be able to afford without this option. The potential for disadvantages here lies primarily in the assembly. If you pay a handyman or contractor to assemble cabinets for you, the extra time you pay may balance out the amount you saved by choosing RTA. You can of course save money by assembling
them yourself. RTA cabinets are designed to be as easy to assemble as possible. However it still takes a fair amount of time, and the potential for error by an amateur is still much higher than it would be if left to a professional.
Pre-assembled cabinets offer much in the way of convenience. There is still potential for problems though in the shipping process. Due to the significant difference in size, pre-assembled cabinets cost quite a bit more(which accounts for the majority of the difference in price) and generally take quite a bit longer to ship. These issues can be doubled or tripled if returns are necessary. So, if you're working under a tight deadline, RTA cabinets might be the best option.
What are Toe kicks? Do I need them?
Toe kicks are small gaps between the bottom of a cabinet and the floor, and are fairly standard on base cabinets, particularly in kitchens and bathrooms. They're a feature many of us have been exposed to our whole lives but never bothered to think about. What is that little recess for? Well, as
the name implies, it's for our toes. That extra few inches makes utilizing a countertop or workspace on top of the cabinets a great deal easier.
If you've ever had to work on a surface,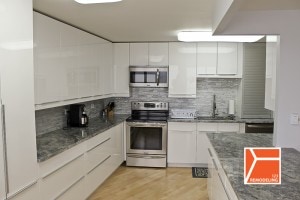 the edge of which went all the way to the floor, you likely felt it was an uncomfortable experience, though perhaps you weren't sure why. Likely, it was because you're used to working with toe kicks, which reduces the space between you and the material you're working with, allowing you to keep your back straight, and work with better coordination. When it's not there, the extra space forces you to extend your arms more, which creates weaker, less precise movements with your hands. It also causes people to hunch over to get closer to their work. Over time, this can lead to problems in the knees, neck, back, shoulders, elbows, and wrists. Pressing one's toes against the face of the cabinet can be tempting in these situations, but this can compromise balance and put further stress on the knees while doing little to correct the actual problem.
Worth it
A lot can go into the selection and installation process. But when all is said and done, new cabinets can greatly improve ambiance, and help revitalize a space. If you're ready to take the plunge, let 123 Remodeling handle all the dirty work, leaving you with only the exciting tasks of picking out, and enjoying your beautiful new cabinets! Call us at 773-685-6095 or use our online form to request a free consultation!