Ceramic Tile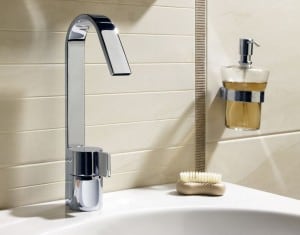 Ceramic tile is very commonly used and is very easy to maintain. It comes in glossy, matte, and ceramic/porcelain backed finishes and is available in many different patterns, colors, and sizes. Ceramic tiles in the bathroom are used to cover walls and basins and add a sleek, contemporary feel to any bathroom large or small.
Benefits of ceramic tile include durability, fire resistance, moisture resistance, resistance to abrasion and tread wear, slip resistance, frost resistance, thermal shock resistance, stain resistance and easy cleaning, chemical resistance, color permanence, and it's also highly sanitary. Because of its many advantages, ceramic tile is one of the most commonly used materials for bathroom tiling.
Glass Tile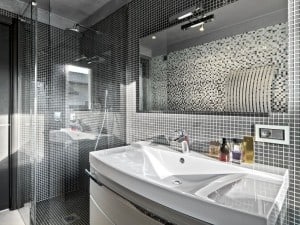 Glass tile is used for backsplashes, shower walls, and accents on floors. Glass tile adds depth and luminescence that ceramic or natural stones cannot. Glass comes in many colors and finishes ranging from glossy to flat to add a unique design to your bathroom and a spa-like atmosphere.
Benefits of glass tile include a wide variety of styling options, smooth finish, extremely watertight, durable and long-lasting, doesn't fade or scratch, weatherproof, and eco-friendly.
Granite Tile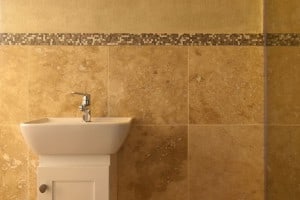 Granite tile is durable and one of the toughest stones available. Although extremely tough, it's also smooth and soft to the touch. Granite is a popular tiling choice among homeowners because it's such a versatile material.
Benefits of granite tile include cost-effectiveness, durability, scratch resistance, water-resistance, heat-resistance, and it's also easy to maintain.
Mosaic Tile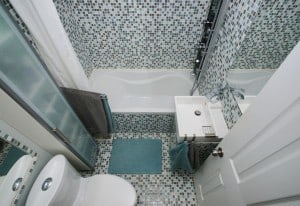 Mosaic tile is used to create a retro-inspired bathroom. It brings a very unique design to your bathroom and is a great choice for steps, hard angles, and curbs because they have no sharp edges.
If you want a lavish, luxurious look, then the mosaic tile is what you're looking for. When installed with proper precision and care, a mosaic tile can enhance the overall beauty of your bathroom.
---
Upgrade Your Bathroom
Do you want to remodel your bathroom tile like the ones shown above? If you live in the Chicago area, you're in luck. Our experts at 123 Remodeling would love to remodel your bathroom tiling.
Contact us today for your no-obligation consultation. Just click the button below or call us at 773-685-6095. A member of our staff will help you arrange an appointment to meet with one of our experienced Project Managers.