Bathroom design can often become complicated and overwhelming. When considering the variety of options available for each element of the bathroom, lighting is more than likely an afterthought of the project. However, this should not be the case. The right lighting can not only make your bathroom more attractive and help create an atmosphere that is relaxing. Considering architectural details and the mood that fits a bathroom will help you decide on the perfect lighting design for your investment.
Multiple layers of ambient, task and accent light are required to effectively create a mood in the bathroom. A thoughtful bathroom lighting plan can enhance the overall atmosphere of any size bathroom and has a great impact on the room economically and environmentally. Check out our article on lighting fixtures to learn more about the different types of light and how they work together.
Bathroom Design Tips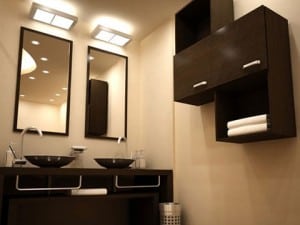 Warm colors, along with wood accents and natural colored clay tile will create a comfortable overall feel. The mood can be enhanced by soft ambient and warm lighting. Installing CFLs can also help create a comfortable and warm feeling. Dimmers are another way to create a soft, cozy feel while reducing the wattage and output of lights, even if you've installed energy-efficient bulbs.
Compact fluorescent lamps offer up to 75 percent energy savings compared to standard incandescent lamps, in addition they warm up fast and can provide 15 to 100 percent continuous dimming to give off the right amount of light.
To create a tranquil, relaxing mood, use all white decor paired with limestone, mosaic tile, frosted glass, and light the room with dimmable recessed CFLs. Cool accent colors like green, indigo, and blue have a soothing effect and works well with multi-lamp fixtures to make the room brighter. Overhead spotlights can be used to highlight artwork or plants. They can be paired with wall sconces that will enhance architecture and other details like stone or textured walls.
Colors and Lighting
Bright colors used to alleviate tiredness, boost energy, and create a motivating atmosphere. Choosing vibrant shades and crisp white light halogen globes in the bathroom vanity add a great task lighting source as well as a decorative touch that highlights fixtures throughout the room.
When planning smaller bathroom remodeling projects, you should prioritize minor renovation work. Lighting is a great budget remodeling project to begin with. Replacing light fixtures can add more to areas that lack light. Walls are a major contributor to the ambiance of any room and they are usually the first thing you notice when you walk into a bathroom.
Painting is a great budget bathroom remodeling project to invest in. Not only is it low cost, but it is a quick project. Choosing light colors will help create a feel like there is more space. Choosing a good finish like an eggshell will cut down on cleaning time and it will resist moisture.
Upgrade Your Bathroom
Do you want to remodel your bathroom? If you live in the Chicago area, you're in luck. Our experts at 123 Remodeling would love to work on whatever bathroom remodeling project that you have in mind.
With the help of our trusted professionals, all of your guests will be complimenting your new bathroom.
Contact us today for your no obligation consultation. Just click the button below or call us at 773-685-6095. A member of our staff will help you arrange an appointment to meet with one of our experienced Project Managers.
[button style="btn-warning btn-large" url="https://123remodeling.com/contact-us/" size="" block="false" target="_self"]Get a Free Consultation[/button]