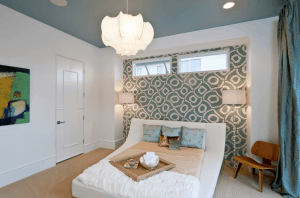 According to HGTV, lighting fixtures are one of the most important elements of interior design. Choosing the right lighting fixtures for your house can be a complicated task. There are so many different options and styles to choose from. Here's a simple guide to help you choose the right lighting fixtures to suit your needs.
Types of Lighting
The first thing you need to know is the three different types of light: ambient, task, and accent. A good lighting plan uses a combination of all three types.
Ambient lighting, also known as general lighting, provides an area with overall illumination. You want to have a central source of ambient light in all rooms. This can be accomplished with chandeliers, ceiling fixtures, recessed, or track lights. Ambient lighting adds a comfortable level of light and warmth to any room.
Task lighting is exactly what it sounds like – focused lighting that helps you perform tasks. Perfect for activities like reading, cooking, writing, grooming, and more. Lighting fixtures that provide task lighting include recessed, track, pendant, undercabinet, as well as floor lamps and desk lamps.
Accent lighting is part of interior design schemes to draw attention to certain objects such as plants, paintings, and sculptures. You can use accent lighting to create a visual interest in any area. In combination with ambient lighting, accent lighting should be at least three times as bright as the surrounding area. Lighting fixtures that provide accent lighting are recessed track and wall sconces.
Lighting Fixtures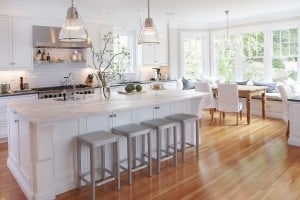 Now that you know the three types of light, let's talk about the different types of lighting fixtures. There are a variety of options to choose from:
Lamps, track, recessed, undercabinet, pendants, chandeliers, ceiling, and wall sconces. These lighting fixtures all have specific purposes and should be used in combination to compliment each other.
Lamps are portable light fixtures with many different uses. They come in a wide variety of shapes and sizes, and can be placed on desks, tables, or floors. Some floor lamps direct light upward, however most lamps provide downward light. Lamps can be used for task lighting and ambient lighting.
Track lighting fixtures are mounted on ceilings, walls, or beams to create a continuous light source. They can also be hung with rods in high places. Track lights contain several heads positioned along the track that can be adjusted in different directions. Track lights are great for accent or task lighting.
Recessed lighting fixtures are installed in a hollow opening in the ceiling and provide downward light, usually in the form of a floodlight or narrow spotlight. They can provide ambient light, task light, or accent light. There are two parts to a recessed light, the trim and the housing. The trim is the visible part including the trim around the edge. The housing is the part inside of the ceiling that contains the lamp holder.
Undercabinet lighting fixtures are mounted exactly where you would imagine – under kitchen cabinets. They are perfect for providing task lighting for cooking and other kitchen activities.
Pendant lighting fixtures, also known as drops or suspenders, hang down from the ceiling. They are usually suspended by a cord, chain, or metal rod. You can hang multiple pendants in a straight line over a kitchen counter dinette set, or in a bathroom. Pendants are commonly used for ambient or task lighting.
Chandeliers are decorative light fixtures mounted on the ceiling. They provide ambient light by directing light upward onto the ceiling. Chandeliers can be used to add decorative style to a room.
Ceiling light fixtures are mainly used as a source of ambient light. They are mounted directly onto the ceiling, covered by a shade, and spread light throughout the entire room.
Wall sconces are light fixtures that attach to walls and use the wall as support. They usually direct light upward and can be used for accent or task lighting.
How to Design with Lighting Fixtures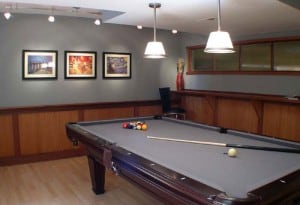 Now that you know the types of light and lighting fixtures, it's time to start getting creative. You can utilize different combinations to set the right mood in any room.
Unique architectural fixtures are often used to make a statement and draw attention to your favorite furniture or artwork. For example, you can hang a decorative chandelier over a piano.
Repetition is another common design strategy when it comes to lighting fixtures. Using similar designs in multiple places can really help bring unity to a room.
If you really want to make a statement, you can use colored LED lighting to add different hues to a room. This works best with neutral-colored furniture. For example, add green accent lighting to bring some color to a plain white room.
Another easy way to liven up a room is with a decorative lampshade. The great thing about lampshades is they can be easily changed, and different styles of lampshades can have dramatic effects on the overall design of a room.
Be sure to match the lighting fixtures with the style of furniture in the room. For example, hanging stainless steel pendants over a kitchen island is a great complement to a modern-style kitchen.
Don't forget to test out different layouts as well. Move your fixtures around to find the right balance of light for a particular room. Also test out different levels of illumination. Some rooms look better with dim, dramatic lighting, while others require a brighter environment.
Use your creativity to put it all together. Create some ambient light with a chandelier in the center of the room. Use some wall sconces for accent lighting to highlight areas that are visually appealing. Then add a floor lamp to provide some task lighting. The possibilities are endless.
Are you interested in remodeling your home? 123 Remodeling is a leading Chicago remodeling company. Contact us for a free consultation and estimate.