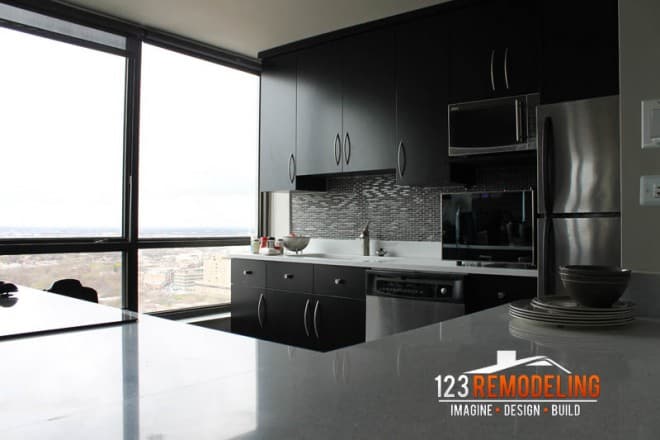 The kitchen is arguably the most important part of any home. It's the center of the family, our diets, and sometimes even the place where we entertain guests. Not surprisingly, the kitchen is also the part of the home that is remodeled most often. Whether you own a condominium or single-family house, it is more than likely that your kitchen will undergo at least some form of renovation.
Kitchens are remodeled for different reasons. Many people remodel simply because it will increase the value of their homes and ultimately pay for themselves. After all, how likely are you to buy a house with an ugly and outdated kitchen? For others, it's not about increasing the value of their home but creating a more inviting space for family and friends. While a kitchen remodels is not a small task, it will add value, charm, and uniqueness to your home that will last for years.
So you are ready to remodel your kitchen but aren't sure exactly how to get started. You need to make a budget, but first, you need to understand the main costs associated with a kitchen remodel. To help simplify the process and figure out how much it will cost, focus on these five areas; flooring, countertops, backsplash tiling, cabinets, and appliances. There are several options and prices for each of these to choose from and once you have a general idea of what you want and can afford, the remodeling can begin.
1. Flooring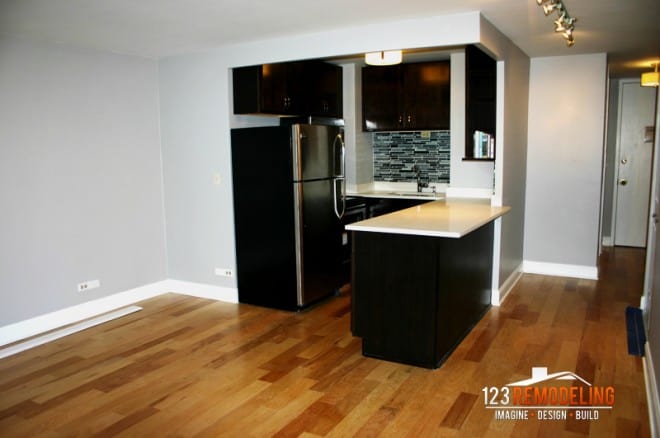 The right flooring can really add a finishing touch to your kitchen that will make it a charming place to cook and socialize. Although flooring could be installed at any point during the remodel, it is better to wait until after the cabinets and countertops are installed to avoid unnecessary wear and tear.
If your kitchen flooring is separate from the rest of the floor plan, then it is recommended to use nice tile flooring since it is easier to clean and more conducive to the kitchen environment. A tiled kitchen floor can also be stylish and make the kitchen more attractive. We do not recommend using vinyl flooring in the kitchen or anywhere in your home simply because it is made from cheap material that isn't durable. Your kitchen flooring needs to be able to hold up against a high level of foot traffic. If your kitchen flooring is connected to the adjoining room, then consider wood flooring.
2. Countertops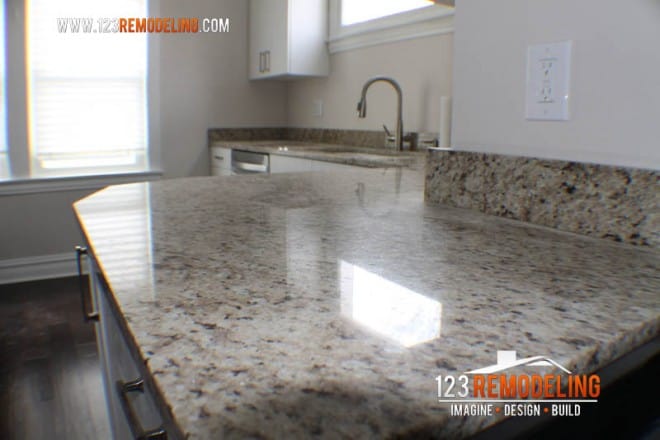 There are several types of countertops to choose from and different price ranges. Keep in mind that a kitchen counter is a place that will see a lot of wear and tear, so it is highly recommended not to install laminated or tiled ones. Although pricier, there is really nothing more attractive than a granite kitchen countertop. In addition to being stylish, granite holds up well against scratches and nicks. However, quality and stylish countertops are certainly not limited to granite. Soapstone has come on recently as a trendy pick. Quartz, concrete, and marble all solid and stylish picks as well. Another trendy and unique look is butcherblock.
3. Backsplash Tiling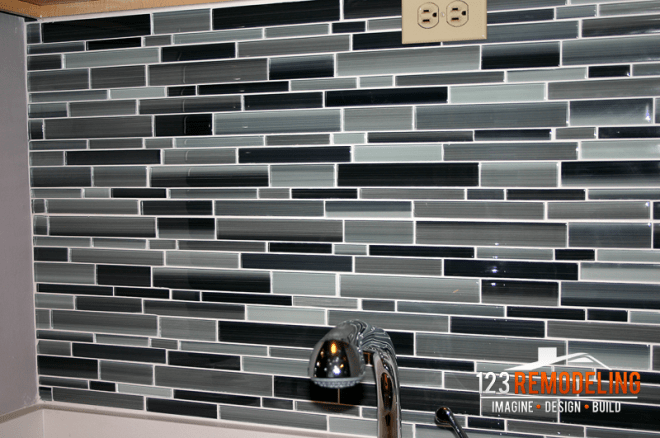 Although often overlooked, think of backsplash tiling as the final addition to your kitchen that completes an overall theme or certain look. It's like a piece of jewelry that can make your kitchen shine. But the backsplash not only adds style and design to your kitchen but protects the wall from grease and food debris. Think about it? Are you going to spend all that money on a beautifully remodeled kitchen, but have a wall behind the stove and sink that is littered with stains? I don't think so. While there are a number of backsplash tiles to choose from, some of the more popular ones are subway, diagonal, custom mosaic, laser-cut, and mirror tile.
4. Cabinets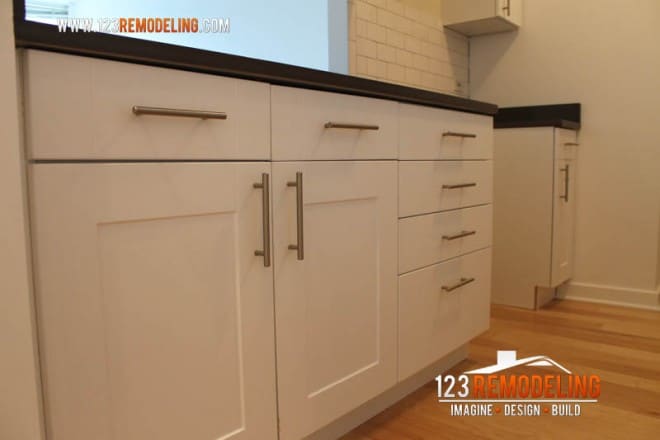 Cabinets are an essential part of a kitchen remodel since they have such a significant impact on the overall design, space, and budget of your project. You not only want to choose stylish and quality cabinets, but ones that are space-efficient, which will ultimately maximize the capabilities of your newly remodeled kitchen. When choosing the right cabinets, you should focus on the door style and finish.
Simple kitchen cabinet doors are composed of flat panels that can negate the overall design of your kitchen. On the other hand, custom made cabinets can enhance your kitchen with designs, such as beaded board, multiple borders, or a raised border.
The finish of the cabinet will impact the overall look of your kitchen. Finishes such as, glazed, distressed, matte, and crackled may be used to match the countertops and backsplash. Conversely, some choose to install unfinished cabinets as a way to give their kitchens a natural wood look.
5. Appliances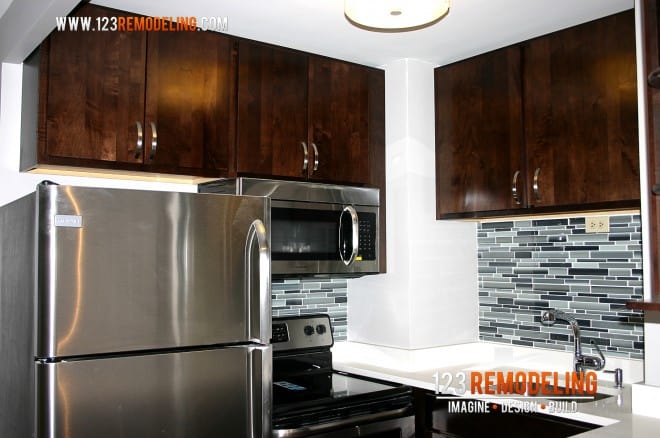 So you've chosen the flooring, countertops, cabinets, and backsplash and you have a good idea of what you want your remodeled kitchen to look like. You might not invest a lot of time in the appliances, but this is something to consider. A kitchen remodel is no small investment and neither should be your appliances. You may save a buck or two now with second-tier appliances, but high-quality and energy-efficient ones will save you money in the long run. Those more high-end appliances will also enhance the overall design and provide a modern look. For a look that will never go out of fashion, stainless steel appliances remain king and always will.
Each year, thousands of homeowners choose to remodel their kitchens. While it is no small investment, the kitchen is the heart of any house, apartment, or condominium. 123 Remodeling experts specialize in kitchen remodeling, demolition, and renovation
---
Call Us Today to Schedule Your Free Consultation!
(773) 685-6095