If you own a condo, it is likely that you will eventually remodel the bathroom. It makes sense being that the bathroom is the most used room in the house along with the kitchen. Wear and tear are inevitable in a room battered by water. When the time comes to remodel your bathroom, you may not know where to start. Obviously, you need to make some kind of budget, but before you can make one you need a general idea of a design that is right for you. Like any part of the house, one can get creative when it comes to bathroom design ideas. You need to not only think about your needs but choose materials that are going to hold up against time. Of course, the overall design is important for aesthetic purposes. After a long day, what else is more pleasing than taking a hot shower in a beautifully remodeled and designed bathroom? Whether it's porcelain tiles, heated floors, or that deluxe shower head, the bathroom can be turned into a room of elegance and comfort. A remodeled bathroom with an eye-opening design can also add real value to your condo, which is another motivating factor for condo owners to invest in a remodeled bathroom. Overall, remodeling your bathroom means adding functionality, look, resale value, amenities, space, and storage.  If you are not sure exactly how you want your bathroom to turn out, below are five projects that we completed in the  Chicago area. Hopefully, these will provide you with some ideas and kickstart the remodeling process.
1. River North Modern
For this project, we demolished and gutted the entire bathroom, including tearing down all of the walls. We also re-did all of the plumbing and draining, which was necessary in order to construct a modern, walk-in shower that replaced an ordinary-looking tub. To create that modern walk-in shower, we framed a custom shower base with rubber lining and a concrete base. We added porcelain tiles to the shower wall and floor. Porcelain is strong and holds up well in addition to providing a refreshing look. A rain showerhead fixture was installed, which is a popular choice among homeowners. For added versatility, we included a two-way valve trim with a separate rain showerhead and handheld showerhead. A custom recessed shelf was also framed into the shower wall. To top off the walk-in shower, a frameless shower door was installed.
A new, one-piece toilet was installed in place of the old one. We also installed a pretty, flat-panel vanity with a porcelain top that contributed nicely to a modern, clean look. The sink faucet is pronged with two handles on top. All of the toilet and sink handles and shower fixtures were made from polished chrome. Let's not forget about the flooring, which was constructed of porcelain tiles bordered by porcelain tiled baseboards. All of this transformed an outdated bathroom into a clean and modern one. Take a look at the before and after photos to see how it came out.
Before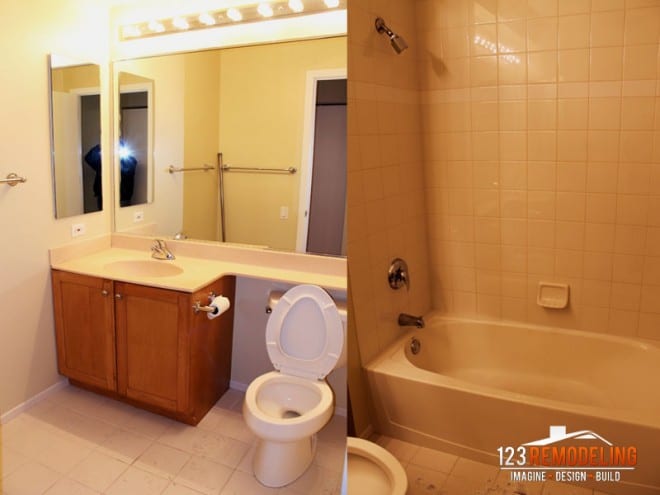 After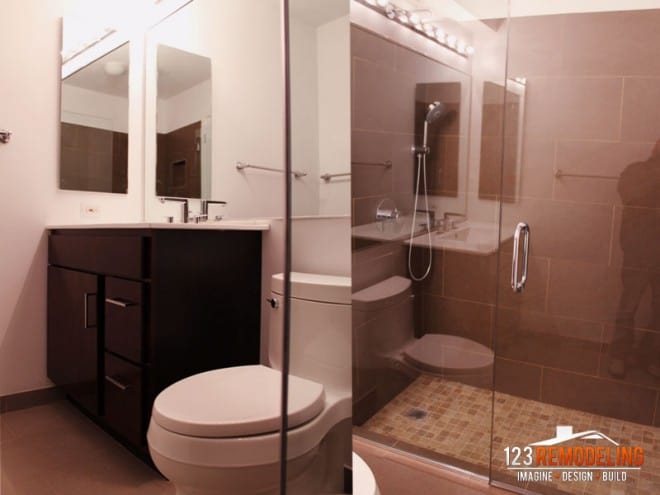 2. Oak Park Contemporary Victorian Style
We took a rather contemporary bathroom and gave it a classic Victorian look. To begin with, we had to create more space since this was an attic bathroom. So what did we do? We took out one of the walls and built a new slanted wall in accordance with the structural design of the room. This created much-needed space and allowed us to frame a classic tub. Notice the before and after pictures below to see the change. Removing a wall here or there can really open up your bathroom or any room in your home and make it feel larger than it actually is. The growing trend for homeowners now is to find ways to maximize space, which ultimately adds value, comfort, and design to your home.
Once we created more space, we were able to install a classic freestanding bathtub, which really serves as the centerpiece of the overall design of the room. Before we could install the bathtub, new plumbing had to be installed. Previously, water came from the wall when there was a shower in the bathroom, but the standing bathtub required water to come from beneath the floor. We added marble tiling to the shower walls. However, you can also see in the photos that we enhanced the design by implementing a darker border made with slate. As you look at the photos, you can see the border runs up the wall and along the border of the ceiling. Doesn't it look wonderful? We also laid marble tiles on the bathroom floor. To match the tub, we installed a classic toilet, a round mirror, and classic light fixtures. To top it off, a classic pedestal sink was added.
Before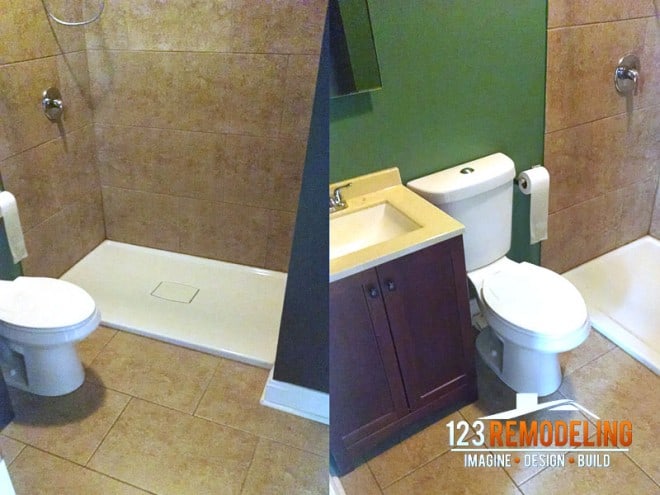 After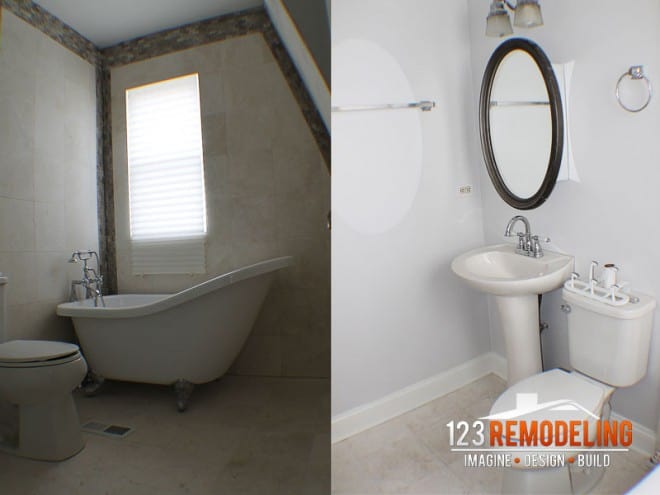 3. Lincoln Park Contemporary Lite
In this project, we took a very small and austere bathroom and transformed it into something spectacular. As you can see from the before pictures, this bathroom had limited space and certainly was not the most comfortable place to take a shower. To start with, we removed the closet in the adjacent bedroom to increase much-needed space. We had to elevate the shower base to add plumbing since there was concrete flooring underneath. We constructed a shower bench and recessed shelf. We had to frame a platform for the shower base drain. We added a beautiful, 12 by 24 linen-style porcelain tile to the shower walls and flooring. These tiles were stacked vertically to create a unique design. We also added a dark glass border to enhance the design. A European shower head and trim with a square design, which creates a look of elegance, was also installed. How does it look?
A dark-wood shaker-style vanity was framed inside the bathroom to replace the old one. Shaker style vanities remain quite popular choices for home remodelers. The added space that we initially created allowed us to frame the new vanity inside the bathroom as opposed to the old one, which was actually just outside of it. We also installed a new, one-piece toilet. The bathroom floor was covered with a very nice linen porcelain tile.
Below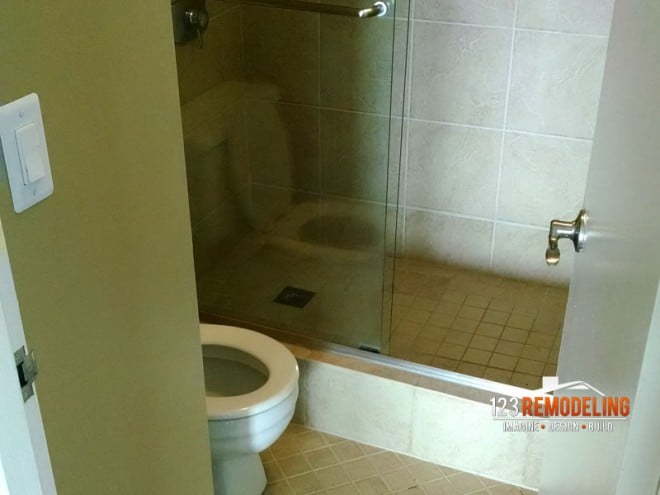 After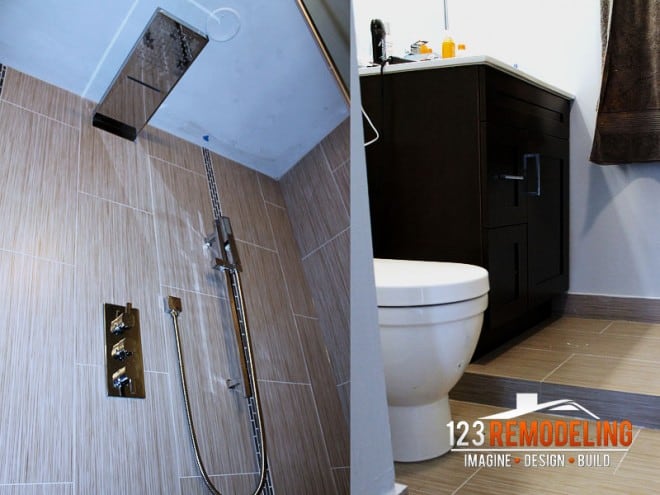 4. Magnificent Mile Contemporary Dark
This was a project completed by our team in the poshest corridor of downtown, Chicago known as the Magnificent Mile. As you can see from the pictures, we took an ordinary bathroom and transformed it into something wonderful. To begin with, we took out the bathtub and constructed a gorgeous walk-in shower. For the walk-in shower, we also framed a bench and recessed shelves, both popular features for contemporary home remodelers. For the walk-in shower floor, we laid a dark stone-pebble tile, which has also become a popular choice in recent years. A rubber shower base was framed. We added linen porcelain tiles to the shower walls, which were stacked horizontally. A rain showerhead was installed from the ceiling along with a separate hand-held showerhead on the wall, which adds convenience. As an added feature, this shower includes temperature and volume control.
For the bathroom floor, porcelain linen tiling was also installed. The old vanity was torn out and a beautifully crafted, shaker style one with a glass face was installed. This really provided an overall elegant look. We also added a one-piece toilet. To top things off, we installed heated floors under the bathroom tile and Can lights that are actually recessed in the ceiling. I don't know about you, but I think it turned out great!
Before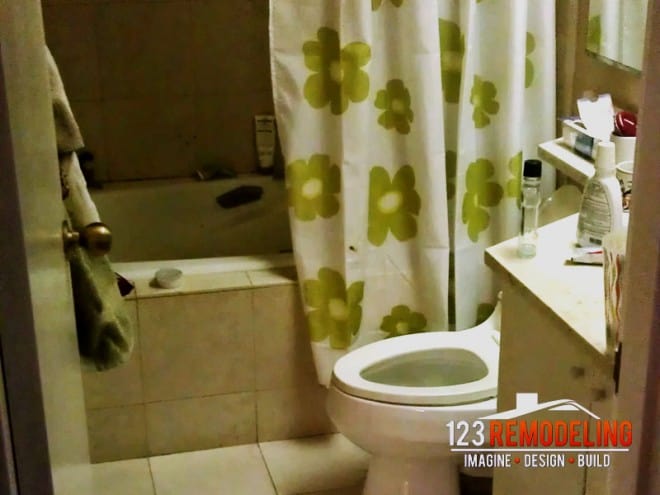 After

5. Lakeview Modern Spa
For this project, we transformed an outdated bathroom into one with a beautifully designed modern spa look. To start with, we tore out that old tub, toilet, and vanity. A walk-in shower was framed instead of a tub. However, the walk-in shower was constructed in a different part of the bathroom, which meant that we had to redo all of the plumbing. A spa-style linen closest was framed in the place where the original tub existed. For the walk-in shower, pebbled tiles were laid to the floor with rubber lining around them. Well-crafted wood designed porcelain tiles were added to the shower walls and ceiling. You can see in the photos that we also constructed a large, spa-style bench. To really give it that spa feel, this walk-in shower also functions as a steam room. Imagine having your own personal steam room in the comfort of your own home.
A rain shower head was framed in the ceiling along with two handheld showerheads on the shower wall. This walk-in shower was also fitted with recessed shelves. Heated floors were installed throughout the bathroom. On top of the heated floors, elegant porcelain tiles with a marble look were laid. While the original bathroom had a vanity, a pedestal sink was installed in place of it. A new, one-piece toilet was also installed. What do you think?
Before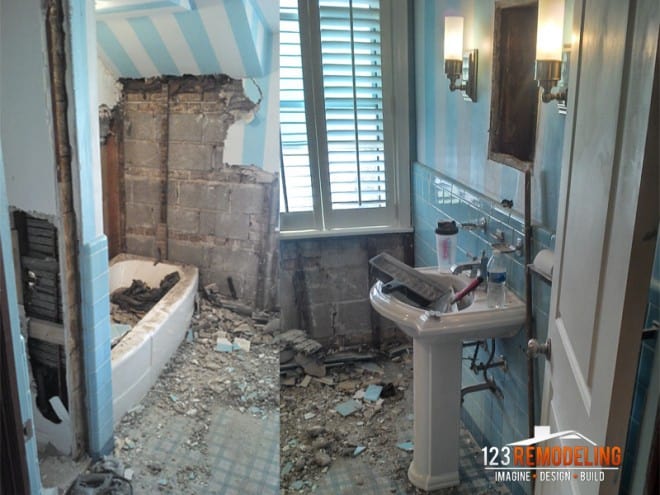 After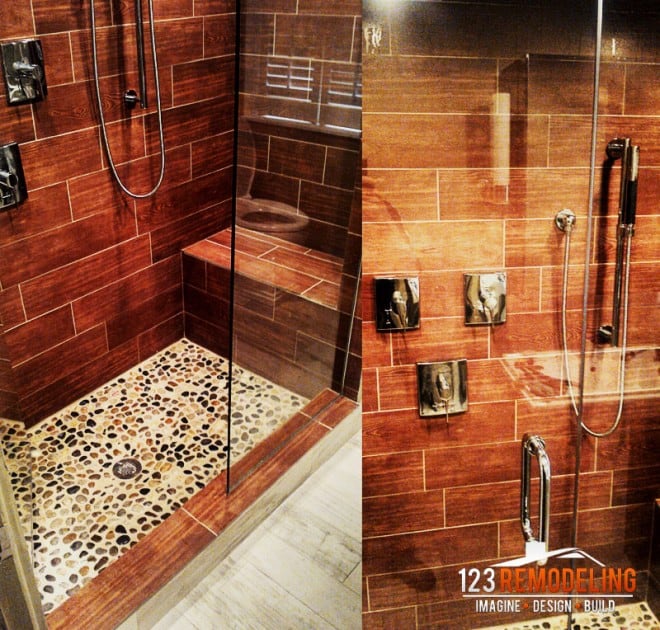 If you own a condo, remodeling the bathroom is something to consider. The bathroom is not only an essential part of the home, but it can also be a place of comfort and relaxation. Each year, thousands of homeowners choose to remodel their bathrooms and 123 Remodeling experts can help you with that.