How to add more room to your Condo Bathroom?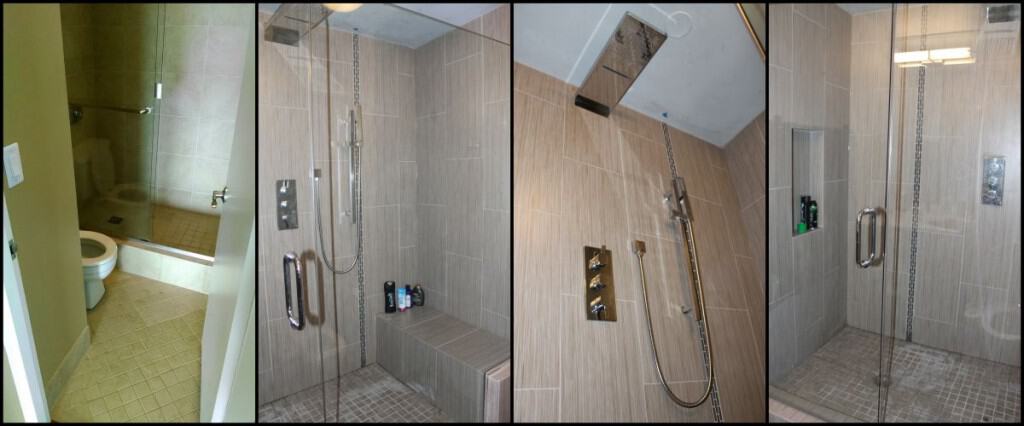 Who likes a small cramped bathroom? Not me thats for sure! Our team recently completed a project which required adding more room to the bathroom. The original bathroom was 5′ by 3′ wide but had an attached closet. By removing the existing closet we were able to increase the overall bathroom size to 8′ x 5′ wide. 123 Remodeling team completely demolished the existing bathroom, reframed, drywalled and constructed the new walk-in shower with glass enclosure and door.
CONTACT US FOR YOUR CONDOMINIUM REMODELING PROJECT 
Project Scope: Project Duration 1 Month to complete
New Customer Walk-in Shower Installation
Engineered Wood Flooring Installation
Install Kitchen Backsplash
Install Partition wall to add additional bedroom
Step by Step Guide to add more room to your Condo Bathroom
Framing walls of new bathroom and walk-in shower stall underlayment
Walk-In Shower Drywall and Shower Bench
Shower stall tile installation
Completed Shower Walk-In Shower
The photos really showcase the various possibilities, when a project is planned out correctly and executed by professionals. Most bathroom spaces are under-utilized with clutter and outdated construction and styling. A bathroom can easily be enlarged and reconfigured to your personality and styling. Image, Design, Build with 123 Remodeling.
Tell us in the comments below what you think about this project!