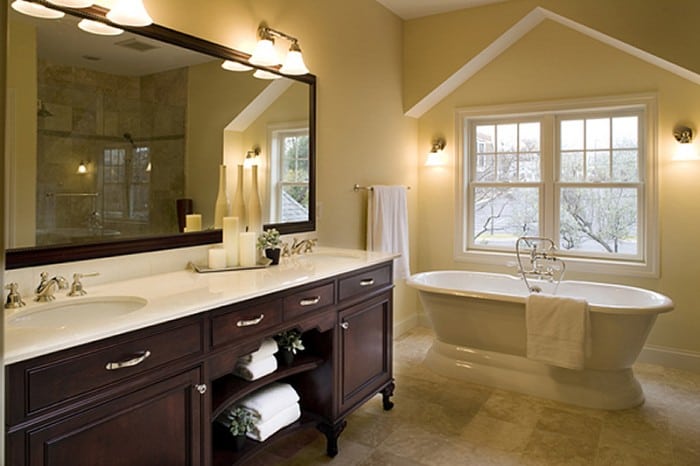 Remodeling the bathroom is the most costly part of the house to upgrade after the kitchen. Replacing sinks, toilets and tubs along with plumbing can cost a good chunk of change. In fact, it's estimated that a high-end bathroom remodel will cost around $25,000 and the average bathroom remodel goes for nearly $10,000. If you want to remodel, but also keep some control of the cost, follow these tips.

[button style="btn-warning btn-large" url="https://123remodeling.com/bathroom-remodeling-chicago/" size="" block="false" target="_self"] REQUEST A FREE IN-HOME ESTIMATE FOR A BATHROOM REMODEL [/button]
1.Refinish rather than replace the sink and tub
Replacing the sink or tub is one of the most expensive parts of upgrading a bathroom. However, often times it's unnecessary as having a professional refinish that old tub or sink will prove to be significantly less expensive. In fact, a refinished tub or sink could cost only a third of the price to replace one. Many homeowners choose to throw away a perfectly good tub or sink simply because it has some blemishes. However, a refinished tub or sink will look perfectly new.

2.Opt not to use granite floors and counter tops
We would all love to have granite floors and countertops. However, granite upgrades are quite costly. Luxury vinyl flooring is now available that will make your bathroom look great and modern. In addition, if you cannot afford it, then granite countertops really aren't necessary either. Unless you have a high-end luxory bathroom, a countertop in the sink will not be large and it is better to use your resources on granite kitchen countertops.

3. Buy your own fixtures
Even if you are hiring a contractor to remodel your bathroom, buy the fixtures, such as a vanity or bathtub yourself. Contractors usually mark up the price on fixtures by 10%, so buying your own will save you money. It is important to communicate with your contractor before buying to make sure that you are purchasing the correct fixture and to avoid future misunderstandings.

4. Paint it yourself
The paint itself is fairly inexpensive, but painting can be quite time-consuming. Painting it yourself will save a day or two of labor cost. Keep in mind that although a bathroom is small, it can be difficult and ultimately time consuming to paint in such a small space. Painting is also not overly difficult and certainly something that most people can do on their own.
123 Remodeling experts specialize in bathroom remodeling. IF YOU ARE IN NEED OF A BATHROOM REMODEL CLICK HERE