One of the latest spaces to get the attention of homeowners on the renovation and remodeling front is the garage. There are hundreds of new products to organize and make better use of  the garage for hobbies as well as parking the car. Storage is one of the primary uses of the garage, so remodeling solutions for the garage often center around organization. To get the most out of your garage building or garage remodel, consider the what you want to store as well as the functions you want your garage to serve. To do this, think about the activity zones. For example, if your garage also houses your washer and dryer, you might want us to create a clothing care zone. Other zones might include sports equipment, woodworking, or Christmas decorations. Whatever the functions are a Garage building by 123 Remodeling can help. By defining your requirements before talking to a Remodeler, we will be able to focus on your priorities.
Maybe you are thinking about erecting a new garage building, or perhaps your old garage door has seen better days. Either way, garage door installation is a relatively small job that will make a big difference in your everyday life. Garages are not only a place to store cars, but they are also a great place to store things and build a workshop. This section offers information on how to build a garage, install a garage door opener, builds a garage firewall, and organize the contents within your garage.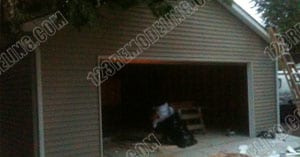 Garage Remodeling Ideas
One of the easiest ways to add more room to your home is to better utilize the space you already have. Remodeling the garage can be a cost-effective way to greatly expand your home's living space, especially if you already park in the driveway. While many people end up storing nearly everything messily in their garage, this remodel can also help and/or encourage a little reorganization, while giving your home better, more usable space. Many people find that a garage offers the perfect environment to house their home office, studio space, or workshop. As many garages are attached or near the home, they can often be easily fitted with the same comforts as a home: heating and cooling, phone wiring, even plumbing. However, transforming your garage doesn't mean you have to sacrifice your storage area. Many garages today have become multifunctional, allowing for cars, general storage, and a home office or workshop all in the same space.
If you find you will be losing too much storage space in your garage, consider building a small storage shed in your yard to house tools, sporting equipment and seasonal items. A building separate from the house will expand your storage space, allowing you to use the garage in ways that you could not use a shed – electricity or heating, for example. In addition to remodeling your current garage space, you could also consider an addition above the garage. Raising the roof and adding a room for work space above your existing garage can give you additional space, not to mention increase the value of a home, without changing the floor plan. Increase your livable space with a new garage remodel.
DIY Garage Door Installation
Though not an extremely intensive process, garage door installation still requires some careful planning and knowledge of mechanics and carpentry. Professional installation by 123 Remodeling will insure that you are going with a company with vast experience in garage remodeling. Also, the warranty on some garage doors and openers may be voided if not installed by a professional.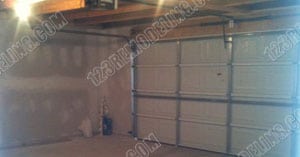 Garage Workspaces
There are many things you can do with a garage other than simply parking a car in it. One of the more popular alternatives is using the space as a work area. When a garage holds tools and people instead of a car, the qualities of a desirable door are different. In very cold climates like ours, the insulation becomes an issue when people will be spending long hours in the space. This goes not only for the door but for the walls and ceiling, as well. Many garages aren't built with windows, so having some of door is another option that can really brighten up a garage workspace.
---
Call Us Today to Schedule Your Free Consultation
(773) 685-6095
or click the button below
[button style="btn-warning btn-large" url="https://123remodeling.com/free-consultation/" size="" block="false" target="_self"]Schedule a Free Consultation[/button]