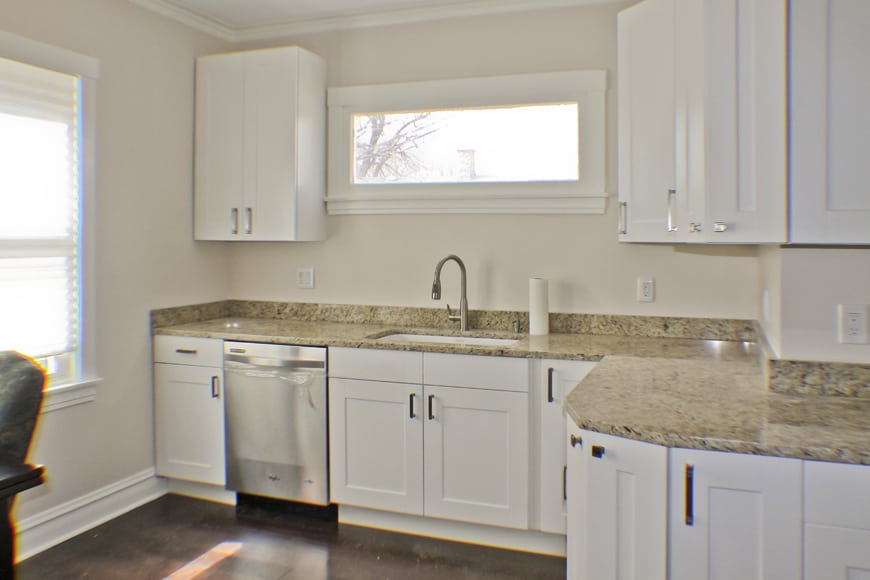 Is it time for a house remodel?
Start with the kitchen.
Your big house might seem small with an outdated kitchen. That 1980's galley kitchen was better suited to microwave dinners and TV trays than dinner parties and entertaining. A kitchen remodel is a great long-term investment too.
A recent Cost vs. Value Report from REALTOR® Magazine showed that owners returned 82.7% of their kitchen remodel cost when a home sells.
"What are my options?" you might wonder… limitless!
Look, Feel, Functionality, Lighting, Appliances, Cabinets, Backsplashes, Walls, and Windows all combine to create the space and in each is an opportunity to shape your home to match your needs.
"Too often homeowners are stuck inside of their existing kitchen to see their possibilities." said Ariel Darmoni, Operations Manager at 123 Remodeling.
"We have made dozens and dozens of people happy by showing them how we can open up their kitchens." Darmoni explained. "In this Oak Park remodel we changed the original cubby hole of a kitchen into part of the home's living space. It was a traditional tight room at the rear of the home and we pulled down the dividing walls, removed all of the 'old kitchen' and used new cabinetry, countertops, appliances and flooring. "
Oak Park Before: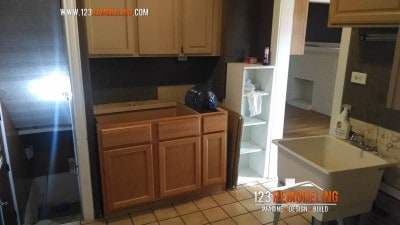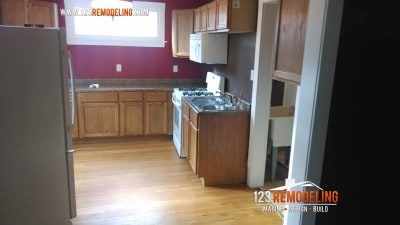 Oak Park After:
The same idea of opening up a room works in a house or condominium.
In this Edgewater Condo removing one dividing wall let the kitchen become a focal point inside of the preexisting footprint.
Updating your cabinet's design and color are ingredients for a happier kitchens too.
Edgewater Before: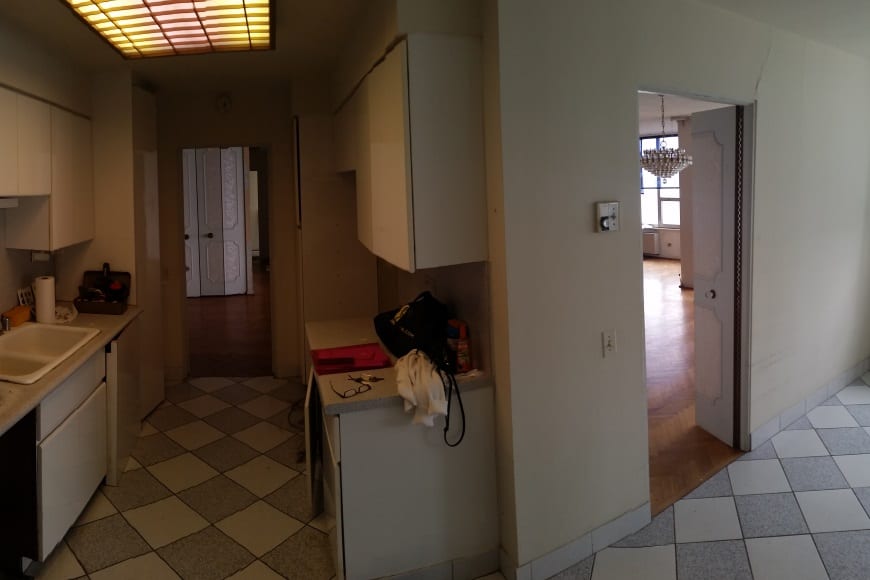 Edgewater After: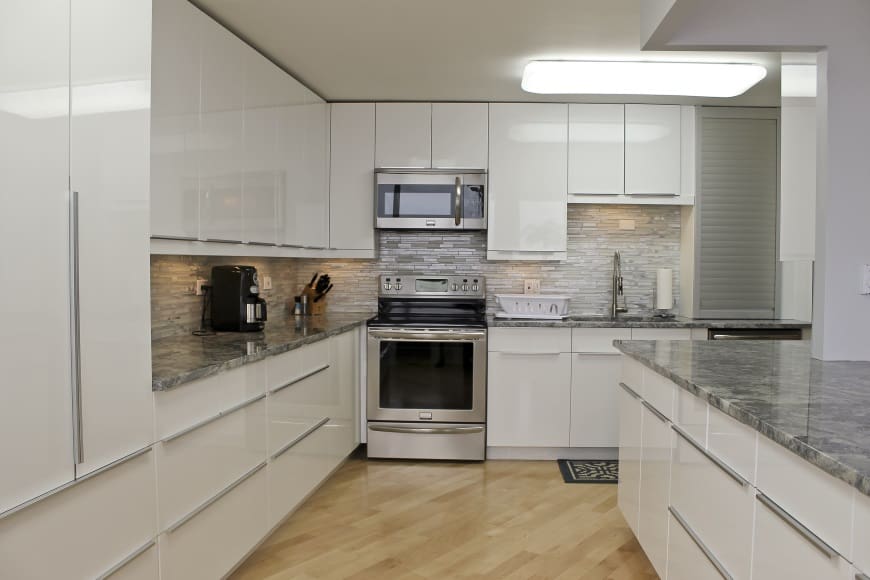 In the Oak Park home above notice the difference between the old and new cabinets. The original wood cabinets were dated, nearly identical to the floors and not in harmony with the wall color. The new built-in cabinets provide even more storage while hanging lightly on the perimeter of the room. They also provide a balanced contrast with the new floors.
The Edgewater condo above demonstrates how material selection can serve as a loyal ally when looking to remodel. The backsplash and granite countertops complement each other to define the kitchen as a space inside of a larger open living space.
This before and after photos of this Edgewater condo also show the impact of natural light and thoughtful fixtures. By pulling down the dividing wall much more natural light reaches the kitchen and the lighting fixture choices give the kitchen access to the soft brightness of daytime light after dark.
The kitchen is often the center of your home, the hub… and your kitchen might not even be too small, just dark. Floor color, cabinet color, and tile selection can shape if your home and kitchen feel large or small and light or dark. And we all know that too dark of a kitchen can make you feel like it is winter all year long.
What did we learn? The answer to our remodeling questions sometimes lay outside of our kitchen's current walls.
For more see our post "Creative Small Kitchen Ideas".
Remodel Your Home
123 Remodeling is a reliable and affordable home improvement company based in Chicago, specializing in renovations and new construction of residential & commercial properties. We are licensed and insured.
From kitchen remodeling, bathroom remodeling, and basement remodeling, to tuck pointing, masonry, and roofing, we do it all. Serving Chicago and the Chicagoland area including surrounding suburbs, we provide quality and professional services at affordable prices.
Call us today to schedule your free consultation (773) 685-6095, or click the button below:
[button style="btn-warning btn-large" url="https://123remodeling.com/free-consultation/" size="" block="false" target="_self"] Schedule a FREE In-Home Consultation [/button]