We've done it again. Chicago Remodeling company 123 Remodeling have taken an unfurnished, unused basement space and created a functional, livable square footage basement space. The home has added a full bathroom, laundry and utility room.  The newly installed canned recessed lighting have been installed to create maximum head space.   All of the exposed studs and support beams have been framed and dry-walled to provide a seamless flow of ceiling and walls throughout the new basement space.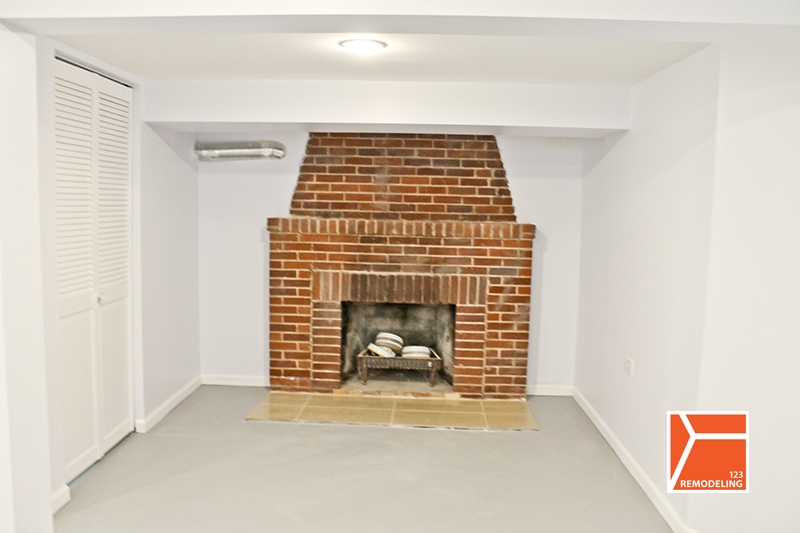 Basement Remodeling Project
Utility Room – Custom designed to separate home's mechanical features
Bathroom – Install stand-up shower area, tile throughout and install new toilet and vanity
Bonus Room – Room created for home pets occupied by the home's 5 cats
Laundry Room – Area created for washer/dryer and folding station
Flooring and Lighting – Cement Flooring and canned recessed lighting
Brick Fireplace Area – Cleaned and freshly painted
This project was a Chicago basement remodeling project. The final project has a newly installed tiled bathroom, laundry and utility room, upgraded electrical service, cement flooring,  freshly painted walls and a finished bonus room.  The additional bathroom, laundry and utility room will instantly raise the homeowner's property value.  123 Remodeling experts specialize in both interior and exterior remodeling projects.
IF YOU ARE IN NEED OF A HOME REMODEL CONTACT US for a free no obligation In-Home Consultation.