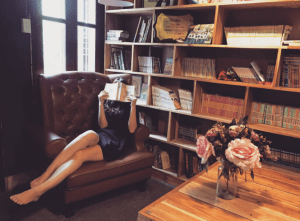 November is National Novel Writing Month, so whether you're a budding novelist or a notorious bibliophile, here are some tips for making the best space to bask in your love of books.
Lighting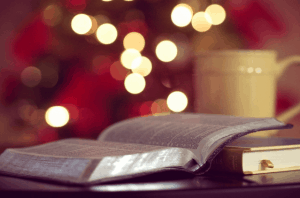 Lighting is of the utmost importance, and should be at the top of your to-do list. The concern is making sure that you aren't straining your eyes, since that makes all the difference. Ideally you'll have a lot of natural light from spacious windows. If that's not possible, or you're more of a night-reader, it's time to talk about lamps. Instead of a single overhead light, consider multiple smaller lights throughout the room so you can adjust the brightness throughout the day. Best of all, you can get light bulbs of different color temperatures.
Lights with a higher Kelvin rating look more blue and seem brighter to the eye, and those with a low Kelvin are more orange and have a softer look. For the day time or if you're lacking in windows, you might want blue lights to more accurately reflect natural daylight. These lights also provide the most contrast in colors, so they're great for reading (or for the craft room you'll probably make next). However, studies have linked blue-tinted light to lower levels of melatonin production, reading in a room with fluorescent lighting later in the day can have adverse effects on your sleep patterns. If you read to relax at the end of a long work day, you'll want an orange tint to your lamps.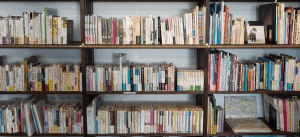 Shelving
What's better than a full bookshelf? Besides maybe a not-quite-full shelf, since you get to fill that one with more books.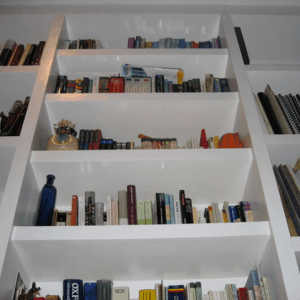 Your shelving needs will vary depending on what kind of book keeper you are. How do you organize your personal library? Do you alphabetize? You may want low, wide shelves, no higher than your eyeline so you can always read every spine. Are you more interested in volume of books, making sure you can cram as many in as possible? Enclosed shelves are your best friend. They'll protect your books from heavy dust build up, and the confined space will help you organize them in a convenient space while eliminating the need for bookends. Perhaps you organize by color and it's all about the aesthetic. Plain white shelving might be the best fit, to really bring out the color of the books.
Choose your shelves carefully if you're concerned about longevity. Again, enclosed bookcases are best if you don't dust much, but you also want to be careful that your books aren't packed too tightly, so as to avoid unnecessary stress on the bindings. Give them at least a little breathing room. If your nook is particularly sunny, you might even keep some plants in and around your shelving for an aesthetic pop and increased oxygen quality. Personally, my dream shelving is built-in; there's just something about seeing books lined up inside the wall that's really satisfying and has an air of classic elegance.
Inspiring Decor
Now let's talk about personalization. How do you make this room really reflect you? What can we do to really get your creative juices pumping? Wall art is a great way to do this and utilize the empty space that isn't covered by your shelves.
You can often find old worn-out books at thrift stores that are too wrecked for proper reading. These are a great source for crafts. You might consider making a framed collage of pages, or a shadowbox display of origami figures. Perhaps you like to think yourself a bit of a poet? Try your hand at black-out poetry, where you take a page of writing and use a marker to scribble out all but a few carefully chosen words. These tend to run anywhere between hilariously absurd and surprisingly profound. Arrange some of these in a few small frames for something that's a little more edgy. If you have a lot of leftover pages, they're great for decoupage work – something you might try on your bookshelves to give them a little more texture.
Do you have a favorite book? A few quotes that really speak to you? You can emblazon those on your wall for a piece that really makes a statement. Find a good painter or someone who makes custom wall decals. If you want some planar variation on your walls, or you're just really into the natural wood look, you might have a carpenter create something. It's a really cool way to show some personality in your space (I literally have a woodcarving of the word "meh" hanging in my hallway because I think it really speaks to who I am as a person).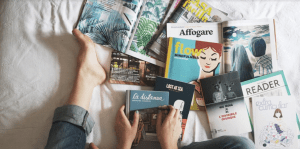 Furniture
This might be the most typically fun part of any interior design project. I could be reading the same book, but there's a total difference in how I read depending on if I'm in a coffee shop, on the Red Line, or on my couch at home. Your seat is a surprisingly large factor in any given reading experience. Like a good romantic partner, you want a chair that provides both comfort and support in the long term.
The other thing to consider is how you're going to use your room. Are you more about solitary, contemplative reading, just you and the book in an immersive experience? Then put all your focus into finding the most comfortable dedicated reading chair. Or maybe you're more interested in group poetry slams? In that case, you'll want to take quantity into account. Maybe a large sofa to accommodate multiple people, or a few chairs that can be easily stacked or stored so you always have exactly as many as you need.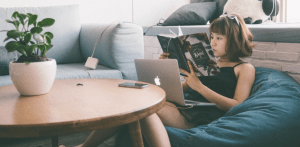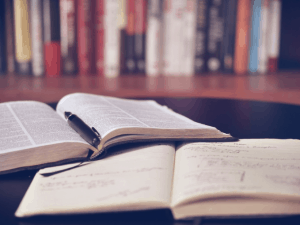 Particularly voracious readers will be spending a lot of time in this space, so the most important thing is to set it up in the way that is most productive for you. Really dig deep and decide what elements of a room speak to you. Maybe you'll do a themed room? Antique furniture that invokes Jane Austen. Your Hogwarts house colors in the wallpapering and upholstery. Posters for the (good) movie adaptations of books you loved. No matter the decor choices, you're sure to make a space that's uniquely you.