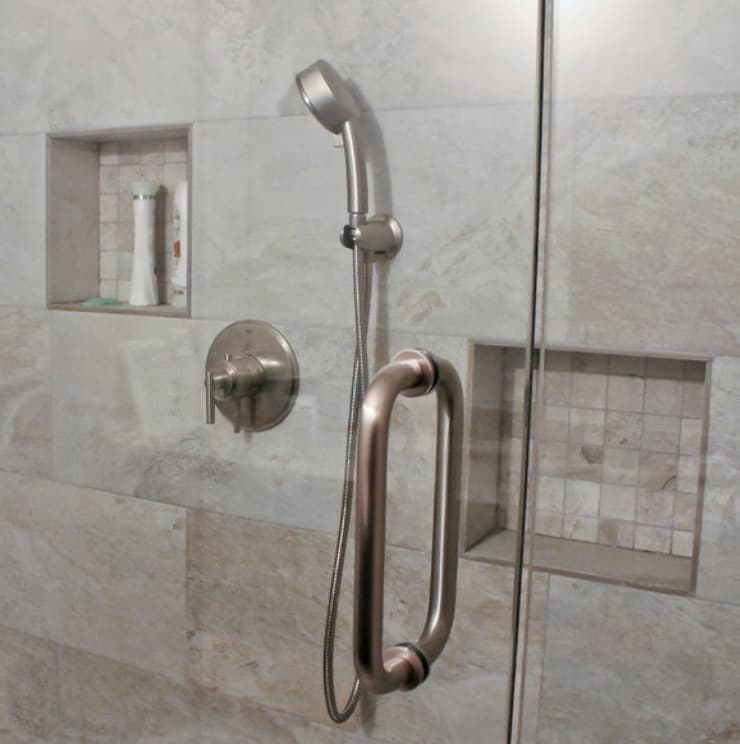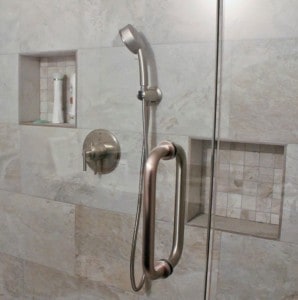 Interior design styles are always evolving and changing. With 2014 coming to a close, let's check out some new bathroom design trends for 2015 and beyond. Here's a look at some bathroom trends for this past year. What new styles will we see? What bathroom features will become popular? What's going out of style? Here's a look at what patterns we're noticing in bathroom remodeling these days.
Countertops
As with kitchen trends, we're noticing a slight decrease in granite counters in bathrooms as well. Expect to see a rise in other natural stone counters, such as quartz. However, we still think granite will remain the most popular choice, just not as much as it was in the past.
Showers
Go big or go home. The people have spoken and they want bigger showers. Walk-in showers have been on the rise for awhile now, and we don't see that changing anytime soon. We're seeing a trend in big showers that are completely enclosed by large panes of glass or solid walls. People don't want to feel claustrophobic in the shower anymore. We're also seeing lots of open showers that make the room feel larger and more spacious.
Bathtubs
We've noticed an increase in the use of standalone bathtubs. More and more people want large walk-in showers, so showers and bathtubs are beginning to become two separate features rather than the classic shower/bathtub combination. Also, freestanding bathtubs add an aesthetic element to the design.
Vanities
Wall-hung vanities saw a big surge in popularity in 2014, which we expect to continue into 2015 and beyond. Wall-hung vanities work well with sleek, modern bathroom designs. LED lighting can be added below the vanity to give your bathroom a fresh, contemporary look. Check the modern vanities available in our store.
Sinks
Automatic faucets are not just for public restrooms anymore — they are becoming increasing popular for residential bathrooms as well. There are different types of automatic faucets, some that sense motion, some are activated by touch — but handles are becoming a thing of the past. Expect to see more automatic faucets in 2015. They also save on water and energy as well.
Flooring
People are sick of cold bathroom floors. Heated floors are becoming easier and more affordable, and that's why they're on the rise recently. The heating system works by a series of electric coils that run under the flooring and are controlled by a programmable thermostat.
Also, porcelain tile is making  a comeback. There's a reason why porcelain was so popular for a long time — because it's durable, water resistant, and the perfect texture for bathroom floors. We're noticing a trend away from ceramic tile and a rise in the use of porcelain tile once again. We have a large selection of porcelain tile available in our store.
Colors
Gray tones and dark tile are all the rage in bathroom design these days. White had been the most popular color for so long, but designers have turned to darker colors for a fresh new modern look. Dark tile and dark cabinets are becoming a popular choice — you can expect that to continue in 2015. We've seen a noticeable decrease in white subway tile for bathrooms, and an increase in black tile, similar to recent kitchen trends.
Upgrade Your Bathroom
Is your bathroom in need of an update? With the help of 123 Remodeling, you can bring your bathroom design into the modern age. If you live in Chicago or the surrounding area, call us today at 773-685-6095 to set up your free consultation. Or click the button below:
[button style="btn-warning btn-large" url="https://123remodeling.com/free-consultation/" size="" block="false" target="_self"]Get a Free Consultation[/button]
Check out our previous article on kitchen remodeling trends