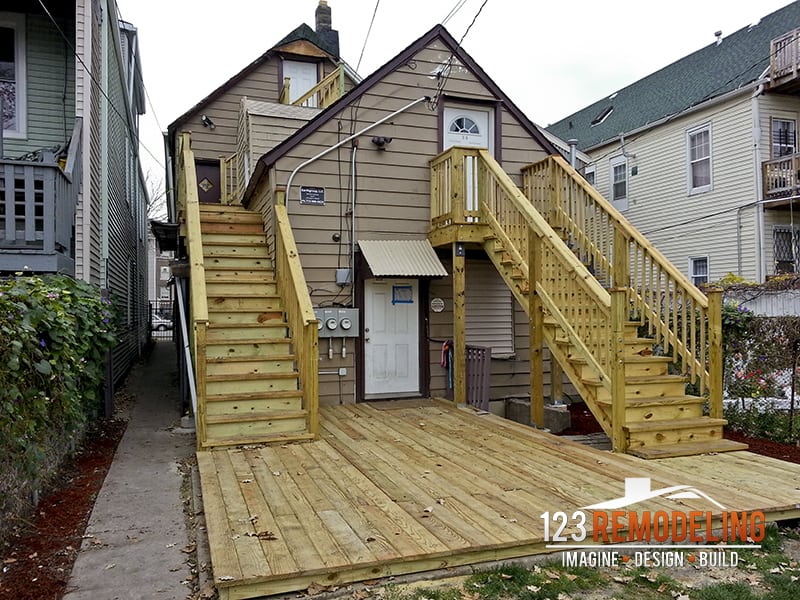 We recently remodeled this 6 unit 3 flat in Wrigleyville, Chicago. It was completely gutted and converted into separate apartments. A brand new yard with a large deck was installed, as well as brand new kitchens and modern bathrooms. Here's an update on the exterior portion of this project. We rebuilt the stairs and added a new deck.
---
Before
Here are some photos so you can see what the back stairs looked like before the remodeling. Click the images to enlarge.
There were three sets of stairs total (one on the left, one on the right, and one on the second floor). If you're wondering why the stairs are two different colors in the before pictures, it's because they originally just wanted to paint the stairs, but eventually decided to completely rebuild them.
---
After
Here are some photos of what the project looked like during and after the the remodeling process. Click the images to enlarge.
We added a landing area to the top of the stairs on the right. We also extended them out farther so they're not as steep. Then we added a large deck at the bottom. You'll also notice that we got rid of the roof above the top set of stairs.
---
Upgrade Your Porch
Do you want to upgrade your porch like the one pictured above? If you live in Chicago or the surrounding area, we can help. Our experts at 123 Remodeling would love to hear about your project. Call us today for your free consultation: 773-685-6095 or click the button below:
Get a Free Consultation
A new porch can add significant value to your home, in addition to making it more aesthetically pleasing. With the help of our professionals at 123 Remodeling, all of your guests will be complimenting your new porch. When it comes to decks and porches, you have a number of different options top choose from. There are many different materials that can be used for porches and decks, the most popular being pressure-treated wood. Pressure-treated wood is inexpensive and is highly recommended in situations where wood needs to come in contact with the ground. Other popular materials include timber, composite, and plastic. Check out this article to learn about the advantages and disadvantages of different types of decking materials.
---
See More Photos
If you want to view more before-and-after photos from this project, as well as the interior – click here. You can also check out our other gut rehab projects here. To view more decks and porches, click here.