Chicago's Rainfall of 2015: Water and Mold Remediation for Property Owners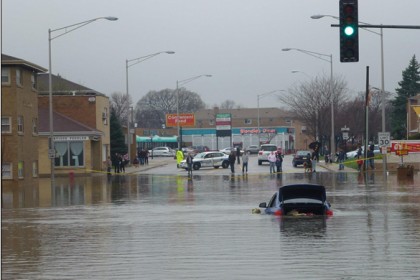 The month of June 2015 was the wettest month ever recorded in the history for the State of Illinois.  As reported by the Chicago Sun-times News – the statewide average rainfall accumulated total for the month was a record 8.91 inches. Property owners felt the increase of water-damaged related issues, of sewer-backup, seepage and water overflow problems in their residential and commercial properties.
With all the excessive water damage problems, the creation of mold and precipitation build-up, home owners will no doubt also see an increase in water-related damages.  An on-going water damaged area can incubate mold growth, leading to complications to your health and home. Water Damage Restoration & Mold Remediation service includes going into a home or business after a wet disaster, such as flood, burst pipes, seepage, sewer/water backup or snow destruction.
Here are the basic steps 123 Remodeling advises to remedy both water and mold related incidents:
---
-First steps are cleaning up the mess, assessing the damages and providing an estimate of work and materials involved to restore the damages area.
-Next steps are drying and repairing the substructures of the moisture infected area, such as plaster and drywall, wood, concrete, and metal. Flooring, carpet, hardwood or tile is then assessed to repair or replace with new installation and material, depending on the severity.
-Last steps  123 Remodeling is one of the few companies in the entire restoration industry who fully document and validate their drying and hygiene cleaning process. Video footage of the entire process is provided to the customer as documentation upon completion of work undertaken after identifying and water and mold related incidents. (click image) 123 Remodeling's extensive list of completed basement renovation projects shows our experience and craftsmanship used to create a fully-functional basement after a water or mold related incident.

---
How does mold/water damaged areas affect people, places and things?
Property deterioration issues arise from long-term moisture damage; crumbling drywall and plaster, weakening beams and supports, rusting metal surfaces, and the on-set creation of mold.  The most common areas mold is most likely to breed and grow as "grey and black matter" is in the drywall. These 'hidden' areas that are constantly exposed to water elements (bathrooms, kitchens, basements), areas with humidity/condensation and lack of airflow can become dangerous.
Exposure to mold can cause symptoms such as:
nasal stuffiness
eye irritation
wheezing
skin irritation.
runny nose
red eyes
fever and shortness of breath
Any area that's saturated with water will most likely grow mold.  Carpeted areas, and their numerous layers, essentially "trap" the moisture and are very difficult to completely dry.  Carpet cleaning alone is NOT going to remove the mold, and if you have not removed the carpeting layer, mold will continue to grow in it and get worse over time. Your carpet, now a source of mold growth, is now a breeding "mold farm"!  123 Remodeling's restoration team has restored and completed projects for water and mold damaged customers for home and business throughout Chicago and near suburbs with our professional service solutions and thorough documentation process.
---
Why choose 123 Remodeling rather than a water restoration company?
From a simple burst pipe or tap left on through to sewage back surges and storm damage… from a burst water main causing damage to several properties to large regional river flooding causing damage to numerous properties, we have dealt with them all! From domestic properties to commercial properties and industrial plants 123 Remodeling has helped the Chicago and near suburbs restore Water and Mold damaged properties.
123 Remodeling implements the Octi-Dry Wall Drying System which was developed to insure that the restorer does what his job is. Restoring the original material rather than "Tear Out" the Wall and Floors. The system should be used where water has wicked up the walls (wood or sheetrock) to more than 6 inches. The unit is approximately 10 feet long with 7 sleeves with 7 jets allowing a drying capacity of 12 linear feet. This system includes connection, end to end and can be used for short applications as well as much larger applications. We place each one of the jets in a 1 and 3/8″ hole in each portion of water damaged area, ensuring complete dryness to prevent any type of mold growth.
123 Remodeling sanitizes without the use of chemicals and disinfectants. Unlike much of the industry, we don't assume things are clean because they look clean. We undertake hygiene testing whilst we are on site documenting the cleaning efficacy and ensuring a standard is met. To top it all we provide a certificate of drying showing start and end points. Our basement remodeling projects gallery can provide you with ideas for your basement remodeling caused of water/mold damages.
Called on by insurance companies, loss adjusters, surveying and facilities groups. Throughout Chicago and North Shore Suburbs we have the expertise and resources for you to depend on. We are a preferred supplier to many well known retail groups and housing associations. We can independently report on any dispute you may have with your insurer, adjuster or appointed contractor concerning drying and hygiene.
---

123 Remodeling has completed water and mold damaged remodeling projects, as well as, exterior work projects throughout the City of Chicago and North Shore suburbs.  Along with bathroom remodeling and kitchen remodeling we handle ALL your home and commercial remodeling needs.  To see all of our interior and exterior remodeling projects, click our completed projects map or to see in detail by browsing our Completed Project Gallery for detailed information.