Serena Shades Transform the Light Inside Your Home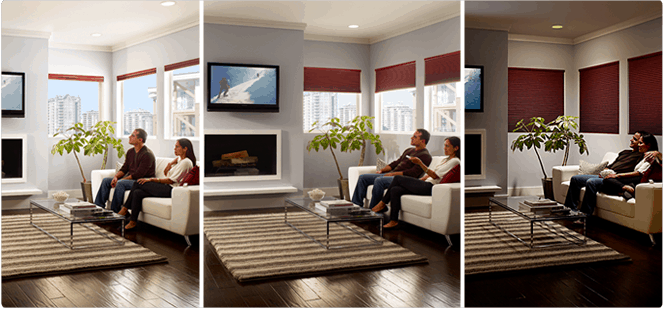 Are you annoyed with the harsh sunlight entering your space?
By controlling the amount of light that enters a space, Serena Shades can transform a room. Imagine pressing a button and the harsh sunlight glaring on your tv screen, preventing you from watching your favorite movie is gone. Instead, you have a darkened space where you can comfortably enjoy your entertainment.
Serena Shades – Online Quote Form
Are there rooms in your home that require privacy at certain times?
Or you have beautiful views in your home and would like to enjoy them while soaking in the tub, but would like privacy while getting in the tub. Serena Shades are a perfect fit. They would easily allow the privacy you need and with a press of a button you can enjoy the views as well.
Do you want to increase the insulation of your spaces?
Serena Remote Controlled Shades are not just window decoration. Sure, they look great in your windows, but they are also packed full of features.   Another benefit which the honeycomb shades provide is insulation, which reduces indoor temperatures in the summer and reduces your energy costs.
Technology
Serena shades are a completely wireless way to control the outside light entering your home. These window treatments pack high tech features at an outstanding value. The patent-pending technology inside the shades allows for long battery life and quiet operation. The predicted battery life of a Serena Shade is 3 to 5 years. The secret to lasting this long is the power of store-bought batteries, energy-efficient electronics, and the ability to store and reuse energy in addition to batteries. When the batteries do need to be changed, the design of the shades allows for the change by tilting the unit without removal from the window.
The wireless technology controlling the Serena Shades is the reliable Clear Connect RF. It differs from other RF methods, being completely unfazed by interference from sources such as baby monitors, cordless phones, security systems and microwave ovens. The same technology also allows for controlling several Serena Shades with a single remote control.  The Clear Connect RF ensures dependable service even in face of other signals.
Energy Efficiency
Serena insulating honeycomb shades provide substantial energy-efficiency benefits. They feature R-ratings from 0.7 to 4.3 R depending on style, in comparison, a typical double-pane windows have a rating of 2.0 R. R values are ratings of thermal-resistance with a greater value representing greater benefit. The energy efficiency during summer can be tremendous as the lowered shades will absorb the outside heat, provide a cooler, dimmer environment and allow the air conditioner do less work. In the winter, the shades can help insulate the heat inside or if you raise them allow the sun to heat the interior space.
Style
The extensive variety of fabrics and styles available for the Serena Shades allows you to fit the window treatments to your home. Both roller shades and honeycomb insulating shades are available in a wide selection of color, textures, and opacities. The depth of choices allow you to find the most fashionable for your home.
Roller Shades
Roller shades are available in 75 different fabrics options in several opacities from sheer to blackout. They allow for the precise control of the amount of light required. There are a wide variety of colors and unique textures available: two-tones weaves, woven fibers, and delicate linens. There are three opacities of roller shades:
| | |
| --- | --- |
| |   sheer – preserves views to the outside and filters sunlight |
| |   translucent – transform harsh sunlight to soft glow |
| |   blackout – opaque block light from entering the space |
There are shades with and without a fascia; roller shade with fascia – complete look, fabric on fascia matches the shade and roller shade without fascia – for windows that use top window treatment, works with cornices, swags, drapery and valances.
Honeycomb Shades
Insulating honeycomb shades are also available in many colors and textures with wide choice of fabrics from woven linens to airy sheers.  Honeycomb shades come in four opacities:
| | |
| --- | --- |
| | light filtering – single cell – transforms harsh sunlight into softening glow, provides varying levels of privacy, saves energy with insulating fabric and design |
| | light filtering – double cell – allows some light through, provides more insulation with double-cell insulating design |
| | room darkening – single cell – blocks light from entering the space, creates complete privacy from outside, saves most energy due to aluminum lining |
| | sheer – single cell – allows light to filter in and out of space, preserves exterior views |
Serena Shades In Your Home
Serena Shades are a great choice for many situations and work in rooms all over the house. They are a convenient, wireless method of controlling outside light with additional benefit of energy-saving. With the wide variety of styles they fit great into many decors and will make a perfect addition to your home. Best of all, Serena Remote Controlled Shades are affordable starting in the $300 range.
123Remodeling is a Serena authorized provider and we can assist you in the purchase, design and installation of these window treatments. We offer a free in-home consultation with our knowledgeable project manager who will help you with the decisions and make sure you're happy with your new window treatments.