Townhouse Remodel – 1435 S. Prairie Ave, Chicago, IL (South Loop)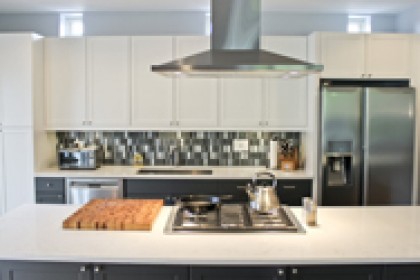 More Photos
Master Bathroom Kitchen Fireplace Attic Hardwood Flooring
---
What We Did
This townhouse remodel involved renovations of the kitchen, master bathroom, attic room, flooring, fireplace, and other minor components.
Kitchen:
The original kitchen was fully renovated. The enclosing wall between kitchen and living room was removed to create an open floor plan. Installed new stained oak flooring throughout first floor. Installed new kitchen cabinets. Installed new countertops. Added vented hood and recessed lighting and undercabinet lighting. Installed glass and metal tile backsplash.
Hardwood Flooring:
The existing floor was replaced with new stained oak flooring throughout first floor.
Fireplace
The fireplace was covered fully with stone tile.
Master Bathroom:
Complete gut rehab of the existing bathroom. All prior tile, furniture, and fixtures were removed. Installed new one-piece dual sink vanity. Created a wet room lined with glass tile and an open shower and deluxe soaking tub. Porcelain tile floor.
Attic Room:
Full attic renovation. Removed pull down ladder access. Built permanent stairwell to access attic. Installed electrical service and overhead lighting. Walls were dry-walled and finished. Carpeting was installed on the floor.
Other:
New HVAC system for house. House was fully painted throughout. New windows and doors on the first floor. TV cables run throughout.
---
Master Bathroom
View more photos of the master bathroom
---
Kitchen
View more photos of the kitchen
---
Fireplace
View more photos of the fireplace
---
Attic
View more photos of the attic
---
Hardwood Flooring
View more photos of the flooring
---
Remodel Your Home
If you live in Chicago or the surrounding area, call us today for a free consultation (773) 685-6095, or click the button below:
Schedule a Free Consultation