Reading Time:
5
minutes
Written by Nicole Tolch

Have An Idea
The first thing you will probably want to do when planning a construction or remodeling project is find out how much it will cost and how long it will take. But the first thing you should do is have a good idea of what you want. You do not need to have all the details right away (don't worry—you will have help with that when it is time to figure it out). However, it helps the process move along when you have a plan. Know which room(s) you want remodeled, think about how you would like your finished product to look and feel and consider what your budget is. Your budget can be based on what you want and how that will ultimately determine the value of your home.
Your project manager should have some suggestions and photos for inspiration and ideas based on your initial description of the project. Be open-minded! You could end up with something that will make you far happier if you are willing to listen to others' ideas. If you have photos that inspire your vision, do not be shy about sharing them. Browse Pinterest, look at your dream homes, ask questions! Gathering information such as the room's square footage and even a floor plan can also be helpful. When you send your request for a consultation, you should include an overview of what you want done.
Research Contractors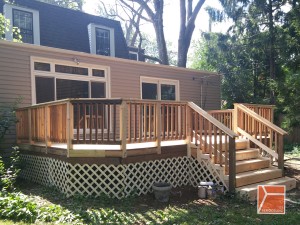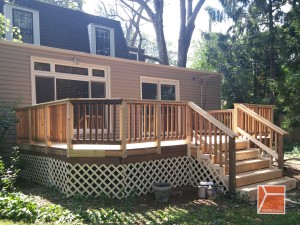 Finding the right contractor for your project is important, too. When researching contractors, be sure to consider credentials (whether they have all the required state and local licenses), insurance, reviews and examples of their work. Consider interviewing with a few contractors before making a selection, and keep in mind that most will be too busy to start right away. Use word of mouth and check references. You might also check to see how long your potential contractor has been working in your town. Someone who's been in town for 10 years likely has an established network and a reputation they will want to uphold. You can also ask who their main suppliers are.
Get A Consultation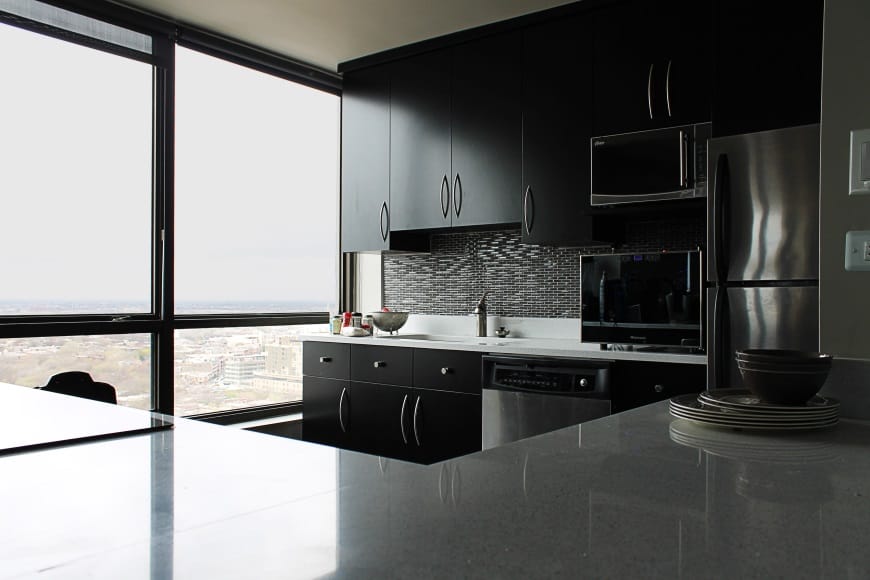 The next step is setting up an appointment for a consultation. At this point, you will start working with a project manager who will be with you throughout the project to make sure it is completed to your satisfaction. Here is where you get to explain and expand on your vision. During this consultation with your project manager, you will discuss the details of the project as well as figure out a timeline. Your project manager will also bring ideas based on your initial description. You might consider getting interior design services as well. Sometimes your project manager will double as your interior designer. They will be able to act as a strong liaison between you and your contractor and help avoid costly mistakes by making sure construction (such as wiring placement) does not conflict with the design.
Be Prepared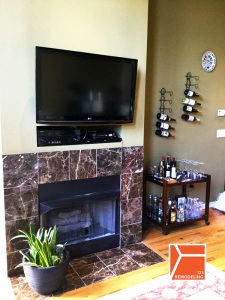 Depending on how extensive your project is, you may need to provide architectural plans (or blueprints) or have them made. And depending on where you live, permits may need to be obtained before proceeding with electrical work, plumbing or structural changes to your home.
Once the details of the project have been ironed out, you will sign a contract between you and the company. Much of the needed supplies, especially customized ones, will be ordered in advance. Some items, such as cabinets, may need to be ordered up to a month in advance. Find out from the building manager the hours during which construction is allowed. And before the demolition will be scheduled, be sure to find out whether you will be able to inhabit your residence while it is being worked on.
And Now The Work Begins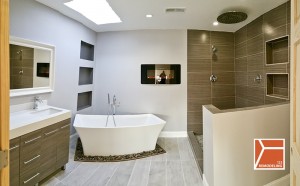 Here we go! Now comes a lot of the type of work you would expect. Electrical and plumbing work will be one of the first things done after the demolition. This is completed before everything else (such as drywall) to avoid running the risk of damaging any of the wiring or messing up things like the floor by trying to bring up plumbing through it. The architectural plans of the rooms that will require electrical or plumbing work will come in handy here. The framing and drywall will come next. After this, the prettifying can begin!
Painting, cabinets and fixtures, doors and window surrounds and flooring follows. This is where you will really start to see your vision come to life. Some additional plumbing and electrical work may need to be done. This will depend on whether you will be installing something like a tub, for instance, and what kind.
Stay Positive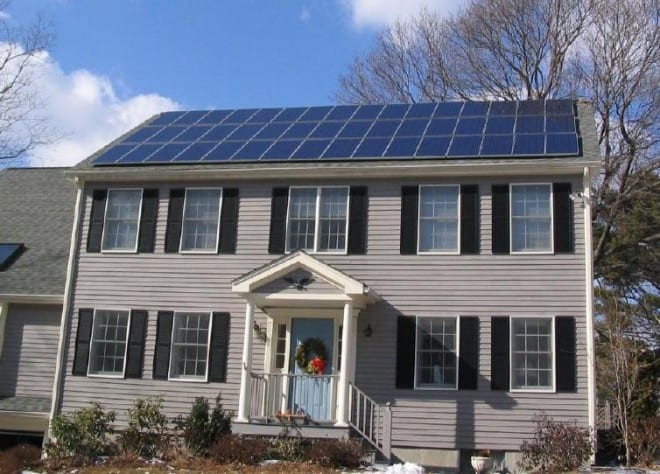 Then, of course, the cleaning the finishing touches can be done. The finishing touches on a project can often be more extensive and take longer than people would expect. It might be a good idea to use holdbacks. A holdback is when you set aside a portion of your budget/time to be dedicated to these final touches. Keep in mind that, as with any project, obstacles could arise that may derail the original timeline. Anything from a structural problem being discovered during the demolition to last minute schedule changes, a number of things could lead to an extension of your project's end date.
Have a clear line of communication with your project manager. Make sure everyone is on the same page as far as timeline and cost. Also, many contractors present their best estimates when making a bid instead of a fixed cost. Make sure you are aware of whether or not this is the case. Keep in contact with your contractor throughout the project so that you are not surprised by the final cost at the end of it.
Remodeling your home can be exciting, and knowing what to expect will help keep it that way. Be sure to also take care of yourself and your family during this project. Go to the park or take a spa day! Plan ways to keep yourself happy when an obstacle pops up.