Synthetic Grass and Its Benefits
Why Use Synthetic Grass Instead of Real Grass?
Many home owners today are looking to explore different options in terms of landscaping their home. One of these options is the implementation of synthetic grass to replace natural grass. This kind of grass brings to mind visions of astro-turf football fields from Saturday morning college games. But as you will soon see, the benefits of using synthetic grass for your home are many indeed.

Easy Maintenance
The best characteristic of synthetic grass is the fact that it never has to be watered, fertilized or cut. This is huge in terms of time, money and energy saved. It also has a tremendous "green" benefit with the conservation of precious resources such as water and fuel. Only minimal maintenance is required with synthetic grass.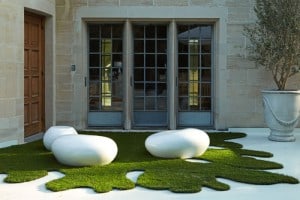 Synthetic Grass is Customizable
Imagine if you wanted your own putting green in your backyard, but you didn't want to go through the hassles of intense landscaping and lawn manicuring necessary for the perfect putting green. Synthetic grass can be customized to fit anyone's specific desires as to its possible use and function. You can order a ready-made synthetic putting green, or a ready-made playground turf with just the right amount of rubber padding. The length of the turf as well as the density and under-surface are all completely customizable.  Also, synthetic grass is an almost perfect replica of natural grass and can be designed to look exactly like the grass of any surrounding area.

More Resistant to the Elements
Another great benefit to synthetic grass is the fact that it is more resistant to weather than natural grass. The grass will not turn brown in a drought and it will not freeze during a harsh winter. It also has a better draining capacity than regular grass during heavy rains.
Unless you really enjoy mowing your lawn and keeping it healthy, it is clearly evident that the cost-savings benefits of synthetic grass are irrefutable.