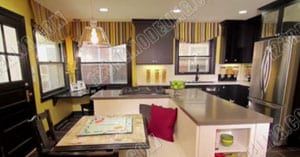 123 Remodeling offers a wide selection of replacement windows. Double hung, casement, picture, bow and bay, glass block, garden, awning and slider windows are available. Our goal is to fit not only your openings but also your budget With so many replacement windows on the market, choosing the right one for your home can be a challenging project on its own. Maintenance, insulating value, appearance, fit, ease of cleaning and durability, are only a few of the many important considerations. Therefore, we will gladly assist you with any further decision to fulfill your needs.
Chicago Windows and Installation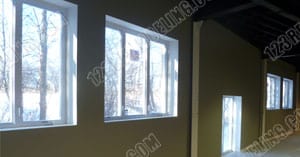 When considering new windows some building codes require windows to be used as an emergency exit and casement windows are great because they only have one sash, providing a much larger passage than a double-hung or gliding window. Bay and Bow windows add a unique quality to any home, making rooms appear larger and can be combined with a wide range of double-hung, casement, and picture windows. Stationary windows are specialty windows that let you complement your home's architecture with unique curves and dramatic angles. Replacing a window insert is an option if your framing and trim are still is good condition. You only replace the moving parts, saving money and making your home more energy efficient.
Awning Windows
Awning windows are hinged at the top and open outward. They catch breezes from the left or right and are often used above, below or along stationary windows.
Casement Windows
Casement windows are hinged windows that crank, open outward to the right or to the left. Casements are common above kitchen sinks and give you flexibility to group them in multiple combinations.
Double-Hung Windows
A double-hung window has two vertically sliding sash in a single frame. Double-hung windows lift to open while remaining flush with the wall, making them ideal around patios, decks and walkways.
Gliding Windows
Gliding windows feature two sash, with at least one of the sash sliding horizontally past the other. They give you the advantages of double-hung windows with a more contemporary look.
Picture & Transom Windows
Picture windows and transom windows are stationary windows designed to match double-hung, gliding or casement windows. Transom windows are often found over entry doors or other windows. Picture windows have no moving hardware and offer a wider, brighter view of the outdoors.
Bow and Bay Windows
Bow windows and bay windows are window combinations that project outward from a home. These combinations can add space, volume and light to a room, as well as adding more personality to any home.
Soundproof Windows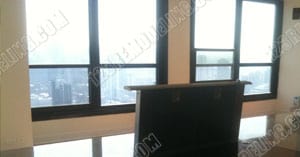 Chicago Window Installation Remodeling Contractor Soundproof windows look and feel just like a storm window, but they are specifically made to reduce sound. They are often installed with your existing windows, forming a layer of protection against noise. Soundproof windows can be installed on the inside or outside of your home, soundproof windows are made to look like any other window, and can be cleaned easily. Many soundproof windows can reduce noise up to 95 percent effectively blocking the sounds of the outside world. Some soundproof window styles can serve as additional insulation, saving you on heating and cooling bills.
Glass Block
Glass block windows are glass blocks that can either stand alone as an accent window, or combined to form one large window. Sometimes frosted or forming thick, decorative glass, they work great for privacy while still allowing light to pass through. The most common areas for glass block are in the bathroom and bathroom, and in transoms and sidelights. They are even incorporated into walls of showers or bathtub enclosures.
Thermal Windows
Chicago Window InstallationThermal windows can increase your home's energy efficiency and decrease your heating and cooling costs significantly. Designed with two and sometimes three panes of glass stacked on top of one another in the window frame with space between that traps air between the panes and provide much better insulation than single paned windows.
Skylights
Skylights are a great way to add light to any area of the house that doesn't get enough lighting. They add natural lighting, the most energy efficient way possible. They are manufactured in several different shapes, designs, styles, and colors. Skylights are designed for different roof pitches and elevations, including some of the most abstract and complex systems. Some options available are: Domed, Glass, Sloatube, Impact Approved, Architectural, Plastic Glazed, Curb Mount, Fixed or Non-Operable Skylights. Some venting options available are: manual, electric, operable, and retractable vents.
Sun-Tunnel Skylights
Sun-Tunnel Skylights are designed to be the most energy efficient skylights available. They are built with a highly-reflective tunnel that provides bright light despite long elevations or poor sun-location. Additionally, an energy saving skylight cover system is available for energy control. In the summer, this cover system reflects back solar heat and in the winter adjusts for more absorption of the sun's rays.
Dormer Windows
Dormers are usually built into the roof of a home that has living space close to the roof. Light and air flow are essential for the vitality and comfort of attic rooms. Dormers provide more space and dormer windows provide that light and the flow of air. Because attic rooms can be tough on a/c units, its important to circulate warm air continuously. It's usually best that dormer windows are double-hung, meaning they open both at the top and bottom of the window frame. This creates a draft that pushes warm air out the top of the window while allowing cool air to flow through the bottom half. Chicago Window Installation Remodeling ContractorDon't let your time and energy slip out of your old, drafty windows. Don't spend your hard earned money on high heating and cooling bills caused by inefficient windows. Put an end to many of the tiring tasks of exterior home maintenance.
123 Remodeling is proud to use products by:
Andersen Windows and Doors
Andersen® 200 Series Products – Rich natural wood interior, attractive low-maintenance exteriors, larger glass area lets more light in, use as single window or in combinations, Low-E or dual-pane insulating glass, FSC Chain-of-Custody Certified, upon Request
Andersen® 400 Series Products – Custom sizing available, High-Performance™ Low-E4® glass stays cleaner and reduces water spotting, nearly-invisible TruScene® insect screen optional, rich natural wood interior, attractive low-maintenance exteriors, larger glass area lets in more light, vinyl cladding protects entire sash from rain, reach-out lock pulls sash tightly against frame, pine interiors available with factory-applied white finish, FSC Chain-of-Custody Certified, upon request
Andersen® 400 Series Products with Stormwatch® Protection – Custom sizing available, High-Performance™ Low-E4® glass stays cleaner and reduces water spotting, hardware is anchored with extra fasteners, several impact-resistant glass options help combat high wind and windborne debris, frame reinforcements add stability during high-wind pressure, larger glass area lets in more light, reach-out lock pulls sash tightly against frame, attractive Perma-Shield® exteriors resist the effects of salt, water and air
Andersen® Architectural Products – High-Performance™ Low-E4® glass stays cleaner and reduces water spotting, rich natural wood interior, attractive low-maintenance exteriors, larger glass area lets in more light, reach-out lock pulls sash tightly against frame, opens and closes easily
Andersen® A-Series Products – Custom sizing available, High-Performance™ Low-E4® glass stays cleaner and reduces water spotting, natural wood interior, nine factory-finished interior options, eleven exterior color options, six exterior trim profiles, composite cladding, PG50 standard performance, six foot tall heights, nearly-invisible TruScene® insect screen optional, FSC Chain-of Custody Certified, upon request
Pella®
Encompass by Pella® – Encompass by Pella® products are exceptionally easy to care for. Best of all, you get the pride of owning quality products backed by Pella. This is the most affordable window option.
Pella® Imervia® – Made from Pella's patented fiberglass composite called Duracast® – the strongest, most durable material available in windows and doors.
Pella® (ProLine) – One of the most popular window lines that include a wide range of standard and custom sizes. Best of all, you have the satisfaction of owning Pella craftsmanship at a competitive price.
Designer Series® – Available with between-the-glass blinds, fabric shades, decorative panels and removable grilles – Pella's between-the-glass window fashons snap in and out, so they're easy to change.
Architect Series® – A very popular line with limitless design options. These windows are available in Mahogany, Alder, Douglas Fir or Pine. Plus virtually unlimited sizes, shapes and grille patterns.
Marvin®
Ultimate Casement Window – The most innovative and highest performing casement window on the market, revolutionary hardware allows the window to rotate inward, making both sides of the glass washable from the interior of the home.
Ultimate Venting Picture Window – Energy efficient design reduces energy costs and meets Energy Star ratings, one-lite LOE2 with argon insulating glass, mesh screen system allows the sash to project out slightly, 3/4″ to 1″ from the closed position, tall handle placement options for sidelight applications, multi-point lock hardware system, LC40 air, water and structural rating on all sizes, available in High-R Tripane.
Ultimate Double Hung Window – Marvin's Ultimate Double Hung window combines state of the art window design with classic style of the past, both sash tilt in or can be removed for easy cleaning.
Glider Window – The Glider window is a reliable choice for simple operation and energy efficiency. A Glider's sash slides horizontally on the window sill, making it perfect for areas overlooking a deck or porch.
Is Your Home Building Firm Prepared for Disaster?
Leaking, cracking windows may be damaging your home.Your older windows may be hiding something from you. If you notice excess condensation or leaks near your windows, it may mean that moisture is getting into your walls. To ensure against dry rot and potential mold problems, new replacement windows may be the key.
Measuring Infiltration and Thermal Losses
Window heat loss may be considered as a combination of thermal and infiltration (or leakage) losses. Thermal loss occurs when energy passes directly through the materials of the window. It includes radiation and convection to the interior surfaces of the window from the room; conduction through the materials of the window; and convection and radiation from the exterior surfaces of the windows to the outdoors. Infiltration losses are driven by wind and by differences between indoor and outdoor temperatures. They occur primarily through cracks in the sash, gaps between the sash and jamb, and gaps between the frame and rough opening. We calculated thermal losses using WINDOW 4.1, a computer model developed by Lawrence Berkeley National Laboratory's Building Technologies Program. We based our infiltration test method on ASTM E783-93, performing two air leakage tests on each window. We constructed a simple measurement device around the windows by taping a plastic sheet onto the interior trim and attaching an air hose, blower, and pressure tap. First, to test total leakage, we drew air through the window using the blower and measured the flow rate, in ft3 per minute (CFM), at various pressure differentials across the plastic sheet. Then, to test extraneous leakage, we attached a second plastic sheet to the exterior trim of the window and repeated the test. By subtracting the value obtained in the second test from that obtained in the first, we were able to estimate sash leakage.
Some building designers think of window infiltration only in terms of sash leakage. But significant leakage can also occur between the window frame and the rough opening. (Note that window manufacturers report only sash leakage in product data.) To estimate how much rough opening leakage contributes to total window infiltration, we measured the temperature of the indoor air, the outdoor air, and the air being drawn through the window during 33 of the extraneous leakage tests. We found that, on average, the air drawn through the windows in the study was approximately 30% cooler than the indoor air. Based on this difference, we assumed that approximately 30% of the extraneous leakage was outdoor air coming through the rough opening. We thus estimated total infiltration as sash leakage plus 30% of extraneous leakage. While this method was not very precise, it did allow us to estimate the relative contribution of rough opening leakage to heating load.