When you're building a fireplace or chimney for your home, there's simply no substitute for genuine, clay brick. Brick is naturally beautiful. It has warmth and human scale. Put into place by hand, one by one, only brick gives that touch of craftsmanship, authenticity, and timeless elegance you want for your home. A heritage of "hearth and home" that goes back thousands of years. Strength, durability and richness that will make your fireplace the centerpiece of your home. That's the beauty of genuine clay brick.
Brick and Chimney experts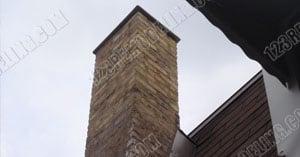 Chimneys for low heat (less than 1800oF) in residences shall be constructed of solid masonry, solid waterproofed modular concrete block or rubble stone laid with full push-filled head and bed mortar joints. The thickness shall be a minimum of 4″ for brick and concrete block to 12″ for rubble stone. If the bricks are less than 4″ wide the chimney is not in compliance with modern codes. Its condition is very important since loss of mortar or a chipped brick can be a fire or gas hazard. For more details about each chimney type, construction, inspection, fire clearances, rooftop height requirements, etc. one of our representatives would have to be scheduled to come out to the location of the project for a free evaluation of your project. We are you one source for all your home remodeling and construction needs. Please view all the photos and videos we have provided. 123 Remodeling Provides mortar-less overlapping brick cladding system.
The high strength concrete bricks overlap and interlock to create a strong, water resistant brick veneer. There is no mortar joint to maintain over the life of the building. Novabrik can be installed by workers without masonry skills, reducing the installation cost. Units are laid dry in conventional brick-bond onto a purpose made UPVC starter-track, with every fourth course mechanically fixed to vertical battens using proprietary fixings. Cutting is readily achieved with either wet or dry bench-sawing the preferred method, so on-site waste is kept to a minimum. Only a small number of 'specials' are needed to accommodate internal and external returns, angles etc. These are made on the same production equipment and are produced in multiples to ensure color consistency. This approach means that take-off is very straightforward, specialist installation skills are not required and bought in trades are minimized. The mortarless brick siding system includes components and accessories like corner blocks, starter tracks and window sills, to name a few.
Mix Mortar for Tuck pointing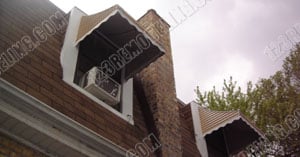 Mixing mortar consists of mixing sand and masonry cement. The various ratios of each component affect the strength and hardness of the mortar. One issue that comes up in tuck pointing brick in older homes is that today's redi-mix mortar (just add water) is mixed to be stronger and harder than the brick used on older homes and that can cause a problem and brick damage. Older homes usually had a lower percentage of cement. For smaller tuck pointing repairs this is less of an issue, but if you have a larger multiple brick repair on an old home, you may want to consult a masonry supply house for a proper mortar mixture.
Mix a small amount of mortar at one time using clean drinkable water. Mix with a liquid latex binder to improve adhesion and reduce cracking and shrinking. Mix the mortar to a consistency like pudding, where you can slice a piece off with your trowel.
Masonry restoration
It's important to know the age of a building being tuck-pointed. If the building is older selecting and mixing morter is a delicate process because combining traditional sand and lime with portland cement didn't begin until after the 20th century. Older morter without portland cement are weaker and have much less compressive strength. A stronger re-pointing mortar deforms less under heavy loads which concentrates the load in the area of the stronger morter. This stress can lead to spalling. Mortar in older buildings may also contain materials like oyster shells, carbon black, and horsehair to give them texture or a unique color. If needed, oyster shells can be mixed into new mortar in small doses.
Contractors also must decide whether to use power tools to cut out old mortar. Although faster and more efficient, they may damage masonry surrounding the mortar. Some historic buildings being restored may not allow the use without special permits. The detail and craftsmanship that originally went into building an historic building shouldn't be ignored when choosing a restoration company. 123 Remodeling uses quality masons and materials that won't ignore the integrity of the original building.