Natural River Pebble Bathroom Vanity Vessel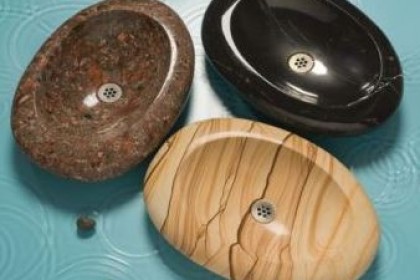 Stone Forest releases the natural river pebble bathroom vanity vessels. The vessels offer an organic shape and feel for the bathroom. Available in 3 different textures, jurassic, nero marquina and sandstone finishes which match very well with natural earth tone color schemes. Each vessel measures approximately 24″ wide by 14″ length and a sink depth of 4.5″ providing adequate water reservoir.
The vessels are inspired by the simple beauty of small, smooth pebbles, incorporating the look and feel of rounded, smooth stones created by nature. Each vessel is hand carved from a solid piece of stone, the collection includes vases, seating and fountains.
If you are looking for a unique bathroom vanity vessel then Stone Forest Pebble Vessels are the ultimate trend setting design. Ask one of our project managers about our Stone Forest Collection.
Price: $800 – $1000