---
Motorized Shades Chicago — Free Installation
Are you interested in remote-controlled window shades? If you live in Chicago or the surrounding suburbs, 123 Remodeling will provide free installation in your house or condo. We are the number one source for motorized shades in the Chicago area. Call us today today to get a free estimate (773) 685-6095, or click the button below:
Get a Free Estimate
---
About Serena Motorized Shades
Serena is the leader in remote-controlled window shade technology. Their shades are ultra-quiet, and they offer supreme convenience with state-of-the-art technology because they can be operated using remote controls or by using their mobile app from anywhere in the world.
123 Remodeling is a proud partner of Serena Shades, and we also provide free installation in the city of Chicago and surrounding suburbs.
---
See Motorized Shades in Action
Watch this video to see how Serena remote-controlled window shades work.
---
Mobile App – Control Your Lights, Shades, and Temperature from Anywhere
The Lutron mobile app offers the latest cutting-edge technology for your home. The app controls your motorized window shades, and even your lights and thermostat as well. Turn your lights on from your car as you arrive home, adjust the temperature from your office, or control your shades and lights from the comfort of your bed.
---
How Much Do Motorized Shades Cost?
Prices start at $349 per shade, but the cost varies depending on the size of your windows and which style you choose. 123 Remodeling will install your shades free of charge. Click the button below to get a free estimate.
Get a Free Estimate
---
Shade Styles
Serena remote-controlled shades come in two distinct styles — honeycomb and roller.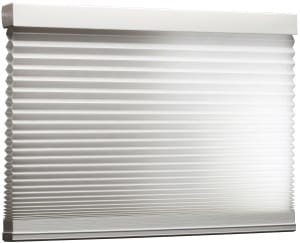 Honeycomb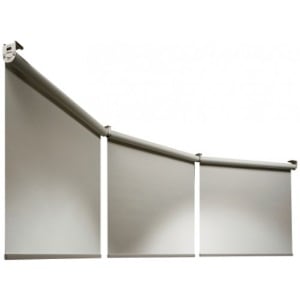 Roller
---
Power Options
You can choose between battery powered or plug-in shades.
Battery: Most battery powered Serena shades require standard D or AA batteries. Triathalon technology allows for 3 year battery life with normal use.
Wired: The plug-in shades include a 15 foot long adapter cord. You also have the option of a low-voltage adapter which can be purchased separately.
---
Mounting Options
You have three different mounting options. You can mount the shades insides the window frame, on the frame, or on the wall above the frame.
Inside Mount: Minimum inside depth is 1.5″. This type of shade fits completely inside the window frame from top to bottom. You can add an optional back cover to eliminate light leakage between the headrail and window frame.
Outside Mount (on the window frame): This type of shade will cover the window from edge to edge. Make sure the shade can move freely from top to bottom without being disrupted by the curtain pull-backs or other features.
Outside Mount (above the window frame): This type of mount covers the entire window frame and is mounted on the wall. This requires spacer inserts to clear the edge of the window frame.
---
Fabric Styles
Serena shades come in various styles, which have different levels of opacity.
Honeycomb
Light-Filtering — Single Cell: Creates a soft glow while providing some privacy from outside.
Room-Darkening — Single-Cell: Blocks light from entering and provides complete privacy.
Light-Filtering — Double-Cell: Allows some light through, and saves energy with insulating design.
Roller
Sheer: Thin fabric that allows sunlight to filter in and is somewhat see-through.
Translucent: Allows some sunlight in, but reduces view to shapes and shadows for increased privacy.
Blackout: Blocks all light for complete privacy.
---
Colors
Serena Shades offers over 150 fabrics in a variety of colors and decorative textures in opacities from sheer to room darkening. No matter what color your room is, you'll definitely be able to find a shade that goes with your design.
---
Control Type
Pico 5-Button Wireless Controlled Shades: This remote features full-open, full-closed, raise, lower, and a programmable "favorite" button.
Serena RF (radio frequency) 4-Group Remote Control: This remote allows you to independently control four separate groups of one or more shades. Select a group and then control that group with full open, full close, raise, lower, and "favorite".
Shades can also be controlled via the Lutron mobile app which is available for free on iOS and Android devices.
---
Energy Savings
Serena insulating honeycomb shades protect your home from harsh summer rays which can heat up a room and cause your A/C to work overtime. The honeycomb design has pockets that trap air, which can double the insulation of your windows.
---
Reviews
"We have a very big window (>92″ wide) so I was worried that a battery powered solution would even work. Not only does it work, it looks great, is very quiet, and simply a great solution! We just ordered another for our second giant window!" – Kelly
"I have many units throughout my house and all I can say is they are easy, great looking and work flawlessly." – Mike
"Love my shade and will buy more in the future!" – Rhonda
"We ordered several shades for our bedroom, our daughters bedroom and our living room. The blackout shades are fantastic for the bedrooms. They let in very little light. The shades fit perfectly and work well." – Gabe
"The best automated shade on the market and an exceptional value." – Kevin
---
Photo Gallery
---
Get a Free Estimate
Would you like to have install motorized window shades in your home? If you live in Chicago or the surrounding suburbs, 123 Remodeling will provide free installation in your house or condo. We are the number one source for motorized shades in the Chicago area. Call us today today to get a free estimate (773) 685-6095, or click the button below:
Get a Free Estimate
---
123 Remodeling — Chicago, IL