Include Home Redecorating on Your 2014 New Year's Resolution List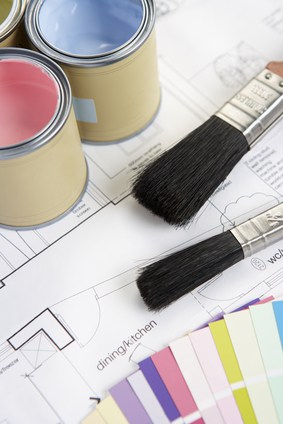 The 2013 annual Houzz & Home survey drew 100,000 responses, of which 84 percent said they plan to redecorate their home to improve the look and feel of the space. Freshen up your living space with these tips for creating a bigger look in a smaller space. Make this a resolution you'll stick with and create a space that you will love coming home to.
Reduce Clutter
The first job to tackle is organizing your space, says Woman's Day. A room full of too many items feels cramped. When there is less stuff and more open space, a room feels more organized. Whatever is not being used should have a home out of sight. Hang one or two pictures on a wall. Don't cover it with pictures or artwork. When there is too much to look at, a room will feel crowded and busy.
Find a focal point in the room and direct attention to that. Move all other furniture away, in order to draw eyes to the focal point. In the dining room, it will probably be the table. In the bedroom, the bed. Minimize any decorations that take attention away from the focal point.
Paint to Create A Bigger Space
If you're up to painting, brighter colors can make a room look bigger. These colors reflect light back to your eye, making the space look larger and more open. Darker colors absorb color and can make a room feel closed up and smaller. Soft green and blue tones with a darker-colored molding makes the room look larger. The walls will appear to be set further back than the trim. Bed Shed has other color suggestions if you aren't a fan of blue or green. Additionally think about Radiant Orchid – Which is Color of the Year for 2014 as a good combination when paired with teal or turquoise.
Lighting Your Way to a Larger Space
Get as much natural light into your room as possible. Sheer window treatments allow light to enter even when closed. If you're not into curtains, the Shadestore offers a number of shade designs to consider. For large windows with a poor view, raise the shades to let light in during the day, but lower them to block out the view at night.
Sky lights and light tubes allow sunlight to enter the room during the day. For dark corners that are hard to light naturally, buy natural spectrum spot lights to shine into them. At night, have lights available on dimmer switches so you can adjust them to create a more intimate space.
Creative Furnishings Open Up Your Space
Find furniture that doubles as storage space to keep the clutter hidden. Drawers under your bed or futon can help keep things out of the way. Corner shelving uses space that is hard to get to. Coffee tables with drawers or shelves will hold books, magazines and movies.
Forbes suggests using floor-to-ceiling book cases to maximize the use of the vertical space. This is especially useful in very small rooms. Tall but narrow book cases will give you a lot of storage in a small amount of floor space.
An expanding table set with folding tables and chairs that can be placed against the wall when not in use will open up your dining room area. In this case, keep furniture out of the walking path through the room. The more floor you can see, the larger the room looks.
Make Good Use of Wall Space
Refinery29 suggests the use of wall space for storage in the kitchen. Bright silver-colored wire shelving in the kitchen can hold everything from food to kitchen tools. Using this style over traditional solid kitchen cabinets styles will give off the appearance of extra roominess.
123 Remodeling experts specialize in Condominium and Highrise remodeling and renovations. IF YOU ARE IN NEED OF A INTERIOR MAKEOVER OR HOME REMODEL CONTACT US for a free no obligation In-Home Estimate.