Flooring Replacement: Things You Should Know Before Hiring a Contractor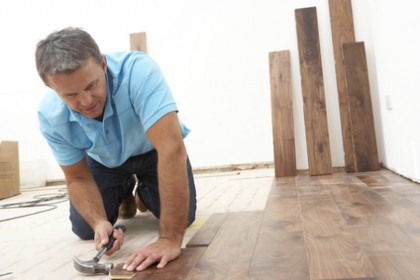 According to the US Better Business Bureau, unscrupulous home repair contractors make a practice of targeting senior citizens. The scams come in various forms ranging from sub-par services to home equity and renovation fraud. The quality and type of installed flooring impacts the value of your home, but before contacting contractors, taking bids or even deciding on the exact styling and materials, you need to consider several preliminary aspects of the job.
The process of construction-readiness is simple yet often ignored by hurried homeowners. To protect yourself, ensure that you make the right decisions. To understand in advance the cost of replacing your existing flooring, review the following steps.
1) Avoid Scams: According to the Federal Bureau of Investigation, financial losses associated with insurance fraud top over $40 billion per year. Disaster fraud construction schemes remain one of the top ten forms of fraud. When people get caught in stressful situations, consumer fraud gets easier. Even if you are in the midst of recovering from flood damage, learn to think slowly, completely and with the full knowledge of how to avoid floor replacement scams.
2) Existing Flooring: Before leaping into a full floor replacement project, consider the condition and type of your existing flooring. Most hardwood floors can be refinished several times. Concrete flooring can be resurfaced. Slate and tile can be selectively repaired. To remove surface mildew, heat the room to 60 degrees F, scrub floors with a mild alkali solution, let dry and then apply a mildew-resistant finish. Small amounts of kerosene mixed in water will get the really tough stains.
3) Market Value: Analyze the market value of different types of flooring and the impact on the resale value of your home. A local real estate agent can help you identify current flooring trends. Don't forget the value of going energy efficient. According to Energy Gov, hydronic radiant floors rank among the most cost-effective zone heating methods currently available. Hydronic radiant heating can be applied to almost any home flooring project.
4) Debris Removal: According to the Wyoming School Facilities Department's "Flooring Life Cycle Cost Analysis" report, chemically stained polished concrete provides the best 50-year annualized cost performance of any flooring material. It's a beautiful solution for ground level flooring. However, improper loading of concrete waste can create a serious road hazzard. NextDayDumpsters.com can handle any debris that falls within EPA guidelines, but highway safety demands that unbalanced loads be corrected before pickup. When dealing with concrete waste, know the dumpster limits before loading. It will keep you from doing a forced unload.
Selecting a Contractor
Review reports from your local Better Business Bureau. Ask for and check references. Go with local companies who are licensed, bonded and insured. Don't be a victim of loan fraud. Never respond to unsolicited sales calls. If you must borrow funds, use your own resources.