Installing Ideas For Double Sided Fireplaces
Written by: Melissa Hamler

Double sided fireplaces are an efficient way of providing maximum warmth during the months of extreme cold. The double sided fireplaces open in two different rooms or two different areas thus they have far more reach in keeping the surroundings reasonably warm than the conventional one sided fireplaces. The best part is that a double sided fireplace is less expensive to install than two separate fireplaces since there is need of only one chimney and flue.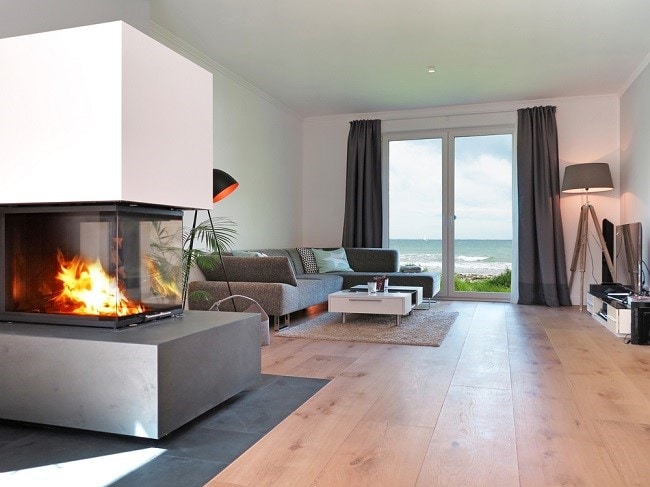 ⦁ These are the ideal options for heating two rooms at a time, as they are double sided. So any additional cost of heating gets reduced to a significant extent.
⦁ Compared to the traditional fireplaces, these are the ideal options if you have to make a large room warm in few minutes. The fireplace is usually a part of the wall adjacent to two rooms, thus the fireplace is visible from both the rooms and hence it is called the double sided fireplace.
⦁ Since you have various fuel options with this fireplace, you can easily use wood burning methods or gas fuel methods to save on your overall monthly expenditure.
Double sided fireplace can be ideal for kitchen and for heating large dining rooms: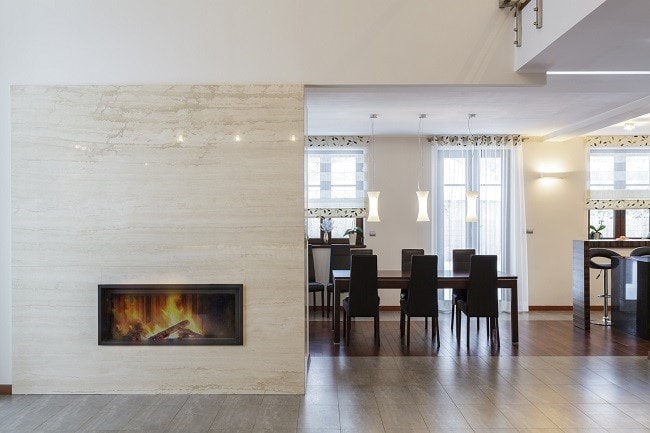 Such a fireplace can be an ideal companion for a kitchen and a dining room. Since this kind of fireplace does not require any special form of venting, it is the ideal option if you want to install in a kitchen, and the residual smoke after cooking can easily get out from brick chimneys.
⦁ This is just an example of how a double sided fireplace can be elegantly shared and is of great use. In other combinations, the double sided fireplace can be used between a master bedroom and a bathroom where it can help keep both the bedroom and the bathroom cozy and create a comfortable surrounding environment.
⦁ This particular combination looks quite chic and provides a very luxurious look to the bedroom. You can also have it as a centerpiece of a modern bedroom.
Fireplace as a Divider
Sometimes one may want to put the double sided fireplace in a long room to create a natural divider and define the use of the space thus created. Long and huge rooms can create a cold and a bleak semblance to the room, and placing a double sided fireplace divider can make the surroundings of the room cozier and pleasing. Their placement in the room creates a great addition to the decor without being obtrusive. You can actually enhance the aesthetic décor of your place, as well as its resale value, if you install a double sided fireplace in your home.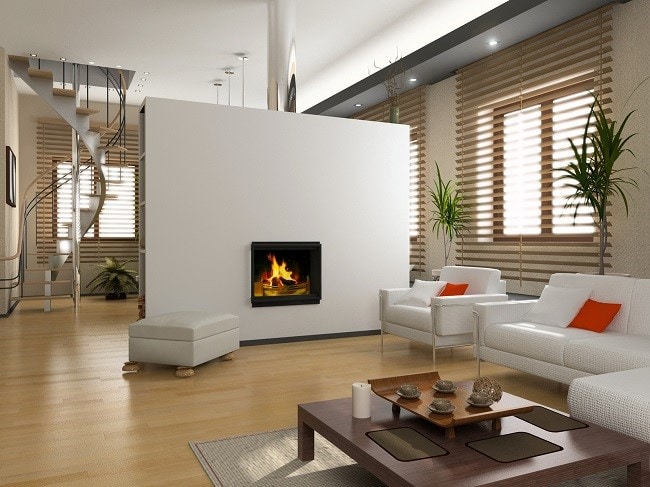 Fuels for Double Sided Fireplace
The double sided fireplace can use different kinds of fuels. They can employ dry wood, coal or natural gas as fuel for burning and keeping the surroundings warmer.
⦁ Wood based double sided fireplace are easily the most abundant ones because of readiness of the availability of the wood based fuel.
⦁ Charcoal based fireplaces are preferred where the temperature requirement is high.
⦁ Natural gas offers a great alternative as it burns without smoke and is easier to clean also.
⦁ The double sided fireplaces can be open ended or have glass sidings which makes it an enclosed fireplace. The benefit of the enclosed double sided fireplace is that it won't let the smoke escape and spread around the room thus keeping the home cleaner. It also does not require electricity for its operation.
Common Problems that can be encountered with a Double Sided Fireplace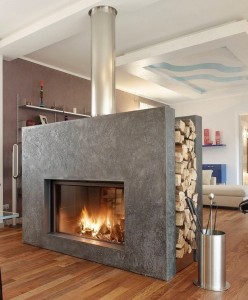 Double sided fireplace can cause smoke inside the rooms. Due to lack of backing, there is a good chance of smoke leaking into either of the rooms. A glass door on each side can solve the problem most of the times. These fireplaces require regular cleaning if used regularly. Sometimes accumulation of soot in the chimney can cause bad and poisonous odors. A lot of times there is no cap placed on the chimney in double sided fireplace, lack of which can cause rain water to leak through and trickle down the chimney. There is also a regular buildup of steam in these chimneys, which causes the water marks or streaks along the sides of the walls or the chimney bottom. Sometimes, there are white stains along the chimney or the walls around it because of mineral deposits that are usually a residue from the water soaked into fireplace walls. However, if you maintain your fireplace properly and regularly call in cleaning professionals, your fireplace can last for a long time.