Design & Re-Build Your Dream Kitchen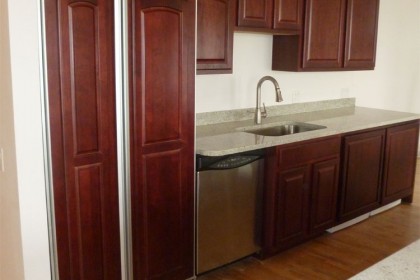 Ever wondered how your neighbor or friend accomplished to build 'Your Dream Kitchen' well your search is over. 123 Remodeling Kitchen Design team can help you re-build the kitchen of your dreams. We understand that there's no one size fits all kitchen, so our interior designer and construction crew will provide you specific advice for specific needs, based on your cooking habits. Whether you're serving a crowd, creating a kitchen where money's no object, or simply want a dream kitchen at a down to earth price, 123 Remodeling will show you how we can help you accomplish 'Your Dream Kitchen'.
GET NO-OBLIGATION ESTIMATE FOR YOUR DREAM KITCHEN
Many of our clients tell us about their gripes with past contractors they have used or the disappointmented in the company's promptness, cost management or ability to problem solve. Our process is as simple as 1 2 3:
Initial Consultation with our Interior Designer and Project Manager – During this phase we understand the full scope of your project. Our interior designer will provide advice on the different options available for your project, while the project manager will review what is possible and what is not along with what special contractors that may be required like an electrician or plumber.
Project Estimate – The project manager will provide you a breakdown of the costs, materials and labor associated with your dream kitchen and the time frame of the buildout based on the initial consultation.
Re-Build/Construction Phase – Here our in-house construction crews will start your project and complete it within the time frame provided. We use a methodological system on scheduling each portion of the buildout thus reducing the overall buildout time.
So lets get started with the complete kitchen planning guide by 123 Remodeling:
Cleaner Look
For most their Dream Kitchen is a modern look found in most condos but most kitchens tend have a traditional styling, one solution is to use a Transitional Design which incorporates features of a warm, detailed look of traditional style and the minimalistic design of modern kitchen. This type of styling provides a clean, uncluttered look which won't feel dated a decade from now.
Another element for transitional style is white cabinets and complex grays for the walls as neutral hues. Additionally by using quartz countertops, which come in solid colors, subtle patterns, lighter tones work better than the traditional dark, grained granites. Another option currently trending for kitchen countertops are woodblock. These provide a nice contrast with the neutral hues.
For the cabinets we recommend a simple cabinet over the arched panels and moldings of traditional cabinets or ultramodern with curved corners or high-gloss finishes. The middle ground for the transitional style would be flat-paneled, euro-style units, which normally have no-visible door frames.
Open up the Kitchen Area
Split room kitchens are yesteryear just like that of cigar rooms or rumpus rooms. By removing partition or half walls that split the kitchen, the space will feel bigger and warmer, however an open idea can lead to chaos if the space is poorly organized. This is where our interior designer's questionnaire will provide insight into what you primarily use your kitchen for – cooking, baking, eating, entertaining, bill paying, homework etc. One solution by our Interior Designer will provide is to remove any nonessentials, or relocate them to an adjacent area.
Think Energy Efficiency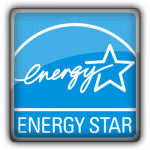 Who doesn't want to save on energy costs? Energy Efficiency and performance are the most requested upgrades requested by most of our clients both in the form of lighting and appliances. LED lighting technology can be a big money saver option with many different options from under cabinet lighting, hanging fixtures designed for LED's. Though LED fixtures cost more than other bulb fixtures, the prices are dropping daily. Another added benefit of LED lighting is the longevity of the bulbs which range from 20,000 to 50,000 hours which results in not having to change them for decades.
Energy Efficient Appliances that are Energy Star rated are another home feature most clients want to upgrade or change. These not only provide energy savings but more performance. Appliances not only provide performance gains but also do more by providing more ranges with double ovens along with the roomiest refrigerators increasing the overall appeal of the Kitchen.
Increased Storage Space
Kitchen islands are a new trend we are seeing more and more, not only do they provide an added counter space but provides room for additional base cabinets, drawers and pullout shelves all of which make storage more accessible and ergonomical and plus additional seating.
Depending on the overall kitchen space you may even want to add a prep sink  or cook-top to the Kitchen Island, however you do not want to overdo the dimensions of the Kitchen Island. If space is tight, and kitchen island is not feasible one solution is to incorporate a peninsula.
Kitchen pantries for years have been the norm as an ideal solution for storage of bulk items and small appliances, which would normally clutter the countertop. If space limits a walk in pantry then an oversize wall cabinet with pull out shelves will also do the trick.
Ideas for the high-traffic Kitchen
Kitchens are the second most visited area in a home right behind the bathroom, think about it these 2 areas of the room are visited daily by every person of the family in some way or form. It's also a space that is generally used for entertainment of guests which requires Good Traffic Flow and abundant work surfaces essential.
Magic Triangle
The most used items should be placed in this formation in order to provide the best access. The range, refrigerator and sink should be placed in the 'Magic Triangle' each with an adjacent counter. The 'Magic Triangle' formation is one of the best design principles for creating a good traffic flow in most kitchens.
Kitchen Upkeep
The upkeep of the kitchen is an aspect we consider when designing your kitchen, the flooring, appliances, counter-tops are all taken into consideration along with your family lifestyle and members including pets. Installing floors that may get damaged with scratches or appliances that mark easily with fingerprints are avoided but rather more Durable Finishes are recommended. This also helps with the general cleaning process especially with high-traffic kitchens.
Downsize Your Upscale Kitchen
Any kitchen remodel is considered a major remodel thus the budget requirements also tend to be higher, however even with a big budget careful planning is a key. Here are some solutions we recommend based on your lifestyle and cooking habits.
Size Matters
Based on the initial consultation with our interior designer and project manager, we help you design your kitchen on how you'll use it most of the time. This means if it's not used for entertaining large crowds, then you can drastically downsize the overall kitchen space. A smaller space means fewer square feet of the more costly items like cabinets and countertops, which will free up more budget for appliances, materials and finishes you love and fit your style.
Long term investment
Updating the kitchen also means thinking about the future, especially for the baby boomers, though these solutions can apply for any demographic we recommend raising the dishwasher, choosing easy access wall ovens and putting shelving and other storage at shoulder height. Though most of these seem like logic they are overlooked in the overall Kitchen Interior Design.
Spending Wisely
The kitchen for decades has been known to be a trophy space, however that trend has changed quickly with emphasis now on products and materials that are beautiful and also easy to maintain. Cabinets and counter-tops are generally the costliest component and will define tone of your overall styling. Custom cabinets will drive the cost higher vs. semi-custom cabinets, however choosing the materials wisely will save you thousands in the long run. Mixing counter-tops can also provide additional savings, a solution can be to use a pricey stone for the counters on the island and less expensive counter-top materials on surrounding areas.
Beautiful Kitchen at a Budget-Price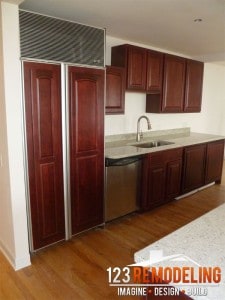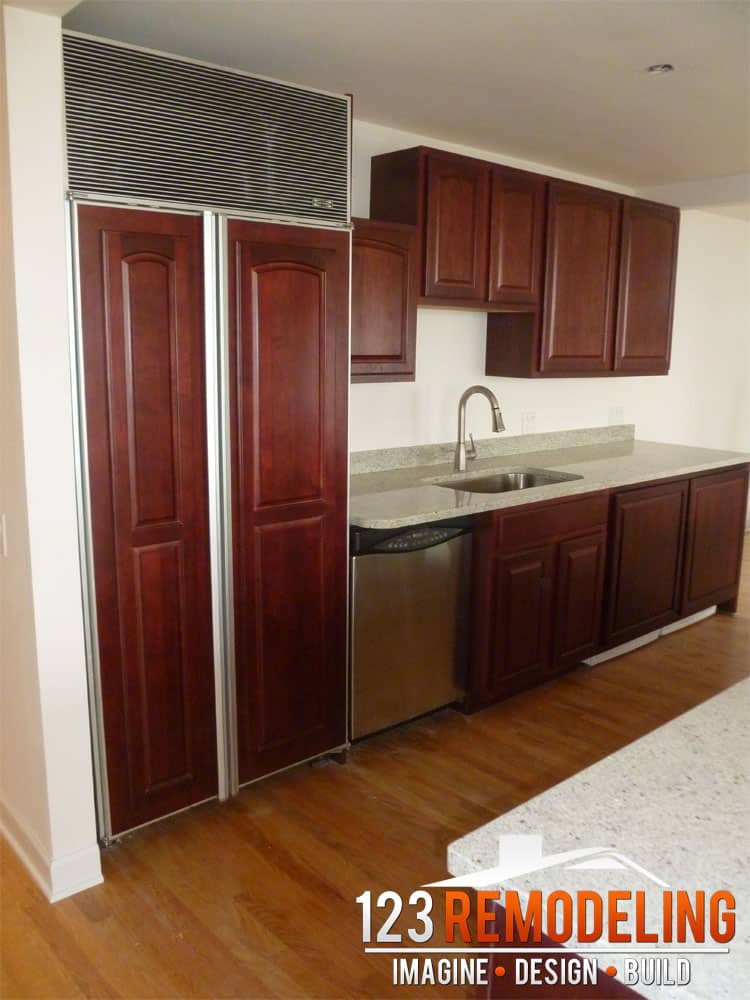 Kitchen remodels can average between $40,000 and $48,000, but you do not need to spend anywhere near that especially for your first home or if you are selling and need a cost-effective spruce-up. Our Interior Designer will take these issues into consideration before providing you a custom solution for your kitchen upgrade, another one of the many benefits of choosing our complete kitchen upgrade solution.
Do-It-Yourself Projects
Labor costs can be drastically reduced by tackling some of the easier portions of the renovation yourself, these can be things like finish painting, or basic demolition. We highly recommend leaving major remodeling changes to the pro's like counter-top installation, cabinet installation and especially plumbing and electrical.
Refinishing vs. Replacing
If the basic layout of the kitchen has no issues, a re-fresher can be a solution for an inexpensive spruce-up, which may include a new paint scheme with the walls and cabinets. Replacing the flooring and/or countertops and changing the lighting fixtures can also have add to a big transformation for a few thousand dollars.
Feel free to leave us a comment with ideas or concepts you incorporated within 'Your Dream Kitchen Remodeling Project'.