This is a guest post by Fay from Glass Tile Oasis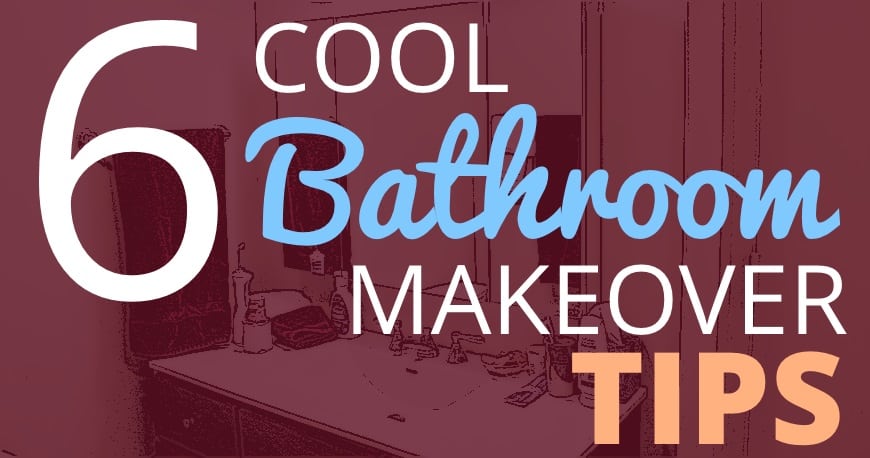 Is your bathroom getting tired and dated? A cool bathroom makeover doesn't require a big budget or a lot of time. Often, a creative change or two may be all it needs to look like an all new room.
1. Upgrade Your Mirror With a New Frame
If your bathroom has the builder's special – a frameless mirror held up by clips – why not put a frame on to give it a custom feel. You can use wood or vinyl molding to create a custom-sized frame without taking the mirror down. Or, try adhering small tiles around the edge of the mirror for an upscale look.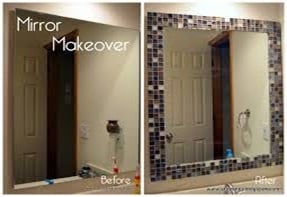 image: atozandj.blogspot.com
2. Slap On Some Paint
A fresh coat of paint is one of the quickest, and least expensive, ways to make your bathroom look and feel new again. Go for crisp white or a pale color if you want a small bathroom to feel larger. Or, play a bit with color, choosing something that complements the existing color accents in your tile or curtains.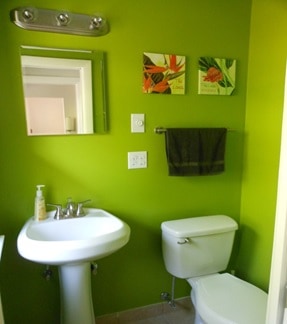 image: eekitty.com
3. Raid the Linen Closet
There's few things more depressing in the bathroom than torn, faded, and fraying old towels. Swapping out your old linens for new, plush models provides an instant facelift that you can also enjoy using. Go with the colors of the season, such as rich autumn colors, or opt for something cheerful that matches your décor.
4. Add some Tile Trim
Retiling the entire bathroom may be out of your budget or too time-consuming, but some well placed trim can give the look of a fresh tile job without the effort. Consider adding a border around your existing shower surround with some pretty glass or porcelain tiles. It's an inexpensive way to add a pop of color.
5. Bring In Some Vintage Finds
Not everything needs to be new to give the bathroom a new look. Use vintage metal kitchen canisters or old jars to store your countertop bathroom necessities. Old wire lamp shades, stripped of their fabric, make great guest towel baskets. Look for some vintage roadside finds to breath new life into your décor.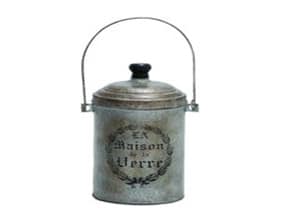 image: wayfair.com
6. Switch Out Your Fabrics
Hang a new shower curtain for an instant change with a big impact. Bold geometric patterns are in this year, along with rich, saturated colors. While you're hanging a new shower curtain, why not also replace the faded curtains on the bathroom window, too?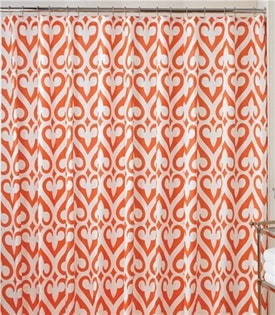 image: decorbycolor.com