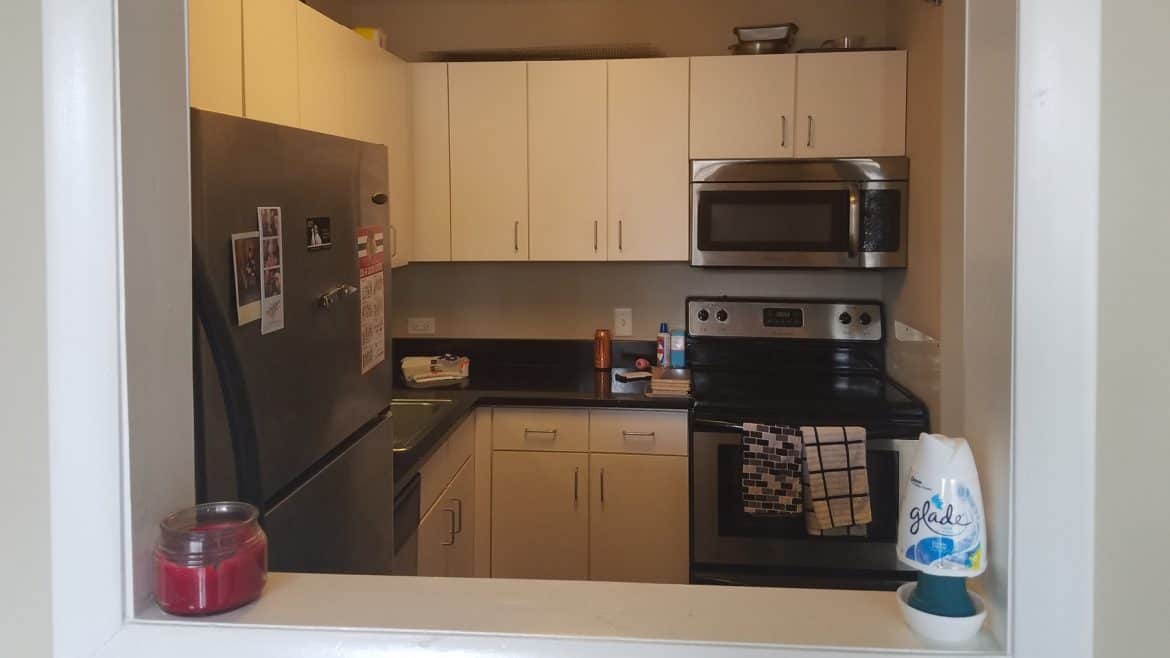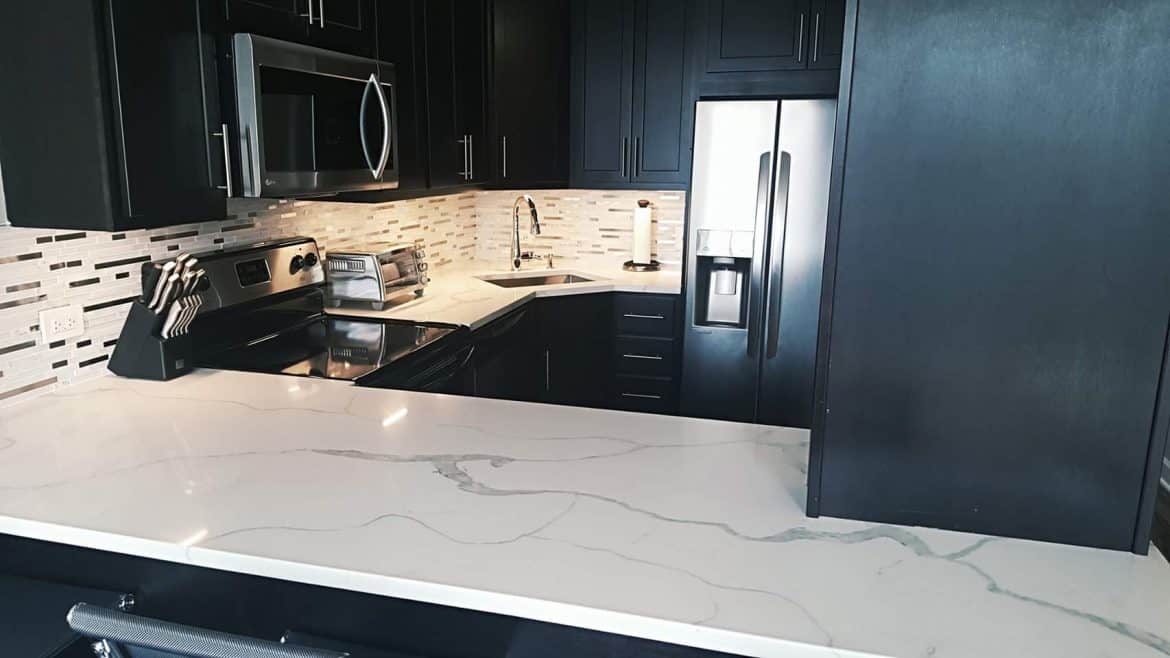 The cornerstone of our recent project at 33 W Delaware, the remodel started with the kitchen. You can still see some remnants of the original, but it's been a massive transformation.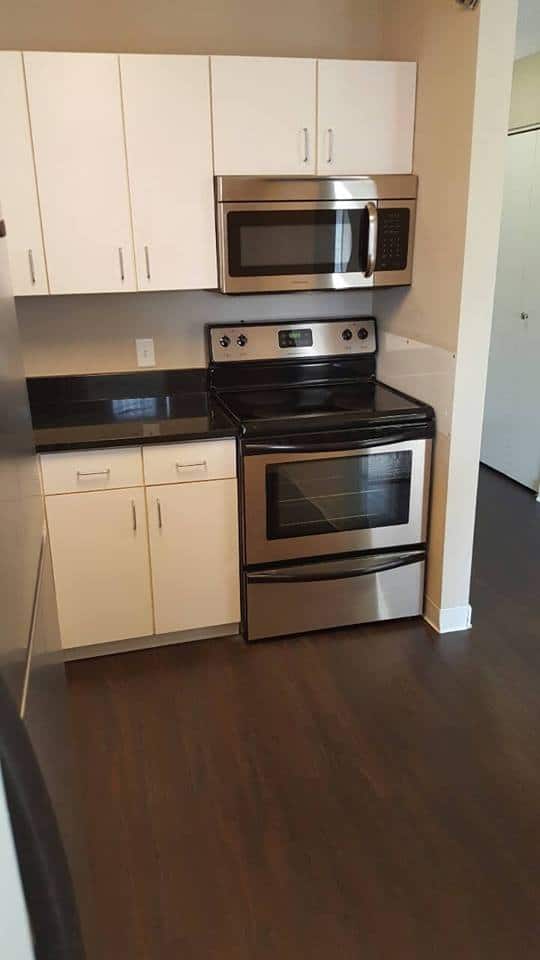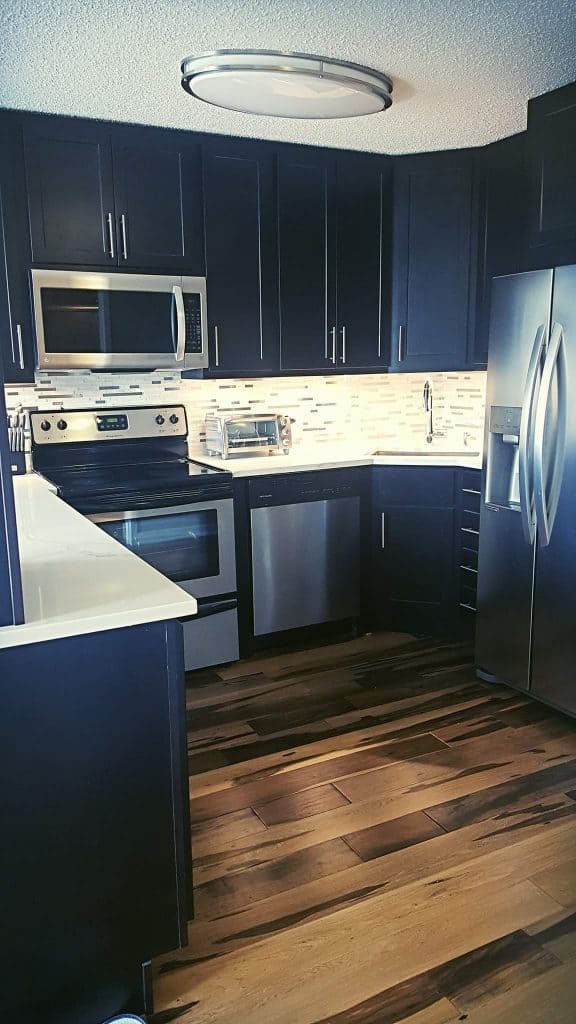 Kitchen
The cabinets are probably the most obvious change. Formerly a basic builder-grade white, we now have some stunning espresso ones with trendy shaker doors. They now go all the way up to the ceiling, offering additional storage and a streamlined silhouette. The taller cabinets also make the ceiling look higher, since they have clean lines instead of the shadowy gap. 
Going along that line, we also took out the pass-through wall and turned it into a proper peninsula. This opens up the space, letting more light in, and gives you access to that great view of the city while you're cooking. Even better, now you have bar seating, more cabinet storage, and all that extra prep space with the added counters.
Speaking of, that's quartz designed to imitate marble but with greater durability and less maintenance. This particular one is Calacatta Classique by MSI, a white quartz with thick  through-body veining. It wraps around the whole U-shaped kitchen and creates some visual contrast with the cabinets. Bridging the space between the two is a mosaic backsplash of metal, stone, and glass. It ties together the cabinets, countertops, and stainless steel appliances. You'll notice that some appliances stayed (like the range and microwave), but we switched out some of the older items like the fridge and dishwasher
That's everything but the kitchen sink, which we moved to create an undermount corner sink. This frees up valuable counter space, and makes use of the dead space created by corner cabinets. Instead of having to design a lazy-susan or some awkward shelving, we can have a dishwasher, drawers, and a full undersink cabinet.
---
Call Us Today to Schedule Your Free Consultation
(773) 685-6095
or click the button below