Out with the old and in with the new! With 2014 nearing its end, let's take a look at what to expect in kitchen design for 2015 and beyond. What will kitchens look like in the future? What features are becoming popular? What's going out of style? Here's a look at what patterns we're noticing in kitchen remodeling recently.
Here are some trends from 2014.
Countertops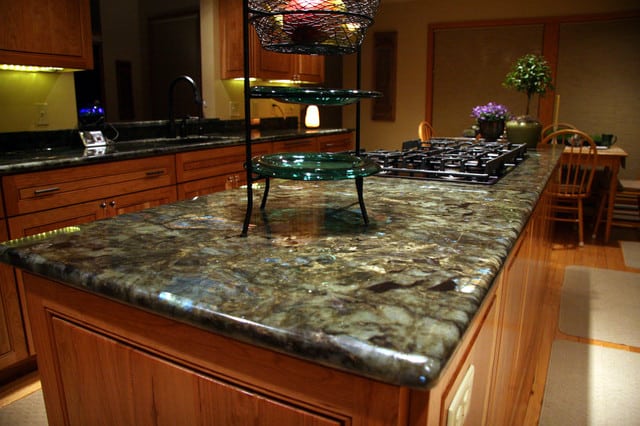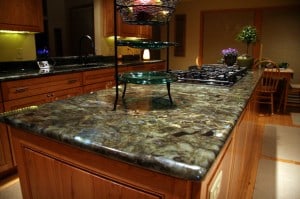 Granite has been a popular choice for a long time, and we don't see it going away anytime soon. Granite offers durability as well as unique color choices that make it a perfect fit for kitchen counters.
Soapstone is on the rise lately. Although expensive, soapstone is one of the best materials available for kitchen counters because of its durability and stain-resistance.
Natural stones remain the most popular choice for kitchen counters, but we have seen a recent surge in man-made solid surface countertops, such as Corian.
Flooring
We are noticing a trend away from the traditional 12″ x 12″ tiles, and an increasing variety of different shapes and sizes — especially large tiles, even as big as 36″ x 36″. Large tiles work really well with open designs and they can make your kitchen appear larger.
Bamboo, although still not a very common choice, has seen a surge in use lately, as we've seen more colors and styles become available.
Cabinets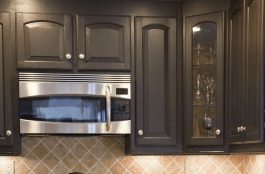 As open floor plans become more popular, the trend toward open shelving is growing as well. Which means less cabinets and more shelves. This fits in with the streamlined, minimalistic look, and also adds an element of convenience.
As far as materials, oak seems to be on the rise recently. We expect oak cabinets might become the next big kitchen design trend in 2015. Also, dark cabinets seem to be gaining popularity lately and we've seen a steady increase in dark cabinets for the past two years.
Backsplashes
The use of glass backsplashes grew by ten percent in 2014 and we expect it to increase even more in 2015. Ceramic backsplashes aren't going away though — they still remain one of the most popular choices because of their cost and durability.
Appliances
Stainless steel appliances have been the latest trend, but it's time for something new. White appliances are beginning to come back in style, as they work well with the other design elements and color palettes of modern kitchens.
Green is becoming popular as well — not the color green, but green as in energy-efficient technology. We don't expect this trend to stop anytime soon — we've seen this have a major effect across every industry, including home design.
Sinks
Just like appliances, we expect a trend away from stainless steel appliances in 2015. What will take their place? Look for a trend toward white sinks in 2015 and beyond. White sinks and appliances work very well with modern, minimalistic kitchen designs.
Pullout faucets are extremely desirable these days — we're noticing that convenience is becoming a very important factor in design. The separate side-sprayer might be going extinct very soon. Explore more factors in choosing a kitchen sink.
Colors
Soft colors and earth tones are becoming an extremely popular style. You'll see a lot of light green, light blue, as well as browns and grays. Kitchens will start to become a little bit more colorful in 2015.
Floor Plans
Recently we've seen a major shift from closed floor plans to open floor plans, which we expect will continue for many years to come. People prefer to have more open space and more connectivity between their kitchen, living room, and dining areas. Open floor plans can also makes your home feel larger.
The kitchen as we know it is starting to disappear. Pretty soon, the kitchen won't be considered a separate room anymore. It will just be one section of a giant room — the kitchen-family-living-dining-room.
We're excited to see what will happen with kitchen designs in 2015. Maybe it's time for you to give your kitchen a new look…
Upgrade Your Kitchen
Does your kitchen need a makeover? With the help of 123 Remodeling, you can bring your kitchen design into the modern age. If you live in Chicago or the surrounding area, call us today at 773-685-6095 to set up your free consultation. Or click the button below:
[button style="btn-warning btn-large" url="https://123remodeling.com/free-consultation/" size="" block="false" target="_self"]Get a Free Consultation[/button]